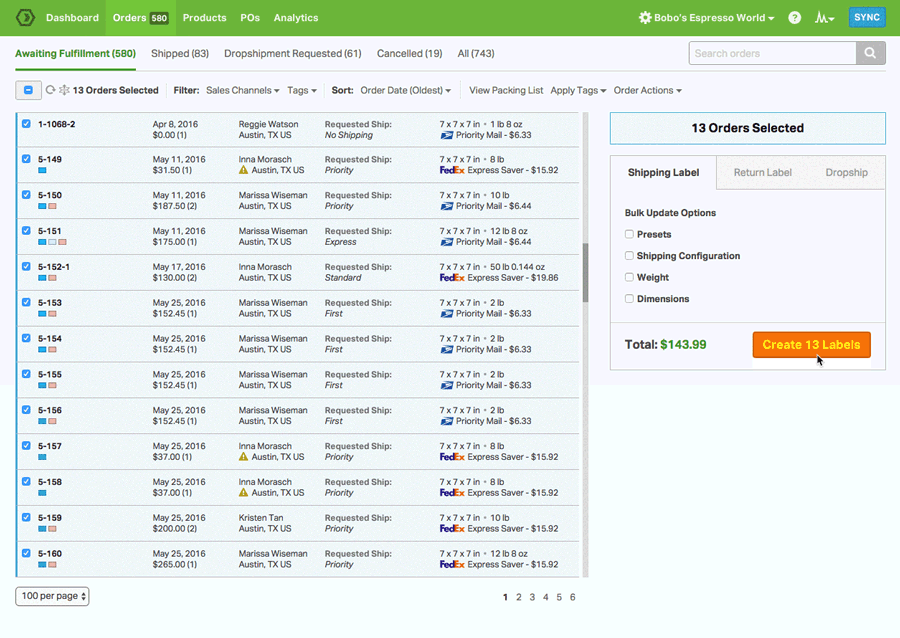 The Software That Outperforms Any Amazon Shipping Label Template
The All-In-One Ecommerce Logistics Platform
Equip yourself with a comprehensive solution
Inventory Management
Stock, sync, and scan.
Automatically track and sync your inventory levels
Create and send out Purchase Orders when it's time to restock
Bundle multiple SKUs into one unit for sale
Use Barcode Scanning to reduce fulfillment errors
Multi-Carrier Shipping
Your workflow, minus the work.
Enjoy heavily-discounted shipping rates via USPS
Ship via any of our integrated shipping carriers like USPS, UPS, FedEx, DHL and Canada Post
Set up your own Automation Rules and Shipping Presets
Print shipping labels in triple-digit batches or individually
Dropshipping
Truly hands-off dropshipping.
Launch a dropshipping operation in a matter of clicks
Tag any product as drop shipped and assign it to a vendor
Choose between automated or manual routing
Activate a Vendor Portal between you and your supplier
Multichannel
We're your operations hub.
Integrate and view all of your sales and supplier channels in one spot
Use our open API to hook up any third-party or custom apps
Manage every aspect of your orders
Establish Supplier Feeds for real-time, back-end communication
Barcode Generation and Scanning
Raise the bar for stocking and packing.
Create UPC barcodes for your products
Scan, set, and search UPC codes for SKUs within Ordoro
Reduce fulfillment errors with our pack and pack barcode scanning workflow
Scan received POs to automatically adjust stock levels
Don't take our word for it
Our awesome customers have shipped some really great compliments our way:
"I spent about a month thoroughly searching for the right backend fulfillment software for my eCommerce business. There were definitely some big name guys out there that I considered, but at the end of the day, I went with Ordoro and I'm so glad I did!"

Tina Yarandi
Founder/CEO of Nature's Artisan
"Ordoro continues to add immensely valuable features to an already awesome sales/warehousing/shipping platform. Using Ordoro continues to save us time and money."

Anthony Krize,
VP of GE Holiday Lighting
Amazon Shipping Label Template
Amazon's shipping label template lets you manage the shipping settings across several products at once, but, how do you access and use the Amazon shipping label template? It's easy - you can find these handy templates, along with instructions, on your Seller Central account pages of Amazon.
The Avery label template is available but, according to a number of reviewers, can sometimes be difficult to set up and print. Opening up and editing in Word often help facilitate this.
Maco label template free download is another good option that has garnered mostly positive reviews from users.
Maco labels in Word can be edited to fit within Word, by following the black grids to enter your text, etc., in the corresponding columns and align to your choosing. Since the prompts are pretty clear-cut, MS Word seems to be the best tool for optimal use of the template.
The ML-1000 template and the ML-3000 label template are both downloadable through Amazon and the Maco sites.
Avery labels for Amazon FBA are available through the Avery.com site as customizable free templates, along with a handy guide to correctly labeling products to be shipped through Amazon.
Amazon Avery labels (5160) and their corresponding template have come under criticism from a number of users as being difficult to line up on a printer and don't always match the Avery formats. Another seller criticism is that sometimes templates weren't included or were hard to locate in the Seller pages.
You can import orders into Ordoro, automatically or manually assign filterable tags and search to view each shipment's status and activity within a single interface. The app is designed to self-audit your orders while documenting actions and shows a timeline for each action.
Ordoro integrates with all major shipping carriers — you can easily select any USPS, UPS, FedEx, DHL International, Canada Post, or Amazon Seller Fulfilled Prime account, and utilize the various domestic and international shipping methods of each provider.
Free Shipping Label Template Word
Using free downloadable or open-source programs, including Maco or Avery labels, allow you to download shipping templates but you have to type in each individual address – each and every time for every single customer. Not only a huge waste of time but boring!
Using these free labels will often slow down your teams' fulfillment productivity as well as increase the possibility of human error.
Of course, you'll have to order custom shipping labels for Amazon, which can be tedious and take time, especially if you have a large batch of orders to fill and send.
The 4x6 shipping label template is the standard recommended size by Amazon. For convenience's sake, they also come preprinted 4 per sheet and are available directly through Amazon or from Avery and other suppliers.
You can get a printable shipping label template through Office Depot, Amazon, or other sources, but be aware that Amazon's shipping label templates are set up primarily for thermal printers, although the laser is acceptable. Most of these templates can also be used with laser and inkjet printers for non-Amazon purposes.
You can also download a shipping label template PDF from Word as well as get a free shipping label template Word-based download.
The ML-3000 label template and the Avery 5160 compatible sizes are also available through World Label as a free download.
Accelerate your process by configuring Ordoro's Shipping Presets that auto-fill shipping parameters when creating labels. Or go a step further and establish Automation Rules that act on orders the second they arrive.
Ordoro also lets you quickly create shipping labels and branded packing lists in triple-digit batches with just a few clicks. You can streamline your workflow even more with Ordoro's direct-to-printer option, which quickly sends labels to your printer, with no more opening downloaded PDFs and additional click-throughs.
Amazon Label
Before you ship out on Amazon, you need to learn how to read Amazon shipping label. These need to include the seller name, the "Ship To" address (the fulfillment center that Fulfillment by Amazon (FBA) provided you, the "Ship from" address, and the FBA shipment identifier barcode that identifies a package during shipment.
The Amazon label differs from those used by USPS, UPS, FedEx, and other carriers as it includes information about fulfillment centers, including FBA, and seller, which may be different from the actual sender. More information can be found on the Seller Central pages on Amazon.
What's the best Amazon shipping label size to use? Amazon recommends that you use a label that's 4" x 6" (10.2 x 15.2 cm), although you can use labels up to 6" x 8" (15.2 cm x 20.3 cm).
For more about Amazon (FBA label requirements), see below for preparing and printing labels.
According to Amazon's Seller Central, once you've chosen the shipping method and carrier, per Amazon shipping label requirements, each box/ package sent needs its own box ID and, if applicable, pallet labels.
Here's how to print labels for Amazon FBA:
Print the full set of labels – never photocopy or reuse as each must be unique
Don't place labels of a seam or opening of the box as this will damage them when opened
Place the FBA (Fulfillment by Amazon) box ID label and carrier label (UPS, FedEx, USPS, etc.) on a flat surface of the box so as to not fold over any corners
Makes sure labels aren't covered so they can scan
If shipping multiple packs in a larger box, apply the FBA ID to the larger box – no need to apply labels to individual case packs
Note that the tools in the seller's account are optimized for thermal printers, although shippers can use laser printers, but not inkjet
Amazon Shipping Label Printer
The Amazon shipping label template lets you manage the shipping settings before they go to an Amazon shipping label printer. Before using a template, ensure that the default shipping address is correct and you understand the requirements for templates.
You need to learn how to read Amazon shipping labels before trying to use them on a package. This was described in the previous paragraph above for more detailed information.
The recommended Walmart label maker is the LabelWriter 450 Direct Thermal Printer, suitable for shipping labels, filing, mailing, and other uses.
You can buy a decent label maker machine at most office supply and electronics stores, as well as online, for a fairly modest price, or if you plan on shipping hundreds of items a week, go for something that can stand up to heavy use, such as a DYMO Label Manager 500-TS. If all you need is a simple address label maker then there's no need to spend a large amount of money – you can get a very serviceable device such as the handheld Brother PT-H110, which retails for around $30.
The Office Depot label maker is affordable and does a good job of printing out address labels quickly. The label template got mixed reviews but is overall rated positively in formatting and printing.
What was voted best label maker 2021? According to Creative Blog, the Brother P-Touch Cube Plus PT-P710BT that users rated best overall label maker, followed by the Brother PT-H110 as the best entry-level choice. The DYMO Label Manager 500TS was voted best of DYMO's line, and while more expensive, is good for creating a variety of labels and stores up to 500 options.
For faster printing, we've designed Ordoro to optimize workflow by quickly creating shipping labels and branded packing lists in triple-digit batches with just a few clicks. As you print, you can streamline your workflow using Ordoro's direct-to-printer option, which sends labels to your printer in seconds.
Amazon Label Generator
The Amazon label generator is a handy tool from Amazon for creating and printing Amazon-specific labels, although some have found it a bit glitchy to format and print.
One popular Brother label maker model is the PT-H110, of the P-Touch series, one of the CUBE family of label makers, which can design and print labels up to 1" using a tablet, PC or smartphone.
If you don't plan on creating a lot of shipping labels, a handheld label maker from an office supply store such as the Brother PT-H110 should suffice nicely.
The best label maker is one that meets your business's needs – if your business is growing, you'll want to spend a little more and get something, like the Brother P-Touch CUBE Plus PT-710BT, that can handle increased workloads.
Accelerate your process with Ordoro's Shipping Presets that auto-fill shipping parameters when creating labels, or take it a step further and establish Automation Rules that act on your orders the moment they arrive.
Ordoro interfaces with all major shipping carriers — select any USPS, UPS, FedEx, DHL International, Canada Post, or Amazon Seller Fulfilled Prime account and utilizes the various domestic and international shipping methods of each provider.
We offer cost-effective shipping rates through every provider, including discounts of up to 67% through USPS! When processing orders, compare the cost to ship through every shipping carrier and get the most "bang for your software buck."
When you add up all of the in-demand features, you can see that Ordoro is a great platform for any online store, from scaling as a start-up to developing a thriving ecommerce business. We offer multi-carrier shipping, multichannel integration, inventory management, dropshipping, kitting, pick and pack lists, automation, analytics, FREE 30-day onboarding, and lifetime support.
Test-drive Ordoro through our 15-Day Free Trial of our Express plan and see for yourself what top-flight ecommerce management software can do for growing your business.