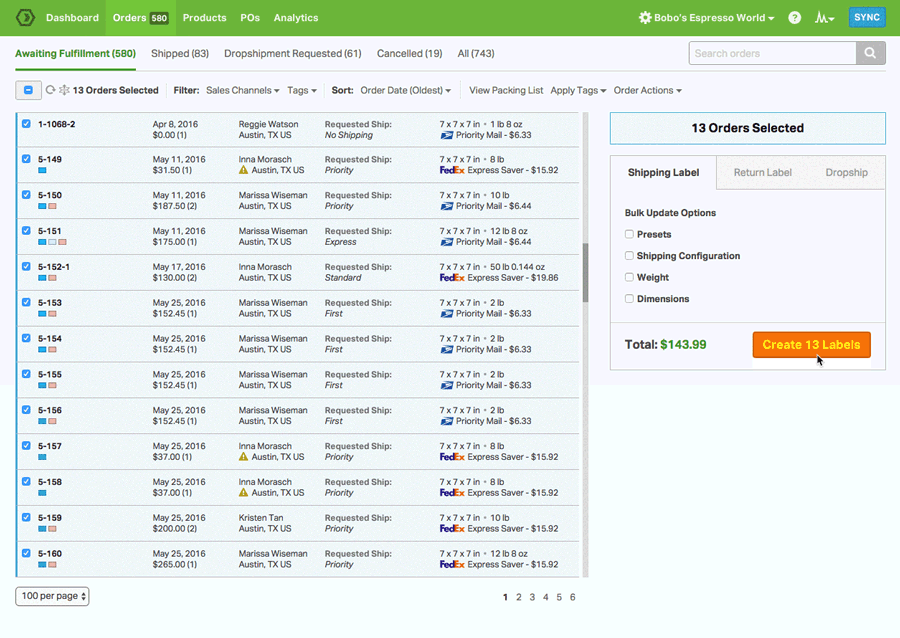 Keep Your Stock Levels In Sync With Our Ecommerce Inventory App
The All-In-One Ecommerce Logistics Platform
Equip yourself with a comprehensive solution
Inventory Management
Stock, sync, and scan.
Automatically track and sync your inventory levels
Create and send out Purchase Orders when it's time to restock
Bundle multiple SKUs into one unit for sale
Use Barcode Scanning to reduce fulfillment errors
Multi-Carrier Shipping
Your workflow, minus the work.
Enjoy heavily-discounted shipping rates via USPS
Ship via any of our integrated shipping carriers like USPS, UPS, FedEx, DHL and Canada Post
Set up your own Automation Rules and Shipping Presets
Print shipping labels in triple-digit batches or individually
Dropshipping
Truly hands-off dropshipping.
Launch a dropshipping operation in a matter of clicks
Tag any product as drop shipped and assign it to a vendor
Choose between automated or manual routing
Activate a Vendor Portal between you and your supplier
Multichannel
We're your operations hub.
Integrate and view all of your sales and supplier channels in one spot
Use our open API to hook up any third-party or custom apps
Manage every aspect of your orders
Establish Supplier Feeds for real-time, back-end communication
Barcode Generation and Scanning
Raise the bar for stocking and packing.
Create UPC barcodes for your products
Scan, set, and search UPC codes for SKUs within Ordoro
Reduce fulfillment errors with our pack and pack barcode scanning workflow
Scan received POs to automatically adjust stock levels
Don't take our word for it
Our awesome customers have shipped some really great compliments our way:
"I spent about a month thoroughly searching for the right backend fulfillment software for my eCommerce business. There were definitely some big name guys out there that I considered, but at the end of the day, I went with Ordoro and I'm so glad I did!"

Tina Yarandi
Founder/CEO of Nature's Artisan
"Ordoro continues to add immensely valuable features to an already awesome sales/warehousing/shipping platform. Using Ordoro continues to save us time and money."

Anthony Krize,
VP of GE Holiday Lighting
Ecommerce Inventory App
Congratulations! Your small business has grown to the point where you need to find the right ecommerce software to handle the rise in demand for your awesome products. Your market research paid off, and now you're researching what types of ecommerce software are available to help your business continue to grow. If you're like most small business owners experiencing a taste of success, you've already learned that inventory management becomes more challenging as your business grows. That's why any good ecommerce software system should include an ecommerce inventory app. There are a lot of ecommerce software companies out there offering ecommerce software for small business. It would be easy to spend days, or even weeks, reading ecommerce software reviews. Customer reviews are a great source of information about what features people find most useful about a particular system, as well as what they find lacking. There are a few questions to consider when deciding what software system would best serve your business.
Requirements—What features are essential for your specific type of business?
Integration—How well does the system integrate with software programs used by organizations you may be currently partnering with?
Support—What kind of technical support, updates that incorporate competitive technological innovations, and added security does the company provide?
Ideally, whatever system you choose will be scalable, making it the first and last system that you and your employees will ever have to learn to use. Even more ideally, it would be rated as top ecommerce software, and the price wouldn't increase unless your business did.
Free Inventory Management Software
Cost is one of the reasons that so many people just starting out in ecommerce take advantage of ecommerce inventory management software free offers. Those free offers are a good way to learn what features your business can't live without. While it may be advertised as free inventory management software, those who use it are often surprised by unexpected expenses when they exceed a certain number of customers or orders. That's why it's wise to read the fine print of any "stock management software free", or "simple inventory software free" offers you find online. When you consider the time it takes to learn and teach your employees how to use new software, the term "ecommerce software free" doesn't really apply. In fact, "free" can become quite expensive when an "upgrade" suddenly renders it incompatible with other software your business depends on and you're left scrambling to find an alternative. Keeping your hard-earned customers and gaining new one depends on consistency—and delivering their orders on time. Technology has allowed businesses to automate processes, increasing speed while reducing labor costs. On the flip side, it has also created increased expectations of instant gratification accompanied by superior customer service. Your ecommerce software system should have every feature necessary to meet, and even exceed, those expectations. Ordoro, created specifically for ecommerce, allows small businesses to do just that. Their engineers did their market research, too, and included every feature that small business owners said they needed to reduce costs and stress while increasing profits and customer satisfaction.
Free Inventory Management Software In Excel
A lot of small business owners learn about the value of automating processes through their use of a free excel inventory template with formulas. Today, we can't even imagine what it must have been like, and how time-consuming it must have been, to have to actually do all that math. Excel revolutionized accounting, and many still consider it the best inventory management software free option available. It's great free inventory software for small business owners to start with, as long as their inventory remains small. However, just as Excel formulas revolutionized accounting with formulas and pre-programmed automatic calculations, software innovations have revolutionized ecommerce. While an Excel formula never makes a math mistake, the process still requires entries to be entered manually. Unfortunately, unlike computer algorithms, we humans make mistakes quite often. An incorrect entry of just one digit of a 12-digit SKU number can result in a customer receiving an umbrella instead of the perfect blouse they planned on giving a loved one as a birthday gift. Entering those 12-digit numbers manually is time-consuming as well as error-prone as well. Technology comes to the rescue again in the form of scanning capability, which virtually eliminates those manual entry errors and automatically updates your inventory with every sale or purchase. Investing in a fully integrated system with moving parts designed to work together as well as integrate seamlessly with all the big players in the world of -commerce is the best investment you can make in your own success.
Multi Channel Inventory Management
Multi-channel capability is the name of the game in today's increasingly competitive world of ecommerce. Being able to utilize multiple storefronts, suppliers, and shippers is the best way to bring your products to the greatest number of people at the lowest cost. Technological advances, and the engineers at Ordoro, have made it possible to do all that and more, from a single dashboard. That's why it's been rated as the best multi-channel inventory management software available for ecommerce. It allows you to plug all of your channels into the same inventory, whether that inventory is stored in multiple warehouses or you've decided to utilize Fulfillment by Amazon and not store any at all. You can re-brand and sell the same items on multiple sales channels to accommodate different types of customers. Ordoro allows you to sync and track them all as a "Master Product". Good multi-channel ecommerce inventory management depends on having the right tools for the job. Ordoro's multi-channel inventory management software isn't just a good tool, it's an entire toolbox. From scanning in new inventory to printing out shipping labels, it automates and streamlines all your behind-the-scenes processes from beginning to end. Automating processes leaves you and your employees free to do what humans do best—interact with other humans. Customers love human interactions, especially when they're designed to give them great prices on products they love. Many first-time customers are just one interaction away from becoming life-long customers.
Skuvault App
According to Skuvault reviews, the Skuvault app has many of the same inventory management features as Ordoro's integrated system. For inventory management alone, even Skuvault competitors would have to acknowledge that they have some pretty impressive features, including Skuvault support. Like Ordoro, it addresses important inventory management issues, such as:
Tracking and updating inventory stored in multiple warehouses
Dealing with multiple suppliers
Recording and tracking sales data for purposes of future forecasting
Automating the replenishment of stock
Generating purchase orders
Scanning in received merchandise
However, the Skuvault login to utilize all those features is limited to 2 users—and the cost is fairly substantial. It seems even more substantial when compared to Ordoro's fully integrated system, which provides not only inventory management, but shipping management and drop-shipping capability as well. Ordoro's shipping management system also includes deep shipping industry discounts. Add those discounts to kitting/bundling capability and the ability to print shipping labels in bulk as well as individually, and the cost/benefit ratio of Ordoro improves even further. Add scalability, lifetime support, and seamless integration with all the biggest players in ecommerce, including Amazon and eBay, and you can see why Ordoro has been rated the best overall integrated software system for ecommerce.
Best Ecommerce Inventory Management Software
In 2021, Neil Patel, hailed by the Wall Street Journal as a top web influencer, by Forbes, as a top marketer, and by Entrepreneur Magazine as the creator of one of the top 100 businesses, rated Ordoro as the best inventory management software for ecommerce businesses. No matter what kind of online store you have, or how many storefronts, Ordoro provides all the tools you need to succeed. The best inventory management app for small businesses enables you to:
Fulfill orders and restock products while tracking inventory behind the scenes to prevent stockout
Set an inventory threshold for all of your products and receive an alert with that threshold is reached
Sync inventory automatically with every sale or purchase
Maintain an organized inventory as you kit, bundle, and market your products while providing your customers with the information they need to take advantage of special sales and promotions
Utilize advanced kitting capabilities with multiple warehouses to increase customer satisfaction and reduce overstocked items to make room for trending items
Analyze inventory costs and sales data to make smarter buying decisions
Ordoro is so sure that you'll agree that they're the best ecommerce inventory management software once you've seen for yourself what it can do that they provide their customers with lifetime support—with a real person. They know that human interaction is just as important to you as it is to your customers. Since they know how important human interaction is to your customers. They also offer free 30-day onboarding to help you customize and set up all your automation processes. After all the hard work you've put into building it, your business deserves the support of the best inventory management software on the market today. Best of all, Ordoro's scalability eliminates growing pains.