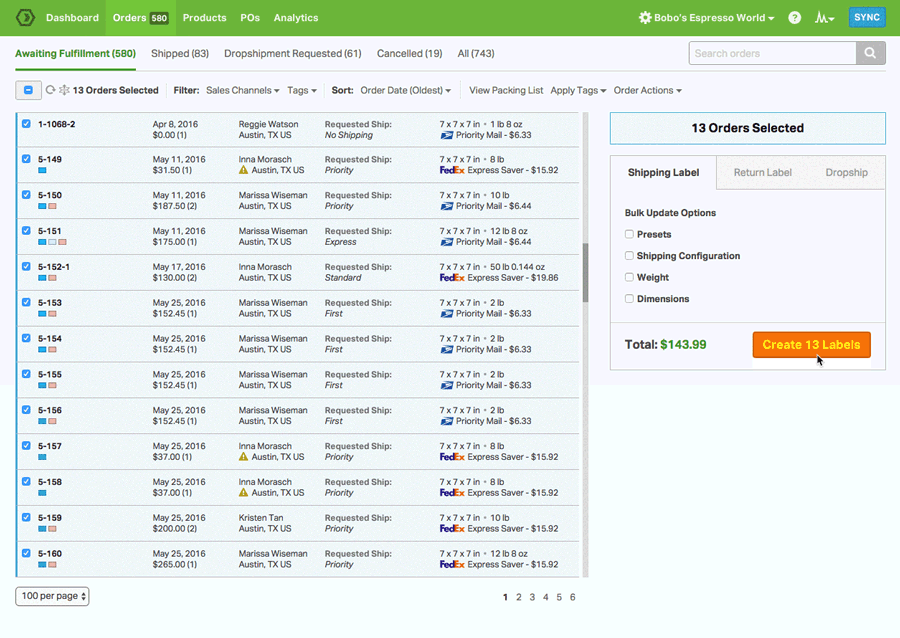 Discover The Benefits Of Inventory Control For Your Business
The All-In-One Ecommerce Logistics Platform
Equip yourself with a comprehensive solution
Inventory Management
Stock, sync, and scan.
Automatically track and sync your inventory levels
Create and send out Purchase Orders when it's time to restock
Bundle multiple SKUs into one unit for sale
Use Barcode Scanning to reduce fulfillment errors
Multi-Carrier Shipping
Your workflow, minus the work.
Enjoy heavily-discounted shipping rates via USPS
Ship via any of our integrated shipping carriers like USPS, UPS, FedEx, DHL and Canada Post
Set up your own Automation Rules and Shipping Presets
Print shipping labels in triple-digit batches or individually
Dropshipping
Truly hands-off dropshipping.
Launch a dropshipping operation in a matter of clicks
Tag any product as drop shipped and assign it to a vendor
Choose between automated or manual routing
Activate a Vendor Portal between you and your supplier
Multichannel
We're your operations hub.
Integrate and view all of your sales and supplier channels in one spot
Use our open API to hook up any third-party or custom apps
Manage every aspect of your orders
Establish Supplier Feeds for real-time, back-end communication
Barcode Generation and Scanning
Raise the bar for stocking and packing.
Create UPC barcodes for your products
Scan, set, and search UPC codes for SKUs within Ordoro
Reduce fulfillment errors with our pack and pack barcode scanning workflow
Scan received POs to automatically adjust stock levels
Don't take our word for it
Our awesome customers have shipped some really great compliments our way:
"I spent about a month thoroughly searching for the right backend fulfillment software for my eCommerce business. There were definitely some big name guys out there that I considered, but at the end of the day, I went with Ordoro and I'm so glad I did!"

Tina Yarandi
Founder/CEO of Nature's Artisan
"Ordoro continues to add immensely valuable features to an already awesome sales/warehousing/shipping platform. Using Ordoro continues to save us time and money."

Anthony Krize,
VP of GE Holiday Lighting
Benefits of Inventory Control
Experts may disagree when making a list of the most important requirements for success in the retail industry. Some may place it higher than others, but most agree on the importance of inventory control. Any serious discussion about the benefits of inventory control would include the top 3 benefits of inventory control—higher revenues, happier customers and fewer back-orders. When considering the advantages and disadvantages of inventory control, it would be a lot harder to make a list of the disadvantages of inventory control—unless you're still trying to manage it with outdated technology like spreadsheets. Luckily, modern technology, coupled with the right software system, can make even the most difficult challenges associated with inventory control as simple as clicking a mouse. When you're able to view all your inventory from a single dashboard, eliminating spoilage and reducing storage costs become a lot easier. Knowing exactly how many of an item you have, and where they are located, ensures that you never run out of stock. Deep industry discounts on shipping mean that you can provide your customers with the near-instant gratification that they've become accustomed to and still save money. As a vital part of inventory management, good inventory control techniques have a positive impact on every other aspect of your business. From creating and printing your purchase order to scanning received merchandise into the system, creating SKUs, scanning merchandise out of the warehouse, to printing the shipping label to the customer who bought that merchandise, Ordoro automates your processes from beginning to end.
What Is Inventory Control?
Inventory control can be defined as a part of the inventory management process. Part of that process is managing stock within a warehouse. Ordering, receiving, storing and transferring stock are all important elements of the process. Keeping accurate records of all these transactions is vital. Inventory control also includes tracking and fulfilling orders as well as returns. Stock rotation is a technique commonly used to determine the most efficient way to fill customer orders from the nearest location. In addition to techniques like stock rotation, there are also some common types of inventory control methods. Three of them are:
FIFO (First in, First out) – With this method, customer orders are filled with the oldest inventory, which is an important consideration when items are perishable or dependent upon fashion or current trends.
LIFO (Last in, First out) – With this method, customer orders are filled with the most recently purchased inventory. When items are dependent upon current trends and fashions, time is of the essence.
FEFO (First expiring, First out) – This method is commonly used for items that have expiration dates, which include many foods, medicines, and personal health items.
If you're searching for a method that will work for your specific type of business, it's not difficult to find an inventory control example online. Most companies that partner with entrepreneurs even provide their own inventory control pdf for people to study. The internet can provide answers to almost any question a new entrepreneur might have.
Objectives Of Inventory Management
Inventory management is the larger umbrella under which inventory control is a category. Some of the objectives are the same, but inventory management is more all-inclusive. Inventory management processes continue even after sales have already been made. For example, forecasting future demand for an item uses past sales data. Accurately forecasting future demand directly affects the ability to make smart ordering decisions. Using data analytics, business owners are able to not only determine which items sold most during which months, but also where they sold most and least. This important tool for inventory management can help create more effective pricing strategies as well as identify areas of potential growth. Having accurate numbers is the first step in determining when to replenish an item in stock—or decide not to, and replace that item with something else. If sales of those trendy scarves that were so popular last month have dropped dramatically this month, maybe it's time to research current trends before placing any new orders. Good inventory management helps you answer questions like:
What is your best-selling item during a particular month or year?
Which items have the worst sales performance?
How much of each item do you currently have in stock?
Which customers have bought a certain item or a combination of items?
How often do you normally order a product to avoid stock shortages?
Knowing the answers to those questions is the key to making both smart buying decisions and creating winning sales strategies.
What Are Inventory Management Techniques?
If you're new to the game, it isn't hard to find answers to the question: "What is inventory management techniques?" Part of good inventory management is regulating your stock levels effectively. There are both advantages and disadvantages of overstocking. One advantage is that your customers won't ever have to wait longer for a back-ordered item. Speedy delivery is always a good thing. However, one of the disadvantages of high inventory levels is higher storage costs. Another important part of any inventory management strategy is reviewing slow-moving inventory. Knowing what sells well, where, and when is essential for making smart decisions about what kind of stock to order and how much. The best software system for ecommerce would be able to track and sync inventory levels, create and send out purchase orders, bundle multiple SKUs, and utilize bar-code scanning to reduce fulfillment errors. The engineers at Ordoro designed their system to be able to do all of that, and much more. The right software can let you know at a glance what products are becoming liabilities and which ones could increase future profits. That's why Ordoro's system includes data analytics. Every bar-code scanned into the system becomes raw data that's transformed into graphs and charts that make it easy to see what products are performing best, so you can plan your next move.
Benefits Of Inventory Management
The importance of inventory management in modern business can't be underestimated. It's so important that all the giants in the industry, like eBay and Shopify, provide a benefits of inventory management pdf for newcomers to read. In any discussion about the advantages and disadvantages of inventory management, the advantages outnumber the disadvantages. Even so, many also provide an advantages and disadvantages of inventory management pdf so people have a more realistic idea about how to proceed to the next step. For more visual learners, they provide advantages and disadvantages of inventory management ppt. Watching a disadvantages of inventory management ppt can really help educate new entrepreneurs about the potential hazards of mismanagement. One of the most important benefits of inventory management is the ability to control multiple storefronts, multiple warehouses, and multiple shipping carriers. Ordoro allows you to do just that, all from a single dashboard. With Ordoro, you can scan your products and create unique SKUs. This gives you not just the ability to track your inventory accurately, but to sell it more effectively. You can bundle items and sell them as a single unit with its own unique SKU while still being able to track each item individually. Bundling is a great way to reduce slow-selling merchandise to make room for more popular items. Your customers will love having more options, you'll love reducing storage costs. Just as importantly, your accountant will thank you for your improved efficiency at tax time!
What Is Inventory Control Software?
To compete successfully in today's increasingly complex world of ecommerce, a computerized inventory control system is becoming a must-have. Like the previously mentioned topics, you can educate yourself to an extent about how they work by reading a computerized inventory management system pdf. However, the best way to decide which system is right for your specific business is to schedule a demo. That way, you can not only see the features it offers for yourself but learn how to automate those features for maximum benefit. Good inventory control software should, at the very least, help you meet these challenges:
Track the exact location of specific stock within a warehouse
Ensure that your stock remains in good condition, and is sold before any expiration date is reached or spoilage occurs
Organize and store your most popular items near packing areas for more speedy customer order fulfillment
Designed specifically for ecommerce, Ordoro doesn't just help you meet inventory control objectives and improve overall inventory management. It helps you meet all your ecommerce and drop-shipping business objectives. Their lifetime tech support provides all the answers your business needs to compete successfully and go from surviving to thriving. With Ordoro's multi-channel capability, multiple storefronts, warehouses, and shipping carriers are no problem. Your customers will enjoy a greater variety of products at the lowest possible prices with the fastest and most efficient service possible. That's the kind of winning combination that transforms first-time customers into life-long customers. It's also what transforms small businesses into medium-sized ones.