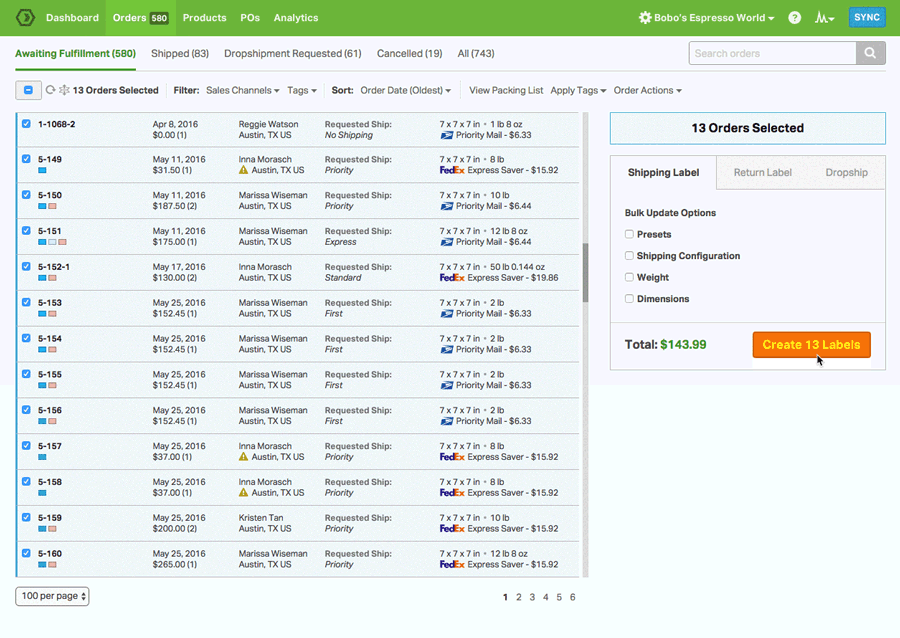 Stay On Top Of The UPS Economy Shipping Time And Procedures
The All-In-One Ecommerce Logistics Platform
Equip yourself with a comprehensive solution
Inventory Management
Stock, sync, and scan.
Automatically track and sync your inventory levels
Create and send out Purchase Orders when it's time to restock
Bundle multiple SKUs into one unit for sale
Use Barcode Scanning to reduce fulfillment errors
Multi-Carrier Shipping
Your workflow, minus the work.
Enjoy heavily-discounted shipping rates via USPS
Ship via any of our integrated shipping carriers like USPS, UPS, FedEx, DHL and Canada Post
Set up your own Automation Rules and Shipping Presets
Print shipping labels in triple-digit batches or individually
Dropshipping
Truly hands-off dropshipping.
Launch a dropshipping operation in a matter of clicks
Tag any product as drop shipped and assign it to a vendor
Choose between automated or manual routing
Activate a Vendor Portal between you and your supplier
Multichannel
We're your operations hub.
Integrate and view all of your sales and supplier channels in one spot
Use our open API to hook up any third-party or custom apps
Manage every aspect of your orders
Establish Supplier Feeds for real-time, back-end communication
Barcode Generation and Scanning
Raise the bar for stocking and packing.
Create UPC barcodes for your products
Scan, set, and search UPC codes for SKUs within Ordoro
Reduce fulfillment errors with our pack and pack barcode scanning workflow
Scan received POs to automatically adjust stock levels
Don't take our word for it
Our awesome customers have shipped some really great compliments our way:
"I spent about a month thoroughly searching for the right backend fulfillment software for my eCommerce business. There were definitely some big name guys out there that I considered, but at the end of the day, I went with Ordoro and I'm so glad I did!"

Tina Yarandi
Founder/CEO of Nature's Artisan
"Ordoro continues to add immensely valuable features to an already awesome sales/warehousing/shipping platform. Using Ordoro continues to save us time and money."

Anthony Krize,
VP of GE Holiday Lighting
UPS Economy Shipping Time
UPS shipping is one of the most popular carriers worldwide to send packages of all sizes and weights. The one caveat is that, unlike USPS, they do not ship to a P.O. Box – there must be a street address to use, which is something to keep in mind when shipping to those generally-rural customers with P.O. addresses.
UPS Economy delivery time (also known as Ground) can take up to 5 business days from the date shipped. This also depends on where it's going: packages within the same state will generally arrive faster than those sent cross-country. Ground rates start at $12.53.
UPS Economy shipping time, correctly known as Ground, is the cheapest way to ship packages, and according to the EasyShip website, all major carriers, including UPS, offer some form of economy shipping option. What some refer to as UPS Economy service is actually known as "Ground", and generally takes up to 5 days to deliver, depending on the distance from the origin of shipping.
Overnight shipping UPS, which UPS calls "UPS Next Day Air Early" and delivers within 1 Business Day, is another UPS option for those needing faster delivery, and which is also considerably more expensive: currently costing $26.35 for packages weighing under half a pound. For packages weighing between half a pound and up to 5 pounds, rates start at $28.35, with a $42.70 starting rate for packages weighing under 10 pounds and $44.75 for packages weighing over 10 pounds. Delivery is guaranteed by 4:30 p.m. the next day for most commercial locations or end of the day for residential destinations.
UPS Overnight tracking is, of course, included with the Overnight shipping option, as is tracking information for the other UPS shipping options.
Remember that Ordoro, an ecommerce software leader, partners with carriers, such as USPS, to offer special rate discounts that are hard to beat. Not only can we help ease your shipping tasks, but sync your inventory with fulfillment, carriers, and tracking.
Standard Shipping Time
UPS Standard shipping, (officially known as Ground) generally takes 2 – 5 days for delivery and gives users a method of cost-effective delivery.
UPS Standard shipping time, also called Ground, guarantees delivery within 2 to 5 days for most areas in the US. UPS Standard shipping rates are currently around $12.53 for a standard-sized package within the UPS size and weight limits.
UPS Standard international shipping options include sending through UPS using several international carrier services.
UPS Ground shipping time usually takes 2-5 days for most of the US, and is the most popular domestic shipping method and currently costs $12.53. It takes a bit longer than other methods but is more cost-effective for those not in a hurry. UPS Ground shipping tracking is available with Ground shipping, as it is for other UPS shipping choices.
The UPS Ground shipping time map can be found on the UPS website or through the UPS app.
UPS has several easy-to-use apps and other resources for figuring the correct timeframe and costs, so you and your customers can transact in confidence – using the UPS ground shipping map can help you look up country-specific shipping restrictions and service options. The tool asks you to double-check the destination address, as some countries have unique formats for addresses or postal codes.
Did you know that Ordoro also offers handy apps and software plugins to help manage your shipping, including finding the best carrier and getting an accurate shipping estimate? If you're not using Ordoro, you're missing out on being able to fully sync your inventory with your fulfillment and shipping tasks, as well as tracking orders in real-time, generating reports, and performing analytics to determine which direction your business is headed. Give us a try for 15 Days FREE and see how fast you can take your shipping to the next level.
UPS Delivery Times by Zip Code
If you don't have access to a map, you can still calculate UPS delivery times by zip code.
UPS delivery by zip code makes it easy to estimate UPS delivery times and shipping costs by using the UPS app or going to the UPS.com website.
For UPS delivery hours today, keep in mind that most UPS drivers try to deliver packages sent by Ground shipping between 9 a.m. and 9 p.m. Monday through Friday, with residential deliveries usually completed by 7 p.m., although some locations may require drivers to be on the road a bit earlier in the morning.
To find more specific non-Ground shipment delivery information for Express and 2-Day if you want to know what are the delivery times in my area, you can go to UPS's domestic service website or just track it online with the tracking or reference number.
For Ground tracking, you can just use the tracking/ reference number for a general guide as Ground packages can't be scheduled for specific times.
You don't necessarily need the zone map to locate UPS zones by zip code: you can find the UPS delivery information for the designated shipping zone even if you don't have access to a map if you know the destination's zip code.
Remember that ecommerce software by industry-leader Ordoro gets along with all major shipping carriers — integrate and select any USPS, UPS, FedEx, DHL International, Canada Post, or Amazon Seller Fulfilled Prime account, and utilize the various domestic and international shipping methods of each provider.
Ordoro provides experienced, insider industry knowledge as well as tips to help clients be as informed and work as efficiently as possible, so it makes sense to partner with an industry leader. If you're not already an Ordoro client, we invite you to try our Ordoro Express for FREE for 15 days and see for yourself why our clients keep returning to us to help manage their ecommerce businesses from inventory management, order fulfillment, and shipping management.
UPS Transit Time Calculator
The UPS transit time calculator is a handy UPS tool to help you find the length of time it should take for delivery to a shipping zone, even if you don't have access to a map, as long as you know the destination's zip code.
The UPS transit map shown on the UPS website and the app show expected shipping times based on zip codes as well as ship dates for UPS Ground delivery time, which usually takes 2 to 5 days for delivery in most of the US.
A shipping time calculator FedEx is an app, similar to those with UPS and USPS, letting you estimate delivery times based on weight, size, shipping date and place of origin, destination.
Getting an accurate UPS shipping estimate is quick and easy with the UPS transit time calculator as well as other apps compatible with UPS and other carriers. Did you know that Ordoro also offers software, plugins, apps, and other tools to help you manage fulfillment and shipping tasks, including totally integrating with local and major carriers, including those of UPS? Ordoro's shipping apps integrate with the UPS transit times calculator as well as the UPS rate calculator.
Not only that, but Ordoro helps your merchants and suppliers set up Vendor Portal accounts to received notifications in real-time. The merchant receives orders and the Supplier accounts are used to ship those orders, which are synced to the merchant account once shipped. With the Ordoro Supplier Vendor Portal, your suppliers can also receive tracking information via email, with the "Notify / Bill To/ Ship To" feature mentioned above.
Ordoro offers FREE 30-day onboarding, lifetime customer service, and a Free 15-day Trial so you can see for yourself how easy it is to take your ecommerce business to the net level. Call or email us today!
UPS Tracking
As with USPS tracking and FedEx tracking, UPS offers the UPS tracking system, based on assigned tracking numbers during label creation¸ follows the shipping progress of a package from its origin to the final destination and delivery. Tracking is included in the shipping costs and enables both shipper and customer to follow the delivery progress in real-time.
A unique UPS tracking number is assigned to all shipments to enable both the shipper and customer to track the progress of the order, from the time it leaves the warehouse to the minute it lands on the customer's doorstep.
The UPS Track My Package app allows tracking by reference number if no tracking number is available, and works for both domestic and international shipping.
UPS Ground tracking is available with Ground shipping, as with the other UPS shipping options. You can also find the shipping zone even if you don't have access to the shipping map as long as you know the destination zip code as well as contact the UPS customer service web pages or number. If you have questions, the UPS contact number is 1-800-742-5877, available 24/7.
The UPS tracking international map tracking was added to Air and UPS Worldwide Express services and guides global businesses to quickly and accurately track packages around the world.
Ordoro can help automate UPS tracking writeback with "We've Got Your Writeback," available as an app for our subscribers. When you process orders and create a shipment, Ordoro reports the item's shipping status and tracking number updates to your shopping cart behind the scenes, keeping customers informed while notifying them when their shipments are on the way. This writeback occurs automatically with no extra effort by you, and your carts (except Amazon).once the label is created.
Try Ordoro Express for 15 days for FREE and see how easy managing your ecommerce business can be – contact our team today!