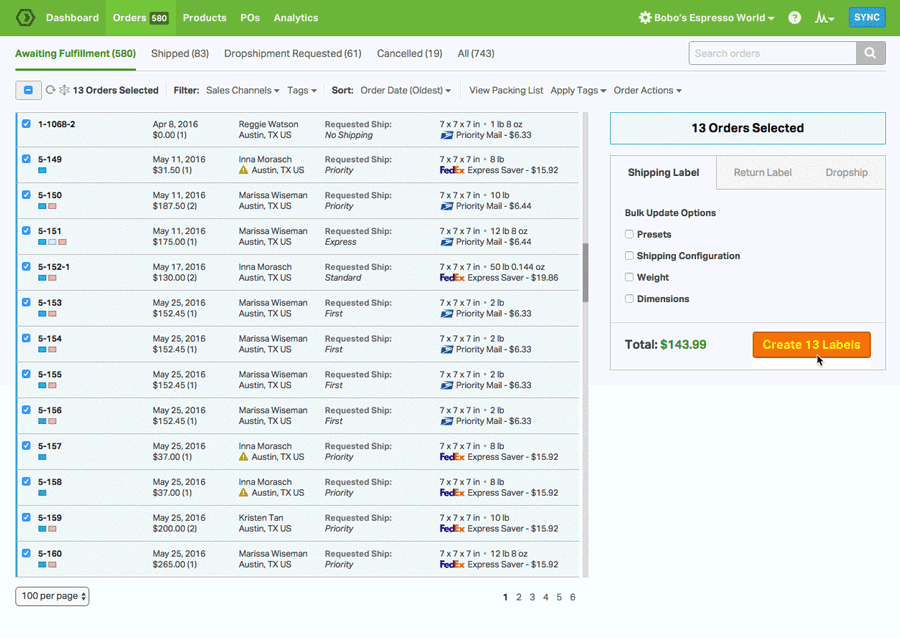 Fulfill Orders Faster With Our Dropshipping Ecommerce Platform
The All-In-One Ecommerce Logistics Platform
Equip yourself with a comprehensive solution
Inventory Management
Stock, sync, and scan.
Automatically track and sync your inventory levels
Create and send out Purchase Orders when it's time to restock
Bundle multiple SKUs into one unit for sale
Use Barcode Scanning to reduce fulfillment errors
Multi-Carrier Shipping
Your workflow, minus the work.
Enjoy heavily-discounted shipping rates via USPS
Ship via any of our integrated shipping carriers like USPS, UPS, FedEx, DHL and Canada Post
Set up your own Automation Rules and Shipping Presets
Print shipping labels in triple-digit batches or individually
Dropshipping
Truly hands-off dropshipping.
Launch a dropshipping operation in a matter of clicks
Tag any product as drop shipped and assign it to a vendor
Choose between automated or manual routing
Activate a Vendor Portal between you and your supplier
Multichannel
We're your operations hub.
Integrate and view all of your sales and supplier channels in one spot
Use our open API to hook up any third-party or custom apps
Manage every aspect of your orders
Establish Supplier Feeds for real-time, back-end communication
Barcode Generation and Scanning
Raise the bar for stocking and packing.
Create UPC barcodes for your products
Scan, set, and search UPC codes for SKUs within Ordoro
Reduce fulfillment errors with our pack and pack barcode scanning workflow
Scan received POs to automatically adjust stock levels
Don't take our word for it
Our awesome customers have shipped some really great compliments our way:
"I spent about a month thoroughly searching for the right backend fulfillment software for my eCommerce business. There were definitely some big name guys out there that I considered, but at the end of the day, I went with Ordoro and I'm so glad I did!"

Tina Yarandi
Founder/CEO of Nature's Artisan
"Ordoro continues to add immensely valuable features to an already awesome sales/warehousing/shipping platform. Using Ordoro continues to save us time and money."

Anthony Krize,
VP of GE Holiday Lighting
Dropshipping Ecommerce Platform
One of the appealing things about going into dropshipping is the ease of entering the industry, which is due in large part to needing a smaller initial investment upfront. Dozens of international websites with just about every dropshipping ecommerce platform on the Internet are now promoting dropshippers and their customers. Some of the largest and best-known platforms have sprung up just over the past half-dozen years, including Shopify, WooCommerce, Magento, and more. Most of the larger platforms, such as Shopify, offer tutorials and guidelines for getting started, including finding saleable products and their reliable suppliers.
Dropshipping can be less risky to the budding ecommerce owner than many other types of businesses, but there are some potential downsides. Some include heavy online competition, increasing the necessity of properly marketing products to reach as many viewers as possible. There is no control over stock levels with suppliers and not all tools and plugins are compatible with all sales platforms.
For these reasons, you need access to one of the dropshipping platforms and dedicated dropshipping software to help manage the numerous tasks needed to run a successful dropshipping operation as well as related tasks such as tracking orders, integrating with carriers and suppliers, generating reports, analytics and more.
Ordoro as a dropshipping platform can help businesses not only locate products to sell but perform all of the above and more tasks, including importing products and assigning them to designated vendors. Our developers have created plugins and other tools that help sellers take their businesses to the next levels of success. With Ordoro, you can set up and start your dropshipping business in just minutes!
We'll take a closer look at some of the more popular dropshipping platforms below:
AliExpress Dropshipping
AliExpress dropshipping is an online retail service based in China, owned by the Alibaba group. Launched in 2010, it sells B2C and mostly consists of smaller businesses in China and Singapore offering products to international online buyers. It's often compared to eBay with independent sellers making up the bulk of the users. Where Alibaba.com provides sales opportunities for B2B, the AliExpress dropshipping app is for smaller, independents selling directly to consumers.
However, AliExpress dropshipping tracking can be unreliable according to some users – Oberlo and the AliExpress dropshipping plugin were meant to work together but sometimes have trouble "speaking" to each other. Also, Oberlo currently uses just two integrations: Shopify and AliExpress, with the platform's terms and conditions sometimes random and inconsistent; with a lot of online competition.
However, AliExpress does have some good points, such as its AliExpress dropshipping center dashboard and other helpful features. One of its strongest points is the ability to point sellers toward a wide variety of affordably-priced products to offer customers. However, for those seeking a higher level of quality of dropshipping products, be aware that the vast majority of products come from Chinese sources, with many of these not surprisingly coming from Alibaba's manufacturing membership.
AliExpress does a decent job of introducing newbies to dropshipping as well as an easily-used interface with tools and plugins to get you started on the right track.
Ordoro, a leader in shipping and inventory management software, can help you take your dropshipping ecommerce business even further, with our customizable software, training, and ongoing support.
CJ Dropshipping
CJ Dropshipping is an ecommerce dropshipping fulfillment supplier, based in China, dedicated to helping small businesses around the world. It's a free platform, with no monthly fees, no setup fees, and no required minimum order. Although compared to other platforms such as AliExpress and other dropshipping websites, CJ Dropshipping doesn't have access to as large a variety of product listings, they offer another service to compensate: if you want to find a best-selling product, not on the CJ app you can request a product source. One point to note: while the use of the platform is free, there's a limit to the number of daily source listing requests.
To get started, you create an account, connect your ecommerce store, then add products. Training is easily accessed through start-up tutorials on their YouTube channel, as well as with blogs, FAQs, and other means. They also offer customer support with live chat, telephone calls with assigned reps, and email, keeping you connected to the help needed.
Their dropship service integrates favorably to Oberlo, Shopify's own dropshipping tool, which sources its products from AliExpress, CJ Dropshipping's primary competitor. \While Oberlo is easy to use, especially for beginners, it only supports Shopify stores, whereas CJ Dropshipping supports numerous ecommerce platforms in addition to Shopify, as well as eBay, WooCommerce, and more.
Unlike some dropshipping companies, CJ Dropshipping also has a reasonable refund, resend, and returns policies that promote fairness to both seller and buyer. Additionally, they have a Dispute Team to handle disputes, requiring sellers to respond to disputes at a given time and will block those sellers who don't open their disputes on CJ.
Spocket Dropshipping
Spocket Dropshipping syncs easily with major online platforms such as Shopify, WooCommerce, Wix, and BigCommerce for easy integration. Spocket vs Oberlo: for ecommerce entrepreneurs tired of dealing with China and often slower deliveries, it might be helpful to know that more than 80% of Spocket's dropshipping suppliers are based in Europe or the US, offering fast, reliable and seamless service and shipping, compared to some suppliers through Oberlo.
Spocket currently serves over 60,000 dropshippers worldwide, with a 14-day free trial to "try the app on for size", with no need for credit card details or registration fees. Spocket pricing offers a "Starter" plan running about $25/ month after the 14-day trial expires, and allowing you to offer 25 products; there's also an upgraded "Pro" plan currently about $50/ month offering 250 products, 25 premium products branded invoicing and chat support. All products are already heavily discounted from 30-40% off, giving sellers a shot at more sales from reliable, quality EU and US suppliers.
Spocket also has a helpful policy of letting dropshippers order product samples from the dashboard with just a few clicks. Sellers can test the products and decide if they want to include them in their dropshipping business before offering products online. Since many suppliers don't accept returns or exchanges, this can be very helpful in determining what to sell before getting stuck with an inventory of products you may not want to pt your brand's name on.
Magento Dropshipping
Magento dropshipping is an open-source ecommerce sales platform featuring storefronts like Shopify or eBay.
Magento, an Adobe company offering ecommerce websites serves both BB and B2C companies. They employ cloud-based solutions using PHP, designed to enhance the online retail experience, including flexible shopping cart systems, as well as control over the look, content and functionality of their online stores.
It offers multi-channel platform dropshipping solutions, aimed primarily at larger sellers. If, on the other hand, you're starting out or intend to remain smaller to mediums sized, fulfilling orders just through Magento dropshipping extensions should be sufficient to meet your needs. An advantage of multi-channel platform is the ability to handle more complex selling and shipping environments, allowing you to work from a central location for managing your orders.
Magento can be integrated with a number of apps, extensions, and plugins. Magento 2 dropship is faster, more user-friendly and more SEO-friendly than Magento, supporting the latest PHP, improving speed.
Like Magento, Ordoro offers a versatile sales platform with numerous apps and plugins for optimizing the ecommerce experience. Ordoro can help set you up quickly with your own dropshipping business, and guide you to finding the best, most popular products available. You'll also get outstanding support, as well as help with training, inventory, managing your sales and fulfillment teams and perform other essential tasks designed to help your business succeed. Suppliers can use the Virtual Portal to connect your sales department while getting the best shipping rates.
Best Ecommerce Platform for Dropshipping 2021
In a recent Software Advice report, consumers surveyed gave Ordoro 4.72 out of 5 stars – one of the top ratings among the leaders of the shipping and inventory-management software industries. Favorite features cited by respondents were the general ease of installation and implementation, a large variety of preferred features, the ability to seamlessly interface with areas outside the US, as well as Ordoro's outstanding customer service. Ordoro offers training and assistance as well as product locators and is designed to easily work with most of the major platforms, whether AliExpress, Shopify, WooCommerce or others, making it a best ecommerce platform for startups.
No wonder Ordoro can be considered the best ecommerce platform for dropshipping 2021!
Ordoro has the tools, teamwork, and experience to make your ecommerce vision a reality. Track shipments, automatically reorder when stock levels drop to a preset point, send customers notices and updates, coordinate multichannel markets, and more.
Multiple dropshipping methods include manually or automatically routing of dropship requests to vendors, allowing them to share the app through our exclusive Vendor Portal when fulfilling customer orders, or you can easily relay dropshipments through custom API integration. These features make Ordoro one of the best ecommerce platforms 2021 and the best ecommerce platform for small business 2021.
Ordoro offers FREE 30-day onboarding, ongoing lifetime award-winning support, and some of the best prices in the industry. Schedule a demo today to learn how to take better control over your inventory and dropshipping operations, while increasing your sales and profits.