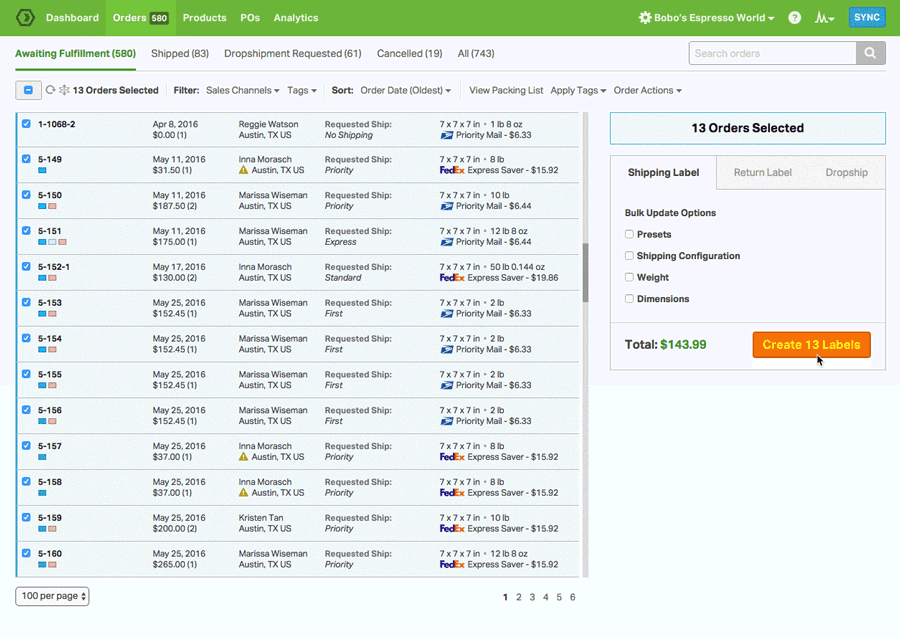 The All-In-One Best Ecommerce Platform For Small Business
The All-In-One Ecommerce Logistics Platform
Equip yourself with a comprehensive solution
Inventory Management
Stock, sync, and scan.
Automatically track and sync your inventory levels
Create and send out Purchase Orders when it's time to restock
Bundle multiple SKUs into one unit for sale
Use Barcode Scanning to reduce fulfillment errors
Multi-Carrier Shipping
Your workflow, minus the work.
Enjoy heavily-discounted shipping rates via USPS
Ship via any of our integrated shipping carriers like USPS, UPS, FedEx, DHL and Canada Post
Set up your own Automation Rules and Shipping Presets
Print shipping labels in triple-digit batches or individually
Dropshipping
Truly hands-off dropshipping.
Launch a dropshipping operation in a matter of clicks
Tag any product as drop shipped and assign it to a vendor
Choose between automated or manual routing
Activate a Vendor Portal between you and your supplier
Multichannel
We're your operations hub.
Integrate and view all of your sales and supplier channels in one spot
Use our open API to hook up any third-party or custom apps
Manage every aspect of your orders
Establish Supplier Feeds for real-time, back-end communication
Barcode Generation and Scanning
Raise the bar for stocking and packing.
Create UPC barcodes for your products
Scan, set, and search UPC codes for SKUs within Ordoro
Reduce fulfillment errors with our pack and pack barcode scanning workflow
Scan received POs to automatically adjust stock levels
Don't take our word for it
Our awesome customers have shipped some really great compliments our way:
"I spent about a month thoroughly searching for the right backend fulfillment software for my eCommerce business. There were definitely some big name guys out there that I considered, but at the end of the day, I went with Ordoro and I'm so glad I did!"

Tina Yarandi
Founder/CEO of Nature's Artisan
"Ordoro continues to add immensely valuable features to an already awesome sales/warehousing/shipping platform. Using Ordoro continues to save us time and money."

Anthony Krize,
VP of GE Holiday Lighting
Best Ecommerce Platform for Small Business
Whether you're a mainly ecommerce business or a brick-and-mortar seller, if you're looking for a good recommendation for small business selling platforms, there are plenty of choices out there.
Most platforms on the following list focus on e-commerce for small business but some work as well for brick and mortar companies.
Here are several ecommerce platform examples from a recent survey by the website Investopedia for choosing the best ecommerce platform for small business 2021 based on the type of business, size, budget, and other factors:
Are you new to ecommerce? The ready-to-use templates and unlimited products and visitors that Squarespace offers could be what you need.
GoDaddy was named best platform in the ease of use category, for those lacking tech skills
Best affordable platform? Square Online, with no monthly charge, inbuilt marketing features, and ease of use.
For ecommerce limited to solely online use, 3dcart took the prize, although not really for ecommerce beginners.
Weebly was voted tops for brick-and-mortar retailers
Are you mainly interested in dropshipping? Then you may want to choose Shopify, along with its easily-integrated tools such as Oberlo and user-friendly helpful guidelines.
If you've been running an ecommerce setup for a while and gained some solid experience, are you ready to move up to something more powerful to handle larger inventory and shipping requirements? Magento, with its powerful capabilities, could be a great choice
Smoolis snagged best platform for international sales.
BigCommerce walked away with the best overall platform honor, although it's not geared for small startups
In another survey by WebsiteBuilderExpert, the online store platform Wix was voted the best ecommerce website builder for small business, for being newbie-friendly, no transaction fees, and a free domain for the first year.
This ecommerce platforms list is just one good starting point – do a bit of research and review some of the more popular sites, comparing features, cost, scalability and, of course, user reviews.
Best Free Ecommerce Platform for Small Business
When choosing the best free ecommerce platform for small business, you may be tempted to consider platforms such sa Excel or other downloadable spreadsheets or go the open-source route.
"Free" is pretty much just that – no license/ contract fees or other upfront costs are involved.
"Open source" is software released under license where the copyright holder grants certain rights to the user, such as the right to use, change and distribute the software and its source codes to anyone for any purpose.
Downsides of open source and free forms of ecommerce software:
Open source can be susceptible to glitches, bugs and just plain odd quirks
Thanks to its uneven mix of features, its default settings will be unlikely to work perfectly for all users
Perhaps the biggest drawback is the need for PHP coding knowledge to take full advantage of open source software features – and of course, this means that that code could also be changed, either accidentally or deliberately, unknown to you, until problems develop.
That said, recent user surveys show that the best open source ecommerce platform 2021 would probably be WooCommerce, closely followed by Magento.
Excel and similar spreadsheet programs are relatively easy to learn and use however bear in mind that:
Spreadsheets are prone to errors when entering or changing data: accidentally enter the wrong digit or a decimal point and you could set your business back thousands of dollars in lost sales
Excel is difficult and time-consuming to track large quantities of products, as well as reorder dropping stock levels.
While free ecommerce website templates are usually offered as free trials by online stores like Wix and Shopify, you'll have to upgrade to actually start selling. One contender for best free ecommerce website builder is Square Online, which offers one of the most generous free plans available, making it a one of the most popular choices for best free online store.
Best Ecommerce Platform for Startups
What makes a platform one of the best for startups? We've already talked about the pros and cons of open source and free (well, mostly free trials) solutions. However, scalability (the ability to grow with your business without being switched out to another software platform) is a huge factor in determining which platform to go with. Besides necessary features, of course, you'll need to consider pricing. For example, take a look at Ordoro's very affordable Express Plan, offering the best ecommerce platform for startups – just go to Ordoro.com and take a look at what we offer.
Besides very affordable flexible monthly pricing, Ordoro also offers the following features:
Multicarrier shipping
Unlimited Users
Automation Rules
No SFP Fees
Discounted USPS Rates
Barcode Scanning
Batch Label Printing
All of this and scalability too – you won't need to worry about expensive upgrades or worse, having to toss out your inadequate software to install something that may cause learning curve delays and other serious issues.
Let's talk about pricing for a minute. Ordoro doesn't charge setup fees or hem you in with contracts. That's something to consider when looking at other, "free" services. Not only that, but we offer something other platforms and software companies don't: flexible monthly billing.
For a good overall platform that can help your business compete, grow and thrive, consider one of the leading ecommerce software leaders Ordoro. We have it all: affordable cost, the features you need and want, scalability as your business grows, real-time control over warehouse and fulfillment functions – no wonder we have such glowing reviews from users like you. Contact us to schedule a demo today and get your ecommerce business moving in the right direction.
Best Ecommerce Platform for Dropshipping
Dropshipping is fast gaining popularity as a business model among ecommerce entrepreneurs, and for good reason.
There's no need to maintain stock on-premises, including warehouses. (You do have to track inventory for accounting purposes.)
Stock is bought directly from a supplier or middleman, who then ships directly to customers
The seller (dropshipper) never handles or even sees the products before shipping, leaving them free of the usual fulfillment tasks.
The potential downsides of dropshipping are:
You don't see/ handle the products before shipping, meaning that you really, really need to work with a reliable, trustworthy supplier
You are also liable for any problems with the product: wrong item, damaging transit, etc.
You have to deal with returns and rebound shipments
There is a lot of online competition for similar products, as most dropshippers will be ordering through the same middlemen/ sources
The profit margin is lower
If you read through the above and still want to dropship, read on. If you're considering starting a dropshipping business, and now is a great time to do so, you'll want to carefully consider which platform is the best ecommerce platform for dropshipping.
Shopify is a good place to start as there's so much information on the site, including helpful videos as well as an app called Oberlo, to help locate products to sell. As a platform for dropshipping (or other forms of ecommerce), it's hard to beat. (Remember that just because a site was named as a top contender in 2020 may no longer be true as the best ecommerce platform for dropshipping 2021.)
Ordoro is equipped with multiple dropshipping methods (manually or automatically routing dropship requests to your vendors, allowing them to use the Vendor Portal to directly ship to customers. Just fill in supplier information, start importing products and assign to the selected vendors, and you're on your way.
Best Ecommerce Platform
Why not go with a software leader of the best ecommerce platform 2021: Ordoro.com? Ordoro is so easy to use, with plug-ins, including handy Vendor Portals and other tools developed for handling your business's specialized tasks. Ordoro offers the ability to manage multi-carrier shipping, integrate with multi-channels, pick and pack lists, and other fulfillment tasks, as well as help, manage dropshipping tasks. Are you selling apparel? Perhaps the best ecommerce platform for clothing is Magento eCommerce, used by many famous fashion brands. Other runner-ups would be WooCommerce, Shopify eCommerce, BigCommerce, and OpenCart.
We offer flexible pricing, with our pricing models designed to work with the seasonal ups and downs in selling. Instead of paying a flat fee, regardless of lower volume, you're charged only for actual usage of the platform usage.
While some other ecommerce platforms may have been voted as one of the best ecommerce platform for small business 2020 this may not be true for 2021. There have been a lot of changes in shipping software, what with the changes in the industry itself. Many merchants and other entrepreneurs have struggled with cumbersome spreadsheets and outdated software intended for brick-and-mortar businesses (that are slower to change and update) to manage inventory, shipping suppliers, and more.
When you partner with Odoro, you can say goodbye to cumbersome spreadsheets and wasted time doing repetitive data entry, as well as avoid the possibility of serious mistakes.
Ordoro's ecommerce software enables online businesses to do more of the following with ease and efficiently all from one platform:
Optimize your fulfillment workflow
Improve omnichannel inventory management
Create shipping labels and more for bulk shipping
For those who dropship, permit automated dropshipping
Ordoro offers you FREE 30-day onboarding, as well as lifetime support from our excellent support team. Schedule a free demo to learn how Ordoro can be the best ecommerce platform for your business.