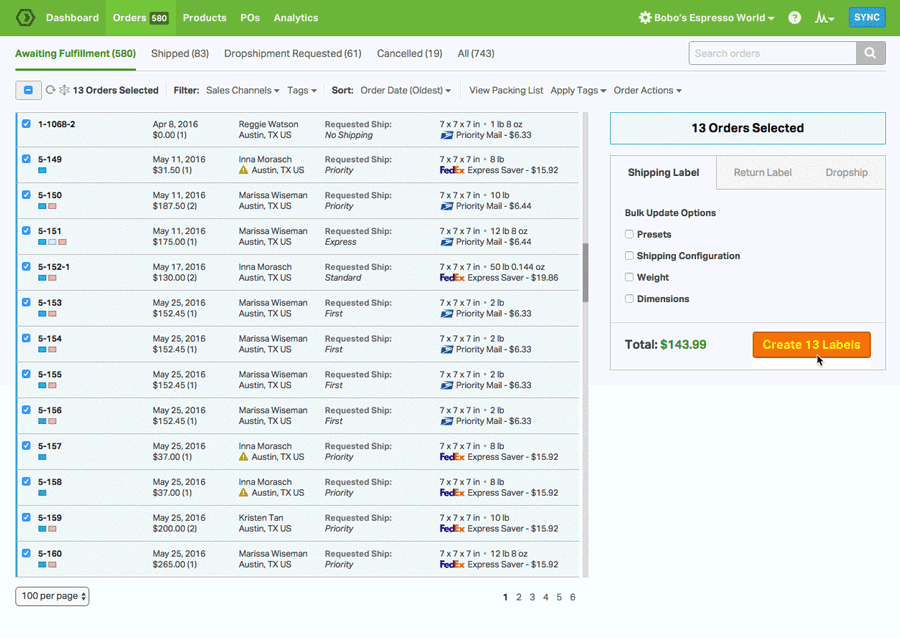 Streamline Your Dropshipping Business With Ordoro
The All-In-One Ecommerce Logistics Platform
Equip yourself with a comprehensive solution
Inventory Management
Stock, sync, and scan.
Automatically track and sync your inventory levels
Create and send out Purchase Orders when it's time to restock
Bundle multiple SKUs into one unit for sale
Use Barcode Scanning to reduce fulfillment errors
Multi-Carrier Shipping
Your workflow, minus the work.
Enjoy heavily-discounted shipping rates via USPS
Ship via any of our integrated shipping carriers like USPS, UPS, FedEx, DHL and Canada Post
Set up your own Automation Rules and Shipping Presets
Print shipping labels in triple-digit batches or individually
Dropshipping
Truly hands-off dropshipping.
Launch a dropshipping operation in a matter of clicks
Tag any product as drop shipped and assign it to a vendor
Choose between automated or manual routing
Activate a Vendor Portal between you and your supplier
Multichannel
We're your operations hub.
Integrate and view all of your sales and supplier channels in one spot
Use our open API to hook up any third-party or custom apps
Manage every aspect of your orders
Establish Supplier Feeds for real-time, back-end communication
Barcode Generation and Scanning
Raise the bar for stocking and packing.
Create UPC barcodes for your products
Scan, set, and search UPC codes for SKUs within Ordoro
Reduce fulfillment errors with our pack and pack barcode scanning workflow
Scan received POs to automatically adjust stock levels
Don't take our word for it
Our awesome customers have shipped some really great compliments our way:
"I spent about a month thoroughly searching for the right backend fulfillment software for my eCommerce business. There were definitely some big name guys out there that I considered, but at the end of the day, I went with Ordoro and I'm so glad I did!"

Tina Yarandi
Founder/CEO of Nature's Artisan
"Ordoro continues to add immensely valuable features to an already awesome sales/warehousing/shipping platform. Using Ordoro continues to save us time and money."

Anthony Krize,
VP of GE Holiday Lighting
Dropshipping Business
If you've been looking for ways to generate income from an online business without having to invest in and store large amounts of inventory, you may have come across the popular concept of the dropshipping business model. What is a dropshipping business? It's a form of online commerce, where you offer products for sale on an online store, such as through the Shopify or Amazon platforms, but instead of having to deal with storing products for sale inside your own warehouse as well as handle fulfillment and shipping, you simply relay the customer's order to your dropshipper supplier and they send out the products directly to your customer.
Is dropshipping profitable in 2021? Yes, it can be, if you're willing to devote the necessary time, financial and other resources to your budding ecommerce dropshipping business. There's room for new faces in dropshipping, so do your research on products and suppliers as well as partner with Ordoro for the best dropshipping management software today.
Is dropshipping legal? Yes, as long as you offer a legitimate, actual product at fair prices and ship to customers within a reasonable time. However, businesses that frequently fail to deliver on time, especially after accepting customer payments, will likely be held accountable by government and other commerce authorities. Also, be aware of what's legal to sell and what isn't: for example, certain hemp-derived CBD products can get you into trouble with some law enforcement agencies.
Finding dropshipping suppliers means finding those that are reliable as well as affordable.. Be sure to read reviews by other dropshippers about their experiences with any supplier you may have in mind. You'll want to do business only with those vendors and suppliers who have a track record of on-time shipments and accurate order fulfillment.
Partnering with Ordoro is one of the savviest ways to ensure that your dropshipping business gets off to a good start: with inventory reports, sales tracking and other features, you'll be up and running like a pro in no time.
How to Start a Dropshipping Business
So you want to learn how to start a dropshipping business? You'll need to decide what products to offer customers, and, of course, a website or some form of online store with a shopping cart capability. Shopify, Easy Ship and Spocket are excellent platforms as they are easily set up, affordable, have a large following and sell thousands of products daily.
It's not difficult to learn how to start a dropshipping business on Amazon, but you do need to be familiar with their terms of service and rules. As long as you are the seller-of-record of your products, with your identification on invoices and packages, and otherwise follow the sellers' guidelines, there isn't a problem with third parties handling your orders. So, like any savvy ecommerce owner, you'll want to take advantage of the Amazon platform.
To learn how to start dropshipping on Amazon, their website can walk you through many of the steps involved in setting up a dropshipping business. If you're attracted to the popular Shopify platform, you can easily learn how to start dropshipping on Shopify by starting with watching their videos, which can help take you from a newbie to a seasoned dropshipper in no time.
You can learn how to start dropshipping for free: product websites such as Alibaba have easy-to-use tutorials, downloadable PDFs are available, although those through Shopify, are only accessible after setting up an account.
Ordoro fills the gaps in dropshipping software management as well as for analytics, with versatile plug-ins that can track sales, interface with suppliers and carriers, generating reports as it helps you manage your dropshipping overall. Ordoro's can't-live-without dropshipping product research tool is a special app that connects to potential and current suppliers. You can allow users to create portals between their supply warehouse and the dropshipper. Getting started with Ordoro's dropshipping portal is easy: just fill in a form with supplier information, assign selected products to designated vendors and you're done!
Dropshipping Business Ideas
One benefit of dropshipping is that you can test out different dropshipping business ideas with fewer limits and other downsides, and see what works for you.
Dropshipping business ideas 2021 are still evolving heading into 2022, especially following the supply-chain snags during the last half of 2021. That said, below are a few successful current ideas to help kick-start inspiration:
A few dropshipping business ideas could include choosing from popular items such as sports and fitness, women's casual clothing, anything to do with pets, consumer electronics, accessories for the home, or gardening supplies, just to name a few possibilities. You can also look into entering a niche market: one example is, since 'pets' is a very broad category, consider narrowing it down to specialty or unusual items that may be harder for customers to find in local stores, such as "safest brands of dog toys" or "personalized dog tags and collars."
Choosing the right mix of dropshipping products is as important as selecting any other online business niche.
As with any successful venture, you'll need a dropshipping business plan that will act as a blueprint to grow your business. Among other things, it should include:
The amount of money needed for setting up a webpage on Shopify or some other platform, as well as the costs of advertising, both on and off social media
Creating an advertising budget, such as running ads on social media
Knowing how much it will cost to list products from the supplier(s) as well as their terms and conditions
Ordoro's software can help increase sales with multiple dropshipping methods, including routing dropship requests to vendors both manually or automatically, as well as letting approved vendors/ suppliers fulfill orders within the same dropshipping app. You can access analytics, with versatile plug-ins that can track sales, interface with suppliers and carriers, generate reports while helping you manage your dropshipping.
Best Dropshipping Products
Look to Shopify's platform for ideas and apps, including the Oberlo app to help locate products available on AliExpress when searching for the best dropshipping products. Oberlo uses analytics to identify top trends as well as everyday staples for sellers. If you want to keep it simple in the beginning, while offering popular brands and products, this is one of the best ways to get started.
One possible downside of using mostly AliExpress dropshipping products is that most products come from China and other parts of Asia. While costs may be lower and there's good product variety, there are also bound to be shipping delays, such as those experienced recently, resulting in supply-chain disruptions just before some major shopping holidays. Of course, the further an item must travel to reach a customer, the higher the shipping rates, which are bound to be reflected in the prices you charge customers.
One recommendation for locating products is to search for reliable dropshipping suppliers offering good quality products with fast shipping either in wholesale directories or by contacting the manufacturer directly. You can often get better pricing and terms than with an expensive middleman's website as well as avoid monthly user fees.
Ordoro fills the gaps in dropshipping software, inventory management as well as analytics, with easily-used plug-ins that can accurately track sales and generate reports.
One example is Ordoro's dropshipping product research tool, which is a special app for connecting to potential and current suppliers, allowing users to create portals between the supply warehouse and the dropshipper. Just a few clicks are all it takes to have full control over your business with downloadable automatic dropshipping tools and software from Ordoro. These, as well as other tools and plug-ins from Ordoro's toolbox, provide a seamless customer buying experience from their first purchase to final delivery.
How to Manage a Dropshipping Business
Starting a dropshipping business means keeping track of your sales, maintaining good relationships with suppliers to ensure that product inventories are available to meet customer demand, dealing with customer service issues as they arise, and otherwise learning how to manage a dropshipping business, takes time and experience as well as having good resources. You will also need a dropshipping management tool as a way to keep track of your inventory and the suppliers and warehouses that handle it, enabling you to quickly fulfill customer orders, such a the apps, and plugins created by Ordoro.
If you are hoping to learn how to grow dropshipping business, you'll need to spend some time on sites such as Shopify, AliExpress, Amazon, and other dropshipping suppliers and sites to get a feel for what's involved, as well as compare fees, shipping costs and other expenses.
Among the best dropshipping websites are eBay, Amazon, BigCommerce, Shopify, Blue Cart, and AliExpress, based on overall sales data and customer satisfaction, with timely delivery and costs. You can take advantage of the numerous dropshipping apps on Shopify, while the Amazon dropshipping app helps to not only boost sales but manage returns by Amazon customers for dropshipped items with the Amazon automation tool for tracking the entire sales process.
You can't accurately manage inventory and generate reporting, let alone predict potential sales, without some kind of ecommerce business plan that utilizes analytics. Ordoro's analytics plug-ins have your business covered: you can generate sales reports that are based on accurate, up-to-date analytics, as well as identify administrative tasks and areas needing special attention.
Ordoro offers FREE 30-day onboarding plus lifetime support as well as kitting, pick and pack lists, and customizable analytics. These and other features are what set Ordoro's fully automated inventory and dropshipping software apart from the rest of the competition. Call for your demo today!