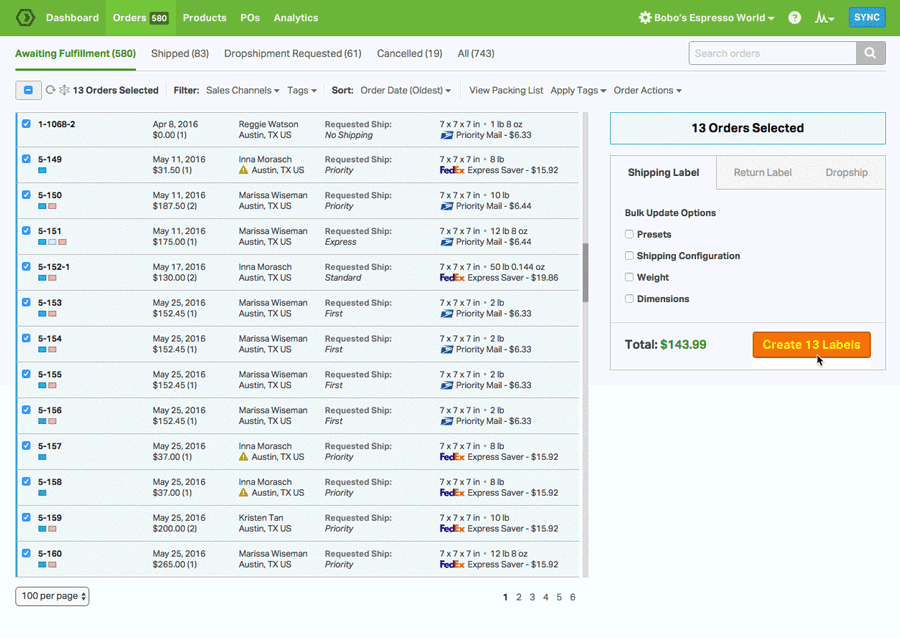 Streamline Your Amazon To Ebay Dropshipping Workflows
The All-In-One Ecommerce Logistics Platform
Equip yourself with a comprehensive solution
Inventory Management
Stock, sync, and scan.
Automatically track and sync your inventory levels
Create and send out Purchase Orders when it's time to restock
Bundle multiple SKUs into one unit for sale
Use Barcode Scanning to reduce fulfillment errors
Multi-Carrier Shipping
Your workflow, minus the work.
Enjoy heavily-discounted shipping rates via USPS
Ship via any of our integrated shipping carriers like USPS, UPS, FedEx, DHL and Canada Post
Set up your own Automation Rules and Shipping Presets
Print shipping labels in triple-digit batches or individually
Dropshipping
Truly hands-off dropshipping.
Launch a dropshipping operation in a matter of clicks
Tag any product as drop shipped and assign it to a vendor
Choose between automated or manual routing
Activate a Vendor Portal between you and your supplier
Multichannel
We're your operations hub.
Integrate and view all of your sales and supplier channels in one spot
Use our open API to hook up any third-party or custom apps
Manage every aspect of your orders
Establish Supplier Feeds for real-time, back-end communication
Barcode Generation and Scanning
Raise the bar for stocking and packing.
Create UPC barcodes for your products
Scan, set, and search UPC codes for SKUs within Ordoro
Reduce fulfillment errors with our pack and pack barcode scanning workflow
Scan received POs to automatically adjust stock levels
Don't take our word for it
Our awesome customers have shipped some really great compliments our way:
"I spent about a month thoroughly searching for the right backend fulfillment software for my eCommerce business. There were definitely some big name guys out there that I considered, but at the end of the day, I went with Ordoro and I'm so glad I did!"

Tina Yarandi
Founder/CEO of Nature's Artisan
"Ordoro continues to add immensely valuable features to an already awesome sales/warehousing/shipping platform. Using Ordoro continues to save us time and money."

Anthony Krize,
VP of GE Holiday Lighting
Amazon To Ebay Dropshipping
If you are trying to grow your online business, then you are probably targeting some of the biggest online selling platforms, such as Amazon and eBay. If you have multiple products listed on both of these sites, then there may be situations where you need to move products between them. For example, you may need to ship something from Amazon to eBay, or the other way around. While important to your business, though, this kind of move can also get expensive quickly. In addition, it can take up a significant amount of your time. So, if you want to spend your time focusing on other areas of your business, then you may be looking for a third party that can help you address your shipping needs quickly, efficiently, and affordably. This is where a dropshipping approach can be helpful.
There are many people who may be wondering about Amazon to eBay dropshipping. Similarly, there are also people interested in dropshipping from eBay to Amazon. While this may sound like a complicated process, it does not have to be. By looking at an Amazon dropshipping guide, it is possible to learn more about eBay dropshipping tools that can enable savvy business leaders to pass products between these two platforms.
As your business grows, there may also be additional platforms you are interested in adding. For example, you may also be interested in dropshipping from Amazon to Shopify. This is just another way you may be able to grow your business. Whichever route you go, in order for you to get the most out of your dropshipping experience, you need to make sure you find the right supplier. In addition, you also have to understand all of the applicable policies when it comes to dropshipping between multiple platforms. Because it can be difficult to keep up with a lot of these changes, it might be easier to use a software program to manage some of the processes on the back-end. In this way, you can make the whole process more efficient for both yourself and your clients.
Amazon To eBay Dropshipping Software
As a business leader, you probably have a lot to do on a daily basis. Therefore, you may not have time to think about dropshipping constantly. So, instead of having to manually enter your shipping information and complete similar tasks with every order, you may benefit from using Amazon eBay dropshipping software.
Luckily, if you are looking for a software program that can help you in this area, you have plenty of options at your disposal. For example, you may be looking for a dropship eBay integration, which would be another way for you to automate many of your dropshipping tasks. Or, if you are looking at dropshipping from Amazon to eBay 2020, then you may be looking for Amazon to eBay dropshipping software free.
Either way, if you are looking for a way to dropship from eBay to Amazon, it is important for you to find the best software program available. While it makes sense that you probably do not want to spend more money than necessary, you do have to be careful if you are using a free software program. A free software program will only get you so far. A free trial or other free option could be a good way to learn about the various features needed to run your particular business. At the same time, if you truly intend to get the most out of your dropshipping experience, then you'll need to upgrade your software program eventually. If you find a software program with the right features and you decide to purchase it, then over time you will actually be able to save more money than the initial cost of the software program, thanks to your increased productivity and efficiency.
Ultimately, if you would like to buy on eBay and sell on Amazon, you do need to know the policies of both sites in order to do this. A software program can help you do exactly this, and furthermore, can automate many of these processes too, making your business that much faster. With all these benefits on offer, it's worth taking the time to look at the software programs you have at your disposal.
Amazon To eBay Dropshipping Tracking Number
If you are shipping products between two platforms, then for one thing, you need to be able to follow your order as it moves and gets sent off to the customer. This is just one reason why it is important to keep track of your Amazon to eBay dropshipping tracking number using Amazon tracking.
However, if you're wondering how to convert Amazon TBA tracking, then keep in mind that each platform will have its own tracking number, so for packages moving between platforms, each individual one may have multiple tracking numbers. Moreover, you need to be able to keep up with them, so that you know how to find each order you have in transit. Likewise, if you ever enter an order number and the product does not show up, make sure you are using the right tracking number for that site.
For example, if you are wondering how to convert Amazon tracking number to USPS, remember that USPS will probably assign its own tracking number. Therefore, if you are looking up something on USPS, then you need to use the USPS tracking number.
As a result of these policies, Amazon shipping eBay tracking is an important part of making sure this whole process flows smoothly. That is why you need to take advantage of Amazon 24-hour tracking eBay. If you are able to track your orders in transit, then you will be able to tell instantly if something goes wrong. Having this ability can reduce the chances of having your order lost in transit and customers being disappointed.
Amazon Dropshipping
More and more people have probably heard about Amazon dropshipping over the past few years. However, some of these same people are likely wondering, is Amazon dropshipping profitable? Is dropshipping on Amazon worth it?
The simplest way to put this is that Amazon to Amazon dropshipping can be worth it as long as you take advantage of the Amazon dropshipping app. That way, you can stay up-to-date on all policies and procedures, and make sure you do not violate any of the applicable rules when it comes to Amazon dropshipping suppliers. If you plan your Amazon dropshipping experience carefully, then you should be able to make a significant amount of money doing this.
After hearing the benefits of this approach, there are certainly a lot of people who will be wondering how to get started. The good news here is that it is possible to learn more about Amazon dropshipping by taking an Amazon dropshipping course. Taking this kind of course is helpful because it helps prospective sellers learn about the applicable rules and regulations when it comes to dropshipping products on Amazon. In addition, a course like this can also help people figure out the tools they need to have in place in order to have a solid dropshipping experience. With access to an Amazon dropshipping course, though, it is possible for anyone to learn more about the basics of becoming a dropshipper on Amazon.
Finally, it can also be helpful to rely on Amazon dropshipping software. When people first get started with dropshipping, they will often be able to handle a lot of the work themselves. As the business grows, though, then they'll simply have too many orders to manage them all by hand. As a result, they may have a difficult time keeping up with everything that needs to be done. Using Amazon dropshipping software is a great way to automate many of these tasks. In this way, business owners will be able to save a great deal of money, focusing on what matters most to them and their business. Meanwhile, the software program can take care of most of the clerical work that used to be handled manually.
How To Dropship on Amazon Without Money
You may also be wondering how to dropship on Amazon without money. Even though it is possible to go through Amazon dropshipping for beginners without any money, you do need to have some capital in reserve in order to cover your business expenses. Fortunately, there are not that many expenses in this process. For example, you can get started with Amazon dropshipping job by taking advantage of free dropshipping software. While free dropshipping software may be able to help you get started, though, keep in mind that this free software program will only be able to get you so far.
Fortunately, after you have completed a few orders, there should be more money coming in, and your initial investment will pay off, enabling you to cover the expenses of your business. Also, because it does not take much money to get started in the world of dropshipping, this has become a popular path for those seeking another job. Furthermore, you can also take an online course that will teach you how to dropship without spending a lot of money. That way, you can maximize the amount of money you are bringing in while also keeping your business expenses to a minimum.
Amazon To eBay Dropshipping Automation
Finally, if you are passing products and services between Amazon and eBay regularly, then you may be interested in automatic eBay dropshipping. Amazon to eBay dropshipping automation has become popular over the past few years. Because these online retailers have grown significantly, there are many customers who are interested in automating their dropshipping needs. Furthermore, because many businesses are interested in opening an e-commerce arm, these platforms will only become more popular as time goes on. This is yet another reason why you may be interested in exploring Amazon to eBay arbitrage automation.
And even if you are already an experienced dropshipper, think about everything you already need to do over the course of the day. Then, think about how much time you could save if a lot of your clerical work was automated. What could you do with those extra hours instead? This is one of the biggest reasons why so many people are exploring dropshipping automation for Amazon and eBay. So if you want to save a lot of time, then you should consider the software programs that are available and how you can save further time and costs this way. Given these many benefits, make sure you explore automation software for all of your dropshipping needs.