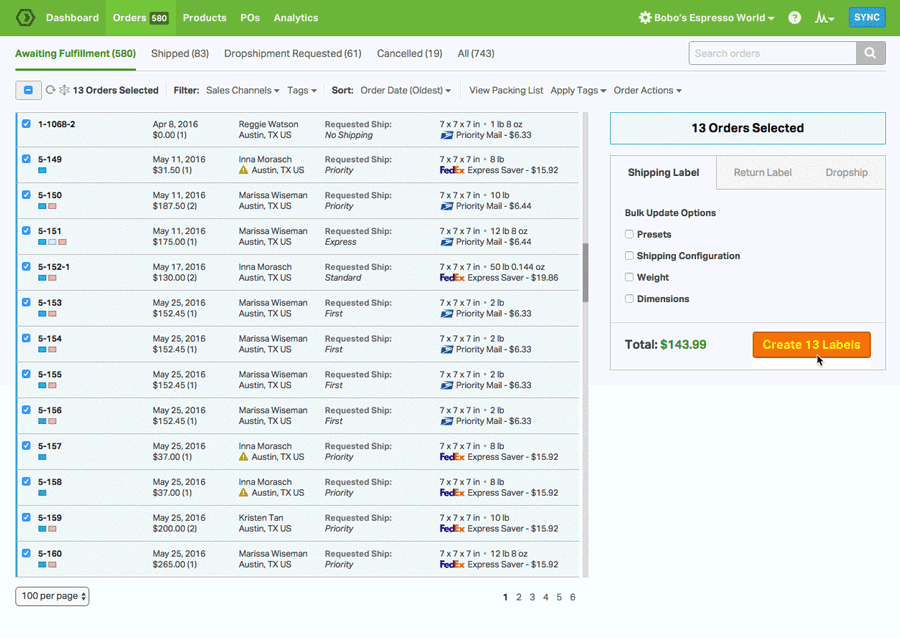 Experience Hands-Free Dropshipping Software With Ordoro
The All-In-One Ecommerce Logistics Platform
Equip yourself with a comprehensive solution
Inventory Management
Stock, sync, and scan.
Automatically track and sync your inventory levels
Create and send out Purchase Orders when it's time to restock
Bundle multiple SKUs into one unit for sale
Use Barcode Scanning to reduce fulfillment errors
Multi-Carrier Shipping
Your workflow, minus the work.
Enjoy heavily-discounted shipping rates via USPS
Ship via any of our integrated shipping carriers like USPS, UPS, FedEx, DHL and Canada Post
Set up your own Automation Rules and Shipping Presets
Print shipping labels in triple-digit batches or individually
Dropshipping
Truly hands-off dropshipping.
Launch a dropshipping operation in a matter of clicks
Tag any product as drop shipped and assign it to a vendor
Choose between automated or manual routing
Activate a Vendor Portal between you and your supplier
Multichannel
We're your operations hub.
Integrate and view all of your sales and supplier channels in one spot
Use our open API to hook up any third-party or custom apps
Manage every aspect of your orders
Establish Supplier Feeds for real-time, back-end communication
Barcode Generation and Scanning
Raise the bar for stocking and packing.
Create UPC barcodes for your products
Scan, set, and search UPC codes for SKUs within Ordoro
Reduce fulfillment errors with our pack and pack barcode scanning workflow
Scan received POs to automatically adjust stock levels
Don't take our word for it
Our awesome customers have shipped some really great compliments our way:
"I spent about a month thoroughly searching for the right backend fulfillment software for my eCommerce business. There were definitely some big name guys out there that I considered, but at the end of the day, I went with Ordoro and I'm so glad I did!"

Tina Yarandi
Founder/CEO of Nature's Artisan
"Ordoro continues to add immensely valuable features to an already awesome sales/warehousing/shipping platform. Using Ordoro continues to save us time and money."

Anthony Krize,
VP of GE Holiday Lighting
Dropshipping Software
Whether you're opening an ecommerce site with resale products or are yourself a supplier or manufacturer looking to expand your markets, utilizing dropshipping software to help fulfill orders faster and more efficiently is the smart way to do business. Keep in mind that while there are plenty of good dropshipping software products out there connecting to suppliers, most will lack some of the features found in Ordoro's dropshipping software for suppliers.
The reason is pretty simple: Shopify, Sprocket, Easy Ship and other services are designed for most ecommerce/ retail platforms, with different operational requirements than you have as a dropshipper. You will need software that's more flexible and versatile than offered in some other popular ecommerce platforms, where you will not be dealing with headaches such as documentation or bills of lading. You are going to need a dropshipping management tool as a way to keep track of your inventory and the suppliers and warehouses that handle it, enabling you to quickly fulfill customer orders.
Ordoro fills the gaps in dropshipping software inventory management as well as analytics, with easily-used plug-ins that can accurately track sales and generate reports.
One example is Ordoro's dropshipping product research tool, which is a special app for connecting to potential and current suppliers, allowing users to create portals between the supply warehouse and the dropshipper. Just a few clicks are all it takes to have full control over your business with downloadable automatic dropshipping power tools and software from Ordoro – it doesn't get easier than that!
Getting started is ridiculously easy: just fill in a form with supplier information, assigning products to designated vendors, importing, and you're good to go!
Let's take a closer look at some of the more popular dropshipping software platforms with their specialized dropshipping tools for taking your dropshipping capabilities to the next level.
Amazon Dropshipping Software
You're probably asking whether dropshipping is allowed by Amazon – after all, you don't want to break rules and get your business off on the wrong foot!
One important thing to remember about Amazon is that as long as you are the seller-of-record of your products, with your identification on invoices and packages and otherwise follow the seller guidelines, there isn't a problem with third parties handling your orders.
So, like other smart ecommerce owners, now you'll want to take advantage of the Amazon platform, with its excellent potential for expanding your sales.
Even newbie dropshippers now have the ability with Amazon dropshipping tools aided by Ordoro's plug-ins to snag great commissions for quality, popular products. The Amazon dropshipping guide for resellers is a great way to get started or expand your existing dropshipping business. Providing the best dropshipping software for Amazon as well as other major platforms is just one of the many functions Ordoro offers to grow your business.
Amazon dropshipping software capabilities are an extremely vital part of whatever tools and software you choose. Most of the dropshipping tools for Amazon are not only easily set up but offer some degree of automation as well as integration with other programs and platforms, as with selling from eBay to Amazon or linking to your Shopify store.
You'll also want the flexibility of options such as keeping things simple in the beginning with orders coming in from customers of Amazon directly to your vendor while notifying you of the status.
Returns by Amazon customers for dropshipped items, can be easily managed with an Amazon automation tool for keeping track of the whole process.
Between plug-ins and other tools, Ordoro provides the best dropshipping software for Amazon, allowing you to tailor options to your own business needs, including linking your chosen platforms seamlessly while adapting settings as you grow your business.
Dropshipppng Software for eBay
You may not know that certain platforms, such as eBay, can actually enhance your brand's exposure, resulting in boosted sales. If you're an experienced dropshipper, you probably know that there's an increasing number of specialized eBay dropshipping tools, which enhances your listings on their site. One of these handy free tools is eBay's Seller Hub, where software such as Selling Manager Pro is available for its (paid) subscriber sellers.
Using eBay drop shipping automation can improve eBay sales activity with Chrome's automated price stock management listing extender Hustle Get Real, as well as SkuGrid's access to reliable integrated sales channels and over 800 suppliers. Auto DS automatically imports price listings and monitors your eBay store's inventory. The Ordoro open API enables overseas suppliers and vendors to streamline customs integration processes by eliminating cumbersome emails and speeding up order fulfillment.
You should be aware that when it comes to choosing the best automated dropshipping software for eBay, you first need to determine your own needs – with eBay dropshipping automation, one size doesn't fit all. Look instead for that software that best fits your own needs – both now as well as has flexible features that can grow along with your business.
One smart way to save money with eBay sales, in tandem with using eBay-friendly software is to turn to dropshipping rather than trying to ship everything out yourself. Working with integrated services such as USPS, FedEx, Canada Post, UPS and others can give you more time to focus on administrative tasks and other things that don't lend themselves to automation.
For the best dropshipping software for eBay, look for features that help you manage inventory, track orders in transit, and be able to see what's happening, when and where at all times to avoid unpleasant surprises for your customers and you.
Ordoro's easy and flexible plug-ins and other software options are designed to do all of the above and more, providing better eBay dropshipping automation including getting your inventory in sync with sales suppliers, warehouses and other channels, giving you a better picture of where your business is at, and how to best move forward.
Walmart Dropshipping Software
As one of the biggest retailers in ecommerce, with online sales increasing by 79 % in fiscal year 2021, savvy branders understand the importance of not only selling on Walmart but joining Walmart's Drop Ship Vendor program as well.
Several flexible selling options exist for Walmart sellers meeting the requirements for participation in DSV:
Walmart 1P –Walmart's fulfillment services
Similar to 1P selling on Amazon, all you're required to do is ship your products to a Walmart Fulfillment Center, with Walmart handling the rest, including pricing, shipping, returns all customer service matters, while giving you the credibility that comes with being connected to the Walmart name.
Walmart 3P –Walmart's self-fulfillment program
3P sellers sell through Walmart's site with more control as a third party over their own inventories and listings, although with more effort for your company.
Walmart 3P Fulfillment Services (WFS)
Sellers using WFS have what's probably the best of both worlds: control over pricing and listings but without the responsibility of fulfilling orders. Products are instead shipped to Walmart to be stored in their inventory system and fulfill customer orders. While these vendors have increased control, they can also display a "Fulfilled by Walmart" listing badge for better credibility.
Walmart Dropshipping is a combination of both 1P and 3P selling, with Walmart buying and listing your product. Like the 1P setup, The Walmart dropshipping automation service does the listing, pricing, and other tasks but unlike 1P you get to hold your own inventory using the Walmart dropshipping app while assuming the responsibility for fulfilling orders made on Walmart's website either to a Walmart store or directly to the customer.
Regardless of which selling platform you choose, Ordoro's range of fully-customizable software options has you covered. We're always a step ahead of the competition when it comes to the best Walmart dropshipping software on the market.
Best Automated Dropshipping Software
No matter what type of business you have, you need to know that there are many types of software available. Some are good, some are so-so and some okay. A few are great - like Ordoro's best dropshipping tools 20020 and 2021.
If you are an ecommerce store or reseller you'll want special features to let you quickly and easily manage inventory, especially if you are lacking a real stockroom and need to rely on your supplier's reliability to ship orders accurately and on time. You'll need to be able not only keep track of inventory levels but interface with selected suppliers and sales channels
With Ordoro's inventory management plug-ins, you can not only match the right warehouse and supplier to your customers but enable handling bulk orders – something often beyond the scope of most off-the-shelf software. You can choose to assign orders and send out as per your customers' requirements, and handle reorders based on sales and existing stock levels. Letting suppliers utilize the Vendor Portal enables them to log into their accounts, print labels and track the status of their active orders in real time.
Because you can't manage inventory and generate accurate reporting very well, let alone predict potential sales, without some kind of analytics, Ordoro's analytics plug-ins have you covered. Administrative tasks, such as sales reports, based on accurate, up-to-date analytics, including areas needing attention, are at your fingertips. Ordoro's dropshipping product research tool as well as plug-ins from Ordoro's toolbox provide a seamless customer buying experience form initial purchase to fulfillment.
Did we mention that Ordoro offers FREE 30-day onboarding plus lifetime support as well as pick and pack lists, kitting, as well as those customizable analytics? These and other constantly-updated features set Ordoro's fully automated dropshipping software apart from the rest of the competition.