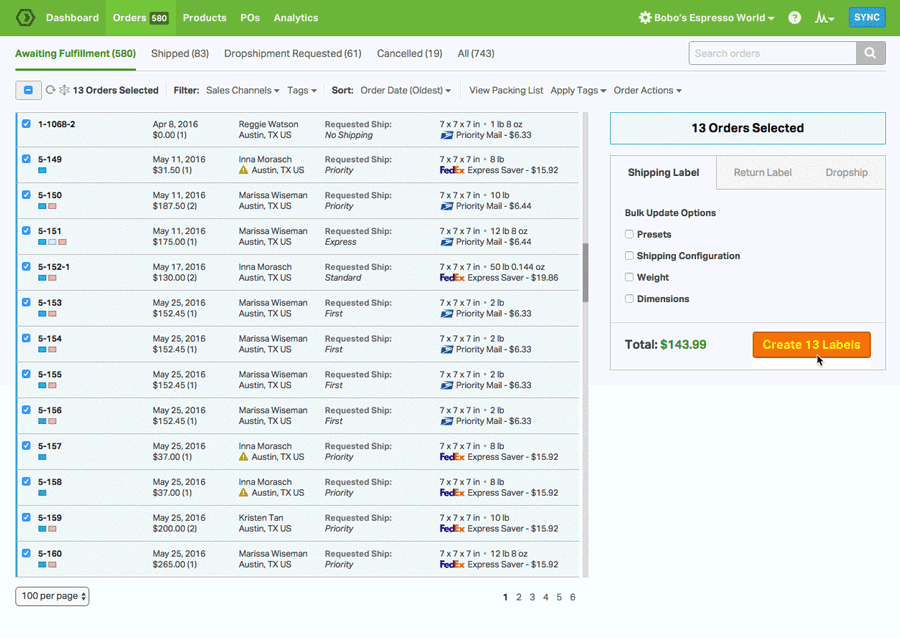 Discover the Best eBay Software for Your Business
The All-In-One Ecommerce Logistics Platform
Equip yourself with a comprehensive solution
Inventory Management
Stock, sync, and scan.
Automatically track and sync your inventory levels
Create and send out Purchase Orders when it's time to restock
Bundle multiple SKUs into one unit for sale
Use Barcode Scanning to reduce fulfillment errors
Multi-Carrier Shipping
Your workflow, minus the work.
Enjoy heavily-discounted shipping rates via USPS
Ship via any of our integrated shipping carriers like USPS, UPS, FedEx, DHL and Canada Post
Set up your own Automation Rules and Shipping Presets
Print shipping labels in triple-digit batches or individually
Dropshipping
Truly hands-off dropshipping.
Launch a dropshipping operation in a matter of clicks
Tag any product as drop shipped and assign it to a vendor
Choose between automated or manual routing
Activate a Vendor Portal between you and your supplier
Multichannel
We're your operations hub.
Integrate and view all of your sales and supplier channels in one spot
Use our open API to hook up any third-party or custom apps
Manage every aspect of your orders
Establish Supplier Feeds for real-time, back-end communication
Barcode Generation and Scanning
Raise the bar for stocking and packing.
Create UPC barcodes for your products
Scan, set, and search UPC codes for SKUs within Ordoro
Reduce fulfillment errors with our pack and pack barcode scanning workflow
Scan received POs to automatically adjust stock levels
Don't take our word for it
Our awesome customers have shipped some really great compliments our way:
"I spent about a month thoroughly searching for the right backend fulfillment software for my eCommerce business. There were definitely some big name guys out there that I considered, but at the end of the day, I went with Ordoro and I'm so glad I did!"

Tina Yarandi
Founder/CEO of Nature's Artisan
"Ordoro continues to add immensely valuable features to an already awesome sales/warehousing/shipping platform. Using Ordoro continues to save us time and money."

Anthony Krize,
VP of GE Holiday Lighting
eBay Software
In order to maximize time and profits for any business in the 21st century, automated technology and software are in peak demand. Companies of all sizes come to Ordoro seeking out the latest in the best eBay listing software 2021 as one way to increase revenue. Whether you are selling used vintage denim or new items manufactured in your studio, there are ways to make eBay work harder for your brand. Learn how to optimize listing management so you spend less time coming up with clever tag lines and image themes. Focus on the big picture of getting bulk orders shipped and delivered if you truly hope to maximize your eBay seller profits and make a greater return on your financial investment.
Using technology and applications, business managers can more efficiently track sales and shipments. This technology further improves shipping times and reliability for dropshipping, as well as inventory management. Understand where your products are at for any given moment–even those still requiring assembly. Stay on track with inventory and supplies, so you can take advantage of unexpected discounts offered by wholesalers and dealers.
As an eBay seller, you have access to an assortment of tools. These are set up in-house for the platform and are specifically for eBay. Tools include:
eBay listing templates
Order management apps
Seller dashboards
Inventory and shipping management
Ultimately these tools track sellers and customers and use algorithm data and analytics to predict user and shopper behavior. The goal with eBay is to increase revenue by improving the experience and outcomes for all parties involved with eBay selling and purchasing. Therefore, the limits on this software and applications. The company inkFrog, for example, offers eBay bulk edit, cross-selling tools, image hosting, and listing software including templates for listings. However, if you are searching for tools for another platform, inkFrog does not transfer.
Ordoro supplies eBay software and the best free eBay templates for sellers on this popular multinational e-commerce company. Whether you are selling new or used items, which can even include big-ticket classic cars and boats, you need to have eBay listing tools at a minimum. There are plenty of features that Ordoro's first-in-class software solution supports. These start with the management of back-office operations as an eBay seller for any size eBay business. Ordoro serves as an all-in-one solution to tackle the difficult tasks involved with professional and timely shipping a inventory management.
eBay Apps for Sellers
Next up, let's take a closer look at some of the different apps that eBay sellers are using to support their online business on the platform. Ecomdash shares some of the most favored tools that offer some of the best apps for eBay sellers in the market. These include:
AfterShip
Frooition and Froo! Cross-Sell
GoDaddy Online Bookkeeping
JPEGbay
Price Spectre
ShelfTrend
ShipSaver Insurance
Among these, Price Spectre and GoDaddy Online Bookkeeping have tiered subscription plans. For eBay new listing alert software and other tools that are free, check out Frooition, ShipSaver, ShelfTrend, AfterShip, and the JPEGbay tool.
Another common type of eBay software for sellers is uBuyFirst. As one of the more common eBay apps for sellers, uBuyFirst provides insight for those who need to know more about product listings. Are you concerned your listings are not as detailed as you would like? Using uBuyFirst eBay dispatch software lets sellers optimize listings according to categories, descriptions, pictures, and total price. You also get information about the cheapest shipping options for the zip code of the seller and buyer.
Other tools for sellers include an eBay auto-buy bot, which will manage eBay Offers automatically and target reminder messages. These tools include eBay buy it now sniper tools, eBay flipping software, and marketing tools from companies like Jazva, SellerCloud, and Putler. Combining multiple tools and companies may be the way for some sellers to go. However, thanks to Ordoro, there is an easier solution. Choose Ordoro for the best eBay software for free listings and shipping discounts.
eBay Listing Software Free
So, what exactly is eBay listing software? An eBay listing tool is a form of connected technology that serves to automate eBay listings. You do not have to actively post a listing each time, which is excellent news for sellers who are searching for eBay bulk listing software. Reduce human error and response rates on posting item listings. This is thanks to the use of categories and automatic fill-ins for certain types of information. Eliminate manual entry and improve the overall consistency of your eBay listings with this type of software.
Listing eBay listing software free options for eBay sellers include:
CrazyLister
Addtowatchlist
WowLister
Repricer.com
Terapeak
Algopix
xSellco Feedback
Some of the best eBay listing software 2022 includes inkFrog. Inkfrog is dedicated to the eBay platform, after starting out to fulfill a need based on the brand's own selling history on the site. That being said, if you are planning to ship on another platform or online marketplace, the inkFrog technology will not get you very far. To be able to transition from eBay to Etsy, for example, you need to have a better-equipped software provider for inventory management. Look for a vendor of software that fully supports integrating eBay listings with other platforms, as a way to further automate your listing process. This is one example, as shipping, marketing, and social media management are other areas you must focus on with multi-channel integration of an online shop.
Ordoro provides premium eBay software and tools for listing products, as well as analytical tools for reporting sales and inventory. Stay on track with products and list them as they are ready to sell so your eBay shop is always full. Understand more about listings with the use of Ordoro's platform for e-commerce data and integration tools. As the leader in shipping and inventory management, Ordoro has a free shipping app that offers listing features. Find out how to track and sync inventory levels so your eBay store is always ready to sell. Restock with ease and bundle multiple SKUs with the Ordoro system of technology.
Inkfrog eBay
As one of the more popular forms of eBay software for sellers, inkFrog offers a lot of perks. Whether you are a new eBay seller or someone who has been in the marketplace for a decade or more, you stand to gain with this technology. Using inkFrog eBay apps and solutions allows sellers to conduct more efficient image hosting and bulk edits. Whether you choose inkFrog classic or the premium plan that is at the upper level, there are plenty of features. You also get to try inkFrog login for two whole weeks for free before you upgrade to a paid plan. This gives sellers on eBay the opportunity to test drive the features afforded to them on inkFrog open for the eBay storefront.
According to inkFrog reviews, the service is easy to use for an eBay store requiring inventory management. However, as software, this is where the reviewers become less stellar. Pricing seems to be a major issue, as customers become familiar with the free version but may not see the value in paying for the software. Customer service is also glitchy, as so appears the software tools and apps. Yet for a free eBay listing tool, inkFrog offers promise and will get a new eBay seller up to and going.
When it comes to scaling up a business, though, with better automation and improved analytics, inkFrog may fall short based on the reviews. Lean on Ordoro to fulfill your inventory and shipping management from the start. This will ensure a more efficient management process overall. You won't be stuck restarting your entire inventory management database for the third time if you would just invest in Ordoro from the get-go. Move into the seller position at eBay with more efficiency than you ever imagined possible. Check out the 15-day free trial offer for Ordoro's management tools for your eBay seller account.
Software for Sale Online
Let Ordoro help you upgrade your role as an eBay seller so you can start seeing major revenue this year. We want to assist eBay sellers in running their business from the beginning with the full-service tools that are necessary for this marketplace. There are so many options for eBay software for sale online, as well as free tools, that you can easily become overwhelmed. Plus, piecemealing a solution is never a good idea for any business that wants to scale up in growth.
As a result, the best place to buy software online is Ordoro. Trust Ordoro and our eBay API to connect your eBay seller account with tracking providers. Track orders once they are received from eBay with only one click. Pick up the postage and print off a custom label, all within the Ordoro shipping tool.
Best of all, when you buy software online with Ordoro, you benefit from discounts on shipping rates. Get up to 67 percent off of USPS shipping, as well as discounts and integrations from Canada Post, UPS, and FedEx. Then, depending on the shipping and logistics software by Ordoro to carry out international shipments on a global scale. Everything is tracked and organized with the Ordoro platform and dashboard, making your life so much easier.
Choose Ordoro and buy software online cheap for your eBay storefront. Let us assist you with mastering the multichannel from sales to custom API integration. We are ready to help you connect your supply channels with warehousing and to be able to offer the latest in dropshipping and other innovative services.