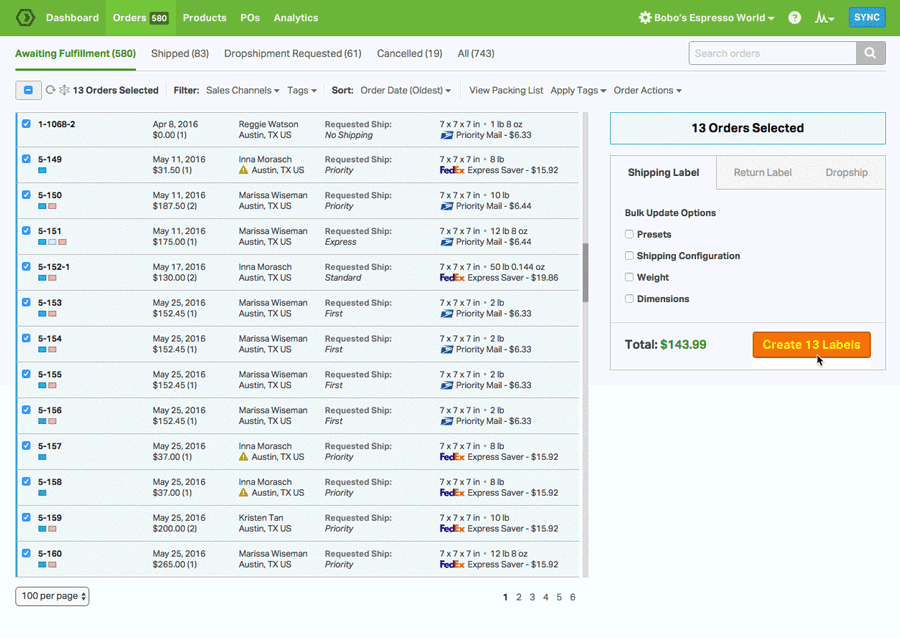 Discover One Of The Best Etsy Seller Tools On The Market
The All-In-One Ecommerce Logistics Platform
Equip yourself with a comprehensive solution
Inventory Management
Stock, sync, and scan.
Automatically track and sync your inventory levels
Create and send out Purchase Orders when it's time to restock
Bundle multiple SKUs into one unit for sale
Use Barcode Scanning to reduce fulfillment errors
Multi-Carrier Shipping
Your workflow, minus the work.
Enjoy heavily-discounted shipping rates via USPS
Ship via any of our integrated shipping carriers like USPS, UPS, FedEx, DHL and Canada Post
Set up your own Automation Rules and Shipping Presets
Print shipping labels in triple-digit batches or individually
Dropshipping
Truly hands-off dropshipping.
Launch a dropshipping operation in a matter of clicks
Tag any product as drop shipped and assign it to a vendor
Choose between automated or manual routing
Activate a Vendor Portal between you and your supplier
Multichannel
We're your operations hub.
Integrate and view all of your sales and supplier channels in one spot
Use our open API to hook up any third-party or custom apps
Manage every aspect of your orders
Establish Supplier Feeds for real-time, back-end communication
Barcode Generation and Scanning
Raise the bar for stocking and packing.
Create UPC barcodes for your products
Scan, set, and search UPC codes for SKUs within Ordoro
Reduce fulfillment errors with our pack and pack barcode scanning workflow
Scan received POs to automatically adjust stock levels
Don't take our word for it
Our awesome customers have shipped some really great compliments our way:
"I spent about a month thoroughly searching for the right backend fulfillment software for my eCommerce business. There were definitely some big name guys out there that I considered, but at the end of the day, I went with Ordoro and I'm so glad I did!"

Tina Yarandi
Founder/CEO of Nature's Artisan
"Ordoro continues to add immensely valuable features to an already awesome sales/warehousing/shipping platform. Using Ordoro continues to save us time and money."

Anthony Krize,
VP of GE Holiday Lighting
Etsy Seller Tools
Etsy is a great platform for selling your handcrafted wares, as it was designed expressly for that purpose. Etsy itself is a good resource for learning more about being a seller on the platform. It offers guides on starting, running, and growing your Etsy business.
You have a lot of competition on Etsy and among the world of ecommerce in general. This means that you need to make efforts to help your brand stand out and to bring traffic to your site. Also, business sustainability and growth mean working efficiently, so you'll want to focus on helping operations like order fulfillment and shipping run smoothly. Etsy seller tools can help with these goals, whether you use tools through Etsy, from other sources, or a combination.
The platform itself has various Etsy tools for its sellers to use. For instance, it provides the Sell on Etsy App, where you can manage orders, communicate with buyers, and carry out other functions conveniently from your phone. It helps you set up a custom website within Etsy, and it has marketing tools that allow you to create coupons, post ads, design social posts, and more.
There are many types of tools that can support your success on the site. An Etsy analytics tool can help you track measures like visits to your site, marketing efforts, and sales. You can use an Etsy inventory spreadsheet or inventory management software to track your stock and sales. Shipping management software simplifies shipping processes like labels and carriers. An Etsy listing tool simplifies the process of creating product listings. These are some of the many tools online merchants can use to improve their handmade craft businesses.
Free Etsy Seller Tools
The Etsy site itself offers various free tools to get you started unless you want to pay the monthly subscription for the plus-level toolset to support your business growth. You can find free Etsy tools from other sources as well. For instance, there are free spreadsheet templates online for tracking your inventory, free Etsy integrations, and Etsy apps for sellers (in addition to the one Etsy runs itself). You can even find Etsy inventory management free through a trial offer or a basic program.
Yet, there are limitations to these free offerings. They may have many restrictions and fail to provide the features you need for true business growth. When it comes to software, good programs only provide a free version on a trial basis, so you can give the features a try before deciding to buy. If you'll want to continue using these programs, you'll need to make an investment in the service.
This type of investment can be well worth it for a program like Ordoro, which is levels above a limited option like a spreadsheet. If we can set our modesty aside for a moment, we say that Ordoro is the best free Etsy seller tool for inventory and shipping management. Ordoro offers a FREE 15-day trial, giving online merchants the chance to carry out a test run to see how it could positively impact their Etsy businesses.
Ordoro can help Etsy sellers in a myriad of ways. This includes efficiently creating shipping labels and packing lists, automating processes, switching between shipping carriers depending on each situation, and getting the best shipping rates.
Etsy Keyword Tool
Search engine optimization, or SEO, can help you get your shop and items noticed on Etsy just as it can for other websites. This tactic optimizes your shop and listings to make it easier for search engines like Google to find you. The best tools for Etsy SEO are ones that help you find and track keywords.
You can use an Etsy keyword tool to help your shop get noticed in search results when a potential customer is looking for what you have to offer. If you're looking for the best Etsy keyword tool, consider Marmalead. This is an app that guides you on keywords shoppers are using.
In addition to providing an Etsy keyword generator, this app gives helpful keyword information like engagement and search volume. The Marmalade Etsy keyword tool app provides top keywords to include in your listings, for an actionable step that could create big results. If you're looking for the best free Etsy keyword tool, Marmalead offers a free trial. After that, it has a low monthly cost, or you can choose a quarterly or yearly plan.
In addition to using Etsy SEO tools for the product listings themselves, you can help your entire shop get noticed by placing keywords strategically. Add them to your shop title to describe what you sell, and also include them in the page title, categories, tags, and attributes. Then, you can use Etsy analytics tools to see the keywords with the best results and adjust the ones that are not performing as well.
Etsy Market Research Tool
Another helpful tool for sellers is an Etsy market research tool. Market research helps your business understand more about the industry you're in, what your ideal customers are seeking and what your competitors are doing. Ultimately, your goal is to identify the products that sell well in your niche.
Etsy niche research on the types of items you sell may include a broader analysis to see the keywords people are searching for on the internet in general and on other ecommerce sites and selling platforms. It can also include narrower research specific to Etsy.
You can carry out an Etsy competitor analysis by taking a look at your competitor pages. Look at successful competitors and identify the products they are selling and which ones have high rates of sales. You're probably wondering how to see what sells on Etsy. Find these competitors by using a keyword tool like Marmalead to come up with good keywords and then search for those on Etsy. You can sort on the site with options like "Top Customer Reviews."
You can also use a competitor analysis tool like ShopiScope that makes it easier to track competitors. This is like an Etsy spy tool that can show you info such as competitor pricing, sales, and reviews.
Also, perform an Etsy analysis on your own business. Analyze your sales to see the products that sell well. Which ones are not as successful? You may also want to ask your audience what they would like to see from your store. For instance, you could ask them via social media or email list surveys.
Etsy Seller Must Haves
Successful Etsy shops have certain features to them. To start, there are some Etsy seller must-haves. It's essential to offer products that people want to buy and for them to be of high quality. A successful merchant has an enticing shop name that acts as a brand, and the customized look of the Etsy shop supports this brand through aspects like the shop icon and banner. Your product listings are another important aspect, as you want to focus on listings that get noticed and turn into sales. Product images are a critical part of the listings, just as the descriptions are.
You can use the Etsy seller handbook and other Etsy resources to learn more about starting and running a successful store on the site. Also, there are a variety of tools through Etsy and from outside sources, including marketing tools, an Etsy shop policies template, and SEO keyword tools to determine keywords to include in your listings and shop.
Offering quality products, marketing your store well, and providing good customer service can help you have a successful shop and potentially earn an Etsy best seller badge in time. Part of customer service is ensuring your customers receive your products in good condition, in a timely manner, and with support when needed. This means using shipping and inventory management software like Ordoro, which helps your business track stock and sales and streamline shipping processes, so you can keep your store running smoothly and grow your business.
Software for Crafters
Software is a tool that can help you with an online selling business like an Etsy shop. Since you're selling items to customers, it is helpful to use shipping and inventory management software like Ordoro. This Etsy software is a worthwhile investment in your company, as it helps small shops run like large-scale ones while streamlining and saving money. It can also help you expand your business and keep up with growth. By helping you grow and save, you have a greater chance of business success and returns on investment.
This one platform helps ecommerce shops of various sizes to manage Etsy shop inventory and shipping orders, including if you use Etsy along with other selling channels. Other people have benefited from this software for crafters. One says, "Ordoro has been helping us sell on multiple ecommerce channels for a few years now, and we couldn't be more satisfied! All orders from Etsy, Amazon & Shopify come to one place to ship and track inventory. It makes everything easier."
Ordoro is a top-notch platform for small to large Etsy stores, and it can keep up as you grow. This best Etsy tool offers a variety of features that include integration of multiple channels and multiple shipping carriers, as well as Etsy order management of inventory and shipping. You can use the software to carry out kitting, which is another name for bundling, and for shipping labels, discounted shipping rates, and more. The software can track materials for making handmade items, as well as the finished products themselves.