Speed Up and Save On Your Shipping
Cut the Clicks
We've designed Ordoro with a deliberate focus on optimizing your workflow — experience a seamless shipping process that saves you time for other matters.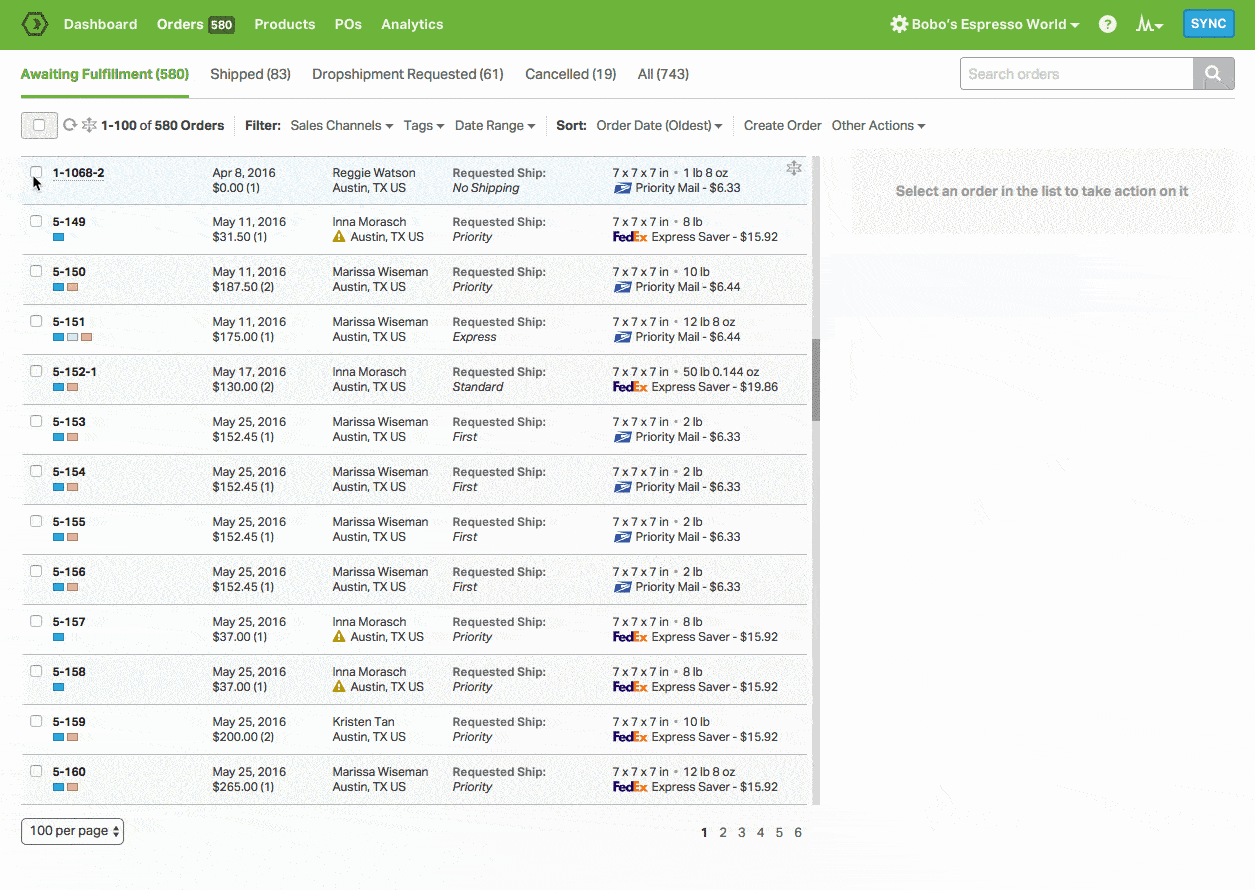 Label Us Efficiency Addicts

Quickly create shipping labels — and branded packing lists — in triple-digit batches within a couple clicks. And as you print, streamline your workflow even more with our direct-to-printer option, a way of sending labels to your printer in a jiffy. No more PDFs and additional clicks!
Automate Away

Accelerate your process by configuring Shipping Presets that auto-fill shipping parameters when creating labels. Or go a step further and establish Automation Rules that act on orders the second they arrive.
Keep Your Orders in Order

As you import orders into Ordoro, automatically or manually assign filterable tags and search to view the status and activity of every shipment, all within a single interface. The app also auto-audits your orders, documenting actions and showing a timeline for each.
Ship In More Ways, Paying Less in the Process
We're integrated with all major shipping carriers and postage providers, giving you access to a variety of shipping methods, services and more-than-affordable rates.
Mix and Match Your Shipping Methods

Ordoro gets along with all major shipping carriers — integrate and select any USPS, UPS, FedEx, DHL International, Canada Post, or Amazon Seller Fulfilled Prime account, and utilize the various domestic and international shipping methods of each provider.
Tap Cost-Effective Shipping Rates

We offer cost-effective rates through every provider, including best-in-industry discounts of up to 67% through USPS! As you process orders, compare the cost to ship through every shipping carrier, and get the most bang for your buck at a glance.
Manage Down to the Last Detail

Handle every part of your shipping operation through the app, whether it's buying shipping postage or purchasing affordable shipping insurance to protect both your orders and wallet.
Baked-In USB Scale Support

Determining a shipment's weight for rate calculation requires little to no wait. Hook up a USB scale with whatever device you're using, plop your shipment on it, and the app will pick up on the weight, record it, and determine your shipping rate based off selected shipping method.
All of Your Integrations, All in One Place
Ordoro is your one-stop app for tackling the shipping operations of all your channels, from marketplaces like Amazon and eBay to carts like Shopify and BigCommerce.
Master the Multichannel

Whether they're from an Ordoro-supported sales channel, a CSV upload, or a custom API integration, import your orders into the app and ship them out the door and on their way. Feel free to connect your supply-side channels or warehouses as well — route orders to 3PL's and dropshippers, choosing which warehouse to ship from.
We've Got Your Writeback

Once you've created your shipping labels, forget about the copying and pasting. Ordoro automatically relays shipping status and tracking numbers back to the appropriate sales channel, keeping the customer in the loop.