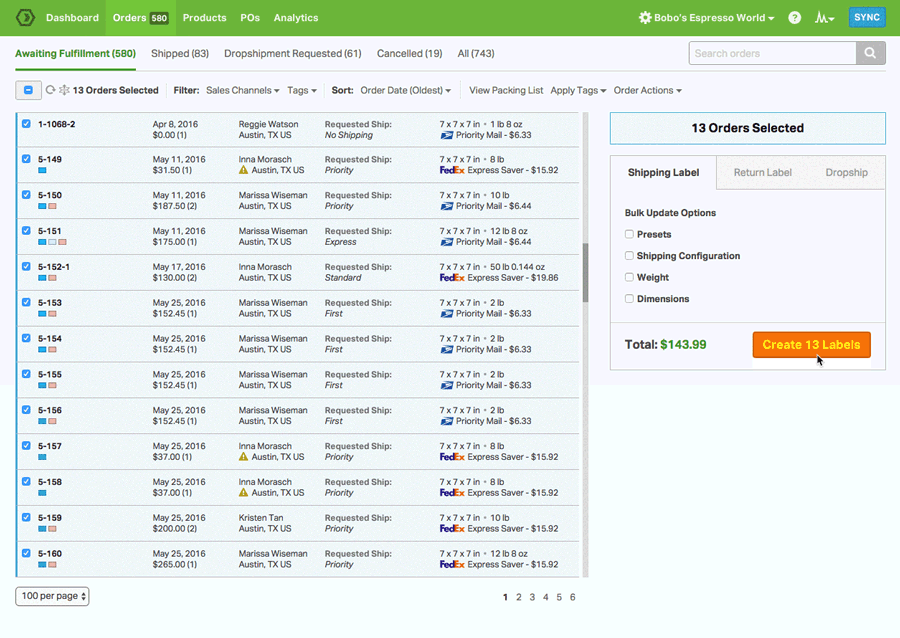 Discover The Best Option For Free Shipping Apps
The All-In-One Ecommerce Logistics Platform
Equip yourself with a comprehensive solution
Inventory Management
Stock, sync, and scan.
Automatically track and sync your inventory levels
Create and send out Purchase Orders when it's time to restock
Bundle multiple SKUs into one unit for sale
Use Barcode Scanning to reduce fulfillment errors
Multi-Carrier Shipping
Your workflow, minus the work.
Enjoy heavily-discounted shipping rates via USPS
Ship via any of our integrated shipping carriers like USPS, UPS, FedEx, DHL and Canada Post
Set up your own Automation Rules and Shipping Presets
Print shipping labels in triple-digit batches or individually
Dropshipping
Truly hands-off dropshipping.
Launch a dropshipping operation in a matter of clicks
Tag any product as drop shipped and assign it to a vendor
Choose between automated or manual routing
Activate a Vendor Portal between you and your supplier
Multichannel
We're your operations hub.
Integrate and view all of your sales and supplier channels in one spot
Use our open API to hook up any third-party or custom apps
Manage every aspect of your orders
Establish Supplier Feeds for real-time, back-end communication
Barcode Generation and Scanning
Raise the bar for stocking and packing.
Create UPC barcodes for your products
Scan, set, and search UPC codes for SKUs within Ordoro
Reduce fulfillment errors with our pack and pack barcode scanning workflow
Scan received POs to automatically adjust stock levels
Don't take our word for it
Our awesome customers have shipped some really great compliments our way:
"I spent about a month thoroughly searching for the right backend fulfillment software for my eCommerce business. There were definitely some big name guys out there that I considered, but at the end of the day, I went with Ordoro and I'm so glad I did!"

Tina Yarandi
Founder/CEO of Nature's Artisan
"Ordoro continues to add immensely valuable features to an already awesome sales/warehousing/shipping platform. Using Ordoro continues to save us time and money."

Anthony Krize,
VP of GE Holiday Lighting
Free Shipping Apps
What is an "ecommerce shipping solution" and do you really need one?
Unless you're just getting started and only ship a few boxes every week, it won't be long before you'll need a system with apps that can handle the following tasks:
Fulfill customer orders
Pack and weigh packages, print shipping labels
Arrange for carrier pickup or take it to a shipping facility.
Once shipped, your job doesn't stop there — you'll need a reliable way to track packages on their journey to the final delivery destination
If you're looking for free-shipping apps, stores with free shipping, or similar free shipping sites, here are a few ideas to inspire you: Amazon Prime, Nordstrom, Target, Shopbop, Topshop & Topman, as well as Zappos are recognized brands offering free shipping no minimum.
You can boost sales by creating a free shipping code to be used when the customer is ready to check out. You may want to set a threshold sales minimum to qualify a purchase for free shipping. Using free shipping apps enables you to do just that, so what are you waiting for?
You can also boost sales further by offering, (usually for a limited time or for new as well as certain long-term customers).
Remember that Ordoro, an ecommerce software leader, has the latest, most up-to-date apps for every use you can think of. Our apps and plugins support major platforms like Shopify, and give you more flexible options to keep customers coming back for more!
Free Shipping Today
Free shipping today is the Next Big Thing in ecommerce if you want to see a major increase in your sales. Our software helps growing merchants operate like large-scale corporations, but at a fraction of the cost. Optimize your fulfillment workflows with bulk shipping label creation, omnichannel inventory management, automated dropshipping, and more — all in one platform. Once you're set up with Ordoro, you can start free shipping today and be able to quickly and accurately fulfill all of those orders pouring in.
Why is Ordoro the best choice for your ecommerce shipping software? You can:
Save on top tier shipping rates with discounts of up to 67% via USPS
Make your shipping and fulfillment shine through our integration with USPS, FedEx, UPS, and Canada Post
Print out shipping labels, either in batches or individually
Track every order's status as it journeys to fulfillment and delivery
Connect any and all channels, custom-made or fresh on the market, with our API
Keep the backend of all your shopping carts and storefronts in check
Ordoro can scale with you as your business grows and thrives
If your current ecommerce software can't do any of the above, or if you're using Brand A software for inventory, Brand B for fulfillment and shipping with Brand C for tracking, and so on, and trying to get everything to interface with each other (good luck), it's time to make the switch to Ordoro. Start shipping for free through our 15-Day FREE trial of Ordoro's Express plan today and take your ecommerce business to the next level of success!
Free Shipping Apps Shopify
You can sell anywhere, anytime, with free shipping apps Shopify POS Shopify apps and give yourself the freedom to run your business when you're on the run. Hextom Shopify currently offers 13 apps for Free Shipping, Quick Announcement Bar, Countdown Timer Bar, Bulk Product Exit & CVS Import, Translate My Store, and more.
If looking for the best free shipping app for Shopify, read what our customers have to say about our software and Shopify apps. Our current client, Kitsbow, was looking for shipping software that would:
Integrate with Shopify
Be easy to use and set up
Affordable
After checking other companies' products, they concluded that Ordoro met all of their requirements.
"Using the Ordoro platform and superior technical support, we were able to create our distribution center from the ground up. Ordoro's support team walked the path alongside us and helped us learn the software, explore and implement customizations, and improve efficiency in our daily operations." Even when the COVID-19 pandemic first began and Kitsbow decided to pivot towards producing facemasks, "(Ordoro) never missed a beat. They supported us throughout the rapid, skyrocketing growth (of shipping over 250K facemasks) while we onboarded new team members in the Distribution Center."
Since Kitsbow offers free shipping for all domestic orders, Ordoro gave them visibility and control over their shipping costs, allowing Kitsbow to make adjustments as needed for flexible shipping methods. Kitsbow states their shipping costs have been reduced by 67%!
Throughout their time working with the software, Kitsbow has expressed that their favorite thing about Ordoro is "the way (they) innovate. Ordoro makes the effort to document Kitsbow's needs to ensure the software is always rising to the challenge."
Online Stores With Free Shipping
So, what kind of online stores with free shipping today are out there? As we mentioned earlier, stores with recognized popular brands include Nordstrom, Target, and Zappos as well as Kate Spade and Dermstore. (Okay, some of these can be a bit pricey. Are there cheap online clothing stores with free shipping for those on a tighter budget?) AmazonPrime, as well as AliExpress, offers $1 clothes free shipping included, for women, children and men.
If you prefer cheap online clothing stores with free shipping USA, Macy's ships free (to the USA only) with no minimum for those using a Macy's credit card.
Wholesale cheap online clothing stores with free shipping worldwide are available through AliExpress and Amazon. Several top-rated cheaper clothing stores according to MoneyPantry.com include Rue21, Target, Dress Lily, Yes Style, Vova, Rosegal, Asos, Macy's (the US orders only and must use a Macy's credit card for free shipping with no minimum), Walmart, Gap, Forever 21, and Dollar King.
Major stores which offered free shipping no minimum 2021, in addition to Amazon Prime, included clothing and accessories categories companies such as Kate Spade, Zappos, and Neiman Marcus, along with consumer electronics giants Microsoft and Samsung. This seems to be a trend that's not going away so stores with free shipping, no minimum could soon become the norm, at least for larger businesses able to absorb shipping costs.
Remember, though, that sacrificing quality for cost is probably not a good foundation to base a brand on. Striking a balance between the two factors will give your customers value for their money and increase buyer confidence in your brand.
Free Shipping Announcement Bar
Should you use a free shipping announcement bar? You bet - you can place a free shipping announcement bar on your Home page, as well as next to the items, and of course, again in the shipping cart. This increases the likelihood of potential customers spending time not only checking you out but placing an order.
You can use announcement bar HTML to add a customizable bar to a website: ABetterLemonadeStand.com offers a good tutorial in coding an eye-catching banner without installing an app.
Including a free shipping bar Shopify-specific on your online store's site is sure to increase buyer traffic – and it's easy to set up, even without an app.
To add a free shipping announcement bar Shopify store-centric without an app, just open your theme settings (Online Store>Themes>Customize) and you should see a new section titled "Announcement Bar" where you can choose messages, colors, font size, and so on, as well as an optional free shipping countdown.
You can add a free shipping bar WooCommerce – specific with a WordPress app that allows customized messages, as well as progress for timed free shipping.
Having a "timed" free shipping announcement bar on the website is a smart way to let your customers know that they're getting even more value for a limited time only, by creating a sense of urgency to get them to buy now - or else miss out!
Industry-leader Ordoro can expedite your shipping tasks with user-friendly apps and other software tools to make sure your orders are correctly filled and go out on time, as well as tracked right up through delivery.
Free Shipping Bar Examples
Since shipping charges are one big cause of shopping cart abandonment, it makes sense to make ordering as easy and painless as possible for customers. A few free shipping bar examples to use in your store if you need some inspiration for announcement bar examples, Convertflow.com offers ideas, such as discount codes good for free shipping, free shipping on orders above a certain amount, or time "flash sales" giving discounts or free shipping if placed within a given time frame.
Here are additional announcement bar Shopify examples as well as general website announcement bar examples: Petco free shipping threshold bar, Tsuno product highlight free shipping bar, and Sunday Somewhere free Shipping bar – these should get your creative juices started.
Some more good sources for free shipping apps: Shopify's App Store, Convertflow's customizable templates, ConversionBear.com and GetSiteControl.
One popular threshold for online stores is free shipping over $70 free returns. You can customize these for different amounts, such as $25, $50, $100, or somewhere in between.
Use a free shipping progress bar Shopify code if you're looking to use customizable HTML is available through ABetterLemonadeStand.com's tutorial we mentioned earlier, which is included in the banner coding instructions. GetSiteControl can also help create a free shipping threshold Shopify-centric announcement as well. Of course, you can go to Shopify's App Store pages for additional ideas, apps, and help.
Remember, Ordoro's Express comprehensive ecommerce management software can help put your inventory, fulfillment, and shipping over the top – try your 15 Day FREE trial now!