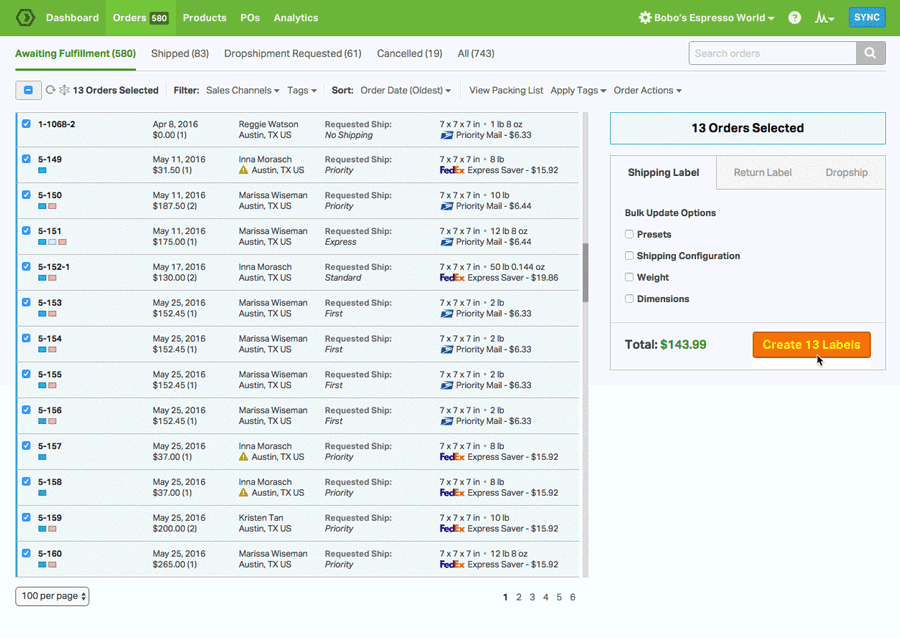 Fulfill orders faster with the best shipping software for Shopify
The All-In-One Ecommerce Logistics Platform
Equip yourself with a comprehensive solution
Inventory Management
Stock, sync, and scan.
Automatically track and sync your inventory levels
Create and send out Purchase Orders when it's time to restock
Bundle multiple SKUs into one unit for sale
Use Barcode Scanning to reduce fulfillment errors
Multi-Carrier Shipping
Your workflow, minus the work.
Enjoy heavily-discounted shipping rates via USPS
Ship via any of our integrated shipping carriers like USPS, UPS, FedEx, DHL and Canada Post
Set up your own Automation Rules and Shipping Presets
Print shipping labels in triple-digit batches or individually
Dropshipping
Truly hands-off dropshipping.
Launch a dropshipping operation in a matter of clicks
Tag any product as drop shipped and assign it to a vendor
Choose between automated or manual routing
Activate a Vendor Portal between you and your supplier
Multichannel
We're your operations hub.
Integrate and view all of your sales and supplier channels in one spot
Use our open API to hook up any third-party or custom apps
Manage every aspect of your orders
Establish Supplier Feeds for real-time, back-end communication
Barcode Generation and Scanning
Raise the bar for stocking and packing.
Create UPC barcodes for your products
Scan, set, and search UPC codes for SKUs within Ordoro
Reduce fulfillment errors with our pack and pack barcode scanning workflow
Scan received POs to automatically adjust stock levels
Don't take our word for it
Our awesome customers have shipped some really great compliments our way:
"I spent about a month thoroughly searching for the right backend fulfillment software for my eCommerce business. There were definitely some big name guys out there that I considered, but at the end of the day, I went with Ordoro and I'm so glad I did!"

Tina Yarandi
Founder/CEO of Nature's Artisan
"Ordoro continues to add immensely valuable features to an already awesome sales/warehousing/shipping platform. Using Ordoro continues to save us time and money."

Anthony Krize,
VP of GE Holiday Lighting
Best Shipping Software For Shopify
Many business leaders today are looking for ways to generate more revenue for their companies, and one of the most effective ways of doing this is by taking advantage of an online store. However, even though an online store can make it easier for people to purchase products and services, it is also important to select the right platform to host this ecommerce arm of your business. This is exactly where Shopify has become one of the most popular options for establishing an online store. It is quick, easy, secure, and doesn't require much coding or other technical expertise on your part!
At the same time, it is still important for business leaders and sales teams to make sure that the overall purchase process remains quick and easy for their customers. This is why there are so many people who are looking for the best shipping software for Shopify.
If you're wondering why this is important, consider: it's great when people can purchase something online, because this can drive your sales and brand recognition. However, it is still the seller's responsibility to actually get that order to the customer. This is why people often look for the best shipping apps for Shopify, thinking that this option will help them integrate and consolidate their shipping needs. Even if you are looking for the best shipping for Shopify, though, there are still a number of factors to consider.
For example, you need to consider which industry you operate in. If you work in the foodservice industry, for instance, then you need to make sure that your products do not perish or exceed expiration dates before reaching their buyers. Or, if you work in the clothing industry, then your products may need different protections from excess heat, moisture, and other conditions: in this case, you may be looking for the best Shopify apps for clothing store. Either way, think about the industry in which you operate. That way, you will be able to see if there is a shipping solution that can help you meet these specific business needs.
There are even some online stores that take advantage of a process called dropshipping. Essentially, this process means that the company pays a third party to handle their shipping needs. In case you decide to go this route, you may want to consider looking for the best dropshipping apps for Shopify 2020.
However, if companies do not think carefully about how they will handle their shipping services, they may end up losing a lot of money and even clients, if the service is poor enough. Instead, companies need to make sure that their orders reach customers on time; however, they also need to balance this with the reality that they do not want to overpay for shipping needs. This is why it is important for every business leader to think carefully about how they can put Shopify shipping options to work for their company. So, what are a few of the most important points to keep in mind?
Shopify Shipping Calculator
For one thing, it may be helpful to take advantage of a Shopify shipping calculator. With access to ecommerce shipping best practices, it is possible to take advantage of some of the best Shopify plugins. For example, some people may be looking at carrier calculated shipping Shopify. This is worth noting because different shipping carriers may charge different rates for the same order. Because of this, it is important for companies to take a look at all of their options, just so that they can take advantage of the best shipping solutions to meet their needs. This is just one reason why it is important to use a Shopify shipping calculator whenever an order is being sent, particularly to a customer overseas.
At the same time, though, there are also other factors that will play a role in the cost of shipping as well. For example, some orders may require special protection. Examples could include food and beverages that are prone to spoiling or fragile items that are prone to breaking. Something else it is also important to consider is the distance that the order will need to be shipped: here, the further that an order has to travel, the more expensive it will be. This is another factor that needs to be considered, and using a Shopify shipping calculator can make this whole process easier. This could be helpful when trying to figure out how much a company should charge or a customer might pay for an order.
With all of this in mind, it's worth taking a closer look at a few options for shipping calculators and thinking about how your customers could use them as well.
Best Shipping Apps
So, what are the best shipping apps available today? When looking to answer this kind of question, keep in mind that there are always lots of changes taking place in this industry. Therefore, it may be helpful to take a closer look at compilation lists, such as the best Shopify apps 2021. There are also plenty of Shopify app ideas that could be posted on the Shopify App Store. If you start there with these vetted options, you may find that there are already applications that would work well for your particular business needs.
Of course, if you are trying to find the best application to help you meet your needs, then there are also a lot of other factors that you may need to consider. For example, you need to think about the security of any mobile application, or app, that you choose to go with. This is because, between shipping addresses and payment methods, you and your chosen app will be handling a lot of confidential information. Because of this, you need to make sure that the confidential information of both your clients and your own company remains protected. That way, everyone will have more confidence in your ability to run a safe and secure ecommerce store.
You also need to consider the learning curve of this app. In other words, is the application easy to use, for both your own teams and your customers? Or do people have a history of struggling with it? The easier the application is to use, then the more likely it is that people will actually use it. This will also reduce the chances of someone on your side making a mistake.
Think carefully about each of these factors when trying to find the best shipping apps for your online store.
Best Free Shopify Apps 2021
If you are just getting started in this area, then you may be considering starting with the best free shipping app for Shopify. When taking a look at the best free Shopify apps 2021, it is clear that there are plenty of options available. So, if you are wondering about the best shipping to use with Shopify, then it's worth keeping in mind that there is no singular right answer, and instead, you should be taking a look at all of the options available. This way, you can compare the benefits and drawbacks that each of these options will offer and consider how each one can meet your specific needs. Doing this will help you find the perfect shipping provider to meet your needs.
Fortunately, shipping easy Shopify is also a possibility. For example, when you are first getting started, you may not know exactly what you are looking for, and you may be tempted to go with a free application. While it will be limited, a free application can be a good starting point because using it will help you figure out which features you require, which features you can do without, and what you are willing to pay for. At the same time, though, keep in mind that a free application can only get you so far in the end. Eventually, if you really want to meet the needs of your customers fully, then you should be ready to invest in your online store, including a professional platform and shipping options. In this light, it might be worthwhile to pay for a shipping app if it helps your company stand out from the crowd.
So, what do you need to keep in mind when trying to find the best Shopify application for your store? In addition to its security and ease of use, you should be thinking about the app's scalability. In other words, are you planning for your online store to continue growing in the future? If so, then you need to make sure that the application can grow with you. If not, and the application does not scale appropriately, then this could end up slowing down your customers' shopping experience, possibly even frustrating them enough to send them to your competitors instead. Therefore, make sure you take a look at the scalability of the application and consider whether it will be able to grow with your company. In that way, it will still meet your needs as your store continues to expand and drive organic growth.
Best Shipping Rates for Shopify
When looking for options to ship your orders to customers, you also need to make sure that you are getting the best shipping rates for Shopify. For one thing, keep in mind that some companies will have better rates, while some will charge more than others. Some may also be able to reach places that others can't. Therefore, the best shipping provider for one company may not be the best option for yours.
Likewise, if you are putting together a shipping calculator, then you may want to take a look at options like USPS shipping rates and UPS shipping rates. One option might be better if you are sending an order locally, while another might be more suitable if that order is travelling further and even crossing national borders.
Or, if you are curious about how much various providers will charge you, then you can always reach out to their customer service department and inquire. Most of these companies are aware that people are shopping around trying to find the best rate, and they may have special discounts or offers on hand to entice you into choosing them. And of course these lower rates can also help your company, too.
Also, make sure you take a look at each provider's stated charging algorithms. For example, do they charge based on weight or on distance? How much can they ship in a single package, and will that change the cost?
Even if you can't answer all of these questions yet, thinking about them can help you gain a better idea of which shipping provider might be best for you. With this in mind, don't just go with the first option you see: instead, take the time to look at multiple shipping providers.
Best Shipping App for Shopify 2021
In the end, there may still be people simply looking for the best shipping app for Shopify 2021, which may not be the same as the best shipping app for Shopify 2020. So even if you may be using the best free Shopify apps 2020, keep in mind that your business will be growing in the future, and as a result, you may need to change the applications you are using to manage your online store. The most important part of this process is to ensure that you provide a secure, convenient, and enjoyable experience for your customers. If you make the process as easy as possible, then they are more likely to come back for future purchases.
You should also take a close look at the app selection that is already available on Shopify. This is perhaps the best way to get started with handling your shipping needs with ease, since this will show you what is available to you without needing to code or set up a backend yourself. Remember, too, that one carrier might not provide you the best rate for all of your orders. This is another reason why it is important for you to shop around - knowing your options can make it easier for you to figure out how much you need to charge for shipping and which provider you might want to work with in order to achieve the best savings for yourself and customers alike.