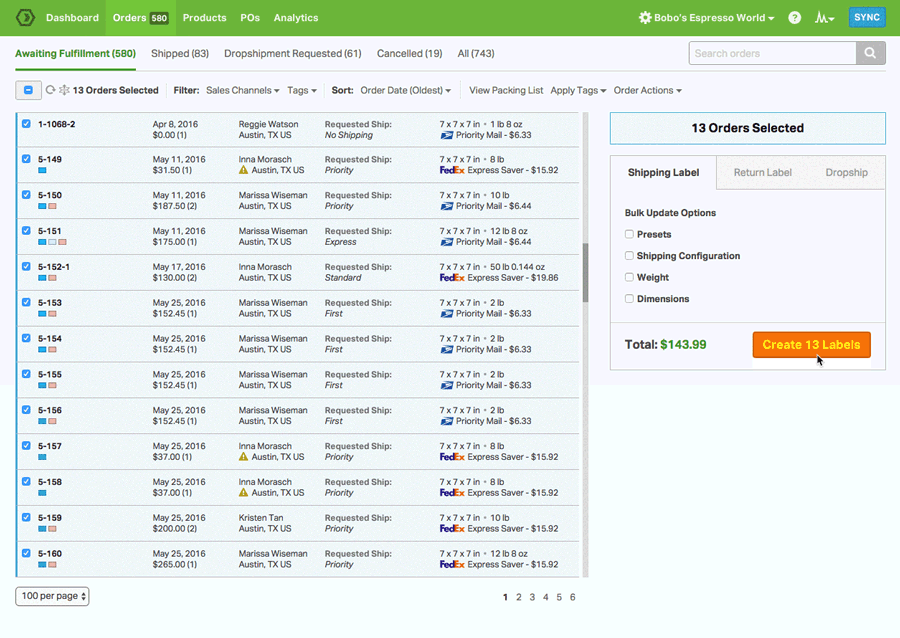 Fulfill orders faster with our Etsy Shipping Solutions
The All-In-One Ecommerce Logistics Platform
Equip yourself with a comprehensive solution
Inventory Management
Stock, sync, and scan.
Automatically track and sync your inventory levels
Create and send out Purchase Orders when it's time to restock
Bundle multiple SKUs into one unit for sale
Use Barcode Scanning to reduce fulfillment errors
Multi-Carrier Shipping
Your workflow, minus the work.
Enjoy heavily-discounted shipping rates via USPS
Ship via any of our integrated shipping carriers like USPS, UPS, FedEx, DHL and Canada Post
Set up your own Automation Rules and Shipping Presets
Print shipping labels in triple-digit batches or individually
Dropshipping
Truly hands-off dropshipping.
Launch a dropshipping operation in a matter of clicks
Tag any product as drop shipped and assign it to a vendor
Choose between automated or manual routing
Activate a Vendor Portal between you and your supplier
Multichannel
We're your operations hub.
Integrate and view all of your sales and supplier channels in one spot
Use our open API to hook up any third-party or custom apps
Manage every aspect of your orders
Establish Supplier Feeds for real-time, back-end communication
Barcode Generation and Scanning
Raise the bar for stocking and packing.
Create UPC barcodes for your products
Scan, set, and search UPC codes for SKUs within Ordoro
Reduce fulfillment errors with our pack and pack barcode scanning workflow
Scan received POs to automatically adjust stock levels
Don't take our word for it
Our awesome customers have shipped some really great compliments our way:
"I spent about a month thoroughly searching for the right backend fulfillment software for my eCommerce business. There were definitely some big name guys out there that I considered, but at the end of the day, I went with Ordoro and I'm so glad I did!"

Tina Yarandi
Founder/CEO of Nature's Artisan
"Ordoro continues to add immensely valuable features to an already awesome sales/warehousing/shipping platform. Using Ordoro continues to save us time and money."

Anthony Krize,
VP of GE Holiday Lighting
Etsy Shipping Solutions
If you run an online business on today's booming internet, then there is a good chance that you ship your products to customers directly when they order them. If that is the case, then you might have also realized that you spend quite a lot of money getting your products to customers in this way, and this could be taking quite a large chunk out of your profits. In order to fix this issue, you need to invest in a quality Etsy shipping solution. Luckily there are plenty of Etsy shipping solutions to choose from, even if you are looking for Etsy international shipping as well.
If you are wondering, "how does Etsy shipping work," there are a few points to keep in mind. First, sellers are always ultimately responsible for the quality of the order. This means that whether you are handling this yourself or relying on a fulfillment service, in the end it is on you to make sure that you get your Etsy order to the customer on time. To manage this, you can ship every order yourself manually or you can enlist Etsy to help you. However, if Etsy helps you with shipping, then the company will also earn a commission on every one of your orders, which is still going to take a lot of your money.
Because Etsy shipping can take a bite out of your profits and you are still ultimately responsible for each order, you need to make sure that you find a solid Etsy shipping solution to help you mitigate these kinds of costs and risks. Luckily, there is a middle ground between paying for shipping yourself and letting Etsy do it. This is where you need to find the right Etsy shipping solution. If you find a solution that is cost-efficient and reliable, then you can save a lot of money that will either go into your profits or can be put back into your business. You might even be able to lower your prices, ultimately bringing in more customers and generating more revenue.
These are the biggest reasons why you need to find an Etsy shipping solution for your business. So with all these benefits on the table, how can you find the right solution?
Etsy Shipping Calculator
If you are trying to figure out how much money you will be spending by shipping through Etsy, then it might be helpful to use a tool like an Etsy shipping calculator. While you might be looking for an Etsy free shipping calculator, though, then you need to make sure you're using an Etsy shipping rates calculator that is accurate. That way, when you use your Etsy FedEx shipping calculator, you can rest assured that you are getting an accurate Etsy shipping fee calculator.
So, what do you need to keep in mind if you are putting together your Etsy shipping calculator? First, you need to make sure that your shipping calculator will change its price based on distance. In other words, the farther an order has to travel, the more expensive it will be to ship it. Ideally, if you are shipping items overseas, then your shipping calculator should be able to accommodate this as well. That way, you know that you are seeing the right price if you are sending an order overseas.
You might even be able to find a shipping calculator that can help you compare rates between carriers as well. However, keep in mind that the price of the order will vary depending on when you want it to arrive. Therefore, make sure you find a shipping calculator that can take this into account as well.
How To Ship On Etsy For Beginners
If you are wondering how to ship on Etsy for beginners, then it may be helpful to know that the process is actually relatively easy. The first thing you need to do is find the area where it includes the orders your store has received. If you are going through Esty, the process from here is simple: you simply need to find the paid order and then select the shipping label area to generate a label based on the company you are using. However, make sure you have an order number from the company first.
If you are wondering how to print shipping labels on Etsy or how to print Etsy shipping label, then you need to make sure you have the right printer and the right materials. From this step, the shipping label should print by itself. Even if you are just doing this for the first time, the process of how to ship on Etsy for beginners is very easy. There is also a reliable customer service team at Etsy that can help you if you have any issues.
Of course, you might also be wondering: how long do Etsy orders take to deliver? The answer is that it depends on the type of carrier you are using and which of their shipping services you have paid for. When you ship orders to your customers, you will probably find that you have a lot of options available. As a general rule of thumb, the sooner you want the order to arrive, the more money it will take for you to ship that order. Keep this in mind when you are trying to figure out how to ship your items to your customers and when you are estimating or guaranteeing order arrival dates.
Etsy Shipping Prices
If you take a look at Etsy shipping prices, you will see that this can be very expensive. You might even be left wondering, "why is Etsy shipping so expensive?" While the Etsy shipping rates 2021 could change from time to time, it is always going to take a chunk out of your profits. Therefore, you need to think carefully about how you want to get your items to your customers.
You might also be wondering, "why do I have to pay for shipping label on Etsy?" After all, if you have already paid for shipping, then you might be wondering why you need to pay for this label as well. The answer is that it costs money to make the ink and materials for the shipping label, and Etsy taking on this process means they will pass some of that cost along to you.
You also need to think about the Etsy international shipping cost, as there are a lot of factors involved in shipping an order overseas. Depending on what you want to mail, there might even be a price that you need to pay simply to get something into the country. These are all costs that could be added to your Etsy shipping cost as well. So, if you are looking for a way to save money on your Etsy shipping costs, then you might be thinking about the Etsy calculated shipping multiple items. Likewise, if you are able to ship multiple items at the same time, then you might be able to get a discount on your Etsy shipping because they are all going to the same place on the same load.
You might also want to think about Etsy flat rate shipping. Instead of having to pay for something based on how much it weighs, you simply pay a single price for the order. Depending on how many items you are shipping and where they are going, this could be something that you want to explore as well. Make sure that you know about all your options before you decide.
How To Set Up Shipping On Etsy
If you are wondering how to set up shipping on Etsy, there are a few steps to follow. First, you need to take a look at your account and go to the settings. Here there is an area called "shipping," where you can pull up all of orders and look at the fulfillment area. From here, you should be able to print your shipping labels to get your orders taken care of.
Of course, you might also be wondering, "how much do Etsy shipping labels cost?" The answer is that this will depend on both the price of the order and the carrier you are using. However, if you are wondering how to use Etsy shipping labels specifically, that price could also be included in the price of your membership on the platform, so this is something that you might want to consider as well.
You might also be wondering how to offer free shipping on Etsy without losing money. The answer is that you need to take a look at your average shipping cost and then build this into the price of the order itself. There are definite marketing benefits here: if you include shipping in the price of an item, then you can offer "free" shipping on it.
If you do go this route, just remember to compare the price of Etsy shipping labels vs USPS so that you are not paying more for shipping than you have to.
Etsy Shipping Time
In order for you to keep your customers happy, you need to make sure that they get their orders on time, and this might lead you to wonder about Etsy shipping time. In general, the estimated delivery time for Etsy, including Etsy processing time, is around three to seven days from the time that the order is placed. It is unusual for an order from Etsy to take more than 10 days to reach its final destination. However, you might still want to take a look at a few Etsy delivery time reviews and compare this to the estimated delivery Etsy offers. This will help you make sure you have good expectations for when an order can be expected to actually reach the customer. Remember that, if you want to keep your customers happy, you need to get their orders to them as quickly as possible.
Finally, in order to keep your customers happy without spending more money than necessary on shipping, you should also consider a comprehensive Etsy shipping solution that can help you quickly ship your orders without paying too much for shipping. If you take a look at all of the options available, then you should be able to find a shipping calculator or other tools that can help you find the right program to meet your company's needs.
Because this can all be quite complex, do not hesitate to reach out to experienced professionals for help with your Etsy shipping needs.