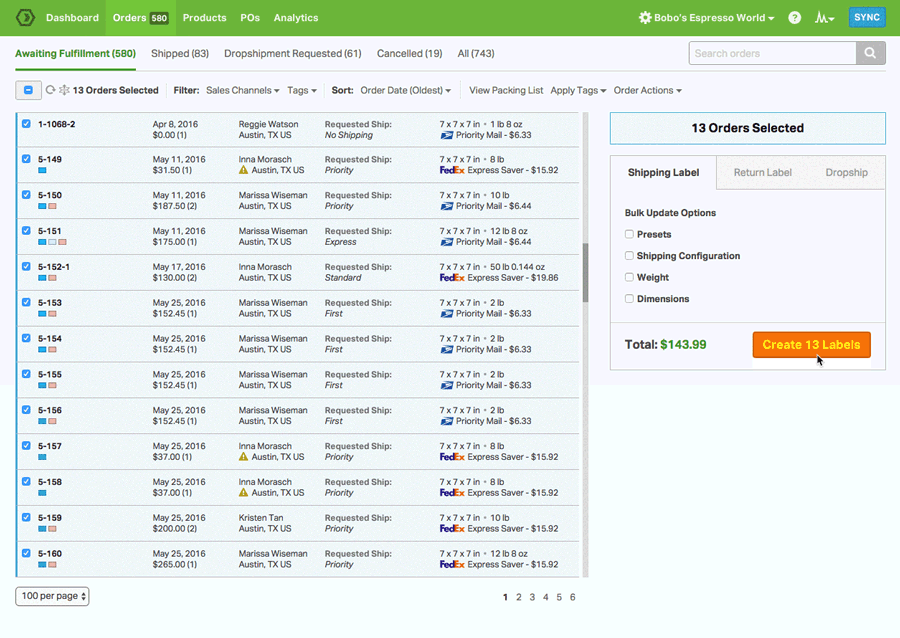 The Best Shipstation Alternative On The Market
The All-In-One Ecommerce Logistics Platform
Equip yourself with a comprehensive solution
Inventory Management
Stock, sync, and scan.
Automatically track and sync your inventory levels
Create and send out Purchase Orders when it's time to restock
Bundle multiple SKUs into one unit for sale
Use Barcode Scanning to reduce fulfillment errors
Multi-Carrier Shipping
Your workflow, minus the work.
Enjoy heavily-discounted shipping rates via USPS
Ship via any of our integrated shipping carriers like USPS, UPS, FedEx, DHL and Canada Post
Set up your own Automation Rules and Shipping Presets
Print shipping labels in triple-digit batches or individually
Dropshipping
Truly hands-off dropshipping.
Launch a dropshipping operation in a matter of clicks
Tag any product as drop shipped and assign it to a vendor
Choose between automated or manual routing
Activate a Vendor Portal between you and your supplier
Multichannel
We're your operations hub.
Integrate and view all of your sales and supplier channels in one spot
Use our open API to hook up any third-party or custom apps
Manage every aspect of your orders
Establish Supplier Feeds for real-time, back-end communication
Barcode Generation and Scanning
Raise the bar for stocking and packing.
Create UPC barcodes for your products
Scan, set, and search UPC codes for SKUs within Ordoro
Reduce fulfillment errors with our pack and pack barcode scanning workflow
Scan received POs to automatically adjust stock levels
Don't take our word for it
Our awesome customers have shipped some really great compliments our way:
"I spent about a month thoroughly searching for the right backend fulfillment software for my eCommerce business. There were definitely some big name guys out there that I considered, but at the end of the day, I went with Ordoro and I'm so glad I did!"

Tina Yarandi
Founder/CEO of Nature's Artisan
"Ordoro continues to add immensely valuable features to an already awesome sales/warehousing/shipping platform. Using Ordoro continues to save us time and money."

Anthony Krize,
VP of GE Holiday Lighting
ShipStation Alternative
Some of the current big players vying for the best shipping software for ecommerce include Ordoro, Shippo, ShipStation, ShipHero, SendCloud, Shipworks, and Easy Ship. Most of these offer some version of rate calculations, a carrier connection interface, package tracking, reporting, and often special features such as batch shipments and label creation for shipping and bills of lading.
One advantage of ShipStation is it lets users employ cubic rate USPS pricing, which is a savings for smaller, heavy packages.
While ShipStation is popular software for managing a variety of shipping tasks, like most specialized software, it has its downsides. There are some good ShipStation alternative choices available – we'll take a look at a few below.
ShipHero is a multi-channel, cloud-based inventory and warehouse management software focused on merchants and Third Party Logistics (PL) providers. Go to their website or use the ShipHero login to learn more.
ShipHero fulfillment offers users warehouses near major ports and transportation hubs, with transparent pricing for packaging, pick, pack, and ship with no set-up fees.
Some ShipStation alternative Reddit reviews reported it as being not as intuitive as Easyship and some others, as well as a tendency to be glitchy. Tracking issues were also a problem for some users. Others added that sites such as Easyship had better UI and couriers than ShipStation.
When comparing reviews on social media such as Reddit, it's important to take most of these with a grain of salt, as user needs and capabilities differ; many of these programs are being updated or otherwise tweaked frequently.
Ordoro is a comprehensive platform that is really a one-stop-shop for not only shipping but all phases of ecommerce: inventory management, order fulfillment, shipping, and tracking, as well as report-generating and analytics. Today's cutting-edge cloud-based solutions, such as Ordoro's, can automate and manage the entire freight process, saving time and money by facilitating a smooth flow of goods and documentation from origin to the final destination. For more in-depth information, use the Ordoro login.
Easyship
Easyship is another shipping management platform that was launched in 2014 in Hong Kong, and like most Chinese-based organizations, specializes in international shipping,
Easyship Amazon allows the integration of an Amazon store with Easyship to better streamline shipping and order fulfillment. Orders are picked up from your chosen location by an Amazon Logistics delivery associate and delivered to the buyer's doorstep with less effort from the seller.
The Easyship calculator allows quick and accurate estimation of shipping charges depending on carrier and location.
According to Easyship Crunchbase, the company provides online sellers with integrated solutions to worldwide shipping. Merchants and customers have access to a seamless gateway to shopping carts, as it integrates with more than 100 shipping services, such as DHL, FedEx, and UPS.
Easyship DHL is one of the major carriers working with the program, allowing shipping label generating, carrier comparisons, and shipping automation for international shipping.
Easyship International is a shipping partner with international carriers like DHL Express, to manage international shipping, especially in Europe.
Easyship reviews vary widely – from some who criticized it for being disorganized, lost packages, and no refunds, with not much difference in costs than from the courier directly. (WebRetailer.)
Others such as the tech site G2 and consumer review site Reddit, give it high marks on ease of use and lower rate cost.
Easyship Shopify is available through the Shopify app store and offers users discounted courier rates, of up to 89% from couriers such as DHL, FedEx, UPS, and more. Rates are based on actual items in a customer's cart, with taxes, duties, and other fees displayed upfront. It offers an all-in-one shipping platform for generating customs paperwork, managing orders, and creating shipments as well as free tracking – all in an integrated app.
Easyship tracking helps users track shipments with just a few quick steps to locate all in-transit tracking numbers to follow the shipment's progress.
Shipworks
What is Shipworks and how is it different than many of the other options we've looked at? It is a specialized Windows application that enables shippers to streamline existing fulfillment operations without uprooting existing processes and systems. The company has been in business since 2000 and provides shipping software, technology, service, and support geared to high-volume multi-carrier shippers who sell on multiple platforms. Through strategic partnerships with some of the best and largest order-fulfillment companies, they constantly strive to improve quality and service.
ShipWorks has developed a range of productivity tools for automating order-processing tasks and label printing faster than standard cloud-based solutions.
Shipworks download is accessible by going online to the Customer Download Center and following the prompts – for new customers, a 30-day Free Trial is available to test-drive the software.
Shipworks email allows users to send notifications and other emails – phone, emails, and chat support are free, with real-person support from agents based in the USA.
Shipworks hub is a resource hub consisting of case studies, articles of interest to shippers and others in ecommerce, such as supply chains, customer feedback, and forums, future challenges for ecommerce, and more.
Using the Shipworks login, you can get information about Shipworks pricing – they offer several warehouse-centric plans, starting at $349 /month, including up to 12,000 shipments, all the way up to $799 and 50,000 shipments, with a free trial available for all plans.
According to their website, Shipworks insurance is cheaper than that offered directly by most carriers and offers substantial discounts of up to 86% on carrier rates. You always get the best rate in effect at that time.
Shipworks reviews have generally been positive for features, pricing customer service integrations particularly concerning Shipworks support as reported by Merchant Maverick and Software Advice. Their server had been reported slow at peak times in the past but this may have been fixed.
Shippo
Shippo shipping is a multi-carrier shipping software designed for ecommerce to help businesses ship better by saving on carrier rates for UPS, DHL Express, USPS, and more. Once it's connected with your ecommerce platform, Shippo synchronizes order information, as well as creates and prints documents and shipping labels. Customer service is enhanced through ts tracking pages, as well batch printing and branded emails.
The main difference between ShipStation and Shippo is that Shippo offers a "pay-as-you-go" plan compared to ShipStation's monthly subscription packages. On the other hand, ShipStation provides more features, whereas Shippo's focus is on simplicity.
GoShippo offers multi-carrier shipping management tools and support without the monthly subscription offering label creation, with smart shipping defaults and automation, analytics, and reporting.
According to Shippo Crunchbase, Shippo is a multi-carrier shipping API ecommerce web app offering access to multiple carriers with just one dashboard and API.
Shippo Glassdoor overall gave the startup good reviews in terms of employment opportunities balanced by some tech debt with the reduced implementation of some potential features.
Shippo login information, the Shippo phone number, and other general company information can be found on their website.
Some Reddit users reported in Shippo reviews that it was a good program when starting out, being easy to use with fast performance up to a point, but once-daily shipping reached 100 + shipments, they felt it was time to switch to a program like ShipStation with more features. On the downside, it's been reported as being not as intuitive and sometimes glitchy. Also, there were sometimes tracking issues due to lacking tools such as Aftership.
When comparing reviews on social media such as Reddit, it's important to remember that user needs and capabilities differ and many of these programs are being updated or otherwise frequently tweaked.
Shippo tracking helps improve your customer service by allowing both sender and buyer access to real-time package tracking information.
Shipping Software
There are some positive Easyship reviews reddit-based, among the reasons for its popularity was it was free compared to other shipping sites.
Regarding reviews for Shipstation Reddit reviewers, some described it as "the bomb." Others were more inclined to favor ShipEasy and Shippo.
Shipstation vs Pirateship Reddit reviewers gave both high marks, with Pirateship being free, good support, with simple export rates for global shipping.
Ordoro pricing includes a 15-day FREE trial of our Express Plan, letting prospective customers put our shipping software to the test.
We also offer a Starter Plan that lets users access our shipping software for free. That's right - visit our website and contact us for more details.
As a compatible platform with Ordoro Shopify, the combo and their respective apps come out ahead, especially for online retailers.
Ordoro API allows coordinating sales channels including POS, brick-and-mortar, and social media sales with marketplaces and carts.
Ordoro inventory management can be combined with additional functions including multi-carrier and multichannel integration.
The Ordoro Austin-based company offers ecommerce businesses streamlined order fulfillment from inventory management to package tracking and reports.
What features should you look for in shipping software?
If you're starting out, look for features that are scalable as your business grows
A shipping calculator feature is a must, to help find the most economical carrier at the best rate
Shipping software should be able to create shipping labels, with bills of lading, packing slips, and other documents as needed for your type and size of business.
If you're moving into a larger logistics model, software with multi-carrier shipping capabilities is a must-have.
One of the many advantages of being part of the Ordoro "family": the highly-rated Ordoro support team is always available with live support to assist with your questions and help you optimize software benefits and experience. Don't forget our FREE 30-day onboarding and other great perks!