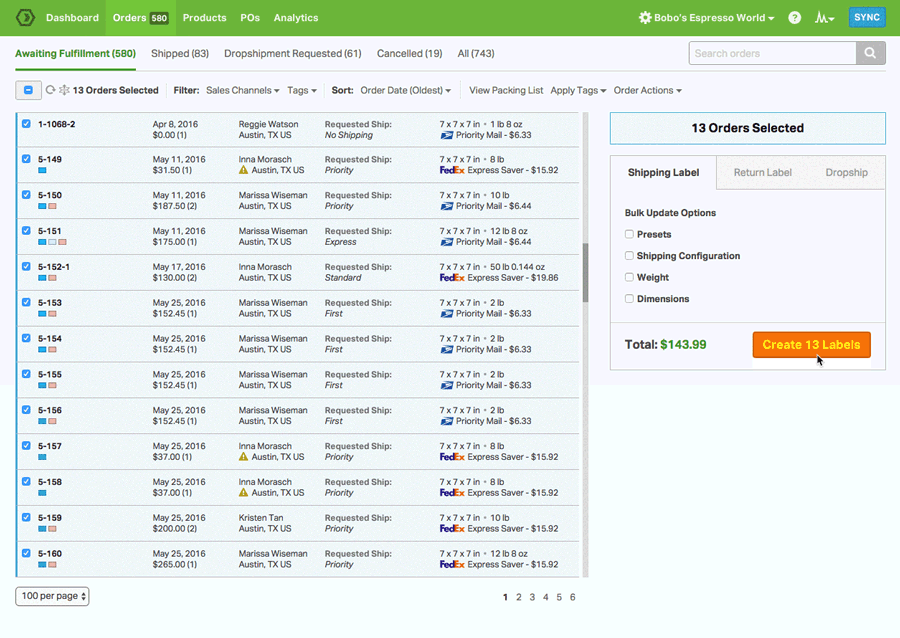 Discover The Cheapest Shipping For Small Business
The All-In-One Ecommerce Logistics Platform
Equip yourself with a comprehensive solution
Inventory Management
Stock, sync, and scan.
Automatically track and sync your inventory levels
Create and send out Purchase Orders when it's time to restock
Bundle multiple SKUs into one unit for sale
Use Barcode Scanning to reduce fulfillment errors
Multi-Carrier Shipping
Your workflow, minus the work.
Enjoy heavily-discounted shipping rates via USPS
Ship via any of our integrated shipping carriers like USPS, UPS, FedEx, DHL and Canada Post
Set up your own Automation Rules and Shipping Presets
Print shipping labels in triple-digit batches or individually
Dropshipping
Truly hands-off dropshipping.
Launch a dropshipping operation in a matter of clicks
Tag any product as drop shipped and assign it to a vendor
Choose between automated or manual routing
Activate a Vendor Portal between you and your supplier
Multichannel
We're your operations hub.
Integrate and view all of your sales and supplier channels in one spot
Use our open API to hook up any third-party or custom apps
Manage every aspect of your orders
Establish Supplier Feeds for real-time, back-end communication
Barcode Generation and Scanning
Raise the bar for stocking and packing.
Create UPC barcodes for your products
Scan, set, and search UPC codes for SKUs within Ordoro
Reduce fulfillment errors with our pack and pack barcode scanning workflow
Scan received POs to automatically adjust stock levels
Don't take our word for it
Our awesome customers have shipped some really great compliments our way:
"I spent about a month thoroughly searching for the right backend fulfillment software for my eCommerce business. There were definitely some big name guys out there that I considered, but at the end of the day, I went with Ordoro and I'm so glad I did!"

Tina Yarandi
Founder/CEO of Nature's Artisan
"Ordoro continues to add immensely valuable features to an already awesome sales/warehousing/shipping platform. Using Ordoro continues to save us time and money."

Anthony Krize,
VP of GE Holiday Lighting
Cheapest Shipping For Small Business
The small businesses that succeed in the fast-moving world of ecommerce are those that are able to optimize their fulfillment workflows. That means you need the capability to:
Mix and match shipping carriers to take advantage of the lowest possible rates and tap into industry discounts
Create shipping labels individually or in bulk and print them with the click of a mouse
Set up automation rules and shipping presets to respond to customer orders immediately
Connect your supply-side channels and warehouses
Route orders to 3PLs or drop-shippers and choose which warehouse to ship from
To really do that, you have to be able to take advantage of the cheapest shipping for small business available, including any discounts you can get. Some people depend on reviews they find on social media. For example, some people might go with the cheapest shipping for small business Reddit users recommend most often. It's true that there are a lot of savvy businesspeople on Reddit. However, it's also true that it's a good idea to test drive a software solution before you entrust the future of your business to it. Ordoro's integrated system designed specifically for ecommerce gives you all those capabilities. More importantly, Ordoro offers you a 15-day free trial to see how your specific business can benefit from all those features. Their Express Plan allows you to enjoy all the features of a higher-priced integrated system without the higher price. Ordoro is fully scalable, so as your business becomes more successful and you have more storefronts, sales channels, and warehouses to manage, you can make a seamless uninterrupted transition to their pro version. The last thing anyone wants is to have to learn a new software system just when they start achieving some success.
USPS Shipping For Small Business
Professionals in ecommerce often disagree on what strategies are best for achieving success. There's one thing that all ecommerce entrepreneurs agree on, though, and that's that the best shipping for small business is the cheapest shipping for small business. That's because shipping is one of the single largest expenses for online businesses. Experts estimate that shipping costs can add up to 15 to 20% your net sales total. That means that the more you can save on shipping costs, the more of your profits you'll get to keep. That's why there's a USPS shipping calculator to help people more accurately determine USPS shipping rates for specific items. Most ecommerce entrepreneurs have a USPS business account to take advantage of USPS business shipping rates. They even offer a USPS small business shipping rate. The price is right, too, because opening a USPS business account cost is zero dollars. With Ordoro, you get access to USPS discounts of up to 67%. You also get the ability to print USPS domestic and international shipping labels individually or in batches, as well as insure and track your packages from a single dashboard. They even provide a USPS shipping guide for their customers' convenience. However, with Ordoro, you're not limited to just one shipping option. Using their advanced analytics, you'll be able to analyze your shipping costs and make informed decisions to reduce them. You'll be able to see at a glance exactly where the majority of your shipping expenses are focused and make necessary adjustments. You can integrate and choose from USPS, UPS, FedEx, DHL International, Canada Post, or an Amazon Seller Fulfilled Prime account. Comparing and combining various domestic and international shipping methods can really help you reduce your shipping costs and increase your profit margins.
FedEx Small Business Shipping
Since Ordoro allows you to mix and match your shipping methods, you can choose FedEx small business shipping as well. To create a FedEx business account, just go to the FedEx website and choose the "create FedEx business account" option. The main difference between the FedEx business account vs personal accounts is the FedEx business account discount. FedEx business shipping rates are discounted up to 40% from regular FedEx shipping rates. Having an account also gives you access to FedEx business account customer service. It would be an understatement to say that customers love free shipping. The reality is that if you don't offer free shipping, they're likely to leave your site and search for the same item being sold by someone who does. Statistics show that the majority of online customers expect free shipping on purchases of as little as $20.00 and that 15% of people expect it on purchases of even $15.00. The pandemic not only created millions of new ecommerce customers—it also increased their expectations for fast, free delivery. It's more important than ever for small business owners to utilize every tool that modern technology has to offer to reduce shipping costs. The software development team at Ordoro included every feature that small business owners need to compete in today's fast-moving world of seemingly infinite choices. Their fully integrated system provides you with the full array of shipping choices you need to stay a step ahead of the competition. Once you've found the least expensive option and made your choice, you can set up future automation rules with that information. You can also activate a delivery confirmation message to make sure that it wasn't just the least expensive choice, but the fastest and most efficient as well. For your customers who prefer fast delivery over free delivery, FedEx is a great choice.
Cheap International Shipping For Small Business
In the context of international shipping, the word "cheap" is relative. That's because it's always more expensive than domestic shipping. There are more factors involved, including distance, tariffs, and foreign import taxes. The fact that oil prices have skyrocketed recently is another. When it comes to international shipping for small business, you need the best small business shipping software you can get. Small businesses just aren't able to compete in the global marketplace without the ability to compare the rates of the best international shipping companies. Access to the information necessary to compare rates is the only way to and their rates to determine which company can provide you with the cheapest shipping for small business. Even among the best ecommerce shipping companies, the answer to which one is best for a particular shipment is going to depend on a number of factors. Those factors include package size and weight, the delivery timeline, the distance to the destination, and the destination itself. Cost comparisons have shown that a flat rate through USPS is usually considered the cheapest way to mail a package internationally. However, there are times when regional shippers can provide greater savings. Whichever shipping carriers you choose to use, it's important to open a business account with them. Otherwise, your shipping costs could be up to 3X higher. Once you've determined which company or combination of companies provides the cheapest shipping to a particular destination, Ordoro allows you to set up automated shipping rules so you don't have to do that research again the next time you need to ship something to that destination. They provide a free 30-day onboarding to show you how to use all their automation features. With their lifetime support, you'll never have to deal with an automated system or a help-bot when you have a question or need assistance in setting up a new rule or implementing a needed change.
Best Shipping Options For Small Business
Ideally, whatever software system you decide to invest in should give you the ability to compare the shipping rates of various companies at a glance. You need to be able to find out quickly whether UPS business shipping rates provide enough of a discount to justify using them to get a package to a customer more quickly. It isn't easy to put a price tag on customer satisfaction, but research does show that it's much easier, and costs less, to keep an existing customer than to cultivate a new one. Multi-carrier shipping is one of the things that makes Ordoro the best shipping software for small business owners. Fast, efficient and affordable delivery has become one of the most important elements in determining customer satisfaction. Designed specifically for ecommerce, their comprehensive integrated system provides all the tools and technology needed for success at a cost small business owners can afford. What small business entrepreneurs can't afford is not having the ability to determine the best shipping options for small business under any set of circumstances. The best shipping company for packages being sent to China is probably not going to be the same company that's best for packages being shipped to Ireland or the UK. Ordoro offers a 15-day free trial of their Express Plan, so you can test-drive their system to see for yourself how much, and in how many ways, it can benefit your business. The automation features alone are like having extra employees working around the clock that don't require overtime pay. Although it was named best shipping software for 2021, Ordoro allows you to automate and streamline ALL the behind-the-scenes processes of your ecommerce business. That leaves you and your employees free to do what only humans can do well—providing great customer service.