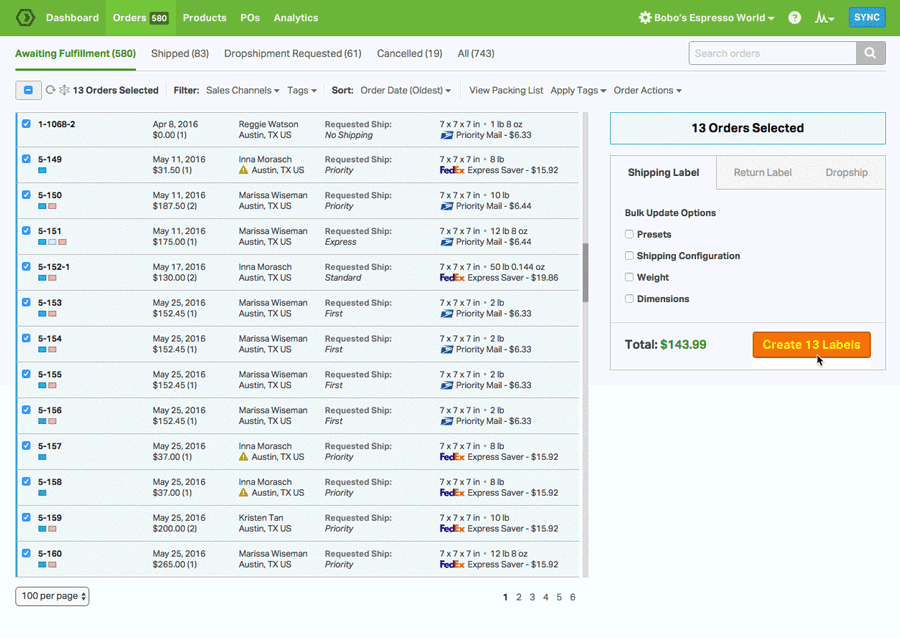 The Best TradeGecko Alternative On The Market
The All-In-One Ecommerce Logistics Platform
Equip yourself with a comprehensive solution
Inventory Management
Stock, sync, and scan.
Automatically track and sync your inventory levels
Create and send out Purchase Orders when it's time to restock
Bundle multiple SKUs into one unit for sale
Use Barcode Scanning to reduce fulfillment errors
Multi-Carrier Shipping
Your workflow, minus the work.
Enjoy heavily-discounted shipping rates via USPS
Ship via any of our integrated shipping carriers like USPS, UPS, FedEx, DHL and Canada Post
Set up your own Automation Rules and Shipping Presets
Print shipping labels in triple-digit batches or individually
Dropshipping
Truly hands-off dropshipping.
Launch a dropshipping operation in a matter of clicks
Tag any product as drop shipped and assign it to a vendor
Choose between automated or manual routing
Activate a Vendor Portal between you and your supplier
Multichannel
We're your operations hub.
Integrate and view all of your sales and supplier channels in one spot
Use our open API to hook up any third-party or custom apps
Manage every aspect of your orders
Establish Supplier Feeds for real-time, back-end communication
Barcode Generation and Scanning
Raise the bar for stocking and packing.
Create UPC barcodes for your products
Scan, set, and search UPC codes for SKUs within Ordoro
Reduce fulfillment errors with our pack and pack barcode scanning workflow
Scan received POs to automatically adjust stock levels
Don't take our word for it
Our awesome customers have shipped some really great compliments our way:
"I spent about a month thoroughly searching for the right backend fulfillment software for my eCommerce business. There were definitely some big name guys out there that I considered, but at the end of the day, I went with Ordoro and I'm so glad I did!"

Tina Yarandi
Founder/CEO of Nature's Artisan
"Ordoro continues to add immensely valuable features to an already awesome sales/warehousing/shipping platform. Using Ordoro continues to save us time and money."

Anthony Krize,
VP of GE Holiday Lighting
TradeGecko Alternative
TradeGecko, also formerly referred to as the QuickBooks Commerce standalone software, will officially come off of the market on June 10, 2022. According to TradeGecko, they no longer granted access for consumers to purchase their software as of June 9, 2021. As this has been a year prior to the sunsetting of TradeGecko, primarily seasoned and long term customers of this QuickBooks Commerce product are affected.
The reason QuickBooks will no longer use the QuickBooks Commerce standalone software is, "Following our acquisitions by Intuit last year, we have focused on integrating QuickBooks Commerce and QuickBooks Online in the US. As we continue to build a more durable product integrated with QuickBooks' robust platform to help our customers grow their businesses, we are retiring the legacy commerce product (formerly known as TradeGecko) that you are using."
While QuickBooks Commerce was part of QuickBooks Online, the customers of QuickBooks using the product will only have QuickBooks Online to use moving forward. QuickBooks Commerce will integrate data with the online platform in a bundle. However, the features and tools available with QuickBooks Commerce aka TradeGecko will no longer be accessible.
For those customers who have most likely been using this product to manage inventory and sales data, this is going to be a jolt to operations and processes. In order to minimize the adverse impact this loss in software will have on storing customer information and running expense reports, we have a solution. A timely and effective TradeGecko alternative is Ordoro for your comprehensive inventory management. Ordoro is similar to TradeGecko in that it offers several features that assist with bookkeeping and accounting practices.
The way customers of QuickBooks Commerce set up their inventory management system with this software will go out of order on June 10, 2022. There is not a lot of time for these customers to come up with a new solution for managing their inventory. If they prefer to avoid using QuickBooks Online for some reason, then it is timely and necessary for these customers to start shopping for new software and inventory management services now.
Inventory Management System
TradeGecko was an inventory management system via software that was used in conjunction with QuickBooks. As this software was standalone and divisible from QuickBooks Online, it really makes logistical sense for QuickBooks to bundle this in one, especially since Intuit took over. This is a way to streamline services as Intuit works in its new takeover of QuickBooks to better understand what its customers are interested in. After all, this new ownership by Intuit happened for a reason, and it's hopeful to improve the way QuickBooks as a system works for its customers.
Some of the main features offered by TradeGecko aka QuickBooks Commerce include:
Application programming interface (API) integrations
Barcoding
Business to business (B2B) portal
Manufacturing
Order management
API integrations available by TradeGecko include invoicing and accounting sync, where returns, relationship information, and split invoicing are done with automation. Reports that could be pulled are extensive and include several different types of sales order reports by product or variant, brand, assignee, channel, sales rep, customer name, and more. This detailed data and reports for sales allow customers to track sales data and inventory across a multitude of channels. This inventory management system by QuickBooks was also available on two platforms–the web and the iPhone.
As a full scale inventory management system, there were also the capabilities that TradeGecko afforded customers in inventory stock reports. Customers were able to pull location reports and incoming stock reports, which identify stock and inventory value and locations. Customers could run a reorder report if they were concerned about inventory falling below the reorder point. They could use demand forecasting reports to intelligently process stock-outs and excess inventory. These are processes customers of TradeGecko need to replace. This can be done by choosing a new system for inventory management.
Replacements For TradeGecko
There are many options on the market for customers who are getting bypassed by TradeGecko aka QuickBooks Commerce. This type of service, however, with inventory management, cannot be covered by just any software. You will want to manage the way you handle your inventory processes, including tracking products and running reports, differently, most likely, after you leave TradeGecko. As a result, you have learned which of their features works for your company–and which ones you would consider bloated and not necessary. You are now in a position to streamline your own processes by getting and paying for exactly what you need in terms of an inventory management system.
Trying to find replacements for TradeGecko should not be difficult. However, you will want to look at the big picture and end of the line with the software and online systems you see. After all, you don't want to have to go through this entire process again in another year if the next service you try goes under, too. The reason that this happened with TradeGecko was due to a takeover of Intuit by QuickBooks. While that is not an acquisition you could predict as an end user of software, it pays to do your research. Check out the latest news and industry reports regarding the providers and makers of inventory management systems. This will help you sort out any weak links or sketchy software solutions that would leave you in the lurch.
Other examples of replacements for TradeGecko B2B inventory management software systems include:
Dear systems
InFlow inventory
Zoho Books
Unleashed
Zoho Inventory
Dear Inventory
Zoho Commerce
Dear Software
Zoho One
Zoho Inventory features a complete inventory management system. There is also the Zoho Inventory app, which is a highly beneficial solution. Dear Inventory systems is another inventory management solution. Using Dear Inventory allows you to cover all of your financial transactions properly.
Some of the key features you need in new B2B inventory management software include superior customer support and onboarding services. This should include in-person phone communications and video training in this day and age. Consider the way Ordoro treats its customers, like Kitsbow: Throughout their time working with the software, Kitsbow has expressed that their favorite thing about Ordoro is "the way [they] innovate." Ordoro makes the effort to document Kitsbow's needs to ensure the software is always rising to the challenge. "It does everything [we] want [and] Ordoro keeps raising the bar."
QuickBooks Commerce Competitors
The issue with finding the right option among QuickBooks Commerce competitors is this was a system that flowed nicely. TradeGecko inventory management software was owned by QuickBooks and was able to integrate perfectly due to this. QuickBooks, which is mainly an accounting and bookkeeping service, was able to offer TradeGecko as an inventory management solution for those customers who worked in warehousing and overseeing inventory. Now, since QuickBooks is no longer utilizing TradeGecko, and the software will no longer be available, it's time to move on. There is nothing you can do as an end user–not even buying and using the software offline will help. It's over folks, so let's help you find a new solution for handling your inventory management needs on a B2B scope.
According to Neil Patel, who is somewhat of an internet informant when it comes to internet software, Ordoro is the next best option. Sure, there is Zoho Inventory, which works well for multi-channel retailers, and there is also Upserve, but it is only going to work if you run a restaurant, which is not applicable to every business out there. The next best thing you can try is Ordoro, which was considered by Business.org to be the number one best Ecommerce option for multi-channel ecommerce and dropshipping. This is the number one of 14 best inventory management software services for small to medium businesses (SMB) in 2022.
Ordoro inventory management has the ability to manage TradeGecko's offerings for its former customers. Using Ordoro allows customers to scale up operations without spending a ton of money. The newer system that is still up and running by Ordoro, unlike TradeGecko, has fulfillment workflows, bulk shipping label printing, and automated dropshipping–one of the most exciting and on demand features of 2022. Choosing Ordoro will improve your workflow by automating as many tasks and processes as possible. There is also the QuickBooks Desktop integration feature available with Ordoro, to keep your business and accounting motions in the flow.
Shopify Inventory Integration
The reason why Ordoro is the best Shopify inventory integration for customers starts with savings. You can save money, time, and processes when you ship using Ordoro and the Shopify integration. This includes savings of up to 67 percent using USPS and capabilities to print shipping labels to USPS, as well as UPS, FedEx, and Canada Post. Selling can be done with Shopify POS anywhere and all shopping carts will be managed while your online storefront is kept up for you. Manage your orders from the point of inception to fulfillment, and have everything connected along all channels.
Kitsbow, a shipping and inventory management software customer of Ordoro, uses the platform to manage Shopify shipping. This is an imperative part of their manufacturing processes. According to Kitsbow, "Using the Ordoro platform and superior technical support, we were able to create our distribution center from the ground up. Ordoro's support team walked the path alongside us and helped us learn the software, explore and implement customizations, and improve efficiency in our daily operations."
The features that Kitsbow depends on by Ordoro include inventory allocation and tracking, as well as barcode scanning and kitting. Shipping management is done using the Ordoro processes, as well as kitting and purchase order (PO) fulfillment for each order shipped by their company. The use of the PO feature is important for the products that Kitsbow purchases wholesale, such as hats and socks, to sell to customers. The management solution is so effective that: "Ordoro's order verification process is a key factor that empowers Kitsbow's distribution center team members to consistently exceed the goal of 90% average rate of accuracy in order fulfillment." By 2020, the company had a 99.96 percent average accuracy and that's a huge improvement from year to year. Ordoro's solution, according to Kitsbow, "Does everything [we] want [and] Ordoro keeps raising the bar."