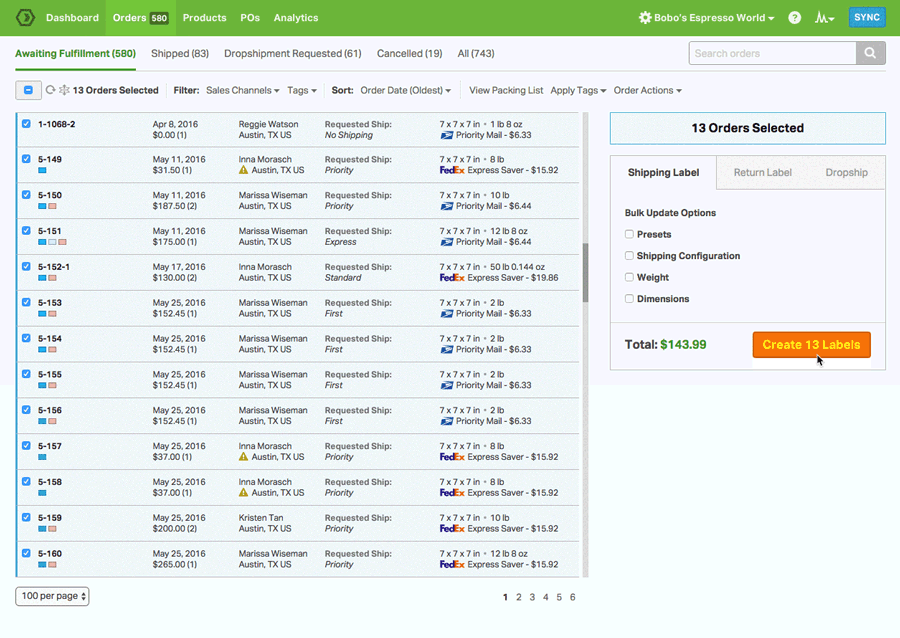 The Shipping Scanner Software For Fast And Accurate Fulfillment
The All-In-One Ecommerce Logistics Platform
Equip yourself with a comprehensive solution
Inventory Management
Stock, sync, and scan.
Automatically track and sync your inventory levels
Create and send out Purchase Orders when it's time to restock
Bundle multiple SKUs into one unit for sale
Use Barcode Scanning to reduce fulfillment errors
Multi-Carrier Shipping
Your workflow, minus the work.
Enjoy heavily-discounted shipping rates via USPS
Ship via any of our integrated shipping carriers like USPS, UPS, FedEx, DHL and Canada Post
Set up your own Automation Rules and Shipping Presets
Print shipping labels in triple-digit batches or individually
Dropshipping
Truly hands-off dropshipping.
Launch a dropshipping operation in a matter of clicks
Tag any product as drop shipped and assign it to a vendor
Choose between automated or manual routing
Activate a Vendor Portal between you and your supplier
Multichannel
We're your operations hub.
Integrate and view all of your sales and supplier channels in one spot
Use our open API to hook up any third-party or custom apps
Manage every aspect of your orders
Establish Supplier Feeds for real-time, back-end communication
Barcode Generation and Scanning
Raise the bar for stocking and packing.
Create UPC barcodes for your products
Scan, set, and search UPC codes for SKUs within Ordoro
Reduce fulfillment errors with our pack and pack barcode scanning workflow
Scan received POs to automatically adjust stock levels
Don't take our word for it
Our awesome customers have shipped some really great compliments our way:
"I spent about a month thoroughly searching for the right backend fulfillment software for my eCommerce business. There were definitely some big name guys out there that I considered, but at the end of the day, I went with Ordoro and I'm so glad I did!"

Tina Yarandi
Founder/CEO of Nature's Artisan
"Ordoro continues to add immensely valuable features to an already awesome sales/warehousing/shipping platform. Using Ordoro continues to save us time and money."

Anthony Krize,
VP of GE Holiday Lighting
Shipping Scanner
When investing in the right shipping scanner for your business, start by identifying all possible options. There are many kinds of scanners on the market including:
Bluetooth Barcode Scanner for iPad
Each type of scanner offers a variety of features that may improve your inventory processes. For instance, Ordoro produces the best barcode scanner app for businesses. The Google scanner, as well as devices serving as a data scanner and product scanner also work with this barcode scanner online free.
There are two kinds of shipping barcodes that are applicable to a shipping scanner. This includes:
Third-party logistics or 3PLs encounter
As you can see, the type of scanner you choose will depend on how you will use it. If you have 3PLs you will encounter many shipping barcodes needed to ship and receive freight. This ensures compliance with standards, reduces shipping fees and improves receiving times. Scanning barcodes are used for counting stock levels, minimizing errors, and compiling reports.
The most commonly used barcode formats you will see in shipping and inventory storage include:
A shipping barcode is key to 3PL inbound inventory and outbound packages. The product barcode is used to mark and track individual pallets, bins, or shelves locating products in a warehouse or inventory. Most likely your team will require the use of multiple types of scanner devices, including an order scanner and image scanner. A combination of barcode and product scanners will optimize efficiencies in a warehouse setting and for 3PL providers.
One very important type of barcode scanner that is necessary for shipping and receiving for businesses of all sizes is the shipping barcode scanner. Whether you operate a small to medium business (SMB) or an online store, if you have shipments, you need to have a shipping barcode scanner to handle the data. A barcode scanner for shipping will cover the tracks in identifying key product information when processing a shipment.
The best barcode scanner app online service by Ordoro offers a comprehensive solution to shipping and receiving scanning. Save time and money as you increase efficiencies through streamlining your e-commerce operations. Scale-up in due course with the app and its features made for shipping and inventory management.
A shipping barcode is a specialized barcode featuring a combination of numbers and lines that look like bars of varying widths. Generally, shipping barcodes are affixed to cartons or product containers using a sticker or via a paper tag. When you scan a barcode on a shipping label with a shipping barcode scanner, you receive a bevy of information.
Finding the right barcode scanner for original product inventory is critical from the first batch run. You want to have everything in place and know how to use barcode scanner for inventory. A barcode scanner will save you time and money if you choose a wireless style with Bluetooth connectivity. Using a barcode scanning radar allows for picking out items from a distance as well.
Shipping Barcode Scanner App
The benefits of having a free barcode scanner and a free barcode scanner app for inventory are extensive. Here you have a way to efficiently process data and information regarding products and barcodes for your inventory. This allows your crew to find and package products for shipping in the most timely manner.
From this point, your 3LP encounters and scanning devices like a barcode scanner online will work to your advantage. Build a toolbox of shipping scanner units, software, and apps that work together to give you the easiest way to manage your supply chain. Organize a product inventory and prepare shipping labels and shipments of goods–all with the help of a shipping barcode scanner app for free via Ordoro.
If your company is in the manufacturing or retail business and you work with shipping and delivery, it is quite advantageous for you to have some sort of barcode scanning system in place. You should have both a mobile barcode scanner device and shipping barcodes and a helpful shipping barcode scanner app. These tools are necessary for in-house and 3PL requirements and will increase efficiency in back-office processes in your warehousing department and shipping docks.
The system of a barcode scanner and barcode scanner app for software is also important for third-party logistics providers. This includes truck drivers and dispatchers who require bills of lading, bills of materials for manufacturing and purchase order documents. If you work with US Customs and have international shipping to deal with, you certainly need to have a barcode and tracking system that takes advantage of barcode scanning services. This will increase your company's ability to get products shipped with all the right documentation and fewer human errors. It will hopefully improve the rate that your overseas shipments have of getting passed on through customs quickly and without being returned.
Shipping Barcode Generator
Ordoro is here to help your ecommerce business streamline your shipping barcodes and order fulfillment workflow. There are several elements of our services, including the shipping barcode generator that you can utilize within that workflow. This will allow you to create your own custom barcodes within the Ordoro program using our tools.
We have services to help you generate shipping barcodes for free. Additionally, with our tools, you will be able to find the right barcode features you can actually use, like UPC Code and SKU parameters. Using Ordoro's free barcode generator software enables you to set up a barcode system with specific information. This will let you identify information including:
Track movement on supply lines
Pinpoint accuracy of product location
Next, you will want to use your shipping barcodes to perform actions within the supply chain. This allows you to automate processes like sending shipping labels to the printer or Instaprint. In fact, Ordoro has a barcode generator software free download that is available to anyone right now.
The online barcode generator de PDF printable download features several barcode action shortcuts. These shipping barcodes feature:
Order verification actions, including mark as "contents verified," previous order, next order, and start over/verify another order
Shipping label creation, viewing and printing as well as sending to Instaprint
Additional documents viewed, printing, and sent to Instaprint
Modal Windows for primary and secondary actions in printing
Canada Post documents for viewing and printing
Use this download to take advantage of these shortcuts in your barcode scanning workflow. You can use the Ordoro barcode scanner app to also have a multiple barcode generator or specific UPC barcode generator.
Shipping Label Scanner
Ordoro's integrated inventory and shipping software will streamline your workflow and minimize errors. Our barcode scanning feature included as part of a shipping label scanner system will improve gains in warehousing. Individual items can be quickly marked in pick and pack, reducing human errors that are costing you a lot in the area of fulfillment. Simply point and click by pressing a single button, which greatly reduces the time spent managing inventory.
Using our shipping label scanner app at Ordoro continues aiding with workflow and fulfillment processes. You are able to raise the bar on workflow by scanning UPC codes for SKUs using this system. Tag products and increase efficiency for pick and pack processes. Every aisle and bin location is recorded in the database and can be accessed via the shipping label scanner device and app.
The benefits of barcode scanning include ensuring accuracy when picking products in the warehouse. Improve the accuracy of order fulfillment by scanning each product or item before adding it to a shipment. This will reduce missing items that leave your customers scratching their heads and asking for a refund. Improve customer service and make it easier for your employees to do their job when fulfilling orders.
The barcode scanner scans a barcode on shipping label to receive vital information about various areas. First, you have an up-to-date account of where the items are in the supply chain. You also have a way to connect to a postal barcode scanner app, such as the USPS barcode scanner app. The barcode system using UPC codes is universal and allows you to connect to other barcode scanner systems. This is instrumental for your own workflow, as well as for packaging processes for retailers.
There is also the benefit of using bulk scanning with a barcode and shipping label scanner. Using the information scanner allows you to bulk scan an individual batch. Bulk scan is also useful for barcode scanning that is used for printed packing lists. Maximize efficiency and reduce errors with shipping using a scanner to identify each item that goes from one bin to a box or poly bag.
Shipping And Receiving Software
The shipping and receiving software at Ordoro is the leading option for warehouse management. When you sign up for an account and start your services, you gain access to a plethora of products and features. The barcode scanner for shipping and receiving sets your warehouse and inventory up for success. From there, with the use of barcode label printers and our warehouse management software, you have most of the tools you need to get the job done. We come swooping in with the rest–an app for mobile use and a user dashboard that works on your computer or laptop. Get everything you need for warehouse management with Ordoro.
Features available with the Ordoro barcode scanner for shipping and receiving include:
Lifetime support where you'll always talk to a real person
Sign up and begin your FREE trial period of 15 days with Ordoro.