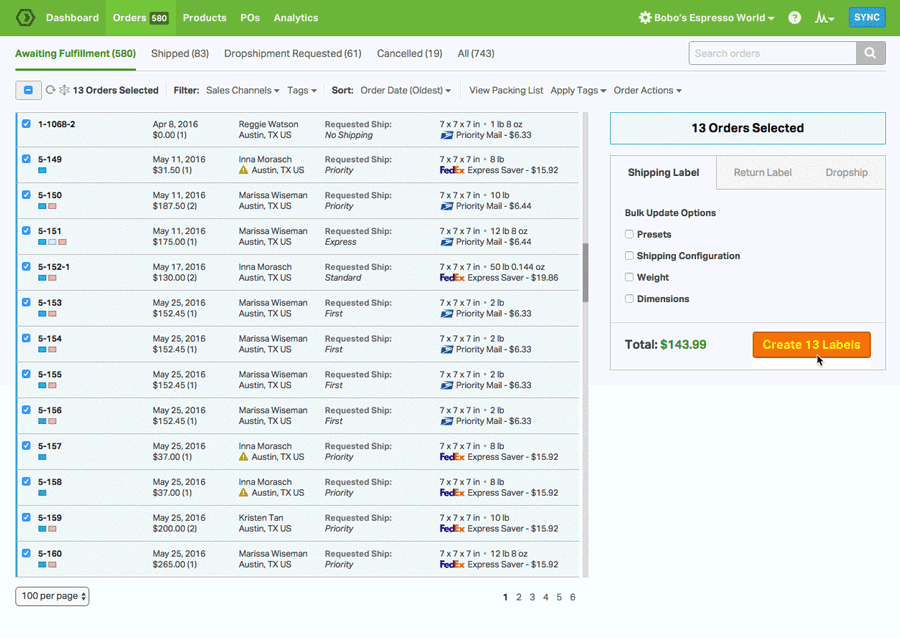 Discover UPS Standard Shipping Time And Procedures
The All-In-One Ecommerce Logistics Platform
Equip yourself with a comprehensive solution
Inventory Management
Stock, sync, and scan.
Automatically track and sync your inventory levels
Create and send out Purchase Orders when it's time to restock
Bundle multiple SKUs into one unit for sale
Use Barcode Scanning to reduce fulfillment errors
Multi-Carrier Shipping
Your workflow, minus the work.
Enjoy heavily-discounted shipping rates via USPS
Ship via any of our integrated shipping carriers like USPS, UPS, FedEx, DHL and Canada Post
Set up your own Automation Rules and Shipping Presets
Print shipping labels in triple-digit batches or individually
Dropshipping
Truly hands-off dropshipping.
Launch a dropshipping operation in a matter of clicks
Tag any product as drop shipped and assign it to a vendor
Choose between automated or manual routing
Activate a Vendor Portal between you and your supplier
Multichannel
We're your operations hub.
Integrate and view all of your sales and supplier channels in one spot
Use our open API to hook up any third-party or custom apps
Manage every aspect of your orders
Establish Supplier Feeds for real-time, back-end communication
Barcode Generation and Scanning
Raise the bar for stocking and packing.
Create UPC barcodes for your products
Scan, set, and search UPC codes for SKUs within Ordoro
Reduce fulfillment errors with our pack and pack barcode scanning workflow
Scan received POs to automatically adjust stock levels
Don't take our word for it
Our awesome customers have shipped some really great compliments our way:
"I spent about a month thoroughly searching for the right backend fulfillment software for my eCommerce business. There were definitely some big name guys out there that I considered, but at the end of the day, I went with Ordoro and I'm so glad I did!"

Tina Yarandi
Founder/CEO of Nature's Artisan
"Ordoro continues to add immensely valuable features to an already awesome sales/warehousing/shipping platform. Using Ordoro continues to save us time and money."

Anthony Krize,
VP of GE Holiday Lighting
UPS Standard Shipping Time
UPS serves over 220 countries and territories, delivering over 24.7 million packages daily for a 2020 total revenue amount of $84.6 billion, according to their website. With that kind of activity and experience, it's no wonder so many businesses and others depend on it for fast and affordable shipping. Not bad for a company that got its start over a hundred years ago as a small messenger service run by two teenagers with a $100 loan!
Today, UPS is a global company that grew by leaps and bounds, becoming the first package delivery company to service every address in the continental USA. To help your business utilize their services, especially within the Ordoro platform, we'll start with a few of their basics.
UPS standard shipping time depends on the customer's needs and preferences. Normally, UPS Ground packages are guaranteed delivery within 1-5 business days, with delivery date set at pickup time and based according to the distance needed to ship.
UPS ground shipping time is dependent on the distance to be shipped from the departing location. For most shippers this is probably the most popular, being the least expensive option.
The UPS transit time calculator is one of the apps available that helps you figure out how much total shipping will cost as well as delivery time. Just open the form on the UPS calculator page, enter the departing address and the ship-to destination address as well as the chosen delivery date.
Additional UPS resources, such as Zones and Rates, Service Guides, and U.S. Ground Maps are also available to help shippers manage fulfillment.
Ordoro has the software, apps, plugins and other tools to manage your fulfillment and shipping needs, including total integration with major and local multicarriers.
In fact, Ordoro can help you manage all aspects of an ecommerce business from a new startup just getting underway on their platform to a thriving ecommerce site. From inventory management, through order processing, fulfillment, tracking and analytics, Orodoro has your business covered.
UPS Delivery Times by Zip Code
UPS delivery times by zip code vary of course, but for most of the US, Ground delivery takes about 1-5 business days, depending on where the package originated and destination, as well as the desired date of delivery.
For those shipping internationally, UPS also offers easy-to-use calculators to accurately gauge rates and times.
You can look up UPS zones by zip code, with no map necessary, as long as you know the intended zip code of the package's destination.
Looking up the UPS zones map 2021, the latest version can tell you the costs and times needed for delivery.
One website, GoShippo, offers UPS discounted rates for ecommerce businesses, including pre-negotiated discounts of up to 50% off UPS® Ground shipments, up to 65% off UPS 2nd Day Air® and up to 76% off International services. While it's good for shipping, it doesn't offer the full array of ecommerce management services, including inventory and fulfillment, like Ordoro.
There's also an app called UPS My Choice® which lets users decide where and when to have a package delivered. In all, there are many choices for shippers and customers to choose from.
Ordoro can help manage all of your multi-carrier shipping needs and schedules with our handy apps and plugins. With just a few clicks, you can coordinate carriers to warehouses and reduce pack and pack errors as well. We can help generate commercial invoices and packing slips, scan-based and return labels, as well as integrate with UPS to generate reports for the days' packages and deliveries.
But wait – there's more! While there are many shipping-focused companies and software available, Ordroro doesn't stop with shipping. We can help manage your entire inventory from the time products enter your warehouses from suppliers to processing customer orders and picking, packing, shipping out with the best carrier, as well as tracking delivery right to the customer's doorstep.
UPS Shipping Rates
UPS shipping rates domestic (US) rates, for faster service, range from UPS Ground shipping, with a current cost of 1- 5 business days at $12.53; Next-Day Select – 1- 3 days $28.46, all the way to the top of the line UPS Next Day Air Early – 1 Business Day at $12.25.
For the latest rates and other updates, see the UPS pages to help you calculate the best shipping rates for your customers, and keep those orders coming in.
UPS Ground shipping cost currently runs around $12.53 as previously stated, and is arguably the most popular UPS option for most US shippers and customers.
UPS shipping rates by weight chart helps calculate shipping costs by weight, special help for very large or bulky items.
UPS 2 day shipping cost is currently $36.99 for 2nd Day Air, deliverable by the end of the second day. There's also 2nd Day Air A.M., which promises delivery by noon of the second business day, at the same rate of $36.99.
UPS rate chart 2021 has been updated for the latest, most accurate UPS shipping information. (Of course, all of this information is included in the UPS website, where everything will be up to the minute, so we advise that you go there first for shipping information and costs.)
UPS's rates are fairly competitive with other large carriers.
Did you know that Ordoro allows you to ship and sync your sales channels as well as a multitude of carriers, both major, like UPS and local deliveries? We do the following act as a central control center for your inventory: assign UPC codes, automatically issue Purchas Orders when stock levels drop to pre-determined levels, as well as tracks, syncs, and update your inventory quantities with every fulfilled order. Did we mention FREE 30-day onboarding and lifetime customer support?
UPS Tracking
One of the advantages of using UPS is its accurate and real-time tracking system. UPS tracking is included in the price of shipping and enables users to track one or more packages on their journey from the shipper to the customer's final destination.
A UPS tracking number is assigned to all shipments to enable both the shipper and customer to track the progress of the order, from the time it leaves the warehouse to the minute it lands on the customer's doorstep. You can use the reference number or use their Quantum View app which lets you see shipping activity across your whole supply chain with customizable views, notifications, and reporting.
For global organizations, there's Global View, which allows managing global suppliers, supply chain, and inventory with enterprise-wide tracking across multiple modes of transportation.
UPS Ground tracking is the most popular and commonly used method of shipping for UPS tracking US shipments.
UPS shipping tracking also includes overseas tracking, to places such as India, Germany, Ireland, the UK, Israel, and more.
UPS map tracking is another helpful feature that was added in 2016 to its Air and UPS Worldwide Express services, guiding users to accurately and quickly track packages around the world. Users need a My Choice account with UPS, then go to Follow My Delivery, which will then display a UPS icon on a live map showing the package's location in real-time.
EasyShip, Shippo, Lightspeed, and a few other companies claim to be able to help avoid ordinary surcharges and access discounted rates for 2nd Day Air, as well as UPS Ground.
Ordoro offers participating carrier discounts as it focuses efforts on optimizing the entire ecommerce workflow.
Create shipping labels in a couple of clicks: you can do away with PDFs and clickings. If you're not using Ordoro, contact us for a demo and see how easy it is to take full control of all aspects of your ecommerce business.
UPS Shipping
No discussion about shipping would be complete without dealing with that dreaded topic of returns – a fact of life for most businesses sooner or later. UPS makes it easy for a customer to return an item by creating a return label ahead of pickup, which can be scheduled to go straight to the customer's door. If unable to personally hand off the package to the delivery driver, a label will be left to allow the customer to either take the package to any UPS location or request a later pickup.
In addition, UPS can help handle pick and pack lists, track packages once they're sent, and even help you follow up with post-sale customer satisfaction.
While you can use UPS's site and apps, it's nice to know that Ordoro also helps with label creation, whether bulk or single labels, including UPS shipping label creation – a one-stop-shop for all things shipping. Ordoro ties in perfectly with all multi-carrier functions with features and apps that let you manage your fulfillment and order processing with just a few clicks.
Finding the best UPS shipping rates can be a challenge with so many choices available. However, Ordoro makes selecting the right software easier by offering a comprehensive suite of apps and plugins that help you take charge of all aspects of running an ecommerce operation. From inventory management, order processing and fulfillment, tracking, and more – we have you covered.
Ordoro helps you take charge of all of your shipping needs, as our software is designed to interface with all major carriers, including UPS shipping. Whether you're a startup newbie or an established ecommerce enterprise, Ordoro has everything you need: inventory management, full integration with multi-carrier shipping, multichannel sales, kitting, dropshipping, fully-automated fulfillment operations including pick/ pack lists, labels, analytics, and reports as well as FREE 30-day onboarding and lifetime support.