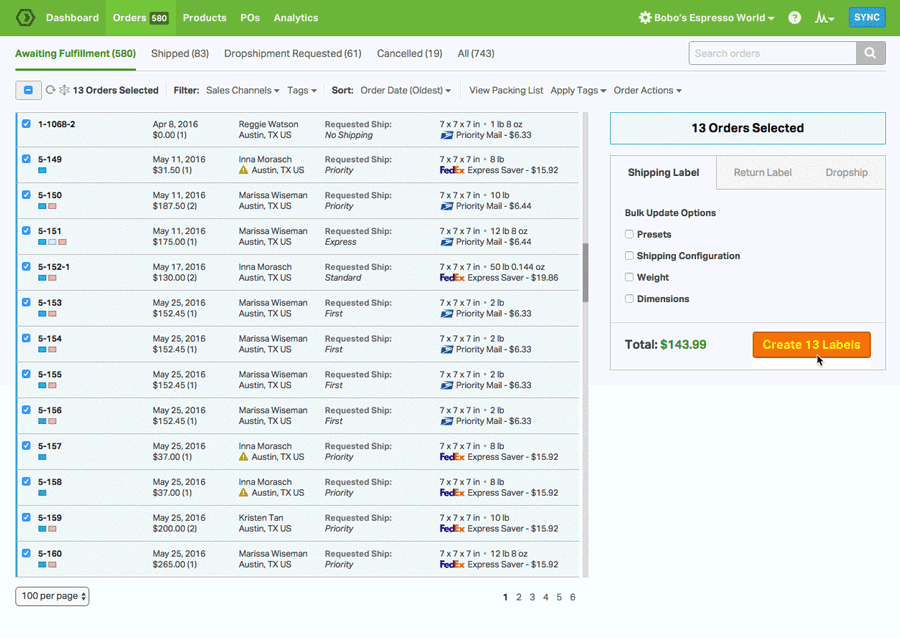 Master The USPS Shipping Times Map With Ordoro
The All-In-One Ecommerce Logistics Platform
Equip yourself with a comprehensive solution
Inventory Management
Stock, sync, and scan.
Automatically track and sync your inventory levels
Create and send out Purchase Orders when it's time to restock
Bundle multiple SKUs into one unit for sale
Use Barcode Scanning to reduce fulfillment errors
Multi-Carrier Shipping
Your workflow, minus the work.
Enjoy heavily-discounted shipping rates via USPS
Ship via any of our integrated shipping carriers like USPS, UPS, FedEx, DHL and Canada Post
Set up your own Automation Rules and Shipping Presets
Print shipping labels in triple-digit batches or individually
Dropshipping
Truly hands-off dropshipping.
Launch a dropshipping operation in a matter of clicks
Tag any product as drop shipped and assign it to a vendor
Choose between automated or manual routing
Activate a Vendor Portal between you and your supplier
Multichannel
We're your operations hub.
Integrate and view all of your sales and supplier channels in one spot
Use our open API to hook up any third-party or custom apps
Manage every aspect of your orders
Establish Supplier Feeds for real-time, back-end communication
Barcode Generation and Scanning
Raise the bar for stocking and packing.
Create UPC barcodes for your products
Scan, set, and search UPC codes for SKUs within Ordoro
Reduce fulfillment errors with our pack and pack barcode scanning workflow
Scan received POs to automatically adjust stock levels
Don't take our word for it
Our awesome customers have shipped some really great compliments our way:
"I spent about a month thoroughly searching for the right backend fulfillment software for my eCommerce business. There were definitely some big name guys out there that I considered, but at the end of the day, I went with Ordoro and I'm so glad I did!"

Tina Yarandi
Founder/CEO of Nature's Artisan
"Ordoro continues to add immensely valuable features to an already awesome sales/warehousing/shipping platform. Using Ordoro continues to save us time and money."

Anthony Krize,
VP of GE Holiday Lighting
USPS Shipping Times Map
The USPS shipping times map aids in closely estimating USPS delivery times by zip code to let customers know when their orders should arrive. The two most popular methods of service are First Class and Priority Mail, based on the cost and speed desired.
USPS Priority Mail Express, which starts at $26.95, uses 9 zones to base pricing, with costs based on the distance from the original mailing location. It's a guaranteed way to send documents and packages overnight or in 1 to 2 days, with delivery on any day of the year, including Sundays and holidays. Another advantage of USPS is that it's the only overnight carrier allowed to deliver packages to a P.O. Box address.
Priority Mail will send any package weighing below 70 pounds and, with 1 to 3-day service, is faster than First Class, which has more factors such as weight and size to consider. USPS Priority Mail prices start at $8.70. First Class rates vary more than with Priority, since they're also based on weight, size, as well as destination zip code, according to the USPS delivery map.
Ordoro makes shipping, whether via USPS or another carrier, easier through the "Notify Bill-To/Ship-To" feature, which can be enabled so that Suppliers using Ordoro's Vendor Portals can send white-labeled email notifications when generating shipping labels.
Dropshippers will especially be interested in this feature since they can set up Vendor Portals within Ordoro to give them their Merchant and Supplier accounts.
How this feature works: Enable my "Supplier Vendor Portal" to send email tracking notifications to vendors and other suppliers. The Merchant account receives the orders from customers; the Supplier account is used to ship out the orders. When the Supplier ships orders, tracking will sync to the Merchant account.
What a great way to cut back on vendor-related emails, phone calls, and texts – saving you both time and headaches while ensuring greater accuracy in managing orders!
USPS Shipping Time Estimate
You can find the latest USPS shipping time estimate information with the USPS shipping times map.
USPS 2-day shipping cost starts at $26.95 for Priority Mail Express.
To figure USPS delivery time calculator First Class mail, log onto the USPS.com website and select "Ship/First Class", then click on "First Class Mail Prices" to compare the package size, weight and destination as well as determine the delivery times and date.
The Priority Mail delivery time map shows the expected times that a package or envelope can be expected to arrive at a destination, depending on the zip code it's sent from as well as that of the destination, and is found on USPS.com/priority-mail. Enter the zip code to see where the package is going as well as those territories and states receiving Priority service.
Standard Mail delivery time map is essentially the same as First Class mail delivery time map, which can be found on the USPS website or app. Standard Mail delivery time of day usually takes place between 7 a.m. and 5 p.m., although can also run later.
Many ecommerce and traditional shippers find that the USPS shipping rates tend to be a bit lower than other carriers, and the speed of delivery is usually competitive with others as well.
First Class Mail (USA, domestic) generally takes between two and three days to be delivered, whereas domestic mail sent through USPS Priority Mail time takes a bit less — usually one or three days.
USPS International shipping is also available, but as you might expect, is fairly costly and generally must be coordinated with the mail and delivery services of the country where it's to be delivered. For printed materials or documents only, you might want to consider First Class Mail International, starting at $2.60, for documents in envelopes weighing under a pound.
Ordoro's ecommerce management software, apps, and other tools are compatible with most carriers and their apps, including the USPS, and as part of the fulfillment management features, can help shippers easily get estimates and track packages.
USPS Delivery Times by Zip Code
The First Class mail delivery time map is a good tool for estimating the delivery time and date that a package or other piece of mail can be expected to arrive at its destination.
If I mail a letter on Friday, when will it arrive? If a letter is sent First Class (Standard) mail, it should take between 3 to 4 days to arrive. Local delivery time depends on where you are on the route. While most mail is delivered by 5 p.m., weather and other circumstances, such as holidays, may cause delays.
Regular mail delivery time from state to state usually runs between 7 a.m. and 8 p.m. (your local time) if mail carriers are out on their routes. Mail delivery time from zip code to zip code near California isn't much different than mail delivery time from zip code to zip code near Texas for the same classes, although local routes and other factors can affect delivery.
The USPS delivery time calculator tool, which is found on the USPS web pages and app, calculates the transit time by zip code in the US, for First Class, Priority Mail, the estimated time for delivery. The USPS shipping map can also indicate the estimated shipping cost.
Most standard mail delivery time from zip code to zip code takes about three to four days for delivery. Priority Mail takes one to three days, while Priority Mail Express takes between one and two days.
USPS delivery times by zip code will vary a bit depending on the type of mail, such as Priority or Standard, but normally take 3 to 4 days for First Class.
In addition to First Class and Priority Mail, USPS offers Retail Ground, with delivery in 2- business days, Media Mail, with domestic delivery in 2-8 days, and Priority Mail Express, with domestic Next-Day to 2-Day, guaranteed delivery by 6 pm.
USPS Delivery Times Saturday
You can find the USPS delivery times Saturday for those areas on the shipping times map, but as a general rule, Saturday delivery times may vary with the local delivery route and other factors.
Does USPS deliver First Class mail on Saturday? Yes, as it is considered a business day for USPS. Hours of operation on Saturday, including mail drop-off as well as delivery times, are normally less than during the regular week.
While in some areas this was the case, the answer to "does USPS deliver on Sunday" is generally no. Every day is a business day for USPS except for Sunday, although some believe this will eventually change and Sunday mail service will be included as well in normal (First Class/ Standard) mail service.
Delivery days and hours have been cut back over the past several years as cost-cutting measures, unfortunately, although it's possible these cuts may be temporary.
Does USPS deliver on weekends? USPS delivers on Saturdays, although actual hours of operation can be shorter than during the regular week.
Does USPS work on Saturday? The answer is generally, yes, in most places. Hours and availability for Saturday mail delivery 2020, subject to the service or class of mail-in use, the same as for Saturday mail delivery 2021.
There were little or no USPS Sunday delivery hours 2021, although that doesn't mean that the mail isn't being moved between postal facilities, as with Sunday delivery of Priority Mail and Amazon packages.
What time does mail get delivered on Saturday in my area? That depends on your zip code, as well as the size and type of mail. Saturday deliveries normally follow the same delivery schedule as the rest of the week – from around 6 a.m. through 8 p.m., although this may differ somewhat in very larger cities.
USPS Tracking
USPS Priority Mail tracking is included in the prices, as is insurance. Priority mail tracking can quickly be performed by entering the USPS tracking number either in their app or on the USPS website. You can find this number on the mailing receipt from your Post Office, at the bottom of the peel-off part of the USPS tracking label, the shipping confirmation email you received from an online retailer, your sales receipt if you purchased insurance at the Post Office, or your email confirmation if you shipped through USPS.com.
USPS tracking international is one important feature of the USPS, which has a variety of international delivery services based on any of the following factors:
Speed of delivery
Postage cost
Flat rate shipping options
Insurance and tracking
USPS international shipping times and rates can be found on the USPS website or with an assortment of apps, including those of Ordoro – a trusted leader in ecommerce management software. With USPS Tracking, all packages include tracking, allowing you and the customer to keep tabs on order as it makes its way to its destination.
You can also avoid unexpected delivery glitches and keep tabs on shipped orders as well as automate USPS tracking writeback by activating delivery confirmation messages through Ordoro using We've Got Your Writeback. Once you've created your shipping labels, you can forget about repetitive copying and pasting. Ordoro automatically relays a package's shipping status and tracking numbers back to the appropriate sales channel, keeping the customer – and you - in the loop.
Know each order's status through delivery confirmation and tracking for packages.
Increase business profit margins with discounted USPS shipping rates of up to 67% with Ordoro. We offer FREE 30-day onboarding as well as a 15-day free trial to manage your business from inventory through shipping and delivery.