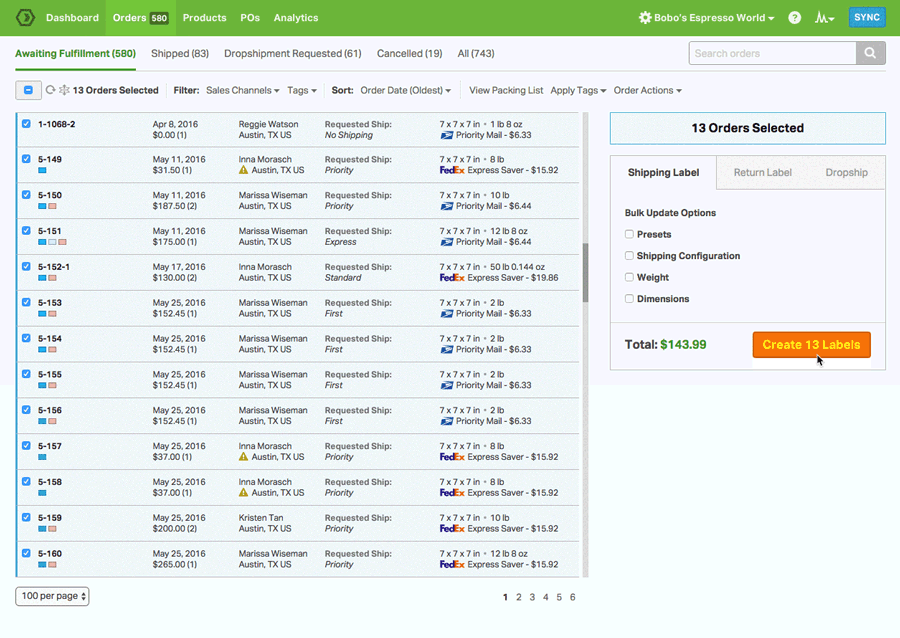 Automate Your USPS Shipping Number Writeback With Ordoro
The All-In-One Ecommerce Logistics Platform
Equip yourself with a comprehensive solution
Inventory Management
Stock, sync, and scan.
Automatically track and sync your inventory levels
Create and send out Purchase Orders when it's time to restock
Bundle multiple SKUs into one unit for sale
Use Barcode Scanning to reduce fulfillment errors
Multi-Carrier Shipping
Your workflow, minus the work.
Enjoy heavily-discounted shipping rates via USPS
Ship via any of our integrated shipping carriers like USPS, UPS, FedEx, DHL and Canada Post
Set up your own Automation Rules and Shipping Presets
Print shipping labels in triple-digit batches or individually
Dropshipping
Truly hands-off dropshipping.
Launch a dropshipping operation in a matter of clicks
Tag any product as drop shipped and assign it to a vendor
Choose between automated or manual routing
Activate a Vendor Portal between you and your supplier
Multichannel
We're your operations hub.
Integrate and view all of your sales and supplier channels in one spot
Use our open API to hook up any third-party or custom apps
Manage every aspect of your orders
Establish Supplier Feeds for real-time, back-end communication
Barcode Generation and Scanning
Raise the bar for stocking and packing.
Create UPC barcodes for your products
Scan, set, and search UPC codes for SKUs within Ordoro
Reduce fulfillment errors with our pack and pack barcode scanning workflow
Scan received POs to automatically adjust stock levels
Don't take our word for it
Our awesome customers have shipped some really great compliments our way:
"I spent about a month thoroughly searching for the right backend fulfillment software for my eCommerce business. There were definitely some big name guys out there that I considered, but at the end of the day, I went with Ordoro and I'm so glad I did!"

Tina Yarandi
Founder/CEO of Nature's Artisan
"Ordoro continues to add immensely valuable features to an already awesome sales/warehousing/shipping platform. Using Ordoro continues to save us time and money."

Anthony Krize,
VP of GE Holiday Lighting
USPS Shipping Number
There are a lot of important numbers in the world of ecommerce. In 2020, more than 2 billion people placed online orders. Despite advanced technology, it still seems almost miraculous that over two billion orders successfully reached their destinations. When you add the fact that many of those 2 billion people placed multiple orders as return customers, resulting in online sales surpassing $4.2 trillion, even imagining a number that high can feel mind-boggling. Two of the most important numbers used to create this ecommerce reality are the order number and the tracking number. An order number identifies a buyer's specific purchase. Order numbers are used for a variety of purposes. Customers use them for information about their purchases, and sellers use them as an inventory management tool. A tracking number is assigned to a package just before it is shipped. It allows customers to see where their packages are throughout the shipping process, right up to delivery. The tracking number is usually printed as a barcode that can be scanned with a barcode reader or even a smartphone. USPS tracking numbers typically consist of 20 to 22 digits that begin and end with the letters "US". That tracking number is the one customers enter into the "track package" option on their website. They also provide a USPS customer service number customers can call if they need a special service, such as a USPS hold mail request. Learning how to differentiate all the important numbers and how to use them effectively can save online merchants a considerable amount of time and money.
USPS Tracking Number
Mail delivery has come a long way since the Pony Express. The concept of the post office tracking a package was inconceivable then. Advances in transportation technology have increased the speed of everything. They've also increased customer expectations for fast delivery. Today, giving your customers the ability to track their packages plays an important role in creating a positive customer experience. It lets them know what to expect and notifies them of any potential delays. That's one reason that having a software system that can automatically send customers their USPS tracking number the moment it becomes available gives sellers such a competitive edge. Ordoro, designed specifically for ecommerce, can email your customers their USPS tracking number automatically. Ordoro has a multitude of other features that increase that competitive edge even further, including heavily discounted shipping rates and inventory management tools. The more shipping carriers and sales channels your online business is able to partner with, the greater your cost savings and potential for acquiring both new and repeat customers. USPS provides the ability to track a package using a tracking number search on their website. Most packages include USPS tracking for the price of postage at no additional cost. For customers who want the added security of delivery confirmation, they also provide USPS certified mail tracking, which requires a signature to accept delivery. For international deliveries, it's a good idea to have more than one shipping carrier to choose from. With Ordoro, you can integrate with multiple shipping carriers for maximum efficiency and cost savings.
USPS Tracking International
Unlike domestic deliveries within the United States, only a few USPS international shipping services offer tracking. To utilize USPS tracking international, you'll need to use their track and confirm tool. That tool is available for use with packages sent through their Global Express Guaranteed service and their Priority Mail Express International service. Tracking information may not be available for certain destinations if you are using USPS priority mail international flat rate envelopes or small flat-rate boxes. USPS provides free tracking for items shipped using their first class package international service, but only for select destinations. Most commonly, when using USPS International Shipping, your customs form also serves as your USPS shipping label. That label number ends with the #hashtag symbol to make it easier to recognize. The short form, 2976, can be attached directly to the package, while the longer customs form, 2976-A, has to be inserted into the customs declaration envelope that will be attached to the address side of the package. If all this sounds a bit confusing, USPS provides a number of ways to track a package, including online, via text, using an app on your smartphone, or even an old-fashioned telephone call. Ordoro's software engineers set out to replace that confusion with confidence, and they succeeded. By combining multi-carrier shipping capability with multichannel integration, they made it possible for ecommerce entrepreneurs to compare multiple services and costs from a single dashboard with the click of a mouse.
UPS Tracking
There are a few differences between USPS tracking and UPS tracking. A UPS tracking number normally consists of 18 digits, beginning with the number-letter combination 1Z. That is followed by the six-digit shipper number, which is a combination of letters and numbers. The next two digits indicate the service level, and the final eight digits identify the package itself. One awesome feature on the UPS customer service website is that it allows you to enter up to ten UPS tracking numbers simultaneously. When you're using ups ground tracking for multiple packages on their way to customers, that really comes in handy. For those who are expecting raw materials to be able to fill orders on time UPS freight tracking capability is indispensable. UPS also has an online tool called "My Choice". Those who sign up for an account are rewarded with package tracking capability and delivery alerts. They also get access to the UPS delivery map which allows them to route packages to a UPS access point for pickup. Customers can also sign up for SMS alerts. They provide a number of premium services, like delivery to a different address and a confirmed delivery window for gifts. Being able to provide your customers with those kinds of extras at no extra charge is a lot easier when you have shipping software with multi-channel, multi-carrier capability and can take advantage of deep shipping industry discounts. Sometimes, free shipping is all it takes to make the difference between a one-time customer and a repeat customer.
FedEx Tracking
Fedex, like USPS and UPS, also provides customers with the ability to track packages. With COVID issues, changing customs requirements, and the increase in lost and stolen packages, that ability is more important now than ever. When you send a package through Fedex, your Fedex tracking number is printed right on the shipping label. Fedex also allows tracking using a TNC, or transportation control number. The FedEx customer service website offers a number of useful tools, including their FedEx Delivery Manager tool. That tool allows you to view upcoming deliveries and get status updates. You can even use it to change the address of the recipient or reschedule the delivery for a different date. All of these options are made possible by the magic of the barcode scanning system. Barcode scanning is at the heart of Ordoro's integrated software system designed for ecommerce. The FedEx tracking barcode allows you to scan the message left on your door for valuable information about the delivery you may have just missed. Ordoro's barcode scanning capability allows you to automatically adjust your inventory with every sale or purchase and automatically email your customers the tracking numbers for their orders at the same time! FedEx also has a mobile app you can download, which you can use for both FedEx ground tracking in the U.S. and FedEx international tracking for your customers in far-off lands. For international shipments, the 12-digit tracking number is found on the FedEx international air waybill.
Package Tracking Number
Investing in great order management software is the best way to make sure your customers receive their tracking numbers as quickly as possible. Most of the time, that means instantly, which is what today's customers have come to expect. Compared to the Pony Express, a maximum wait time of two hours for Amazon is like the blink of an eye. With Ordoro, there's no need to copy and paste. Once you've created your shipping labels, Ordoro automatically relays tracking numbers and shipping status back to your customers through the correct channel, no matter how many you have. Helping you keep your customers in the loop while working overtime behind the scenes to make sure your order fulfillment is error-free is what Ordoro is all about. While you process orders and create shipments, Ordoro writes updates back to your shopping cart, so your customers stay informed and know that their orders are on the way. Ordoro's software engineers included every feature necessary to excel in ecommerce. They're so sure you'll be satisfied that they offer lifetime support after the free 30-day onboarding to customize those features for your specific business. This holiday season, gifts are wending their way to loved ones around the world, maintaining connections and helping to erase the distance between us. Ordoro lets you maintain your connections at the highest possible level current technology allows. By investing in Ordoro, you'll be giving yourself a gift that keeps giving all year long.