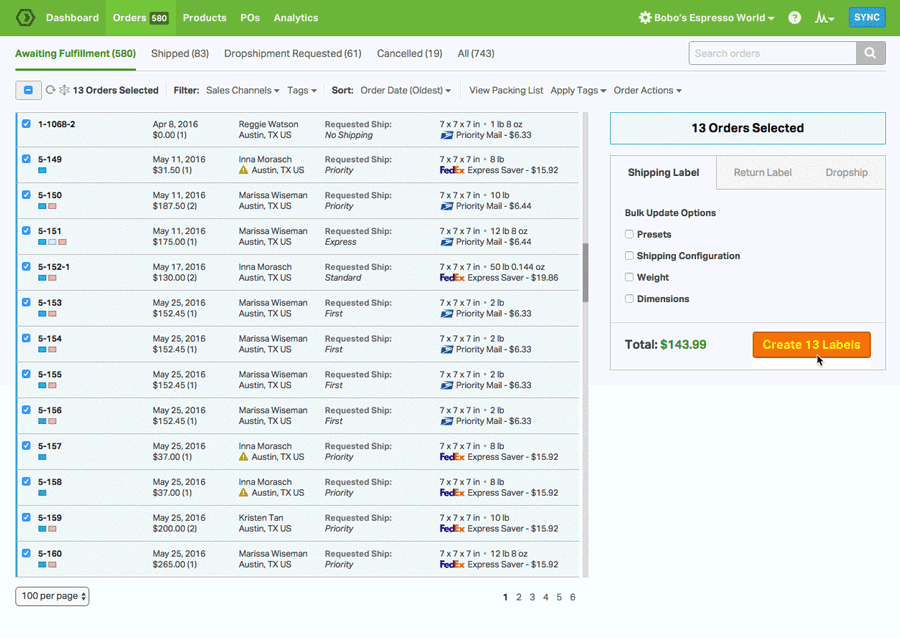 Streamline Your Bigcommerce Dropshipping Workflows with Our Robust Platform
The All-In-One Ecommerce Logistics Platform
Equip yourself with a comprehensive solution
Inventory Management
Stock, sync, and scan.
Automatically track and sync your inventory levels
Create and send out Purchase Orders when it's time to restock
Bundle multiple SKUs into one unit for sale
Use Barcode Scanning to reduce fulfillment errors
Multi-Carrier Shipping
Your workflow, minus the work.
Enjoy heavily-discounted shipping rates via USPS
Ship via any of our integrated shipping carriers like USPS, UPS, FedEx, DHL and Canada Post
Set up your own Automation Rules and Shipping Presets
Print shipping labels in triple-digit batches or individually
Dropshipping
Truly hands-off dropshipping.
Launch a dropshipping operation in a matter of clicks
Tag any product as drop shipped and assign it to a vendor
Choose between automated or manual routing
Activate a Vendor Portal between you and your supplier
Multichannel
We're your operations hub.
Integrate and view all of your sales and supplier channels in one spot
Use our open API to hook up any third-party or custom apps
Manage every aspect of your orders
Establish Supplier Feeds for real-time, back-end communication
Barcode Generation and Scanning
Raise the bar for stocking and packing.
Create UPC barcodes for your products
Scan, set, and search UPC codes for SKUs within Ordoro
Reduce fulfillment errors with our pack and pack barcode scanning workflow
Scan received POs to automatically adjust stock levels
Don't take our word for it
Our awesome customers have shipped some really great compliments our way:
"I spent about a month thoroughly searching for the right backend fulfillment software for my eCommerce business. There were definitely some big name guys out there that I considered, but at the end of the day, I went with Ordoro and I'm so glad I did!"

Tina Yarandi
Founder/CEO of Nature's Artisan
"Ordoro continues to add immensely valuable features to an already awesome sales/warehousing/shipping platform. Using Ordoro continues to save us time and money."

Anthony Krize,
VP of GE Holiday Lighting
Bigcommerce Dropshipping
Bigcommerce is an SaaS ecommerce platform that has recently joined the ranks of similar offerings like Shopify. With its growing popularity and visibility, there are a significant number of people who are wondering how to get involved in Bigcommerce dropshipping. Before getting started with questions about Bigcommerce vs. Shopify dropshipping, it is important to take a look at Bigcommerce pricing as well as Bigcommerce competitors. At an even more basic level, some potential users might even be wondering exactly how dropshipping works on Bigcommerce.
First, it's worth understanding that dropshipping describes the process that takes place when a supplier fulfills orders that have been placed by a third party and then ships the order directly to the customer instead of to the company that hosts the product. Basically, in this sales process, the vendor is responsible for passing the sales order on to the supplier and then the supplier is responsible for fulfilling that order. The vendor pays for the item at a discount, working directly with a manufacturer. For the vendor, the profit in dropshipping comes from the difference between the initial cost of the item and the price at which the item is sold. One of the major benefits for the vendor is that they are not responsible for maintaining or storing the inventory or shipping it to the customer. Instead, the vendor can just focus on managing their online presence, advertising expenses, customer service, and other public-facing processes.
More businesses are turning to go through dropshipping on Bigcommerce because this allows them to minimize their startup costs, reduce product expenses, reduce inventory expenses, and provide them with more flexibility. So what is most important to know about this kind of option?
Bigcommerce Dropshipping Reviews
Given its relative novelty, there may still be people who are wondering what they need to be considering when it comes to Bigcommerce dropshipping. It is true that this is one of the most popular services available; however, savvy business leaders still need to read Bigcommerce dropshipping reviews and Bigcommerce product reviews closely. When going through these reviews, it's worth thinking about what they reveal about the service's reliability, costs, and capacity to scale with the client business as it grows. By doing this, business leaders can figure out if this kind of fulfillment service is right for them.
There are also still a lot of people who might be wondering about Bigcommerce pros and cons. Here, one of the biggest benefits of this platform is that the feature set is comprehensive. In other words, it is easy to sell products in multiple currencies and shipping calculations are available with just about any plan. There are no transaction fees, and you will have access to a wide variety of reporting tools that can make it easier for you to monitor, assess, and run the sales and shipping aspects of your company.
On the other hand, there are a lot of drawbacks as well. For example, Bigcommerce is one of the more expensive platform options currently available. There are limits placed on annual online sales, and the free themes are very similar to one another. This last limitation in particular can make it difficult for you to set yourself apart from other businesses hosted on the platform.
Shopify Dropshipping
Given Bigcommerce's competition, there are also many people who might be curious about Shopify dropshipping as well. Here, it's worth knowing that there are lots of Shopify dropshipping stores and Shopify dropshipping apps that provide options for Shopify dropshipping suppliers. Likewise, when it comes to dropshipping suppliers for Shopify, some people might be wondering about the pros and cons of Shopify dropshipping products.
When looking at the Shopify dropshipping meaning, it is particularly important to look at the pros and cons. One of the biggest benefits of using Shopify for dropshipping is that this option does not necessarily require a lot of capital. You do not have a lot of overhead expenses, you can sell a wide variety of products, and it is relatively easy to manage your digital storefront. So if you decide to expand your dropshipping services on Shopify, then you can scale up your services fairly easily as well.
At the same time, though, there are also a few drawbacks of using Shopify for dropshipping. For starters, your shipping expenses may be higher, you may have a difficult time dealing with customer service, and you often have to deal with relatively low margins.
Given both its pros and cons, then, there are certain situations where Shopify dropshipping might be a good choice and other situations where it might not.
Is Dropshipping Worth It?
Though there are multiple companies dedicated to providing it, there are also a lot of people who might be hearing about dropshipping for the first time here. These new business leaders might have a lot of questions, including:
Is dropshipping dead?
Is dropshipping worth it?
Is dropshipping profitable?
First of all, it's easy to say that dropshipping is not dead. In reality, there are a lot of benefits when it comes to this type of shipping method. First, this is a great way for companies to increase their cash flow. Because the company is not responsible for stocking the product, they also don't need to pay for it until the product has already been sold. Therefore, they do not have to worry about many inventory expenses.
Second, this is also a great way for businesses to scale their product offerings. They can test products ahead of time and add new ones quickly. Furthermore, they do not have to worry about the burden of ordering the product in bulk or about having a product fail. In the past, failed offerings would have left the company with a lot of unused inventory, but with dropshipping, this is less of a problem.
Finally, dropshipping also reduces many business risks. Because they do not have to worry about restocking a product until after they have sold it, this reduces the company's vulnerability. For these reasons, there are actually quite a few businesses that are taking advantage of dropshipping.
Of course, there are also a lot of people who might be wondering about dropshipping disadvantages as well, and these certainly do exist. Because there is an additional layer between the business and the client, this does make the process more complicated - and, in a lot of cases, the business will be at the mercy of whoever is providing them with the dropshipping service. If the service does not come through for whatever reason, then the client will be disappointed and ultimately this will harm the reputation of the company using that dropshipping option.
For this reason, every company needs to consider carefully when trying to find the right dropshipping service.
Free Dropshipping Suppliers USA
If you run a small business today, then you are probably also looking for ways to save money. Fortunately, there are plenty of options available. For example, dropshipping is already a way for business leaders to save a lot of money on their overhead expenses. Furthermore, after doing some research, some business leaders might even uncover free options available. However, even though it is true that there are plenty of free dropshipping suppliers USA, this is rarely the best route. Instead of finding USA-based dropshippers for free and basing choice solely on costs, it is usually better to find the best and most high-quality option available.
If you decide to go with a free dropshipping option, then you are usually taking on a significant amount of risk. First, free options are not as reliable - the shipments may get lost in transit or not arrive on time, which will lead to a lot of frustrated clients who may turn elsewhere. If you want to keep your clients happy, you should find dropshipping suppliers that actually have the resources to deliver your products on time.
Second, there could also be important security issues that come with deciding to go with a free dropshipping option. For example, your clients' personal information could be hacked, leaked, or sold, and so could information from your company itself. For this reason alone, you should not go with a free option. Instead, if you really want to get the most out of your US direct dropshipping experience, you need to be willing to invest in a high-quality version of this service.
Particularly if you are looking for dropshipping suppliers USA clothing, you need to make sure you think about every option available. Instead of simply trying to find the least expensive choice, you need to find the one that will best meet the specific needs of your particular company. This may take a bit of research, and you will have to invest in both that due diligence process as well as the final selection, but by doing this, you are also ensuring that you will enjoy a higher-quality service and a wider variety of benefits.
Luxury Dropshipping Suppliers
If you are trying to find someone who can help you with dropshipping, then you may be looking for specific dropshipping suppliers, which could certainly include luxury dropshipping suppliers. However, instead of working from the idea that spending more money on a specific shipping provider might be worth it for your company, it is better to find the best solution to meet the specific requirements of your business. There is no single "best" solution out there. So instead of trying to find the best or most expensive solution when it comes to wholesale clothing supplies for retailers, you should focus specifically on meeting the needs of your company.
For example, if you have a relatively small retail business, then going with dropshipping suppliers clothing might be a good option for you. On the other hand, this might not be the best option for a larger company that could afford its own internal service. This is just one of many considerations that business leaders need to think about when trying to handle their shipping needs, including dropshipping requirements.
Even though making this decision can be difficult, there are trained ecommerce professionals who can make the whole process easier. This type of shipping service might not be right for everyone, but at the same time, it can be an effective solution for those with a specific type of business.
Therefore, it is important for savvy business leaders to reach out to experienced professionals with any questions about dropshipping and similar fulfillment services. There are many benefits that business leaders need to consider, but if going with dropshipping, then they also need to think about how they can deploy this option efficiently. If business leaders and managers understand exactly how dropshipping works, then this can place their companies in the best position to be successful. In particular, this could be a great way for companies to maintain an edge on their competition in the modern era.