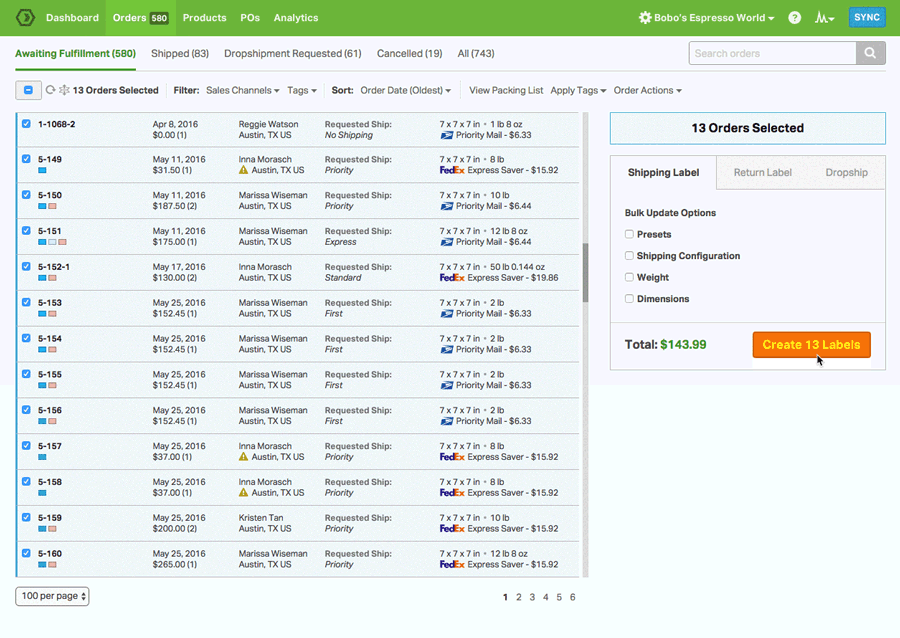 Fulfill Orders Faster With Our Shipping Label App Shopify
The All-In-One Ecommerce Logistics Platform
Equip yourself with a comprehensive solution
Inventory Management
Stock, sync, and scan.
Automatically track and sync your inventory levels
Create and send out Purchase Orders when it's time to restock
Bundle multiple SKUs into one unit for sale
Use Barcode Scanning to reduce fulfillment errors
Multi-Carrier Shipping
Your workflow, minus the work.
Enjoy heavily-discounted shipping rates via USPS
Ship via any of our integrated shipping carriers like USPS, UPS, FedEx, DHL and Canada Post
Set up your own Automation Rules and Shipping Presets
Print shipping labels in triple-digit batches or individually
Dropshipping
Truly hands-off dropshipping.
Launch a dropshipping operation in a matter of clicks
Tag any product as drop shipped and assign it to a vendor
Choose between automated or manual routing
Activate a Vendor Portal between you and your supplier
Multichannel
We're your operations hub.
Integrate and view all of your sales and supplier channels in one spot
Use our open API to hook up any third-party or custom apps
Manage every aspect of your orders
Establish Supplier Feeds for real-time, back-end communication
Barcode Generation and Scanning
Raise the bar for stocking and packing.
Create UPC barcodes for your products
Scan, set, and search UPC codes for SKUs within Ordoro
Reduce fulfillment errors with our pack and pack barcode scanning workflow
Scan received POs to automatically adjust stock levels
Don't take our word for it
Our awesome customers have shipped some really great compliments our way:
"I spent about a month thoroughly searching for the right backend fulfillment software for my eCommerce business. There were definitely some big name guys out there that I considered, but at the end of the day, I went with Ordoro and I'm so glad I did!"

Tina Yarandi
Founder/CEO of Nature's Artisan
"Ordoro continues to add immensely valuable features to an already awesome sales/warehousing/shipping platform. Using Ordoro continues to save us time and money."

Anthony Krize,
VP of GE Holiday Lighting
Shipping Label App Shopify
Shopify apps can be accessed through the Shopify App store with the user's Shopify login. Some may be integrations, (extensions not requiring the use of additional advanced software programs.) Having integrations and extensions at your fingertips makes it easier for ecommerce retail and dropshipping business owners, to manage their stores and applications
If you use Shopify as your platform, the shipping label app Shopify-based can quickly create customizable shipping labels for various package sizes and carriers. Creating a label through Shopify is easy as long as you've set up Shopify Shipping. It's quick to set up and once done, you can print labels and even customs forms, saving time at the post office or for shipment pickups.
One caveat: Shopify Shipping is only available to businesses with shipping locations based in the US, Australia, Canada, or UK. Follow the instructions in Shopify Help to set up according to the country desired.
The Shopify shipping label template is a handy app that sets up a label as soon as the order is placed and ready to be shipped. The possible downside is that you're limited to the number of batch labels that can be generated in one printing – so if you're sending a lot of packages at once, re-entering that data can be pretty time-consuming.
With Ordoro's shipping label apps, when an order is picked and during the fulfillment process, the shipping label generator kicks in and creates labels either in multiples or just one. Quickly create shipping labels as well as branded packing lists in triple-digit batches with just a couple of clicks!
Ordoro lets you create multiple shipping labels and branded packing lists in triple-digit batches without tiresome data re-entry. As you print, you can streamline your workflow more with our direct-to-printer option, sending labels in seconds to your printer. Of course, you wouldn't expect anything less from an ecommerce software industry leader!
Shipping Label Template Word
The Shopify shipping label template is a handy app that sets up a label as soon as the order is placed and ready to be shipped, but as we said previously, it can be limiting, and you do have to pay for each time a label is created.
You can also get a shipping label template free download or at a nominal cost from a number of sources, such as downloading a free shipping label template Word-based and from Google Docs as well as through office supply companies (Avery and Staples, for example), which may be available for a nominal charge.
Why not do things the smart way and partner with industry leader Ordoro for a complete platform to manage and grow your ecommerce business? Whether you're a retailer, dropshipper, manufacturer, or another enterprise, look to Ordoro for help with managing your business from inventory, fulfillment to final tracking and delivery. Ordoro helps with multichannel sales: whether they're from an Ordoro-supported sales channel, CSV upload, or a custom API integration, by importing your orders into the app and shipping them out the door to the customer.
You can connect your supply-side channels or warehouses as well — route orders to 3PLs and dropshippers, choosing which warehouse or location to ship from.
In addition, Ordoro's shipping label apps let you quickly create and print out shipping labels, in batches or individually.
Some other Ordoro advantages: accelerate your fulfillment process by configuring Shipping Presets to auto-fill designated shipping parameters when creating labels. Or you can go further and set up Automation Rules that will act on orders as soon as they arrive.
Finally, you can view in real-time and track every order's status from initial order to fulfillment and delivery. That's real peace of mind for you and your customers.
Shipping Label Software
There are a number of good shipping label software companies out there, although most deal mainly with matters pertaining just to shipping, and don't cover additional tasks such as helping to manage inventory, syncing with incoming purchase orders as well as your vendors and suppliers.
The Shopify shipping label template lets you automatically print shipping labels Shopify-related orders and more, although it can be limited with the number of labels that can be printed in one batch. The Shopify label printer app can be used with a number of dedicated label printers, including Dyno LabelWriter 4XL, Rollo label printer, or the Brother QL-111ONWB label printer. You can also print multiple shipping labels Shopify – based with the label creation app, one of the most popular top Shopify apps.
Ordoro lets you quickly create multiple shipping labels in the amounts you need to get the job done as well as branded packing lists in triple-digit batches within a couple of clicks. As you print, you can streamline your workflow more with our direct-to-printer option, sending labels to your printer right away. No more downloading PDFs and additional click-through!
The best shipping label software for small business is that which includes and syncs inventory and fulfillment and is scalable, meaning that it has enough features and apps to grow and expand your business without having to be replaced or deal with expensive, time-consuming upgrades.
For those involved in shipping for small businesses, it's good to know that a company like Ordoro has you covered, and then some.
Here's how to get the most from your shipping software money: we've put together a guide on shipping labels to keep our customers educated and at the top of their game – find it here on our website.
Finally, use Ordoro's optimized -batch order processing feature to automatically execute your entire workflow, from data import to label creation, on a single page, with far fewer clicks.
Free Shipping App Shopify
If you're looking for a free shipping app Shopify-based, you can try Word, Google Docs or other cloud-based software and apps.
While excellent nominal or free Shopify apps are usually found on the Shopify pages themselves, other ecommerce software, such as that provided by Ordoro, can do so much more than just order fulfillment and label creation.
Even the best Shopify apps free of charge may not always have the features you need, whether downloaded from a PDF, Word, or Google Docs. Some may not be fully updated to reflect changes in postal or other carrier charges, for example, or may not be compatible with a newer browser.
Ordoro can help coordinate multiple shipping methods by integrating with all major shipping carriers, letting you select any USPS, UPS, FedEx, DHL International, Canada Post, or with Amazon Seller Fulfilled Prime account, and utilize the domestic as well as international shipping methods of each provider.
When looking for the best free shipping apps and related ecommerce software, you'll need to look for the following features:
The ability to interface with and sync your site's order information and tracking tools
The ability to create shipping labels and packing slips and other documents
Compare and select the best rates and methods for shipping apps, giving your customers more value for their money
The best shipping apps also have the ability to integrate with ecommerce platforms, such as Shopify, Amazon. Etsy, eBay, and WooCommerce
As a result of surveys of thousands of ecommerce owners, we launched Ordoro with the vision of becoming the all-in-one ecommerce logistics platform to solve these problems. Because we target small/medium-sized ecommerce businesses, our products provide the tools they need to succeed at a fraction of the cost. We have thousands of satisfied subscribers to attest that we helped take their enterprises to the next level.
Best Shopify Shipping Apps
Among the best Shopify apps for dropshipping is Oberlo's (basic) Explorer Plan, MerchMixer's Basic Plan, and WholesaleB, which offers a free basic starter plan. These were also among the best Shopify apps 2021 overall, including those helping to find suppliers.
The best shipping apps and software are ones that meet your particular needs wherever you and your ecommerce business are at the moment. If you're a start-up, estimating your future shipping needs may be tricky at first, but as your sales start to grow, you'll want to begin with a software that is scalable (flexible and grows with the business) as well as offers the tools to get the job done.
What was the best shipping app for Shopify 2021- and beyond? Ordoro is included, of course, for its features and flexibility, ShippingEasy - (rated as best overall with Shopify shipping integration with USPS, FedEx, and DHL), as well as Shippo in the best pay-as-you-go and UPS option categories. There are Shopify shipping apps for just about any function you need: label creation, dropshipping, tracking and more.
Why not integrate all of your functions in one place? Here is how Ordoro can help small businesses with their fulfillment and shipping:
Access the most cost-effective shipping rates by offering the best shipping rate discounts on the market, helping your business to save money.
We offer cost-effective rates through every provider, including best-in-industry discounts of up to 67% through USPS!
As you process orders, compare the cost to ship through every shipping carrier, and help you and your customers get the most for your money
Ordoro has you covered for multi-carrier capabilities, whether it's with the USPS, UPS, DHL International, Canada Post, or FedEx. Pick and pack lists. You can kit and bundle products with amazing discounted rates through the USPS of up to 67%, which is a huge saving as your business grows and your shipping needs increase. Plus, Ordoro also offers you a free 30-day onboarding as well as lifetime support. What an unbeatable combination!