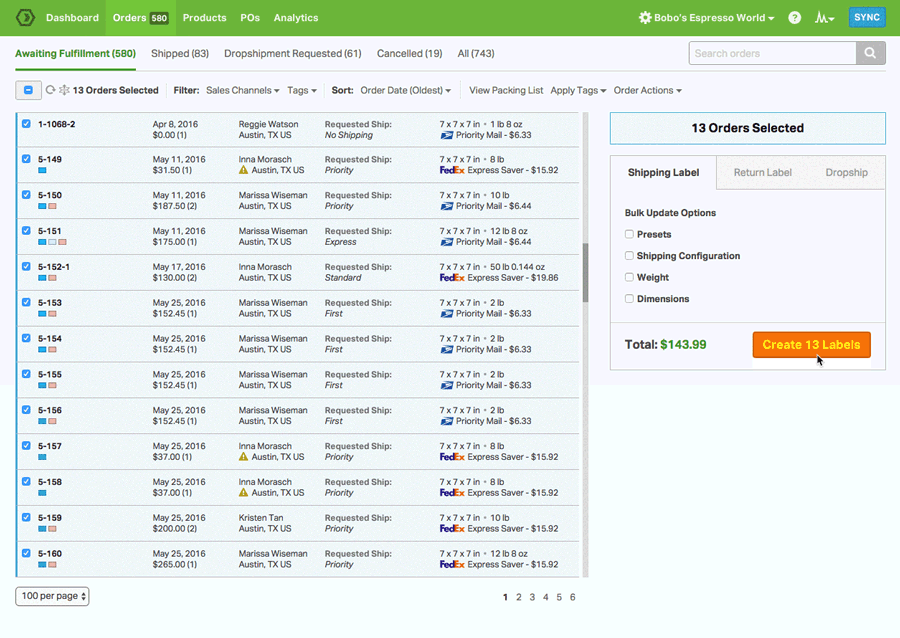 Discover One Of The Best Free Shipping Apps Shopify
The All-In-One Ecommerce Logistics Platform
Equip yourself with a comprehensive solution
Inventory Management
Stock, sync, and scan.
Automatically track and sync your inventory levels
Create and send out Purchase Orders when it's time to restock
Bundle multiple SKUs into one unit for sale
Use Barcode Scanning to reduce fulfillment errors
Multi-Carrier Shipping
Your workflow, minus the work.
Enjoy heavily-discounted shipping rates via USPS
Ship via any of our integrated shipping carriers like USPS, UPS, FedEx, DHL and Canada Post
Set up your own Automation Rules and Shipping Presets
Print shipping labels in triple-digit batches or individually
Dropshipping
Truly hands-off dropshipping.
Launch a dropshipping operation in a matter of clicks
Tag any product as drop shipped and assign it to a vendor
Choose between automated or manual routing
Activate a Vendor Portal between you and your supplier
Multichannel
We're your operations hub.
Integrate and view all of your sales and supplier channels in one spot
Use our open API to hook up any third-party or custom apps
Manage every aspect of your orders
Establish Supplier Feeds for real-time, back-end communication
Barcode Generation and Scanning
Raise the bar for stocking and packing.
Create UPC barcodes for your products
Scan, set, and search UPC codes for SKUs within Ordoro
Reduce fulfillment errors with our pack and pack barcode scanning workflow
Scan received POs to automatically adjust stock levels
Don't take our word for it
Our awesome customers have shipped some really great compliments our way:
"I spent about a month thoroughly searching for the right backend fulfillment software for my eCommerce business. There were definitely some big name guys out there that I considered, but at the end of the day, I went with Ordoro and I'm so glad I did!"

Tina Yarandi
Founder/CEO of Nature's Artisan
"Ordoro continues to add immensely valuable features to an already awesome sales/warehousing/shipping platform. Using Ordoro continues to save us time and money."

Anthony Krize,
VP of GE Holiday Lighting
Free Shipping Apps Shopify
There are a lot of different options for shipping apps and software, but you want the best one for your needs. That can mean looking for a better understanding of how to add free shipping over a certain amount on Shopify, along with Shopify free shipping and discount information. But not all software options are going to give you great ways to get what you're looking for when it comes to how to do free shipping over $75 on Shopify.
The good news is that the right software for your needs has been found, and it's Ordoro!
Among the biggest reasons for free shipping software is helping the back-end operations of an ecommerce business run as smoothly as possible. You can do all that and more with Ordoro, so you can streamline your ecommerce operations from the very first day.
With Ordoro, it's easy to optimize fulfillment workflows with bulk shipping label creation, automated dropshipping, omnichannel inventory management, and more, all on one platform. The best thing about getting started with Ordoro is their 15-day FREE trial, so you can test drive the software and see how it works for the free shipping threshold Shopify normally has.
The Express Plan gives you access to plenty of features, including:
Quickly create shipping labels and branded packing lists.
Automate and accelerate your processes with configured options that auto-fill your labels.
Mix and match shipping methods, because Ordoro works with all the major shipping carriers.
Tap into cost-effective rates for shipping, where you can get USPS discounts as high as 67%!
Be the master of the multichannel, whether you're using a sales channel that's Ordoro supposed, an API integration, or a CSV upload.
If you want to learn all you need to know, check out Ordoro's guide to shipping labels to stay at the top of your shipping game.
Best Free Shipping App for Shopify
Ordoro is the best free shipping app for Shopify customers, hands down. Why? Because of all the amazing features that come with the app! You can start your 15-day FREE trial with Ordoro today, and connect it to your Shopify store for big benefits. Some of the great features you can expect with Ordoro include:
Major savings on top-tier shipping rates, including discounts of up to an incredible 67% via USPS
Making your shipping easier and more convenient through integration with USPS, FedEx, UPS, and Canada Post. It's the best Shopify app for international shipping.
Creating shipping labels fast, whether you're printing in batches or individually
Watching the status of every order as it makes its journey toward fulfillment
Selling anywhere, anytime with the Shopify POS
Connecting to any and all channels, whether they're custom-made or fresh on the market, with a quality API
Keeping the back-end of all your shopping carts and storefronts in check, with the best free shipping app for Shopify
Letting us scale up with you, as your business blossoms
Choosing the best shipping app for ecommerce is important when you want to keep growing and have happy customers at the same time. Free shipping apps make a lot of promises, but choosing from the best free apps for Shopify is easy when you see all that Ordoro can do!
Still not convinced? Taking a look at an example of what the best shipping app Shopify customers can use will really do for your business might help. One of Ordoro's clients, Kitsbow, was looking at shipping apps for Shopify. They had checked out the Shopify app store and just couldn't decide what to do next. But then they saw Ordoro, and it met all the requirements they had, including:
Integrating with Shopify
Being easy to use
Making shipping affordable
Being quick to set up
Kitsbow was able to create a distribution center right from the ground up, by using the Ordoro platform and its impressive level of technical support. When it comes to free shipping apps Shopify has options that will work with it. But Ordoro is the one that gets the job done right.
Shopify Apps
Ordoro isn't the only option for Shopify apps. There are a lot of other apps on the market that can help an ecommerce business run smoothly. Facebook and Google both have apps that can work with Shopify, and you can also look for email and point of sale options when you're hunting the best Shopify apps 2021 or 2022 have to offer.
Keep in mind when you look for the best Shopify apps, dropshipping should be a focus. You want to make sure you can easily make a Shopify app download, get it set up, and start getting your orders out to customers. You can do all that with Ordoro, so keep that in mind as you look for the top Shopify apps and consider what other options you might want to add.
When you need Shopify apps for dropshipping, for example, you need to look at the free Shopify apps that can offer you the best results. A Shopify app download that doesn't meet your needs could result in a lot of wasted time that you'd be better off avoiding.
Picking apps should be a mix of finding the ones that give you what you need but also taking the time to narrow down your search. Some of the apps that seem great at first might not look so good after you see their reviews. Look for free Shopify apps that have plenty of reviews, and that most of the reviews seem to like. That will make it more likely that you'll get an app you feel good about, and that will do what you need it to do, instead of causing you problems.
Free Shipping Announcement Bar
You want to make sure you have a free shipping announcement bar. After all, if you're offering free shipping, you really need to advertise it! You can get announcement bars through a lot of different apps, and taking a look at some announcement bar examples can help you find one that's right for you and your Shopify store. Sure, you can just put up a little banner using an announcement bar HTML code. But you want to do more than that to attract the interest of as many customers as possible.
Offering free shipping can give you an advantage over your competition. Customers love to get things for free, and many of them have come to expect free shipping or other perks, as well. If you have a free shipping announcement bar on Shopify, you're showing customers that you know what they want and are working hard to give it to them as much as possible.
You can put an announcement bar on your website, and just let customers come to you. When they see that they can get free shipping, they're more likely to make a purchase. There are website announcement bar examples you can choose from or use for ideas, or you can create something that's just your own. Either way, a free shipping announcement bar on Shopify is the right choice.
You can also integrate plugins in order to display a free shipping bar, which can be easier depending on what else you're offering on your Shopify site and how you have the layout set up. With a plugin, you only have to make a few clicks, and it's installed, up, and running. A lot of people like these kinds of options, because it's faster and easier for them to get their Shopify store going and move toward expanding their ecommerce offerings.
Hextom Shopify
Have you heard of Hextom? We're a SaaS company (Software-as-a-Service) based out of Toronto, ON, and we offer software to enable your ecommerce business to grow fast and see more success. We've partnered with Shopify, and the Hextom Shopify relationship means big benefits for your business. We have a lot of options to choose from, that can help you increase Shopify sales, so you can get the most from the apps and software you're using.
We can help you save time on store management, bring in more customers, and process existing transactions faster. As we grow our software options, we're mindful of customer engagement, store automation, and SEO conversion optimization as it relates to inventory management. By providing a suite of software for ecommerce businesses of every size, we're working to fully integrate with the Shopify ecosystem.
We're now one of the top Shopify partners, with more than 270,000 users. You could be the next one to use the best announcement bar Shopify has to offer, choose a countdown timer bar, or select other apps that can help you increase Shopify sales. If you want a free shipping pop-up for Shopify or a Shopify boost app, we're the people to talk to. In integrating with Shopify, we offer plenty of apps, including:
Free shipping bar
Ultimate sales boost
Countdown timer bar
Quick announcement bar
Bulk product edit & CSV import
Bulk image edit - image SEO
Translate my store & currency
Vimotia - shoppable videos
Smart push marketing
Email collection bar
Shop workflow automation
Multi-currency converter
Last second coupon - exit pop
With all those options to help with your Shopify store, you can get your company moving forward in no time. You don't have to settle for falling behind your competition or worry about how you're going to bring in more customers. You'll have all the tools you need, right at your fingertips. Your Shopify store never looked better, and your customers will think so, too. When they see they can get free shipping too, that's just the icing on their cake!