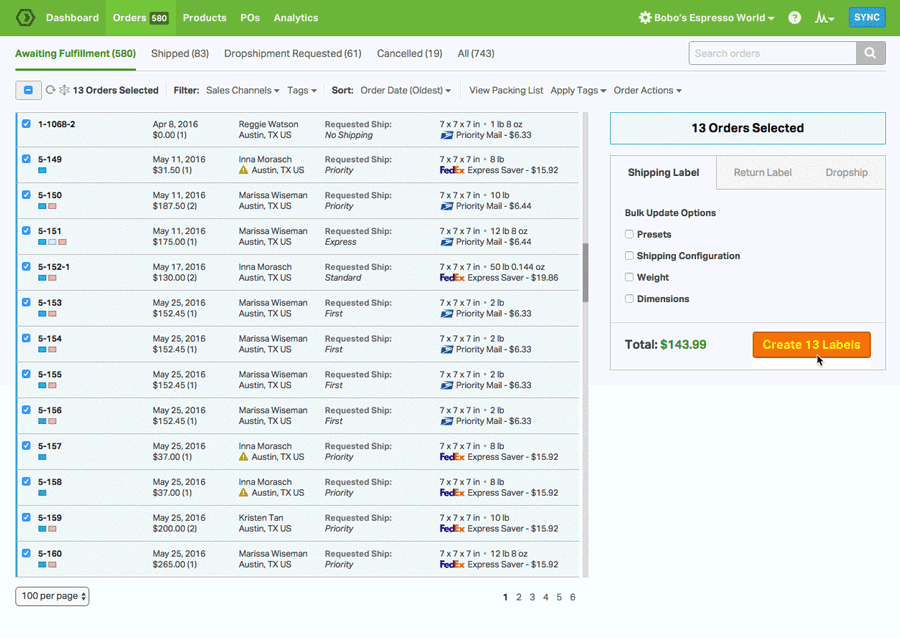 Discover The Best Free Shipping App For Shopify
The All-In-One Ecommerce Logistics Platform
Equip yourself with a comprehensive solution
Inventory Management
Stock, sync, and scan.
Automatically track and sync your inventory levels
Create and send out Purchase Orders when it's time to restock
Bundle multiple SKUs into one unit for sale
Use Barcode Scanning to reduce fulfillment errors
Multi-Carrier Shipping
Your workflow, minus the work.
Enjoy heavily-discounted shipping rates via USPS
Ship via any of our integrated shipping carriers like USPS, UPS, FedEx, DHL and Canada Post
Set up your own Automation Rules and Shipping Presets
Print shipping labels in triple-digit batches or individually
Dropshipping
Truly hands-off dropshipping.
Launch a dropshipping operation in a matter of clicks
Tag any product as drop shipped and assign it to a vendor
Choose between automated or manual routing
Activate a Vendor Portal between you and your supplier
Multichannel
We're your operations hub.
Integrate and view all of your sales and supplier channels in one spot
Use our open API to hook up any third-party or custom apps
Manage every aspect of your orders
Establish Supplier Feeds for real-time, back-end communication
Barcode Generation and Scanning
Raise the bar for stocking and packing.
Create UPC barcodes for your products
Scan, set, and search UPC codes for SKUs within Ordoro
Reduce fulfillment errors with our pack and pack barcode scanning workflow
Scan received POs to automatically adjust stock levels
Don't take our word for it
Our awesome customers have shipped some really great compliments our way:
"I spent about a month thoroughly searching for the right backend fulfillment software for my eCommerce business. There were definitely some big name guys out there that I considered, but at the end of the day, I went with Ordoro and I'm so glad I did!"

Tina Yarandi
Founder/CEO of Nature's Artisan
"Ordoro continues to add immensely valuable features to an already awesome sales/warehousing/shipping platform. Using Ordoro continues to save us time and money."

Anthony Krize,
VP of GE Holiday Lighting
Best Free Shipping App For Shopify
As you shop for shipping software and tools for your company, focus on the best in products and companies. This will extend the value of the shipping services you receive in the long run. Consider the perks of working with Ordoro. We offer an extensive amount of resources dedicated to shipping and logistics in the supply chain. Whether you are a company owner or a shipping manager, you are able to manage shipping with the best free shipping app for Shopify.
In order to achieve the greatest gains at Shopify with customers, your shipping response and results must be lightning fast. How do you get there? Start with a shipping app that satisfies your needs and expectations. The ecommerce shipping app by Ordoro is the faster and more affordable way to manage this area of your business. Stay on track with orders and provide up-to-the-minute shipping information to customers. This process is made easy with the use of the Ordoro shipping app.
The way your company fulfills shipping orders will be upgraded in a major way when shipping with Ordoro. Increase profits and showcase smarter business sense with the use of our free shipping app. That is correct, this app is completely free! Along with the 15-day free trial of Ordoro, you are able to use the shipping app for shipping products. Start with our Starter Plan which is ready to connect to a Shopify account. This solution will connect and streamline shipping when orders are received from Shopify.
More reasons to choose Ordoro for the best free shipping app for Shopify:
Baked-in features for multichannel merchants on Shopify
Making return labels and printing for shipments
Discounted shipping insurance
Free app for shipping packages means you save money
Data imports with a variety of channels and processes
There really isn't anything better than the best shipping app for ecommerce, which is Ordoro. Choose Ordoro for the best shipping apps for Shopify to suit your business today!
Free Shipping Apps
There are many options for shipping apps on the market. However, if you want to perform at the top of your game, the free shipping app by Ordoro is the way to go. Here you have everything you need for shipping management for Shopify carts and BigCommerce. This free shipping app also integrates with Amazon and eBay to make your workday more efficient.
Handle everything including dropshipping and one-stop shipping with ease. Ordoro performs at the top of its game as the best free shipping app for online business owners. This includes businesses that have Shopify stores and those that do not. Whether you operate using Shopify today or plan to in the future, Ordoro continues to lead in this avenue of multichannel support.
Ways you can boost gains with shipping and logistics using free shipping programs involve both websites and apps. These tools are great for instant performance for working with supply channels and warehouses. Those companies with links to 3PLs and that require constant routing of orders depend on free shipping shopping apps to complete transactions. This reduces the heavy work of merchants by providing free shipping today and other benefits.
Ordoro is ready to work in conjunction with Shopify and Shopify Plus, as well as other sales channels like Volusion and ChannelAdvisor. The free shipping app makes your shipping a breeze when dealing with popular online marketplaces like Walmart Marketplace and Etsy, too. Whether you are working with Amazon or Etsy, or even Reverb, there is room for Ordoro's free app for shipping. Improve shipping flexibility and streamline workflows for inventory management, as well as purchasing and manufacturing, in the same way, you handle shipping.
Best Free Apps For Shopify
As you already can see, there are many free apps for Shopify. Since this is a smart way to manage your shipping, you might have already been utilizing some of these. Sprocket, for example, provides convenience when managing a dropshipping marketplace. This app works quickly and is updated regularly for customers.
Printful and Oberlo are two of the other best free apps for Shopify that are recommended for Shopify store owners. With these apps, you are seeing more online merchants with greater productivity and revenue. So it only makes sense that you would want to utilize free shipping apps to help you do everything from managing label printing to dealing with dropshipping. This is where Ordoro enters the shipping scenario. With Ordoro, you get a free shipping app to manage all of your inventory from Point A to Point D of its final destination. This free Shopify app for shipping management is easy to use and works in conjunction with the rest of Ordoro's software and online services.
When it comes to the best in shipping and sales results, the only way to achieve these lofty goals is with the right tools. Only the best conversion apps for Shopify will suffice in this marketplace. Whether you are working with the best free Shopify apps 2022 has to offer, or you are going straight to Ordoro for all of your shipping management needs, you are in a great position for smart growth. Integrate the best Shopify plugins into your company's logistics and supply chain for optimal performance over the long term. Ordoro is a specialist in supply chain management thanks to services like the best free shipping app.
Best Shipping App For Shopify
If you are on Shopify already and looking to grow in gains of product sales and improved delivery, the best shipping apps is Ordoro. As of March 2022, Ordoro is officially an app on Shopify. This is great news for team managers and shipping coordinators. Improve the functionality of your Shopify cart and make your life easier with Shopify shipping apps. It all starts with a free 15-day trial of the Express Plan. This is where you can test drive the best shipping app for Shopify by Ordoro and see for yourself the power of a high-performance supply chain management tool.
Get started in the Shopify App Store and grow your business from the ground up. This app is free for Ordoro customers and integrates with several top players in the online marketplace. Easy to set up, the Shopify app by Ordoro will satisfy your total requirements for product shipping. Take one of the customers at Ordoro, a company called Kitsbow. This company has been working with the Ordoro shipping software for some time now. They have noted that the software by Ordoro tackles all of the challenges faced by 3PLs and shipping providers.
From Acres USA, "Ordoro is the lifeblood of our shipping service. It connects directly to our online store, providing us with fast, accurate shipping information. We can satisfy orders very quickly, which is of top importance to our customers." The Ordoro app for shipping is simply the best shipping app for Shopify as it suffices all of the needs of online shipping as required by merchants. Even during COVID-19, Ordoro and the best shipping app for Shopify continued to operate and perform at the top of its game.
As a small business owner, both your time and money are at a higher premium than those of a corporate owner. Your budget is more cutthroat, and so is the competition. To stay afloat and to strive and jump ahead, small businesses must invest in the right tools at the right time. This includes the best shipping app for small businesses. Investing in shipping software and apps will improve the bottom line of your business goal. That is the reason why Ordoro exists, to help customers who are business owners, too. Achieving financial and shipping success is a labor of love for Ordoro and we pass that feeling along to our customers using the free apps for shipping and other tools.
Revenue will see a boost thanks to less loss in time and productivity, as well as mismanaged shipments. Customers will appreciate having tracking capabilities for those precious, high-value shipments. Ultimately, both your business and your customers will be able to have a better experience when shopping with Shopify thanks to a free shipping app by Ordoro. Among the many shipping apps for small businesses that you can test out today, Ordoro is an official Shopify app that you can trust.
The shipping apps can perform many tasks to help businesses of any level, too, including both small businesses and startups. This is great news if you are struggling as a new business owner to see productivity and gains in sales and fulfillment. All you really need is the free shipping app and paid software starting with a free 15-day trial of the Starter Plan. Ordoro started out as a startup and small business, too, which is how we are so in tune with this area of the market. See what we can do for your bottom line with the best free shipping app for Shopify today!