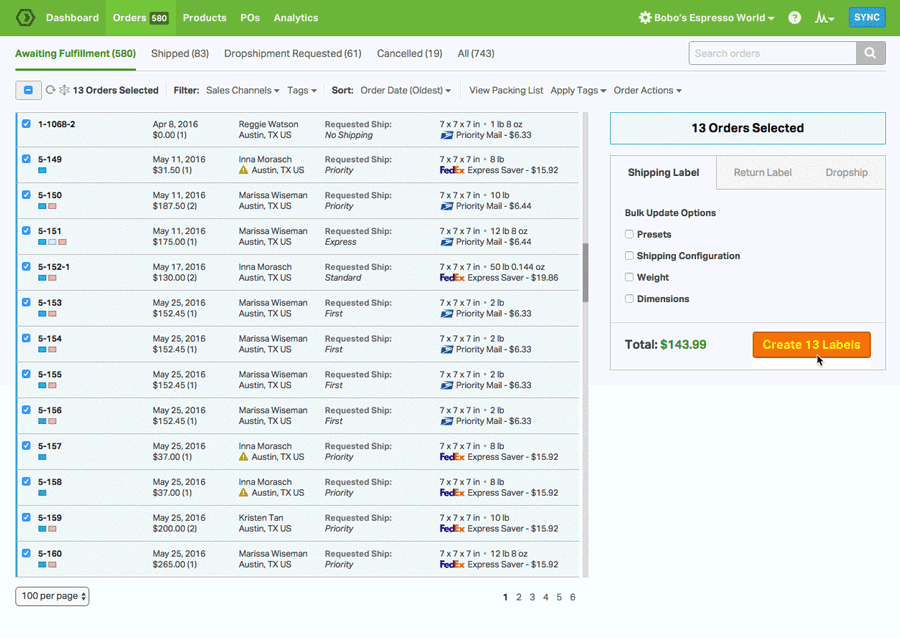 All-In-One Ecommerce Logistics Platform With An Esty Shipping Calculator
The All-In-One Ecommerce Logistics Platform
Equip yourself with a comprehensive solution
Inventory Management
Stock, sync, and scan.
Automatically track and sync your inventory levels
Create and send out Purchase Orders when it's time to restock
Bundle multiple SKUs into one unit for sale
Use Barcode Scanning to reduce fulfillment errors
Multi-Carrier Shipping
Your workflow, minus the work.
Enjoy heavily-discounted shipping rates via USPS
Ship via any of our integrated shipping carriers like USPS, UPS, FedEx, DHL and Canada Post
Set up your own Automation Rules and Shipping Presets
Print shipping labels in triple-digit batches or individually
Dropshipping
Truly hands-off dropshipping.
Launch a dropshipping operation in a matter of clicks
Tag any product as drop shipped and assign it to a vendor
Choose between automated or manual routing
Activate a Vendor Portal between you and your supplier
Multichannel
We're your operations hub.
Integrate and view all of your sales and supplier channels in one spot
Use our open API to hook up any third-party or custom apps
Manage every aspect of your orders
Establish Supplier Feeds for real-time, back-end communication
Barcode Generation and Scanning
Raise the bar for stocking and packing.
Create UPC barcodes for your products
Scan, set, and search UPC codes for SKUs within Ordoro
Reduce fulfillment errors with our pack and pack barcode scanning workflow
Scan received POs to automatically adjust stock levels
Don't take our word for it
Our awesome customers have shipped some really great compliments our way:
"I spent about a month thoroughly searching for the right backend fulfillment software for my eCommerce business. There were definitely some big name guys out there that I considered, but at the end of the day, I went with Ordoro and I'm so glad I did!"

Tina Yarandi
Founder/CEO of Nature's Artisan
"Ordoro continues to add immensely valuable features to an already awesome sales/warehousing/shipping platform. Using Ordoro continues to save us time and money."

Anthony Krize,
VP of GE Holiday Lighting
Etsy Shipping Calculator
Etsy offers two options for setting shipping rates. The first is calculated shipping, and the second is the option to set your own rates. There are a lot of advantages to using a shipping calculator. Getting a realistic estimate of what it costs to ship a particular product can help sellers set prices that take those costs into consideration. The goal is to use the Etsy shipping calculator to set a baseline for the shipping cost of similar items. Shipping calculators work by plugging in factors like the weight, the type of product, the size of the package, the starting point and destination, and the preferred delivery time. Shipping costs increase according to the number of miles between the starting point and the destination. Another benefit of using the calculator method is that it can make it very clear whether or not you are storing your items in a location that minimizes your shipping costs while maximizing your profits. Moving an item that's popular in a particular region to a warehouse closer to that region can reduce shipping fees considerably. Setting your own shipping rates has its own set of challenges. Because shipping rates vary based on weight and distance, some experts recommend that sellers give customers a high shipping cost estimate, then refund any difference between the estimate and the actual shipping cost. That strategy requires a high level of mutual trust as well as a high level of creative bookkeeping. However, Etsy has a tool that can help you do that. Sometimes it's helpful to compare totals using a USPS shipping calculator and Etsy's fee tables. Experienced e-commerce entrepreneurs will tell you that it's a good idea to learn to use every tool available, especially if they're free. They also suggest taking advantage of every shipping discount possible.
Etsy Shipping Calculator International
Once they check the prices using the Etsy shipping calculator international version, many sellers ask "Why is Etsy international shipping so expensive?". Etsy international shipping utilizes USPS international shipping rates. There is another cost that needs to be considered, though. That's the transaction fee that Etsy introduced back in 2018. The shipping transaction fee is 5% of the shipping cost. Calculating international shipping costs can be tricky. That's because every region has different taxes and customs depending on the type of product. For European countries, there is also the VAT(Value Added Tax) that customers are expected to pay upon receipt of their packages. Providing your international customers with all the information they need to avoid any unpleasant surprises is important. The Etsy international shipping cost has kept many small sellers small. Ordoro's multi-channel capability allows sellers to take advantage of a greater number of shipping carriers as well as deep industry discounts of up to 67%. With shipping prices rising steadily in response to higher oil prices and an increasing number of disruptions in the supply chain, staying competitive means being able to take advantage of the competition between shipping carriers to keep their customers. Those carriers realize that as resources grow more scarce and disposable income continues to shrink with inflation, their own continued success depends on affordability. The windfall profits that many of them enjoyed as a result of the pandemic that increased online shopping aren't proving to be sustainable during changing economic times. The pandemic has also caused a shift in consumer sentiment towards the purchase of experiences rather than mass-produced things. Creatives on Etsy are well-positioned to take advantage of this shift. Being able to produce one-of-a-kind custom items is a skill that is becoming increasingly valued during difficult economic times.
Etsy Raising Fees 2022
Since the announcement that Etsy shipping rates 2022 would be higher than in 2021, people have been searching for more ways to ship on Etsy for cheap. Sellers who have already raised prices in response to higher gas prices and supply chain disruptions fear that raising them yet again might start costing them customers. A 5% shipping fee, a 5% transaction fee, and a 3% payment processing fee add up to a sizable subtraction from your bottom line. And that's not including advertising or listing and subscription fees. When sellers read the headline "Etsy raising fees 2022", they wonder whether that means both Etsy shipping prices and the Etsy shipping label cost will be affected. Prices for everything are rising, and sellers are not happy about it. In fact, some went so far as to call to form a union and stage a united sellers' strike to protest price hikes. Offering the convenience of being able to use just one platform for everything proved to be a very profitable strategy for Etsy. Now sellers are questioning whether continuing to use Etsy for their shipping needs is a profitable strategy for them. Luckily, there are other options available. For example, Ordoro's top-rated shipping software comes with industry shipping discounts of up to 67%, which is considerably higher than Etsy's 30%. Those who opt for their fully integrated system discover that it's the last software system they ever have to learn. Adopting a fully integrated software system that automates every possible process gives e-commerce entrepreneurs more time to develop and create new products. Etsy customers value the creative process and the products that are the result of that process. That's why the most important investment that an Etsy seller can make is one that gives them more time to create.
Why Is Etsy Shipping So Expensive
You may be asking yourself "Why is Etsy shipping so expensive"? The answers to that question may vary according to where you look for them. If you type in "why is Etsy shipping so expensive Reddit" you'll likely find more opinions than you'll have time to read. People love discussing their online business issues and comparing experiences on Reddit. There are several factors that contribute to the Etsy shipping cost. One of those factors is that sellers don't send out as many packages, so they aren't able to take advantage of lower rates. It's a lot like being able to save money buying something in bulk at Costco but not having the space to store the purchase. One-of-a-kind items that aren't mass-produced just don't have the same sales volume as things rolling off an assembly line by the thousands. Etsy does offer savings of up to 30% on postage when you use Etsy shipping labels. However, when you add transaction fees, you might be tempted to still consider Etsy shipping costs too high. An alternative that many are choosing is Ordoro's top-rated shipping software, which offers shipping discounts of up to 67%. Before deciding on a shipping solution for your store, it's good to ask "Is Etsy shipping cheaper than the available alternatives?" The good news is that people generally don't shop on Etsy because it's the least expensive alternative. People who shop on Etsy usually aren't asking themselves "Why is Etsy so expensive?" or "Why is Etsy international shipping so expensive?". They shop there because the Etsy marketplace offers so many unique hand-made high-quality items. That used to be almost exclusively the case. However, recently, they have relaxed their standards and larger manufacturers have started selling using their platform. As a result, some believe that the quality has been compromised and that the higher prices are no longer justified.
Etsy Shipping Labels
The simple answer to the question "Do I have to use Etsy shipping labels?" is no. While using Etsy shipping labels can be convenient, it's not necessarily cost-effective in all situations. There are a lot of factors to consider when you're trying to calculate the real cost of something. Answering the question "How much do Etsy shipping labels cost?" requires some cost comparisons against other shipping software options. With Ordoro, sellers are able to take advantage of industry discounts and lower USPS shipping rates. Comparing Etsy shipping label rates vs post office retail rates can be helpful, but it won't help you get a much-needed discount. A good answer to the question of how to ship on Etsy for cheap is to use Ordoro's shipping software, with shipping rates discounted up to 67%. You'll also have access to a greater number of shipping carriers, since Ordoro integrates seamlessly with all the major carriers, including FedEx, UPS, DHL, and Canada Post. Because Ordoro was designed specifically for ecommerce, its shipping software streamlines all your processes. You can create shipping labels and packing lists, either individually or in triple-digit batches, with just a few clicks of a mouse. Configuring shipping presets that auto-fill your shipping parameters when you create labels is just as easy. You can even create and establish automation rules that act on orders the minute they arrive. Once they've tried Ordoro's shipping software, many sellers opt to achieve the convenience of a completely integrated system, without Etsy's high fees. Whether it's order processing, inventory management, or shipping, Ordoro has you covered. The multi-channel capability allows you to manage multiple storefronts and multiple warehouses from a single dashboard. Ordoro specializes in helping sellers reduce shipping costs by keeping their toolbox fully stocked with every tool ecommerce entrepreneurs need to succeed. Now, that's creative convenience.