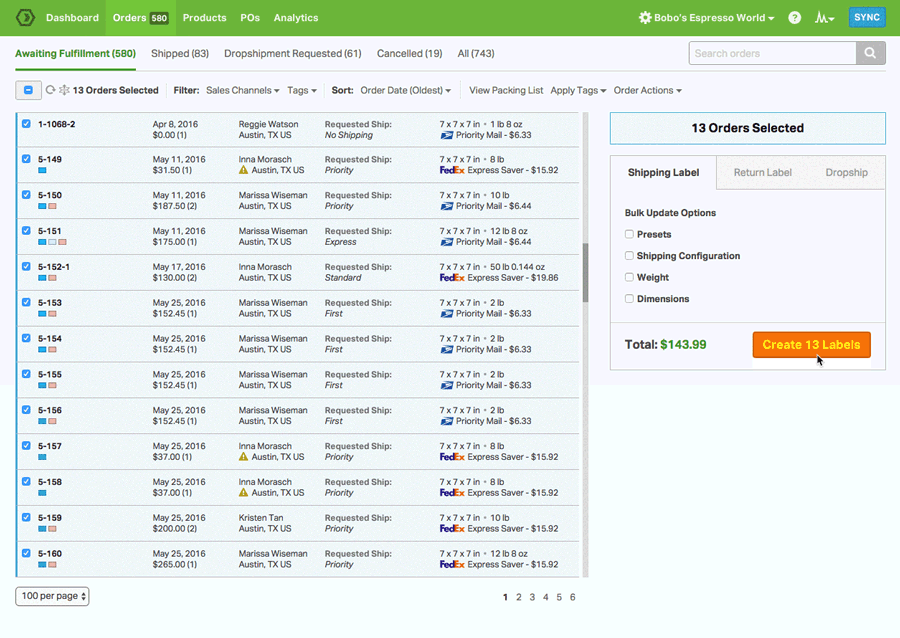 Create Shipping Label Shopify With Ordoro
The All-In-One Ecommerce Logistics Platform
Equip yourself with a comprehensive solution
Inventory Management
Stock, sync, and scan.
Automatically track and sync your inventory levels
Create and send out Purchase Orders when it's time to restock
Bundle multiple SKUs into one unit for sale
Use Barcode Scanning to reduce fulfillment errors
Multi-Carrier Shipping
Your workflow, minus the work.
Enjoy heavily-discounted shipping rates via USPS
Ship via any of our integrated shipping carriers like USPS, UPS, FedEx, DHL and Canada Post
Set up your own Automation Rules and Shipping Presets
Print shipping labels in triple-digit batches or individually
Dropshipping
Truly hands-off dropshipping.
Launch a dropshipping operation in a matter of clicks
Tag any product as drop shipped and assign it to a vendor
Choose between automated or manual routing
Activate a Vendor Portal between you and your supplier
Multichannel
We're your operations hub.
Integrate and view all of your sales and supplier channels in one spot
Use our open API to hook up any third-party or custom apps
Manage every aspect of your orders
Establish Supplier Feeds for real-time, back-end communication
Barcode Generation and Scanning
Raise the bar for stocking and packing.
Create UPC barcodes for your products
Scan, set, and search UPC codes for SKUs within Ordoro
Reduce fulfillment errors with our pack and pack barcode scanning workflow
Scan received POs to automatically adjust stock levels
Don't take our word for it
Our awesome customers have shipped some really great compliments our way:
"I spent about a month thoroughly searching for the right backend fulfillment software for my eCommerce business. There were definitely some big name guys out there that I considered, but at the end of the day, I went with Ordoro and I'm so glad I did!"

Tina Yarandi
Founder/CEO of Nature's Artisan
"Ordoro continues to add immensely valuable features to an already awesome sales/warehousing/shipping platform. Using Ordoro continues to save us time and money."

Anthony Krize,
VP of GE Holiday Lighting
Create Shipping Label Shopify
To create shipping label Shopify-based is easy as long as you've set up Shopify Shipping. You can print labels and even customs forms, saving time at the post office or for shipment pickups. You'll need a Shopify-supported label printer, such as Dyno LabelWriter 4XL, Rollo label printer, Brother QL-111ONWB label printer or you can use a standard desk printer (if using this, choose the 8.5" x 11" paper size option when printing the label).
If you need to know how to create a shipping label in Shopify without an order and the sale is made outside of Shopify but not a Shopify- supported or linkable source such as Amazon, you can still buy and print a label from your Shopify admin as long as your account is set up for Shopify Shipping. You will also need to create a draft order to record the sale in your Shopify admin. See Shopify's Help pages for more information.
What if you need to change or edit a shipping label Shopify? You will need to void the label then repurchase the label with the correct size or other criteria. (The method of doing so varies depending on whether you're in the US, Australia, or Canada.)
The Shopify shipping label size can be adjusted to fit the package as well as meet the carrier's requirements.
Here's how to create a new shipping label on Shopify:
Buy a shipping label with the Shopify app or through your Admin (this can be done through the fulfillment page).
Download and print the label using a supported label printer or a desktop printer.
Attach to the outside of the package.
Schedule a pickup or drop off at the post office.
To buy shipping labels Shopify readymade through Shopify Tech, the cost is currently $25 for a 50-count package of 4.5"x6.5" labels, with 2 labels per sheet, compatible with laser or inkjet printers.
Shipping Label Template
You can find a basic shipping label template on Word, Google Docs or other sites offering shipping label template free of charge, as well as purchased as part of a software package, including free shipping label template Word-based.
Having a printable shipping label template is critical as labels must be able to be printed out and affixed to the package.
Free shipping label template PDF - based can be used as well, as through Word or other free online templates. They can be easily downloaded but be sure that they are the current versions and not an outdated template still lurking on the Internet.
A shipping label template Google Docs - based is another inexpensive solution and is available in a variety of sizes and carriers.
For larger packages, there's a 4x6 shipping label template available on Shopify as well as other apps.
Using a Shopify shipping label template for Shopify-based sales can be an easy way to go, but if you have frequent multiples of sales to the same customers, re-entering the same data over and over can be pretty time-consuming, as you're limited to no more than 20 labels per batch, while packing slips are another story.
With Ordoro, you only enter the customer information once and the software takes it from there, leaving you able to quickly generate multiple labels for the same customer. Furthermore, Ordoro tracks your customer's shipment throughout the journey, right to the doorstep at delivery.
Shopify does have its own shipping labels and templates, allowing printing up to a limited number of labels at a time. That's fine if you only have a few orders to ship out but what if you have 150 packages to go all at once? That's an awful lot of time spent re-entering, printing a relatively small batch of labels, re-entering, printing, "rinse and repeat." That's where Ordoro saves the day - using an ecommerce software package such as provided through Ordoro, which can store and retrieve customer information, label after label, will help streamline your workflow and increase the efficiency of your fulfillment operations.
Shipping Label Printer
Technically, if you just plan to send out a few packages a month, just about any good printer able to download and print directly from the Internet can be used as a shipping label printer, if you don't mind spending money on special adhesive labels at the office supplies store. (Unless the package doesn't have far to go, try to avoid the templates where you have to cut out and paste or tape the label to the box…both glue and tape can become dislodged during transit.) There are advantages in investing in a label-specific printer:
For one thing, it's cheaper to print on rolls rather than sheets, as well as the fact that a good thermal printer dedicated to shipping labels can actually be cheaper in the long run since you save money on maintenance and supplies. If you're going to do this, you might as well do it right from the start: investing a bit more upfront in quality equipment and software, such as from ecommerce software leader Ordoro, can be some of the best ecommerce decisions and investments you'll make.
If you only get one or two orders a day, coming into your email inbox, it's a lot easier to print, cut out and glue on separate labels for just a couple of packages than to deal with a couple of dozen (or more!) parcels. Using a label printer such as the Dynamo Label Writer 4XL can take just seconds to print a label in the adhesive-backed roll – just print, peel and stick on the package.
If you need a Shopify-compativble best Shopify label printer, consider. Dyno LabelWriter 4XL, Rollo label printer, or Brother QL-111ONWB label printer.
There's no trick to learning how to print thermal labels on Shopify as long as you follow the directions that come with the printer or on one of Shopify's excellent tutorial videos.
Shipping Label Generator
The Shopify label printer app is easily accessed through Shopify Shipping, and can help create a shipping label with the correct shipping cost and configured to your preferred carrier.
Having access to a shipping label generator, like what you'll find with Ordoro's ecommerce software, can save a huge amount of time, especially if you need to print batch or multiple orders quickly and accurately.
You can get shipping-only shipping label software, like what's included with ShipStation, but if you're increasing your inventory and not dropshipping, you should really look into getting a more comprehensive package that handles the many tasks – including some we bet you haven't thought of yet – from managing your growing inventory to fulfillment, shipping, tracking and generating reports and other analytics to better manage your business and plan for its future.
Shopify labels can be downloaded through their app and easily printed, whether or not you have a special printer or not.
How do you print multiple shipping labels Shopify-related? Ordoro can help your ecommerce business streamline your shipping label and order fulfillment workflow.
We've designed Ordoro with a deliberate focus on optimizing your workflow so you can experience a seamless shipping process that saves you time to put to use planning and running your business.
Ordoro lets you quickly create shipping labels and branded packing lists in triple-digit batches within a couple of clicks. As you print, you can streamline your workflow more with our direct-to-printer option, sending labels to your printer in a jiffy. No more downloading PDFs and additional click-through!
Accelerate your fulfillment process by configuring Shipping Presets to auto-fill designated shipping parameters when creating labels. Or you can go further and set up Automation Rules that will act on orders as soon as they arrive.
Shopify Shipping
Shopify Shipping is a fulfillment arm of Shopify and is available for businesses shipping orders from fulfillment locations based in the USA, UK, Australia, and Canada. ( If you're not based within these, you can still use another shipping label app in its place.) Through Shopify Shipping you can connect your Shopify account with Shopify's extensive shipping carrier accounts, along with the following benefits:
Display calculated shipping rates, instead of flat rates for customers at checkout
Get reduced shipping label rates
Print labels, including multiples, directly from Shopify admin pages.
You must be set up for Shopify Shipping in order to buy labels through it. (Go to the "Help" pages on Shopify to get the specific information on set-up for your country as well as creating a shipping label.)
While excellent Shopify shipping apps are usually found on the Shopify pages themselves, other ecommerce software, such as those provided by Ordoro, can do so much more than help with order fulfillment and label creation. With Ordoro, you can easily see every order in just one place, and once shipped, the software marks it shipped with tracking and information sent directly to all of your designated shops and other sales contacts.
For example, Ordoro's inventory management plugins and apps are second to none, and it has the unique ability to scale with your business – in other words, grow with you rather than hold your business's growth back due to inadequate features or outdated apps. We've put together a guide on shipping labels to keep our customers educated and at the top of their game.
We offer most-asked-for features including multi-carrier shipping interface, multichannel integration for all of your sales channels and locations, inventory management, dropshipping, kitting, pick and pack lists, automated fulfillment, analytics, and report generation, FREE 30-day onboarding, and lifetime support (with an honest-to-goodness real person)!