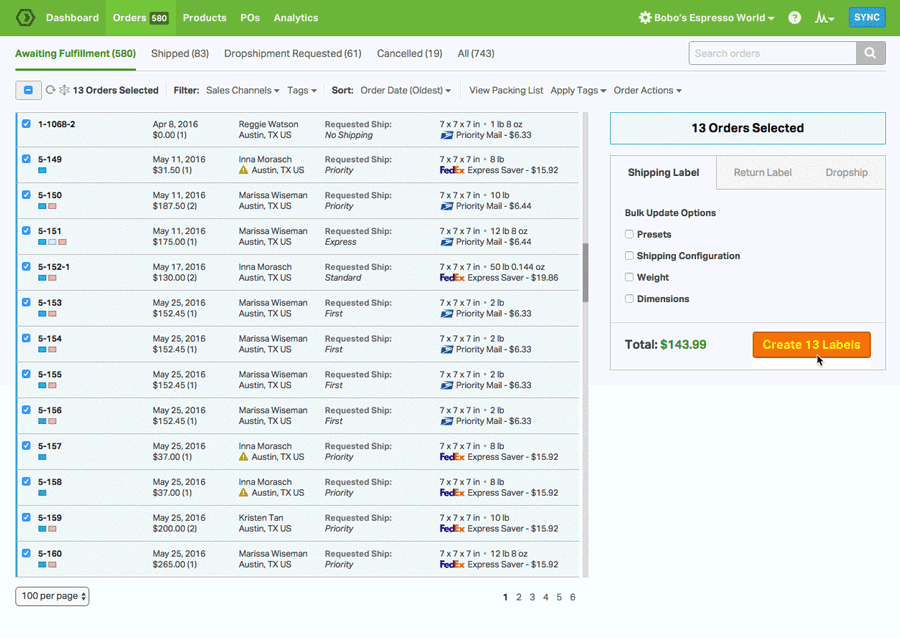 Streamline Your Workflow With Our Free Label Maker Software
The All-In-One Ecommerce Logistics Platform
Equip yourself with a comprehensive solution
Inventory Management
Stock, sync, and scan.
Automatically track and sync your inventory levels
Create and send out Purchase Orders when it's time to restock
Bundle multiple SKUs into one unit for sale
Use Barcode Scanning to reduce fulfillment errors
Multi-Carrier Shipping
Your workflow, minus the work.
Enjoy heavily-discounted shipping rates via USPS
Ship via any of our integrated shipping carriers like USPS, UPS, FedEx, DHL and Canada Post
Set up your own Automation Rules and Shipping Presets
Print shipping labels in triple-digit batches or individually
Dropshipping
Truly hands-off dropshipping.
Launch a dropshipping operation in a matter of clicks
Tag any product as drop shipped and assign it to a vendor
Choose between automated or manual routing
Activate a Vendor Portal between you and your supplier
Multichannel
We're your operations hub.
Integrate and view all of your sales and supplier channels in one spot
Use our open API to hook up any third-party or custom apps
Manage every aspect of your orders
Establish Supplier Feeds for real-time, back-end communication
Barcode Generation and Scanning
Raise the bar for stocking and packing.
Create UPC barcodes for your products
Scan, set, and search UPC codes for SKUs within Ordoro
Reduce fulfillment errors with our pack and pack barcode scanning workflow
Scan received POs to automatically adjust stock levels
Don't take our word for it
Our awesome customers have shipped some really great compliments our way:
"I spent about a month thoroughly searching for the right backend fulfillment software for my eCommerce business. There were definitely some big name guys out there that I considered, but at the end of the day, I went with Ordoro and I'm so glad I did!"

Tina Yarandi
Founder/CEO of Nature's Artisan
"Ordoro continues to add immensely valuable features to an already awesome sales/warehousing/shipping platform. Using Ordoro continues to save us time and money."

Anthony Krize,
VP of GE Holiday Lighting
Free Label Maker Software
If we don't say so ourselves, Ordoro is on of the leading ecommerce softwares in the best free label printing software industry. We have flexible label layouts that you can try for free during a 15-day trial offer. The Express Plan at Ordoro is perfect for growing businesses that want some control over shipping labels. With the Ordoro system, our templates get you started with a semi-custom shipping label. You can also print shipping labels in bulk, using only a few button clicks. Choose the shipping methods and dimensions you need for more than one order at a time. This way, you can automate bulk printing of shipping labels.
We are barcode-friendly, too, at Ordoro. Whether you are barcoding an inventory with new UPC Codes, or you are printing barcode labels for an existing stock–we've got you covered. Using the free label maker software by Ordoro allows for total control over the printing process. Our product label design templates provide your team with ideas and inspiration to help you create your own labels.
Using Ordoro's free label design templates is only part of the process. Our label maker software also includes everything needed to automate single and bulk printing as much as possible. Save time and money while getting what your company needs from labels on packaging. Stay compliant and choose the right size and style of label for your inventory and industry. Whether you are working in-house or with a third-party logistics (3PL) provider to manage shipping, you cannot afford to lose on our packaging label design templates free for those with the Express Plan. Discover more ways that Ordoro can improve your bottom line with these tips on finding the best in free label printing software.
Free Label Printing Software Excel
Learning how to print shipping labels using Excel is generally the first way that any business gets started with printing labels. The spreadsheet format makes it simple to visualize labels that are rectangular in shape. However, there are limitations to the free label printing software Excel offers. Primarily, you must enter every address into the spreadsheet. Also, finding the best free label software for Windows means trying out many different systems before deciding on one for your business.
As for open source label printing software, you have to be careful that your open source software won't vanish one day. After all, you want to have a system that you can depend on, and with open source software, anyone can alter the code. That can be devastating to your business operations, costing you needless expense and worry.
There is also a lot of unnecessary manual labor that can be automated when you are working with bulk shipping labels. The task also results in a great deal of human error, which is timely to correct, especially when in the printing phase. Avery is another option that offers shipping label templates including A4 label printing software. However, as with Excel, Avery requires you to type in each address. Therefore, this system is still antiquated and should be avoided at all cost. Fortunately, we have a solution to a smarter sticker design software free download.
The reason why you want to choose Ordoro software is to take advantage of free barcode label printing software. We also have free label printing software for Windows 10, and label printing software free download. Let us show you how we can improve your label printing with our 15-day free trial offer today! With Ordoro's software, online stores see increased efficiency in workflow. This starts with bulk shipping label creation and automated dropshipping. However, most businesses utilize Ordoro for a total omnichannel inventory management solution.
Free Online Label Templates
Free printable address label templates are perfect for minimizing the work that goes into printing shipping labels. These labels are created using a template that is ready-made with fill-in-the-blank text boxes. You are able to utilize the lettering and formatting of the template style for your project. This saves you tons of time and effort simply to come up with the way a label should look once it's printed. You also are able to get a lot more done when it comes to printing labels thanks to free online label templates.
Now let's talk about the negative aspects of using a free label template like Microsoft Word, free Avery label templates, or MacoLabel online labels templates. When you choose to use Avery label templates or MacoLabels, these label systems allow you to download shipping templates. This is supposed to make it easier for you when sending out hundreds of individually addressed envelopes that require mailing labels, for example.
However, you have to type in each individual address for each label in order to create the labels. This takes a lot of time and energy, and can often lead to mistakes due to human error. Choosing the free label templates for Word, free Avery labels templates, or the MacoLabel system to use an online label template also slows down productivity. The best free online label templates by Ordoro automate this process. The label templates free by Ordoro have the design and format that you need for your industry. Yet you are able to streamline the printing using templates.
Free label templates are often open source software, as well, which reduces your control over the system. You cannot help it if someone else changes the code of the software. This renders your own template to be useless for printing shipping labels.
EasyLabel
EasyLabel is a barcode and RFID label maker to help with printing labels. The EasyLabel 6.2 download provides you with a DATAMATRIX and GS1 (EAN/UCC) Barcode Wizard to make the process a lot simpler. You do not have to be a professional EasyLabel maker to use this software. The EasyLabel software download covers complex labeling requirements and uses Microsoft Excel and Access databases.
This means you will have to use Excel spreadsheets, which we've already discussed as being problematic. You don't want to get stuck with that archaic formula of macros and cells. Yet finding a secure and professional way to print shipping labels means you need some software. This is where you want to avoid getting stuck in whatever program you start on. Instead, lookout for a software solution like Ordoro that is all-inclusive. While the EasyLabel software manual is the best you can do for support on that platform, we have real people ready to talk to you. This beats EasyLabel troubleshooting, as well as EasyLabel support, which appears to be lacking.
Rather than focusing on how to use EasyLabel software, choose a more beneficial system. Forgo the EasyLabel software free download for the 15-day free trial offered by Ordoro. Everything you need is available for printing barcodes, RFID labels, and shipping labels with the all-in-one software by Ordoro. Instead of using other systems and software to support our services, we offer our own exclusive software for barcode and label creation. As an online merchant looking to scale up in growth, start with your back-office operations. Automate as much as possible, including shipping label printing, as well as sticker and barcode printing.
Best Free Label Maker Software
Ordoro provides the greatest deals on professional label printing software for PC and Order Management Software on the planet. We are here to support online merchants ready to become large-scale corporations through smart growth and planning. Our services include printing Amazon labels but at a fraction of what this would cost with other methods. Using Ordoro, you are able to streamline operations and fulfillment workflows. Increase efficiency with the use of automated dropshipping and bulk shipping label creation. See what our omnichannel inventory management is all about with a 15-day free trial of Ordoro.
Are you an online store? If so, Ordoro is famous for being a well-conceived platform for any online retail front. We support start-ups and assist with thriving e-commerce businesses. It is our priority to support your end line of making your customers happy. To help you do this successfully, the most popular shipping and labeling services we offer include the following:
Multi-carrier shipping, i.e., USPS, UPS, FedEx, etc.
Shipping discounts
Multichannel integration
Automated dropshipping
Kitting
Pick and pack lists
Automation services
Analytics and reporting
Onboarding once you enroll
Lifetime customer support
Choose Ordoro for the best free label maker software on the market today. Our free label maker software for PC will support your operations in a multitude of ways. Start today by opting for our label printing software free download. Discover the benefits of smarter workflows and shipping operations.
It's time to automate as much as possible with Ordoro. We have Shipping Presets, Automation Rules, and other fun tools to help you avoid doing so much. Let us handle the manual tasks, so you can focus on the bigger, more important areas like creative leads for new products. As the provider of the best free label shipping software, Ordoro is well established in the back-office arena. We've got the technology and concepts, as well as the shipping label templates, to save you time and money.
We understand streamlining and automating, and we want to pass these benefits along to you. Go for the gold with Ordoro and save your operations and supply chain before you see a kink developing. The only way you can properly scale up and grow as a business is to finalize the way you conduct operations. Your inventory demands the attention of UPC Codes and barcode labels. Ordoro has a solution if you are willing to try our product for 15 days risk-free!