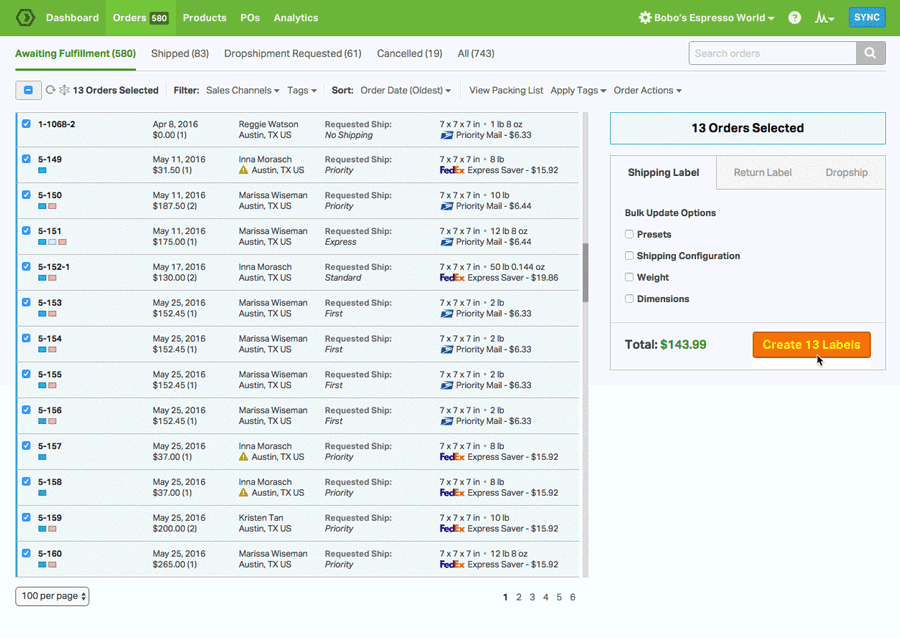 Fulfill Orders Faster With Our Shipping Label App
The All-In-One Ecommerce Logistics Platform
Equip yourself with a comprehensive solution
Inventory Management
Stock, sync, and scan.
Automatically track and sync your inventory levels
Create and send out Purchase Orders when it's time to restock
Bundle multiple SKUs into one unit for sale
Use Barcode Scanning to reduce fulfillment errors
Multi-Carrier Shipping
Your workflow, minus the work.
Enjoy heavily-discounted shipping rates via USPS
Ship via any of our integrated shipping carriers like USPS, UPS, FedEx, DHL and Canada Post
Set up your own Automation Rules and Shipping Presets
Print shipping labels in triple-digit batches or individually
Dropshipping
Truly hands-off dropshipping.
Launch a dropshipping operation in a matter of clicks
Tag any product as drop shipped and assign it to a vendor
Choose between automated or manual routing
Activate a Vendor Portal between you and your supplier
Multichannel
We're your operations hub.
Integrate and view all of your sales and supplier channels in one spot
Use our open API to hook up any third-party or custom apps
Manage every aspect of your orders
Establish Supplier Feeds for real-time, back-end communication
Barcode Generation and Scanning
Raise the bar for stocking and packing.
Create UPC barcodes for your products
Scan, set, and search UPC codes for SKUs within Ordoro
Reduce fulfillment errors with our pack and pack barcode scanning workflow
Scan received POs to automatically adjust stock levels
Don't take our word for it
Our awesome customers have shipped some really great compliments our way:
"I spent about a month thoroughly searching for the right backend fulfillment software for my eCommerce business. There were definitely some big name guys out there that I considered, but at the end of the day, I went with Ordoro and I'm so glad I did!"

Tina Yarandi
Founder/CEO of Nature's Artisan
"Ordoro continues to add immensely valuable features to an already awesome sales/warehousing/shipping platform. Using Ordoro continues to save us time and money."

Anthony Krize,
VP of GE Holiday Lighting
Shipping Label App
Every business that ships products will sooner or later need a reliable and accurate shipping label app, even if you're the type who normally doesn't like to install or use apps.
Ordoro offers a handy, easy to install and use shipping label template among other useful features in our ecommerce management software and related tools, plugins and apps.
If you use Shopify as your platform, the Shopify shipping label template is a handy app that sets up a label as soon as the order is placed and ready to be shipped.
With Ordoro's shipping label apps, when an order is picked and during the fulfillment process, the shipping label generator kicks in and creates labels either in multiples or just one. Quickly create shipping labels as well as branded packing lists in triple-digit batches with just a couple of clicks! And while you print, you can streamline your workflow even more with our direct-to-printer option, sending labels to your printer in just seconds. No more wasting time looking for and opening PDFs with additional clicks!
Accelerate your process by configuring 'Shipping Presets' that auto-fill shipping parameters when creating labels. Or go a step further and establish 'Automation Rules' that act on pre-set orders the second they arrive.
Ordoro also provides flexible label layouts, logos on shipping labels, as well as enables you to create return labels, email return labels, and labels for dropshipped orders.
Why did we start Ordoro? We spoke to almost a hundred ecommerce merchants and realized that while there were many tools to help them with the frontend of their ecommerce most of these merchants were struggling to manage their business backend using spreadsheets and antiquated software. Fulfillment tasks were not being completed accurately or in a timely manner, and customer complaints about deliveries and tracking were part of the result.
Shipping Label Template Free
Many new small business owners will be looking for free shipping software options and alternatives, including free shipping apps. Shipping software, including free shipping label template Word, Google Docs or other platforms and downloads, is definitely out there. Some of the more popular free shipping apps include ShipStation, Soundcloud, Easyship, Shipping Easy, Shippo, EasyPost, and Orderhive, according to the tech website G.
However, this is not the place to try cost-saving measures. This is because free shipping software options often end up being more expensive in the long run, since the vast majority of free options are not designed to scale with the business. This will make it necessary to eventually have to switch software as the business scales (grows) when the existing low-cost system can't keep up. Replacing or making major upgrades can cost your business more time and money in terms of purchasing, implementing, and training on the new program.
So, what's in a label that you need to look for in a shipping label app? Ideally, shipping label software or apps need to be able to not only create labels for batch or single packages, but track the order's trip through the delivery system to its final destination. You can find a shipping label template free of charge through Shopify as well as through diverse sites such as Avery, Pinterest, Google Docs and the USPS's shipping label template PDF.
You can get a shipping label template free download or at a nominal cost from a number of sources such as office supplies companies (Avery and Staples, for example), as well as download through Word and Google Docs.
But, did you know that Ordoro can help with creating templates for every possible shipping need, including dropshipping and returns? Not only that, Ordoro lets you calculate the best rates, create and print batch labels, track delivery and even manage returns.
Best Shipping Apps for Shopify
When looking for a shipping label app Shopify –specific, be sure to check out the apps offered by Shopify as they've been developed and tested to be compatible with all functions and features of the Shopify platform. Even if you have multiple Shopify stores or other sales channels, Ordoro can help consolidate everything under a central control panel with a few clicks. Some of the best shipping apps for Shopify include those below.
The best Shopify shipping apps, can be found right on the Shopify pages (see "apps.shopify.com)" as well as with Ordoro's apps and plugins. Ordoro lets you do the following tasks with just a few clicks:
Managing multichannel sales: whether they're from an Ordoro-supported sales channel, a CSV upload, or a custom API integration, import your orders into the app and ship them out the door and on their way. You can connect your supply-side channels or warehouses as well — route orders to 3PLs and dropshippers, choosing which warehouse to ship from.
Create and print out shipping labels, in batches or individually.
View and track every order's status from initial order to fulfillment and delivery.
What was the best shipping app for Shopify 2021- and beyond? Ordoro is included, of course, for its features and flexibility, ShippingEasy - (rated as best overall with USPS, FedEx, and DHL), as well as Shippo – best pay-as-you-go and UPS option. There are Shopify apps for just about any function you need: label creation, dropshipping,
Shopify shipping apps are easy to find and use, due to the platform's popularity and innovative developers. Keep in mind that the Ordoro shipping app allows you to print multiple shipping labels Shopify, as well as other platforms while tracking orders and performing other fulfillment tasks.
In short, Ordoro is the best shipping software overall for small ecommerce businesses, as we were created specifically to help small businesses manage everything from inventory to fulfillment and shipping, tracking and follow-up.
Shipping Apps for Small Business
What are some of the best, most popular shipping apps for small business?
The best shipping software for small business is that which syncs inventory and fulfillment and is scalable, meaning that it has enough features and apps to grow and expand your business without having to be replaced or deal with expensive, time-consuming upgrades.
For those involved in shipping for small business, it's good to know that a company like Ordoro has you covered, and then some.
Here is how Ordoro can help small businesses with their fulfillment and shipping:
Access the most cost-effective shipping rates by offering the best shipping rate discounts on the market, helping your business to save money.
We offer cost-effective rates through every provider, including best-in-industry discounts of up to 67% through USPS! As you process orders, compare the cost to ship through every shipping carrier, and help you and your customers get the most for your money
Mix it up with shipping methods by integrating with all major shipping carriers, letting you select any USPS, UPS, FedEx, DHL International, Canada Post, or Amazon
Seller Fulfilled Prime account, and utilize the various domestic and international shipping methods of each provider.
Ordoro has you covered for multi-carrier capabilities, whether it's with USPS, UPS, DHL International, Canada Post, or FedEx. Pick and pack lists? We've got you covered. You can kit and bundle products, with amazing discounted rates through partnering with the USPS of up to 67%, which is a huge savings as your business grows and your shipping needs increase. Plus, Ordoro also offers you a free 30-day onboarding as well as lifetime support. What an unbeatable combination!
As a result of surveys of thousands of ecommerce owners, we launched Ordoro with the vision of becoming the all-in-one ecommerce logistics platform to solve these problems. Because we target small/medium-sized ecommerce businesses, our product provides the tools they need to succeed at a fraction of the cost. We have thousands of satisfied subscribers to attest that we helped take their businesses to the next level.
Best Shipping App
The best shipping app allows ecommerce and other businesses to interface with multicarriers as well as ecommerce platforms across the board. Multi-carrier shipping software is a necessity when using more than one carrier for shipping – and is almost impossible to do without if you intend to grow your business. You'll need to look for the following features:
The ability to interface with and sync your site's order information and tracking tools
The ability to create shipping labels and packing slips and other documents
Shop around for the best rates and methods on shipping apps, giving your customers more value
The best shipping apps have the ability to integrate with ecommerce platforms, such as Shopify, Amazon. Etsy, eBay, and WooCommerce
The best shipping app for ecommerce and small businesses, especially if you're new in the game, should absolutely have the following tools and capabilities:
Order management – sort, prioritize based on filters as well as tracking shipped packages
Multi-carrier shipping integration
Bulk order selection
Shipping rate calculators
Shipping label software printing as well as documentation
Batch label printing
Dropshipping options to manage this specialized selling niche
Reporting and analytics
Be scalable to grow with your business as it grows over time
After surveying the above-mentioned ecommerce business owners we realized that although there were tools to help them with the frontend of their enterprises, most of the owners were struggling to manage their business backend using spreadsheets and antiquated software. We knew there was a better way, so we developed the software and related apps and plugins to make running your operations as easy and efficient as possible.
Ordoro has top-rated reviews among thousands of satisfied ecommerce business owners. Join them in taking your business to the next level of success by partnering with an ecommerce software leader: Ordoro.