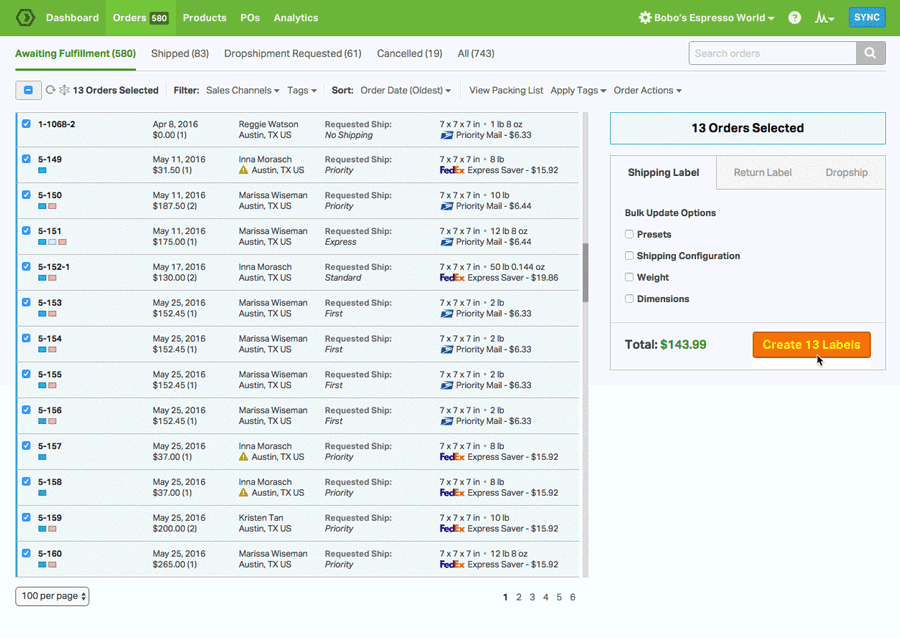 Fulfill Orders Faster And Cheaper With Our Ecommerce Shipping App
The All-In-One Ecommerce Logistics Platform
Equip yourself with a comprehensive solution
Inventory Management
Stock, sync, and scan.
Automatically track and sync your inventory levels
Create and send out Purchase Orders when it's time to restock
Bundle multiple SKUs into one unit for sale
Use Barcode Scanning to reduce fulfillment errors
Multi-Carrier Shipping
Your workflow, minus the work.
Enjoy heavily-discounted shipping rates via USPS
Ship via any of our integrated shipping carriers like USPS, UPS, FedEx, DHL and Canada Post
Set up your own Automation Rules and Shipping Presets
Print shipping labels in triple-digit batches or individually
Dropshipping
Truly hands-off dropshipping.
Launch a dropshipping operation in a matter of clicks
Tag any product as drop shipped and assign it to a vendor
Choose between automated or manual routing
Activate a Vendor Portal between you and your supplier
Multichannel
We're your operations hub.
Integrate and view all of your sales and supplier channels in one spot
Use our open API to hook up any third-party or custom apps
Manage every aspect of your orders
Establish Supplier Feeds for real-time, back-end communication
Barcode Generation and Scanning
Raise the bar for stocking and packing.
Create UPC barcodes for your products
Scan, set, and search UPC codes for SKUs within Ordoro
Reduce fulfillment errors with our pack and pack barcode scanning workflow
Scan received POs to automatically adjust stock levels
Don't take our word for it
Our awesome customers have shipped some really great compliments our way:
"I spent about a month thoroughly searching for the right backend fulfillment software for my eCommerce business. There were definitely some big name guys out there that I considered, but at the end of the day, I went with Ordoro and I'm so glad I did!"

Tina Yarandi
Founder/CEO of Nature's Artisan
"Ordoro continues to add immensely valuable features to an already awesome sales/warehousing/shipping platform. Using Ordoro continues to save us time and money."

Anthony Krize,
VP of GE Holiday Lighting
Ecommerce Shipping App
A great ecommerce shipping app or software can help you simplify your business. The best shipping apps make shipping easy for a small business like yours, improving your processes and creating a better customer experience.
You have various business shipping software to choose from, such as Shipstation, Shippo, Shipping Easy, and Ordoro. An important factor that helps Ordoro stand apart is the amazing customer service your small business can expect, similar to how you provide a personal touch and stellar experience to your own customers.
Ordoro also provides inventory management along with shipping management, streamlining your business even more. This feature helps your team automatically track inventory, making it easy to know when to restock. You can also conveniently use it for a dropshipping business model.
Finding a great app or software can be an important step for your business that brings it forward. It can help your business fulfill customer orders faster and more affordably. Ordoro is a comprehensive ecommerce logistics platform that helps your business with multi-carrier shipping that creates significant discounts from USPS and helps to integrate with other major carriers like UPS and FedEx.
Plus, it helps you facilitate everything from one convenient website app. You can consider this your operations hub or home base, from which all of your important shipping functions are managed. This website app even allows you to set up presets to automate processes. They become effortless without needing much thought from then on. Your team can switch to spending their thoughts on other parts of the business. Nonetheless, you're always able to access the hub whenever you need to make adjustments.
There are numerous benefits to investing in automated shipping software like Ordoro. Let's take a better look at what your business could expect.
Free Shipping Apps
Free shipping apps are tempting, as it always makes good business sense to save money wherever you can. In the beginning, you may have the desire to try out free shipping Shopify apps or other shipping software to see how it works and whether it makes sense for your business needs. You could even try numerous ones with low investment since each one is free.
Also, a free Shopify shipping app may be a good option to get your business started with shipping software, as free shipping programs are better than no program at all. They help to streamline processes and get your business acquainted with how these apps work in general. You can gain a clear idea of what works for you and what you hope free shipping apps will include that would benefit your business.
In time, your business is likely to grow beyond free shipping programs. This is a good thing, as it means your small business is succeeding and thriving. Over time, you're likely to find free shipping apps for Shopify limiting, as the free ones understandably include simplified versions without the bells and whistles. In many cases, these free versions have a limited time span anyway, as it's a free trial for a time being before you need to start paying for the service. In other cases, the free version is lacking, while you would need to upgrade to get the extra features that would benefit your business.
Use your free shipping apps as an opportunity to learn the ropes and see what shipping software can do for you. See which features you like and which ones you wish you had. Then, compare the features on a paid shipping software program like Ordoro. You'll find that making an investment in Ordoro software can help your business financially in the long run, as it provides shipping discounts with USPS and helps your business streamline to potentially increase revenue.
Shipping Apps for Small Business
Shipping apps for small business, such as Ordoro, can provide a range of benefits to support the business needs at your level and also grow along with you. Ordoro gives you a comprehensive solution that helps you coordinate multi-carrier shipping with all of the major carriers, including USPS, DHL, UPS, FedEx, and Canada Post. You even gain deep discounts on USPS rates to save your small business money.
The best shipping app for small business is one that fits the type and level of your business operations. Ordoro fits the bill, as it is specifically designed for small and medium businesses yet is able to help your business grow to an enterprise-level if that is where the future takes you. This solution can meet your business where you are and stick with you throughout levels of growth, so you won't quickly outgrow it like a free version or need to grow into it like an app designed for a large business.
When you compare options, you may find Ordoro the best shipping software for small business because of all the features it can provide that benefit your team and your processes. Ordoro instantly gives you a multichannel operations hub to help you integrate your supplier channels and sales. You can easily view everything that's going on from here and you can add third-party apps to customize your experience any time you feel like something's missing.
Ordoro can fit the needs of your specific business, whether you're looking for automated dropshipping with no worries or you need help with shipping labels and barcode generation. You also gain inventory management through the same hub that automatically keeps track of your inventory and helps you easily restock through purchase orders, bundled SKUs, and barcode scanning. These are just some of the features you can expect to benefit your small business.
Best Shipping App for Shopify
When you sell your goods through Shopify, the platform doesn't work for all of your needs. It can benefit your business to also use a shipping app to improve the shipping aspect of your small business. There are various Shopify shipping apps for your business to choose from, but how do you pick between them? To find the best shipping app for Shopify to suit your needs, compare features to see the best fit.
Ordoro is one of the best Shopify shipping apps to help with your Shopify store and all of your shipping needs. This website app integrates with Shopify and extends Shopify Plus to help support your business's fulfillment model and supply chain, whether they are simple or more complex. You can even adapt your fulfillment model to fit each situation. For instance, it may help you save money to use a different shipping method for sending an order across the country than a local one. Ordoro has the flexibility to shift based on the needs of each situation. Whether your business is based on in-house stock or an outsourcing model, Ordoro can adapt to these different needs as well.
Why use Ordoro on top of Shopify? Ordoro adds numerous features to your shipping processes, including reduced shipping rates, shipping labels, inventory management, business analytics, and more. Ordoro is specifically designed to help small businesses optimize their workflows, which saves time on shipping and cuts costs as well. This is one of the best shipping apps for Shopify because it offers such a comprehensive solution that provides a multichannel operations hub and multi-carrier shipping. This website app helps your small business operate like it's in the big leagues.
Best Shipping App for Ecommerce
Ecommerce brands benefit from specific services that fit their unique needs. Shipping software can help your small business manage your ecommerce efforts through features like tracking inventory, providing labels, and offering shipping discounts. These are all benefits provided by the ecommerce software Ordoro.
How do you know how to find the best shipping app for ecommerce? The right step is to compare the features and benefits of different ones and see how they could fit your business. Ordoro offers a website app that is specifically designed for small to medium-sized ecommerce businesses and grow with them as their needs change.
Ordoro is the best shipping app for ecommerce because it can provide your business with reduced USPS shipping rates as well as integration with other major carriers like FedEx and UPS. You'll find that the features of this website app allow your business to fulfill orders faster and at a lower cost to streamline your business operations as well as improve your customer experience.
Ordoro can help you with so many of the small and large aspects of running an ecommerce business. Our ecommerce shipping platform helps you bundle SKUs, create purchase orders, track inventory, automate dropshipping and so much more. You can adapt it to fit the type and size of ecommerce business you have. Ordoro offers a multichannel operations hub and helps you carry out multi-carrier shipping to adapt to the needs of different orders as they come.
Overall, this ecommerce website app helps you cut costs and improve operations to meet your needs now and adapt to changing needs as your business grows and thrives. Browse the many features that Ordoro can provide to your business to see how this platform could improve your ecommerce shipping ecommerce with Shopify and beyond Shopify.