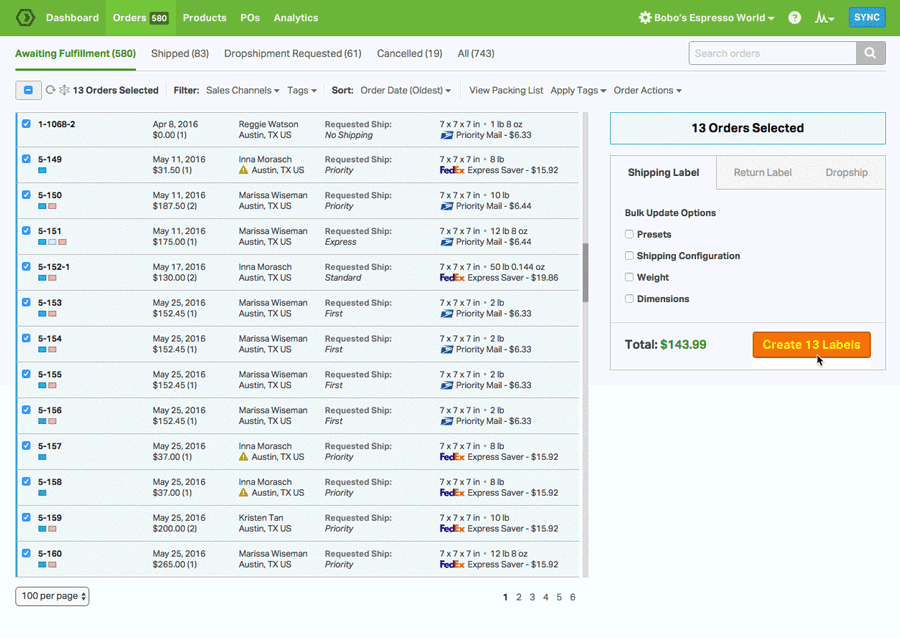 Unify Your Inventory With The Best Ecommerce Inventory Management App
The All-In-One Ecommerce Logistics Platform
Equip yourself with a comprehensive solution
Inventory Management
Stock, sync, and scan.
Automatically track and sync your inventory levels
Create and send out Purchase Orders when it's time to restock
Bundle multiple SKUs into one unit for sale
Use Barcode Scanning to reduce fulfillment errors
Multi-Carrier Shipping
Your workflow, minus the work.
Enjoy heavily-discounted shipping rates via USPS
Ship via any of our integrated shipping carriers like USPS, UPS, FedEx, DHL and Canada Post
Set up your own Automation Rules and Shipping Presets
Print shipping labels in triple-digit batches or individually
Dropshipping
Truly hands-off dropshipping.
Launch a dropshipping operation in a matter of clicks
Tag any product as drop shipped and assign it to a vendor
Choose between automated or manual routing
Activate a Vendor Portal between you and your supplier
Multichannel
We're your operations hub.
Integrate and view all of your sales and supplier channels in one spot
Use our open API to hook up any third-party or custom apps
Manage every aspect of your orders
Establish Supplier Feeds for real-time, back-end communication
Barcode Generation and Scanning
Raise the bar for stocking and packing.
Create UPC barcodes for your products
Scan, set, and search UPC codes for SKUs within Ordoro
Reduce fulfillment errors with our pack and pack barcode scanning workflow
Scan received POs to automatically adjust stock levels
Don't take our word for it
Our awesome customers have shipped some really great compliments our way:
"I spent about a month thoroughly searching for the right backend fulfillment software for my eCommerce business. There were definitely some big name guys out there that I considered, but at the end of the day, I went with Ordoro and I'm so glad I did!"

Tina Yarandi
Founder/CEO of Nature's Artisan
"Ordoro continues to add immensely valuable features to an already awesome sales/warehousing/shipping platform. Using Ordoro continues to save us time and money."

Anthony Krize,
VP of GE Holiday Lighting
Ecommerce Inventory Management App
Have you been using free downloaded or cloud/licensed methods of managing your ecommerce inventory? Are you undecided about whether to switch to a more robust, versatile system that can keep up with your growing business? Here are a few reasons why having a top-notch ecommerce inventory management app and software is so important:
The best ecommerce software inventory management system helps track items as they sell so you'll know the best time to place orders with suppliers before you run out and risk having unhappy customers.
You also want to avoid accidentally over-buying and stocking, tying up money and space when resources are needed elsewhere.
You'll want to know about API, which is a short form of "Application Programming Interface" - a tool (actually, allowing two apps to talks to each other. (For example, each time you use Facebook, send an instant message, or check your phone's weather app, you're using an API.)
Some common uses include:
Shopify Admin API allows the user to add features to the Shopify user experience.
Shopify API integration isn't difficult, especially with Shopify's guide to developing with Shopify, especially with Shopify API documentation safeguards.
Shopify meta fields API are flexible ways for your app to add additional information about a Shopify resource, such as products or collections.
Shopify order API integrates parts of the order system to track and manage a purchase's lifecycle, including items, totals, payments, and tracking thorough fulfillment and updating the inventory catalog.
Shopify REST API, along with GraphQL, is one of two main API styles created to guide the design and development of web architecture and is used to build apps and other tools.
Multi Channel Ecommerce Inventory Management
If you have more than just a handful of online sales in a given day, trying to run a multi-channel strategy, checkout process, inventory management, and analytics manually is impossible. ecommerce inventory management software, which allows you to automate and assimilate customer recognition, store and sales data, inventory, and analytics into a single location – is the ultimate solution.
What multi-channel inventory management software do you need? What features matter most? How do you sync orders and inventory? What about multi-channel fulfillment, especially if you have multiple stores and warehouses? Are there advantages to using free multi channel inventory management as well as free multi channel selling software? Well, when it comes to any kind of software, you do get what you pay for! "Free" can sometimes mean a free trial for a limited time, after which you'll be charged whatever the going rate is, or simply a watered-down version.
Ordoro can help your business take charge of multi channel ecommerce inventory management:
Optimize inventory control as well as multi channel inventory sync
Leverage merchandising templates
Expedite listing and updating products
Streamline orders and fulfillment
Measure the channel's effectiveness
Ordoro offers the best multi channel inventory management software and is your central hub for multi channel inventory management. Plug each of your channels, from marketplaces to webstores to suppliers, into the app for a multi channel business connected to the same inventory. Add multiple warehouses as well, whether it's multi channel inventory management Amazon, eBay, or a dropshipper, and choose which to ship orders from.
Best Ecommerce Inventory Management Software
Among the best inventory management software for small businesses free are the ecommerce inventory management Excel downloads, good for those with smaller inventories or just starting out. Some of the best inventory management software free is cloud-based or licensed, however, a subscription program, rather than installed software, can save space with your hardware, as well as be more easily updated.
Among the easiest inventory management software to learn and use are spreadsheet programs, including Excel or Google Sheets.
There is stock management software available, both free as well as at cost, but why not sign on for a comprehensive software package that handles everything from inventory through fulfillment?
Thousands of our satisfied customers turn to Ordoro for the best ecommerce inventory management software, with its nimble, versatile apps and user-friendly plugins that allow your ecommerce business to keep up with what's happening in your business and industry.
While you run your business, Ordoro will keep tabs on your products and inventory movements. We react to fulfilled orders and restocks in real-time by automatically updating and syncing product quantities across each of your integrated sales and supplier channels for a completely aligned business.
Your ecommerce business deserves the best inventory management software for small businesses.
Ordoro provides the best and easiest inventory management software with tools that:
Connect with each sale and supplier channel for total and complete real-time views of your business
Set up product kits to automatically bundle SKUs together in a single order
Send purchase orders to suppliers within the app, to prevent stock shortages
Ecommerce Inventory Management Software Free
Are there advantages to using open source inventory management software - free download?
In the beginning, when startup costs are higher, it might make sense. You can download free inventory software for small business, including ecommerce, through Microsoft Excel or Google Spreadsheets. Cloud-based programs that are licensable can be utilized, and inventory management software free for PC is all over the Internet.
You can also find simple stock management software free download as well as stock management software free of charge, including offline free inventory management software available through licensed and some Microsoft programs that, once installed, don't require being tethered to the Internet. However, if you're still using free inventory management software in Excel, remember that time is money. Time spent on manually entering scores of products, updating sales and reorders as well as updating activities at warehouses and other shipping locations isn't the best use of your time and resources.
Although Excel is a free platform that allows businesses to track their inventory, like other types of ecommerce inventory management software free of charge, it can be very time-consuming, with the repetitive data entry and updates offering an increased possibility for human error.
By using the very best inventory management software available by Ordoro, online merchants will be able to easily optimize their fulfillment workflows with bulk shipping label creation, omni-channel inventory management, automated dropshipping, and more — all in one platform.
Instead of flipping through spreadsheets and copying/ pasting data, just turn it over to Ordoro. As you fulfill orders and restock products, we'll track your inventory behind the scenes and help prevent stockouts.
Shopify Inventory Management App
What's the best Shopify inventory management app? According to Ecommerce Platforms, the best Shopify inventory management apps included software solutions from TradeGecko, Skubana, Stocky, Sellbrite, Stock Sync, and ShipHero. Depending on a business's size and needs, here are a few choices among the best fulfillment app for Shopify in 2021: Traktor Order Tracking, EasyShip, Shippo, ShipHero, and Shipway Shipping Automation.
There are literally hundreds of Shopify apps for just about any function you can think of., from managing inventory to fulfillment. Among these is the Shopify fulfillment plugin to help shippers pick, pack, track and confirm delivery.
In a recent Shopify inventory management review, Shopify's built-in (basic) inventory tools don't offer many of the features available in third-party software, making it necessary for any but the smallest stores to install apps. The Faire Shopify app is easily integrated with most Shopify stores and helps sync your Faire orders to Shopify, keeping inventory updated on both platforms.
Shopify inventory management is made easier with Ordoro's plugin that helps manage incoming and outgoing inventory, including sending purchase orders on a pre-determined basis.
To optimize sales through Shopify, you'll absolutely want the best Shopify inventory management features within Ordoro's Shopify-centric app, such as Shopify inventory management API. The use of this versatile Shopify app allows you to:
Sync inventory volume across all sales channels
Manage inventory in perfect sync with the Shopify Locations feature and online store inventory tracker
Automatically track and sync your inventory levels
Use Barcode Scanning to reduce fulfillment errors
Best Shopify Inventory Management
Among the best Shopify inventory management software are Shopify Order API and Ordoro's software.
What's the best purchase order app for Shopify? Shopify doesn't lack dozens of useful apps for all aspects of running a Shopify store, and purchase orders are no exception.
How can an online business coordinate multi channel inventory management Shopify-platform related? You'll definitely need to add some apps to get your inventory management to a more competitive edge.
Business.org reports that in a Shopify inventory management review, Shopify's built-in inventory tools don't offer many of the features available in third-party software. This is probably okay if you're small, with limited inventory, and want to stay that way, making your Shopify store your revenue centerpiece. Otherwise, that's where you'll eventually need to add top-rated apps to the mix. According to the website Ecommerce Platforms, among the more popular Shopify inventory management apps for 2022 are Stocky, Stock Sync, Skubana, Sellbrite, TradeGecko, and ShipHero.
One app to have is the Shopify inventory management API to make inventory control tasks faster and easier. Are you looking for a Shopify Stocky alternative? Among the top contenders are Sellbrite, Stock Syn, TradeGecko, and of course, Ordoro.
The best inventory management software is one that offers the features your unique business needs, both for now and into the future. Ordoro covers everything, from inventory management to fulfillment, order tracking, and beyond. Take a "test-drive" and see for yourself why so many ecommerce entrepreneurs have turned to Ordoro to help manage and stay on top of the tasks necessary for an ecommerce business to succeed and thrive.