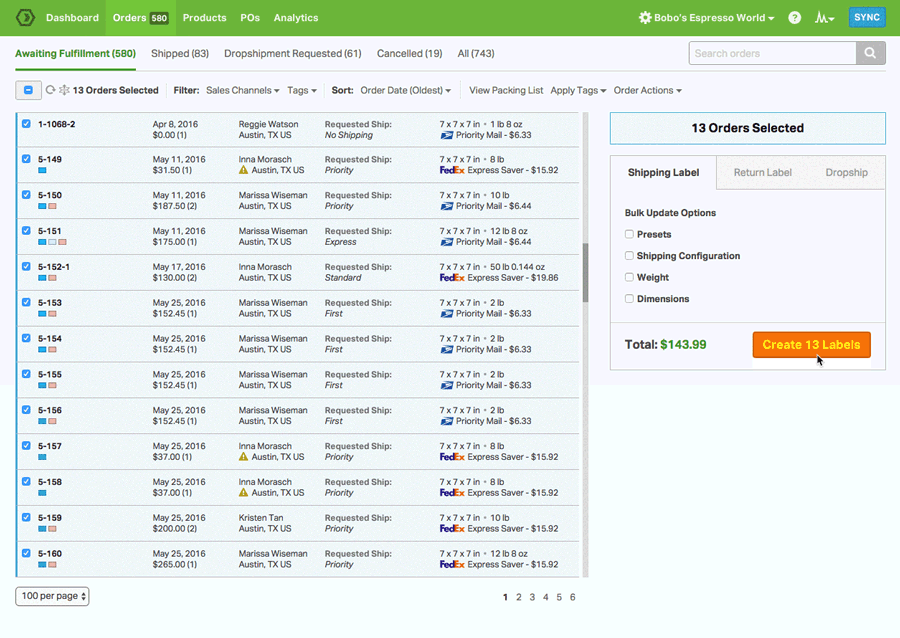 The Best Ecommerce Platforms, Free Edition
The All-In-One Ecommerce Logistics Platform
Equip yourself with a comprehensive solution
Inventory Management
Stock, sync, and scan.
Automatically track and sync your inventory levels
Create and send out Purchase Orders when it's time to restock
Bundle multiple SKUs into one unit for sale
Use Barcode Scanning to reduce fulfillment errors
Multi-Carrier Shipping
Your workflow, minus the work.
Enjoy heavily-discounted shipping rates via USPS
Ship via any of our integrated shipping carriers like USPS, UPS, FedEx, DHL and Canada Post
Set up your own Automation Rules and Shipping Presets
Print shipping labels in triple-digit batches or individually
Dropshipping
Truly hands-off dropshipping.
Launch a dropshipping operation in a matter of clicks
Tag any product as drop shipped and assign it to a vendor
Choose between automated or manual routing
Activate a Vendor Portal between you and your supplier
Multichannel
We're your operations hub.
Integrate and view all of your sales and supplier channels in one spot
Use our open API to hook up any third-party or custom apps
Manage every aspect of your orders
Establish Supplier Feeds for real-time, back-end communication
Barcode Generation and Scanning
Raise the bar for stocking and packing.
Create UPC barcodes for your products
Scan, set, and search UPC codes for SKUs within Ordoro
Reduce fulfillment errors with our pack and pack barcode scanning workflow
Scan received POs to automatically adjust stock levels
Don't take our word for it
Our awesome customers have shipped some really great compliments our way:
"I spent about a month thoroughly searching for the right backend fulfillment software for my eCommerce business. There were definitely some big name guys out there that I considered, but at the end of the day, I went with Ordoro and I'm so glad I did!"

Tina Yarandi
Founder/CEO of Nature's Artisan
"Ordoro continues to add immensely valuable features to an already awesome sales/warehousing/shipping platform. Using Ordoro continues to save us time and money."

Anthony Krize,
VP of GE Holiday Lighting
Ecommerce Platforms Free
There's never been a better time to be, or become, an ecommerce entrepreneur. One reason for that is because there are so many online tools available to help you get started — even if you have no prior ecommerce experience whatsoever. If you've already started and your business is growing, there are software solutions available that can make it possible for you to reach your highest potential. Ordoro is one of them. If you've outgrown your free trial offers and are ready to invest in your success, they offer a 15-day free trial to test drive their Express Plan. You can see for yourself what it's like to harness the power of technology and be able to control your entire operation from a single dashboard. Consider these capabilities and how they could increase your business:
Create shipping labels and branded packing lists individually or in triple-digit batches and send them directly to your printer with a couple of mouse clicks
Establish automation rules that act on your orders as soon as they arrive
Mix and match your shipping methods by integrating and selecting the best deal from USPS, UPS, FedEx, DHL International, Canada Post, or your Amazon Seller Fulfilled Prime account, all compatible with Ordoro
Enjoy deep industry shipping discounts (up to 67% through USPS)
Master multichannel capability with multiple sellers, warehouses, and storefronts and from multiple sources, including CSV uploads and custom API integrations.
Choose which warehouse to ship from and route orders either to 3PLs or drop shippers.
Best Ecommerce Platform
Whatever type of online store you have, it can benefit from automation. The best ecommerce platform for 2021 is the one that was designed specifically for that purpose. After researching what features online business owners wanted and needed most, the engineers at Ordoro designed a fully integrated system that incorporated all those features—and then some. One of the most popular ecommerce platform examples would be Magento, which is considered by many to be the best ecommerce platform for large business. It does have a lot of great features. However, you need to be a big business to be able to afford the cost. Some expertise in programming or an IT department wouldn't hurt, either, since it's open source software even though the professional version requires a yearly license fee. The best ecommerce platform for startups is one that is affordable, and more importantly, fully scalable. Ideally, you want a system that you can grow from a small business into a medium-sized one. Let's be honest, most of us don't want to get as big, or have as much responsibility, as Nike, one of Magento's customers. If you're looking for the best ecommerce platform for small business 2021, Ordoro is probably your best bet. Their inventory management software was voted best for small ecommerce businesses by Neil Patel of Business.org. Even better, their inventory management software is only one component of their fully integrated system. It also features multi-channel integration, multi-carrier shipping, drop-shipping, automation, and data analytics.
Best Free Ecommerce Website Builder
Some view building a website as an opportunity to be creative and learn new skills. Others view it as a tedious task best done by someone else, and quickly, so they can launch it and start attracting customers and filling orders already. Free ecommerce website templates were invented for those who fall somewhere in the middle. They want some creative choice, but would rather not have to learn a set of complex skills they might only use once. The best free ecommerce website builder is the one that can accommodate all three types. For those just starting out, the cost is a consideration. Of course, the cheapest ecommerce website builder is a free one. However, you'll find that "free" comes with limits. For example, it probably wouldn't be possible to score a free online store unlimited products, online store builder. The amount of data storage offered is an important consideration when deciding which is the best free ecommerce website builder for your specific business. If you google "create online store free", you may not get the best free online store builder, but you'll get enough results to have a place to start. GoDaddy, Square Online, Wix, and BigCommerce are listed in the top ten on some websites that compare them. Square Online allows you to sell for free as well as build your storefront. Once you've gotten established, Shopify offers a free trial of their services as well as one of the best free online store platforms to create an online store free or free web store online. One of the greatest advantages of Shopify is that it integrates well with other ecommerce software.
Square Ecommerce
One of the reasons for the increased success of Square is that it acquired Weebly, an extremely popular website builder, in 2018. Square was already known for its expertise in payment methods. Square Online builder is the powerhouse hybrid of the two. After you build a square online store, your customers can use the square pos to pay. Their pricing is reasonable. In fact, one square ecommerce review gave it the highest rating for the category "value for money" and the lowest rating for the category "design flexibility". That means that if being able to customize your square online storefront is important to you, maybe an open-source solution would be your best bet. If it isn't, with Square Online, you don't need to know anything about web design or coding to get started – which is great news for beginners. If you're comparing Square ecommerce vs Shopify, it's good to keep in mind that Square's point of sale app is entirely free. There's no cost to download it, and no hidden fees later. Shopify charges a basic monthly fee. However, many feel that the added advantages, like design and customization options, make it worth the cost. PayPal, Square, Apple Pay, and Stripe are all popular payment solutions for ecommerce stores. Deciding what forms of payment you want your business to accept will likely determine other types of software solutions which
Open Source Ecommerce
For those who love customization and have some programming experience, there are several open-source ecommerce options available. If you're a developer, there's a whole list of open-source repositories and programming languages you can use. An example of a collaborative development environment and repository would be open source ecommerce GitHub. Examples of programming languages you could use for the development and customization of your ecommerce website include open source e-commerce models, open source ecommerce PHP, and open source e-commerce python. Node.js is a JavaScript runtime built on Chrome's V8 JavaScript engine. PHP(Hypertext Pre-processor) is an HTML embedded scripting language used for managing databases and building ecommerce sites. Python is a high-level programming language. The main advantage of an open-source eCommerce platform is that online retailers have full access to the software's source code. You can customize it specifically for your needs and take advantage of a large development community. Many found Magento the best open-source ecommerce platform 2021, especially for B2B and B2C merchants. WooCommerce, which is actually a plugin for WordPress, is free to install. However, you have to pay separately for features like hosting and security. Shopware provides users with over 4,000 extensions and certified professional support. More than 100,000 companies run their stores using Shopware. While open-source software is free to download and use, you also have to factor in the costs of open source ecommerce microservices. Those can include development, hosting, integration, maintenance and security.
Best Ecommerce Website Builder
The first step in finding the best ecommerce website builder for a new business is usually googling "best ecommerce website builder 2021". Including the year in your search ensures that you'll get the most current results. If you're just starting out, and really can't afford to pay for a website builder yet, you can search for "best ecommerce website builder free". A word of warning, though—you'll discover when you look at the results, many of them are not free at all. Advertising departments have just learned how to insert the word "free" somewhere into the text so it will show up in a search result. The best ecommerce website builder for small business doesn't need, and probably won't have, as many complex features as the best website builder for Shopify. Another great strategy is to find examples of the best ecommerce websites. There are some pretty impressive, artistic, award-winning sites out there. A few things you should look for in a website builder include:
A platform that is easy to set up and easy to design, yet allows you to make your brand unique.
High level security is important to ensure your customers information remains theirs and theirs alone.
A platform that will integrate smoothly with your existing software and sales and marketing channels.
SEO-friendly, so you can add your own personal touches, like a blog and customer reviews, and your customers will be able to access your business through multiple channels.
Customer support for those not familiar with HTML, CSS, and JavaScript.
Building an ecommerce website can seem complicated and overwhelming. But nothing feels quite as satisfying as creating something that reflects your own personal style, then seeing it attract customers—all while becoming your own boss.