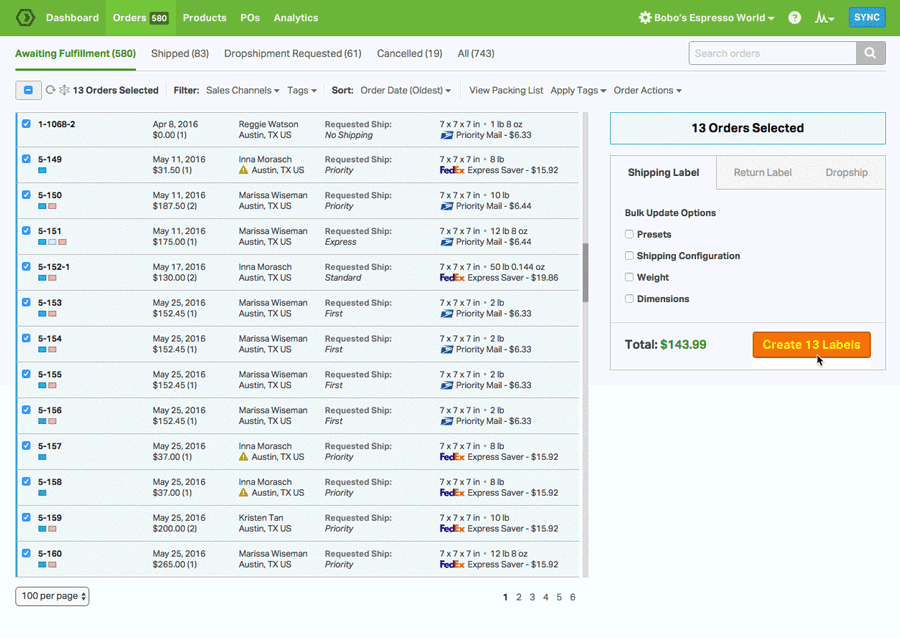 Master The USPS Shipping Map with Ordoro
The All-In-One Ecommerce Logistics Platform
Equip yourself with a comprehensive solution
Inventory Management
Stock, sync, and scan.
Automatically track and sync your inventory levels
Create and send out Purchase Orders when it's time to restock
Bundle multiple SKUs into one unit for sale
Use Barcode Scanning to reduce fulfillment errors
Multi-Carrier Shipping
Your workflow, minus the work.
Enjoy heavily-discounted shipping rates via USPS
Ship via any of our integrated shipping carriers like USPS, UPS, FedEx, DHL and Canada Post
Set up your own Automation Rules and Shipping Presets
Print shipping labels in triple-digit batches or individually
Dropshipping
Truly hands-off dropshipping.
Launch a dropshipping operation in a matter of clicks
Tag any product as drop shipped and assign it to a vendor
Choose between automated or manual routing
Activate a Vendor Portal between you and your supplier
Multichannel
We're your operations hub.
Integrate and view all of your sales and supplier channels in one spot
Use our open API to hook up any third-party or custom apps
Manage every aspect of your orders
Establish Supplier Feeds for real-time, back-end communication
Barcode Generation and Scanning
Raise the bar for stocking and packing.
Create UPC barcodes for your products
Scan, set, and search UPC codes for SKUs within Ordoro
Reduce fulfillment errors with our pack and pack barcode scanning workflow
Scan received POs to automatically adjust stock levels
Don't take our word for it
Our awesome customers have shipped some really great compliments our way:
"I spent about a month thoroughly searching for the right backend fulfillment software for my eCommerce business. There were definitely some big name guys out there that I considered, but at the end of the day, I went with Ordoro and I'm so glad I did!"

Tina Yarandi
Founder/CEO of Nature's Artisan
"Ordoro continues to add immensely valuable features to an already awesome sales/warehousing/shipping platform. Using Ordoro continues to save us time and money."

Anthony Krize,
VP of GE Holiday Lighting
USPS Shipping Map
If you're shipping products anywhere to customers, you'll likely be using the USPS services at some point and will need to be able to figure out the mail delivery time from zip code to zip code, as well as overseas.
Using the USPS shipping map, you can estimate USPS delivery times by zip code to let customers know when they might expect their orders. The two most popular methods of service are First Class and Priority Mail, based on speed and cost.
The USPS First class mail delivery map is a handy tool for estimating the cost and time for a regular First Class envelope or package to arrive, especially as First Class rates are more variable.
The First Class mail delivery time map, which is the same as the standard mail delivery time map can be found on the USPS website or app.
Priority Mail will send any package weighing less than 70 pounds as well as being faster. First Class Mail takes a little longer, and the rates vary more than with Priority, as they're based on size, weight, and destination, according to the USPS delivery map.
The USPS priority mail time map also shows the expected times that a package or envelope can be expected to arrive at a destination, depending on the zip code it's sent from as well as that of the destination, and is found on USPS.com/priority-mail. Enter the 3 or 5-digit zip/ postal code and drag and zoom to see where the package is going as well as those territories and states receiving Priority service.
First Class domestic mail generally takes between two and three days to be delivered, whereas domestic mail sent through USPS Priority Mail time takes a bit less - usually one and three days.
USPS Delivery Time Calculator
Using the USPS delivery time calculator helps shippers figure a time estimate for a customer's order to get the best rate and delivery schedule. Keep in mind that First Class is usually the most economical way to send envelopes and smaller lightweight packages if delivery time isn't critical.
To estimate the DIM weight, multiply the length, width, and height of the package or box, then divide with a standard DIM divisor. Like other shipping carriers, such as FedEx and UPS, the USPS calculates shipping charges based on whichever is greater: the DIM weight or the actual weight. The USPS's most common charges are based on distance and weight, as with First Class and Priority Express.
The USPS shipping calculator tool, which is found on the USPS web pages, can tell you the estimated time as well as cost to send a package.
USPS delivery time calculator is a tool found on their website that has a "Service Commitment" (time frame) they are committed to fulfilling delivery of a package.
To figure out the USPS delivery time calculator First Class mail just go to the USPS.com website and choose Ship/First Class, and click on First Class Mail Prices to compare the package size, weight, and destination, as well as determine how soon it needs to arrive.
Ordoro's ecommerce management software, apps, and other tools are compatible with most carriers and their apps, including the USPS, and as part of the fulfillment management features, can help shippers easily get estimates and track packages.
USPS Shipping Rates
Like other shipping carriers, such as FedEx and UPS, the USPS calculates shipping charges based on whichever is greater: the DIM weight or the actual weight. The USPS shipping rates are most commonly charged based on distance and weight, as with First Class and Priority Express. Some services, however, may apply dimensional weight charges (DIM) if the package exceeds size limits. Dimensional weight factors in length, width, and height to calculate the shipping charges.
The USPS flat rate is exactly that: you are charged a single rate when using a USPS Flat Rate box, regardless of destination. As long as the item fits in the box and weighs under 70 pounds (if boxes) or 4 pounds (envelopes) you're good. Flat Rate service is part of the larger USPS Priority Mail service.
To ensure that your parcel isn't over any weight or other limits, you can check USPS shipping rates by weight chart by going to USPS.com/business/prices, and clicking on Postage Rates and Prices. USPS shipping rates calculator is found on the USPS .com website, under Mail and Shipping Services.
How do you determine the postage rates by size? The shipping calculator mentioned above will give you the size and weight limits, with rates based on zip code and delivery time required, along with other rates, including Priority Mail Flat Rate.
In addition to First Class and Priority Mail, USPS offers Retail Ground, with delivery in 2- business days, Media Mail, with domestic delivery in 2-8 days, and Priority Mail Express, with domestic Next-Day to 2-Day, guaranteed delivery by 6 pm.
USPS International Shipping Rates
International shipments will have a serious impact on shipping rates, because not only are they high-distance by nature, which means higher prices than for domestic shipments, but they tend to include more additional charges, such as customs, than domestic services.
The USPS has international delivery services for just about every need. You can select which best fits your needs such as:
Postage cost
Flat Rate shipping options
Speed of delivery
Include insurance and tracking
The USPS international shipping rates can be found on the USPS website or with an assortment of apps, including those of Ordoro – a trusted leader in ecommerce management software. While some international services are available online, others require going to a Post Office location.
Some of the available services for packages include:
Global Express Guaranteed is a great choice if speed is critical, such as date-certain items with a money-back guarantee, and is priced from $67.80.
Priority Express International, costing upward of $47.95, is good for those needing to send items that should arrive within a week, with date-certain guarantees depending on the location.
For printed materials or documents only, you might want to consider First Class Mail International, starting at $2.60, for documents in envelopes weighing under a pound. There's Airmail M-Bags, ideal for international students sending lots of books back home and starting at $52.80. The delivery times of both of these last two mailing methods vary by location.
No matter what or where you ship, Ordoro's software and apps can make short work of confusing rate comparisons with various carriers.
USPS Flat Rate Boxes
Many people want to know if Priority Mail is the same as Flat Rate, which is a service that features a single flat rate for an envelope or packages to reach its destination.
Basically, yes, as far as Flat Rate being part of the Priority Mail services. As of 2022, it should arrive within 1-3 days provided it meets shipping criteria, such as not exceeding a maximum of 70 pounds.
Although Flat Rate is part of Priority Mail, Flat Rate uses designated USPS Flat Rate boxes for shipping – as long as the item fits inside, below the weight limit, it meets the Flat Rate criteria.
Unlike First Class, which requires the sender to provide their own mailing materials, such as envelopes and boxes, Priority Mail offers boxes, envelopes, and other mailing supplies.
When do you use Flat Rate boxes? Generally, Flat Rate works best for smaller, heavier items with larger but lighter items sent using Priority Mail. However, there are times when it might be a bit cheaper to use your own box, such as when you access Priority Mail Cubic, as Medium and Large Flat Rate boxes can sometimes up the costs if the contents of the package don't justify the use of larger boxes, making Flat Rate usually the best deal for heavier packages that fall within the size limits.
Did you know that Ordoro can help coordinate your shipping carriers and other fulfillment and tracking tasks with just a few clicks of the mouse? Ordoro can do it all from one main location.
USPS Priority Mail Tracking
As you may already know, USPS Priority Mail tracking is included in the prices, as is insurance. Priority mail tracking can quickly be performed by entering the tracking number either in their app or on the USPS website. You can find this number on the mailing receipt from your Post Office, the bottom peel-off part of the tracking label, the shipping confirmation email you received from an online retailer, your sales receipt if you purchased insurance at the Post Office, or your email confirmation if you shipped through USPS.
USPS First Class package tracking is a breeze - just go to the USPS Tracking portion of the website and enter the number as printed on your receipts of email shipping confirmations.
USPS First Class mail tracking can also be accessed by signing up for tracking alerts, where you can manage deliveries and more through the USPS app or online dashboard.
Ordoro can help online merchants automate their USPS tracking writeback with We've Got Your Writeback. Once you've created your shipping labels, you can forget about copying and pasting. Ordoro automatically relays a package's shipping status and tracking numbers back to the appropriate sales channel, keeping the customer in the loop.
Doing so also helps beat out any potential glitches or other "hiccups" by keeping tabs on shipped orders thanks to activated delivery confirmation messages through Ordoro.
In fact, thousands of satisfied merchants and others trust Ordoro to help manage their entire enterprise, from inventory to fulfillment, tracking, and analytics – we can cover it all.