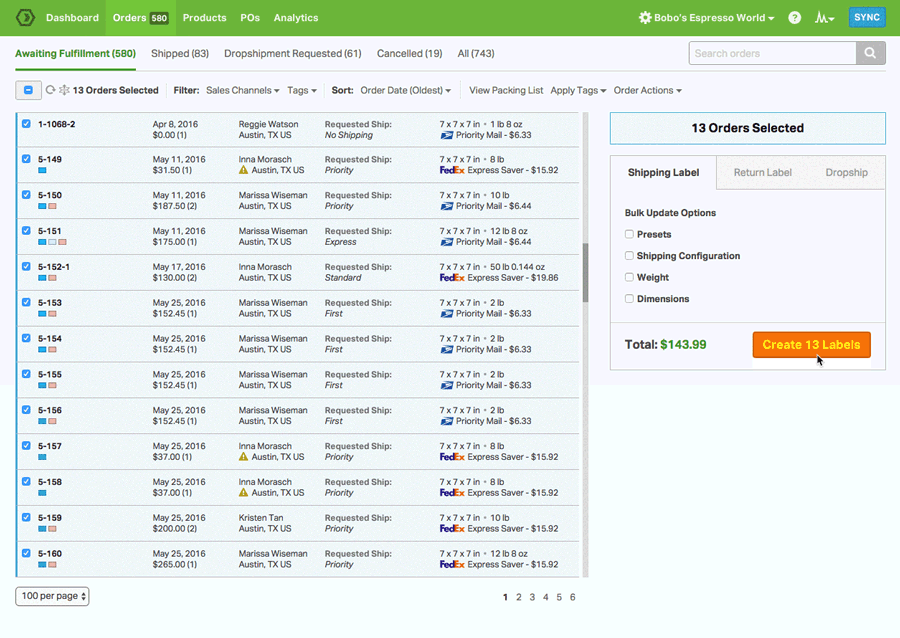 Support Your Enterprise Ecommerce Platform With Ordoro
The All-In-One Ecommerce Logistics Platform
Equip yourself with a comprehensive solution
Inventory Management
Stock, sync, and scan.
Automatically track and sync your inventory levels
Create and send out Purchase Orders when it's time to restock
Bundle multiple SKUs into one unit for sale
Use Barcode Scanning to reduce fulfillment errors
Multi-Carrier Shipping
Your workflow, minus the work.
Enjoy heavily-discounted shipping rates via USPS
Ship via any of our integrated shipping carriers like USPS, UPS, FedEx, DHL and Canada Post
Set up your own Automation Rules and Shipping Presets
Print shipping labels in triple-digit batches or individually
Dropshipping
Truly hands-off dropshipping.
Launch a dropshipping operation in a matter of clicks
Tag any product as drop shipped and assign it to a vendor
Choose between automated or manual routing
Activate a Vendor Portal between you and your supplier
Multichannel
We're your operations hub.
Integrate and view all of your sales and supplier channels in one spot
Use our open API to hook up any third-party or custom apps
Manage every aspect of your orders
Establish Supplier Feeds for real-time, back-end communication
Barcode Generation and Scanning
Raise the bar for stocking and packing.
Create UPC barcodes for your products
Scan, set, and search UPC codes for SKUs within Ordoro
Reduce fulfillment errors with our pack and pack barcode scanning workflow
Scan received POs to automatically adjust stock levels
Don't take our word for it
Our awesome customers have shipped some really great compliments our way:
"I spent about a month thoroughly searching for the right backend fulfillment software for my eCommerce business. There were definitely some big name guys out there that I considered, but at the end of the day, I went with Ordoro and I'm so glad I did!"

Tina Yarandi
Founder/CEO of Nature's Artisan
"Ordoro continues to add immensely valuable features to an already awesome sales/warehousing/shipping platform. Using Ordoro continues to save us time and money."

Anthony Krize,
VP of GE Holiday Lighting
Enterprise Ecommerce Platform
Ordoro is an ecommerce logistics platform that can support your enterprise level company in a range of ways. While you may rely on a different enterprise ecommerce platform and know of Ordoro as a platform for small businesses, don't discount it just yet. It works to help those small businesses operate like large-scale corporations and uses this expertise to also support enterprise level ecommerce companies, with the capabilities to do so.
How does Ordoro help enterprise companies? It helps support enterprise ecommerce platforms, streamlining your business functions. Some of the ways it can help include optimizing your fulfillment workflows with order processing, creating bulk shipping labels and automating dropshipping. It can provide multi-carrier shipping, omnichannel inventory management and more, all in the same platform. It also has a design made to streamline your processes and create a more efficient shipping process.
Ordoro's capabilities and features help it stand among the top ecommerce platforms for large retailers. It's worth comparing it to the platform your company is currently using or to other ones you're considering. Why should you consider this enterprise ecommerce platform? The platform you're currently using may not be fully working for your needs. You may have started with a platform that isn't meeting your growth or your changing needs. It's worth switching or upgrading to gain the features that would best fit your business instead of letting the current one hold you back.
If your company has the desire to re-platform, consider the business objectives involved. Determine the direction you want to go in and the goals you want to achieve, such as saving money, improving conversion rates, increasing returns, integrating better with different carriers and so on. Seek out the platform that would help your growth best. When your decision-makers are considering enterprise ecommerce platforms, they can include Ordoro in their comparisons.
What Is Enterprise Ecommerce?
What sets enterprise ecommerce apart? In other words, what is enterprise ecommerce? This refers to larger companies that are selling products online. They manage large budgets, hundreds--maybe thousands--of staff members and complex processes and problems. Does this sound like your ecommerce company? You may be in need of specific enterprise software for your needs.
Why does the size and level of your business matter in terms of an enterprise platform? Enterprise commerce is more complex and therefore has greater requirements. An enterprise ecommerce platform is an on-premise or self-hosted software system that can handle this type of larger company and its many working parts. While there are many ecommerce platforms out there, not all of them have the capabilities to manage an enterprise business. You need to find a platform designed for these needs.
These needs and goals can vary by your company, yet they tend to be more complex and on a larger scale compared to a small business. Consider a platform with features that go beyond the basics, allowing you to carry out more advanced and customized functions. Also, consider how your business will continue to grow. You want a platform that fits the large-scale enterprise you have now and also the growth you anticipate over time. After all, you don't want to be stuck with one of those free or basic platforms that holds you back just when you're ready to skyrocket forward!
Think about your own business and how your current platform is meeting your needs. Is it helping you achieve your goals? Does your staff experience a lot of pain points while using it? Make sure you get feedback on its day-to-day use. What are the things you like about your current platform? In other words, what's working for you that you wouldn't want to lose? Also, do you dream about features you don't currently have that would make life easier or improve your business? Answering these questions can help you figure out what you need and want out of your enterprise platform, and whether your current one is enough for the job.
Ecommerce Platforms Free
Back to those free platforms we mentioned. Sure, it might make sense to start with a free option when you're just starting out or you have a small ecommerce business. But when you're running your business at the enterprise level, chances are the free versions just aren't going to cut it. They're free for a reason. They have limited capabilities and are usually used to introduce you to a brand that will then want you to upgrade. You might even be using a free trial that you'll eventually need to pay for if you want to keep using it. You fall in love, and they kick you to the curb… or force you to pay up. These free versions are only meant to get you started, and then you quickly outgrow them (or at least you should want to, because that means your business is growing).
A main disadvantage of these types of ecommerce platforms is that they fail to meet your omnichannel needs. Instead, paying for your software can help you streamline your processes for your team members and your customers, creating a better brand experience in the end. You may have to enter your data manually into a program like Excel, which takes too much time and opens the door for too many errors. It's just not the best way to run a business, especially an enterprise level one. Plus, ecommerce platforms free versions often don't have the features and customization you need. They hold you back.
The thing is, it can be well worth the investment in paid types of e commerce solutions like Ordoro. You get a more advanced platform with customization and the features you need to run your business the way you see fit and to grow naturally. Plus, Ordoro can provide you with benefits like discounted USPS rates that could actually help you save in the end.
List of Ecommerce Platforms
You have many great options to compare when choosing enterprise ecommerce platforms to fit your needs. Here is a list of ecommerce platforms to help with your decision-making process:
• Salesforce Commerce Cloud: This is an SaaS platform that helps with omnichannel retail applications. It connects the dots between sales in digital and brick-and-mortar sales channels. It's designed for enterprise businesses and allows for personalization.
• BigCommerce: This brand often works with SMB companies and has been increasing its use for larger businesses. This platform focuses on a simple dashboard, many native features and services that simplify re-platforming. The company offers personalized support and specialized training to help you use it.
• Magento Commerce: You can choose between a cloud-hosted or on-premise platform. Magento has many native features, gives you control and can handle a large catalog. Nonetheless, you'll be responsible for some things on your own that can increase time and cost investment.
• Shopify Plus: This is a SaaS option designed specifically for enterprise companies. It has a simple process, customizable checkout and managers ready to help enterprise clients. Nonetheless, its lack of native functionality means you'll likely need third-party apps that increase the cost.
• Oracle Commerce Cloud: This is a cloud-hosted, SaaS platform that you can use for either B2B or B2C ecommerce businesses. It allows for omnichannel options and has an architecture that helps you develop it.
• Ordoro: This option makes it easy to have multichannel operations with different sales and supplier channels. It helps you carry out multi-carrier shipping, and simplifies inventory management through features like automatically tracking your inventory.
This e-commerce platform list gives you a place to start. You can find other platforms available as well, and then it's worth getting into the nitty-gritty of specific features and details to fit your brand.
Best Ecommerce Platform 2021
Overall, the best ecommerce platform 2021 is the one that works best for you—that means the one that streamlines processes, improves the customer experience and fits the current needs and future goals of your enterprise brand. That said, some of the top ecommerce platforms at the moment include:
• BigCommerce
• SAP Hybris Commerce and Commerce Cloud
• Magento Commerce
• Shopify Plus
• Salesforce Commerce Cloud
• IBM WebSphere Comerce
• Oracle Commerce Cloud
• Ordoro
Out of these, the best ecommerce platform 2021 can depend on how the features match up with your needs. As a quick sum-up, SAP gives the choice of on-premise or cloud-based options, Oracle Commerce Cloud gives a cloud-hosted, SaaS platform B2B and B2C companies can use, and IBM's on-premise option tends to lead the pack for enterprise ecommerce brands. Shopify has a SaaS option that's simple to use and helps with PCI compliance and security. Magento allows you to go with cloud-hosting or on-premise solutions, and gives a lot of control. Salesforce gives a SaaS option that's integrated and designed for B2C brands. And BigCommerce specializes in SMBs with an SaaS option that's easy to use with native features.
Also, consider Ordoro, which is a best ecommerce platform for small business, for your enterprise needs. While Ordoro is not actually an ecommerce platform, it supports them. If your current platform isn't quite meeting your needs or you're looking into a new one that still wouldn't give you the full picture, Ordoro might be able to help. It supports the top ecommerce platforms by adding useful features and streamlining processes.
Ordoro helps optimize the fulfillment workflows of other platforms. For instance, it supports omnichannel inventory management, order processing and bulk shipping label creation. It can automate dropshipping and more, all within this one platform. While Ordoro is a best ecommerce platform for startups and small businesses, it also has the capabilities to handle enterprise level processes.