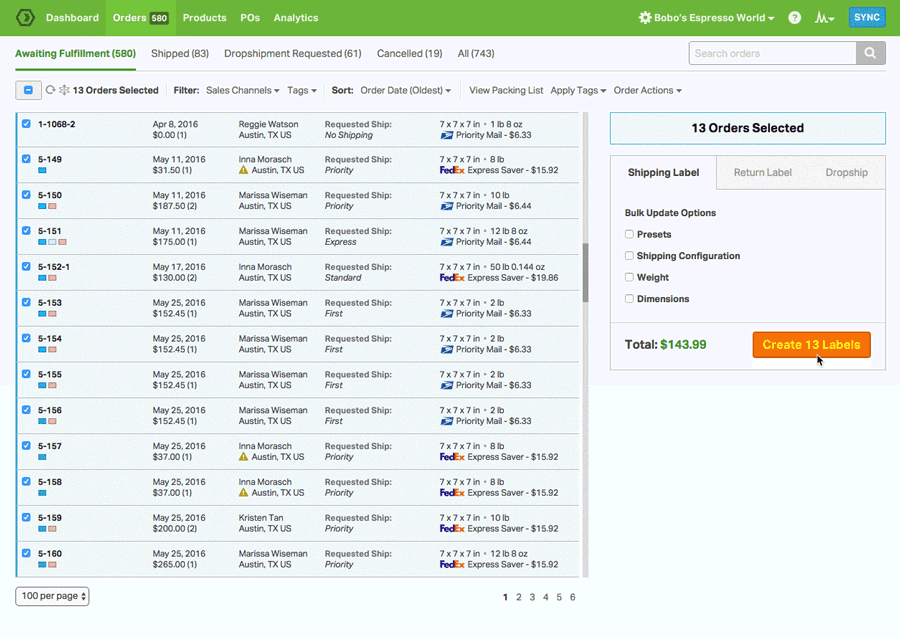 How Much Do Etsy Shipping Labels Cost?
The All-In-One Ecommerce Logistics Platform
Equip yourself with a comprehensive solution
Inventory Management
Stock, sync, and scan.
Automatically track and sync your inventory levels
Create and send out Purchase Orders when it's time to restock
Bundle multiple SKUs into one unit for sale
Use Barcode Scanning to reduce fulfillment errors
Multi-Carrier Shipping
Your workflow, minus the work.
Enjoy heavily-discounted shipping rates via USPS
Ship via any of our integrated shipping carriers like USPS, UPS, FedEx, DHL and Canada Post
Set up your own Automation Rules and Shipping Presets
Print shipping labels in triple-digit batches or individually
Dropshipping
Truly hands-off dropshipping.
Launch a dropshipping operation in a matter of clicks
Tag any product as drop shipped and assign it to a vendor
Choose between automated or manual routing
Activate a Vendor Portal between you and your supplier
Multichannel
We're your operations hub.
Integrate and view all of your sales and supplier channels in one spot
Use our open API to hook up any third-party or custom apps
Manage every aspect of your orders
Establish Supplier Feeds for real-time, back-end communication
Barcode Generation and Scanning
Raise the bar for stocking and packing.
Create UPC barcodes for your products
Scan, set, and search UPC codes for SKUs within Ordoro
Reduce fulfillment errors with our pack and pack barcode scanning workflow
Scan received POs to automatically adjust stock levels
Don't take our word for it
Our awesome customers have shipped some really great compliments our way:
"I spent about a month thoroughly searching for the right backend fulfillment software for my eCommerce business. There were definitely some big name guys out there that I considered, but at the end of the day, I went with Ordoro and I'm so glad I did!"

Tina Yarandi
Founder/CEO of Nature's Artisan
"Ordoro continues to add immensely valuable features to an already awesome sales/warehousing/shipping platform. Using Ordoro continues to save us time and money."

Anthony Krize,
VP of GE Holiday Lighting
How Much Do Etsy Shipping Labels Cost
As an Etsy seller, you need to factor expenses like shipping into your business operations. Purchasing shipping labels to put on your packaging is part of this process. It's possible to create labels directly through Etsy. You pay a fee but you receive Etsy post office discounts when you compare Etsy shipping label rates vs post office retail rates. You also receive discounts with other carriers FedEx and Canada Post. Etsy offers labels for specific carriers, including USPS, FedEx, Canada Post, Australia Post, Global Postal Shipping and Royal Mail.
How much do Etsy shipping labels cost? The price varies by factors like the weight, type and size of the package, as well as the location and chosen delivery time. Shipping will cost more for farther national destinations or international shipping. You can use tools like a USPS shipping calculator or Etsy's fee tables to get a better idea of the cost of each package.
When you figure out how to set up shipping on Etsy, you'll notice the fee tables and better understand the costs of shipping the types of goods you sell. You can compare Etsy shipping label costs to other shipping label options when considering how much do shipping labels cost.
Use the Etsy shipping calculator to become informed on the shipping costs of each package. It allows you to input information on the specifics of the package, destination, and time frame to give you clear shipping costs. Your costs will be impacted by the carrier you use as well as the custom shipping specifics. You have the option to offer your customers different experiences. For example, they could save money on shipping by choosing a longer time frame or speeding up the shipment time for a higher cost.
Etsy Shipping Calculator
Shipping label fees are one type of fee that is associated with selling on Etsy. In addition to listing fees, transaction fees, and others, shipping label fees affect sellers. Nonetheless, this type of fee is not quite as clear-cut as the others. For example, Etsy states its listing fee as $0.20 per listing and its transaction fee as 5 percent of the order total (which has a planned increase to 6.5 percent beginning on April 11th). However, the shipping fee is not a clear amount or percentage. Instead, it varies.
Etsy explains that its shipping label fee depends on what you enter in the designated fields when you're making a shipping label purchase through the site. That's because the Etsy shipping cost calculator follows the way shipping works in general, which is dependent on what you are sending, where you're sending it to and from, and how fast you want it to arrive. You're able to customize the experience to save money or provide a better experience for a customer.
Etsy shipping rates 2022 are the current rates to follow. These have taken over from the previous rate tables, reflecting current gas prices, inflation, transportation costs, and so on. You might be wondering why is Etsy shipping so expensive. The truth is, that shipping is expensive these days in general because of societal changes that affect the cost. Nonetheless, the small businesses on Etsy often aren't taking advantage of carrier discounts that could help them save. Further, you can try to save through different packaging and slower shipment times, for example.
Use the Etsy shipping calculator to determine the true cost of shipping each order. If you're wondering how much to charge for international shipping on Etsy, there is an Etsy international shipping calculator that can help you determine these worldwide shipments, as well as Esty calculated shipping multiple items for when buyers purchase numerous items from your store.
How to Use Etsy Shipping Labels
You can buy shipping labels through your Etsy account, print them with your home printer and attach them to your package to ship your handmade goods. Here is some info on how to ship on Etsy for beginners.
To purchase the labels, you'll need to sign in to the site and go to Shop Manager. Head to the Orders & Shipping section to carry out shipping functions. There, you'll be able to find the specific order that which you're creating a label for. Click the van icon, make sure that the address information is correct and enter the shipping information and customs form if necessary. Then, click "Review Your Purchase" and make sure everything is correct. Confirm the label you want to print and pick a download preference under "Customize Options." Once that is all complete, hit "Purchase," where you can go through the purchasing process. This process automates a shipping notification to the buyer.
After you have paid for it, you can print the shipping label. If you're wondering how to print Etsy postage labels from Etsy, here is the process. Within the Orders & Shipping part of your account, click the order and then "Download Shipping Label." Then, open the downloaded PDF document. Within the open document, you can find the option to print. Set the size to four inches by six inches for label paper.
After that, it's time to figure out how to use Etsy shipping labels. Attaching the label depends on the type of paper you printed it on. Use clear packaging tape to attach a paper label, or peel off a sticker label from its backing and attach it to the package.
What do Etsy shipping labels look like? They are pieces of paper that include the address information and a barcode with the shipping information. It's important to print them to the right aspect ratio so the barcode is formatted properly for scanning.
Do I Have to Use Etsy Shipping Labels?
As a seller on Etsy, it's understandable to assume you would go through Etsy for your shipping labels. However, it's not necessary to do so. Do you have to pay for Etsy shipping labels? The answer is no. It's not the only option available to you. When you're looking into how to print shipping labels on Etsy, you discover that you need to click on each order to download and print each label separately. This process can be cumbersome and time-wasting if you have a high number of orders through the site.
In public forums, many sellers have expressed downsides to using Etsy's labels when new people ask questions like, "Do I have to pay for shipping labels on Etsy?" or "Can I use my own shipping on Etsy?" In addition to negative comments about the Etsy shipping section's user experience, some sellers note that they have found cheaper shipping prices through USPS Priority Mail. In addition, Etsy doesn't provide labels for all carriers, including UPS.
You don't actually have to use Etsy shipping services or labels if you notice downsides for your business, as many other sellers have expressed. Instead, you could simply write out the address information on the packaging or print typed address labels, and then bring the package to a carrier to pay for shipping. This process is similar to sending a private package to a loved one. Alternatively, you could use a carrier account like one with USPS. Or, you could use a platform that provides shipping labels among its services. Make sure you find one that fits your needs, as sellers also complain that some of these platforms are too basic for their needs or don't include certain carriers. Ordoro is a platform that provides Etsy labels, makes the printing process easy, works with a variety of carriers, and provides great shipping discounts.
I Don't Want to Use Etsy Shipping Labels
It's common for new Etsy sellers to ask "Do you have to pay for Etsy shipping labels?" or "Do you have to use Etsy shipping labels?" You might think that you need to do everything, from marketing to selling to shipping, within the site. But that's not true. If you say, "I don't want to use Etsy shipping labels," you're in luck because Etsy does not force its sellers to use them. The service is optional, and you have alternatives.
The next step is how to ship without using Etsy. Of course, you can simply bring your package to your carrier of choice and mail it directly through them without anyone in the middle. Nonetheless, you'll find benefits from using Ordoro's shipping services. Ordoro is an inventory and shipping software that includes printing shipping labels as one of its supportive functions. It helps small businesses run like large ones, on a professional and streamlined level at the lowest cost possible.
Ordoro has amazing benefits for vendors like you. You can create bulk shipping labels so you don't waste time printing them one by one. You're able to quickly and conveniently set up triple-digit batches of shipping labels and associated packing lists in just a couple of steps. There is even a direct-to-printer option, rather than messing with downloads. You can also create presets to auto-fill parameters, making creating and printing labels easier.
If you sell through various channels in addition to your Etsy site, you can manage all of them through Ordoro. You can also ship through different carriers to fit the needs of each package. And Ordoro sends the shipping and tracking information to Etsy after you create a shipping label, so your customers conveniently get the information without extra steps on your part.