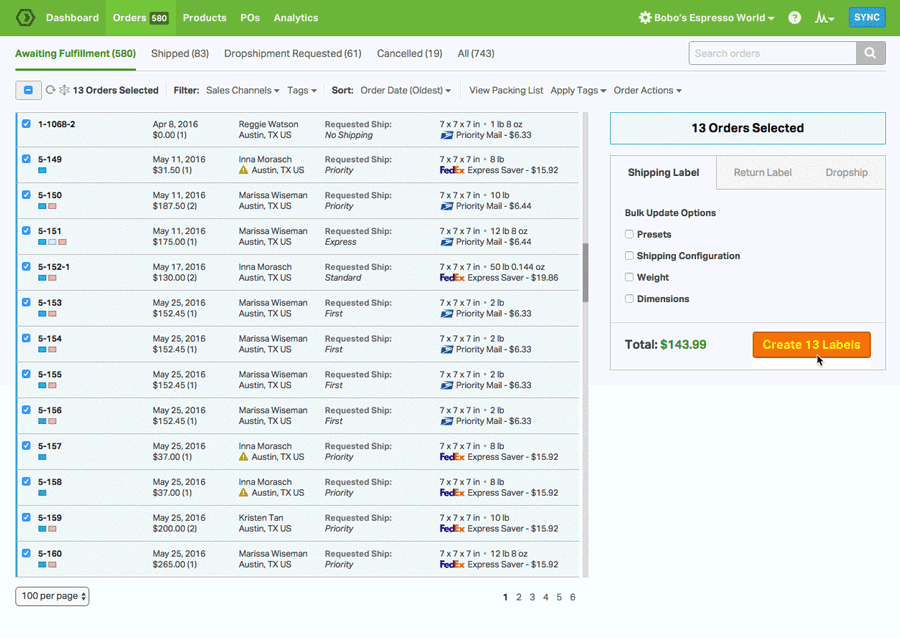 Fulfill Orders Cheaper With The Best Etsy Shipping Cost
The All-In-One Ecommerce Logistics Platform
Equip yourself with a comprehensive solution
Inventory Management
Stock, sync, and scan.
Automatically track and sync your inventory levels
Create and send out Purchase Orders when it's time to restock
Bundle multiple SKUs into one unit for sale
Use Barcode Scanning to reduce fulfillment errors
Multi-Carrier Shipping
Your workflow, minus the work.
Enjoy heavily-discounted shipping rates via USPS
Ship via any of our integrated shipping carriers like USPS, UPS, FedEx, DHL and Canada Post
Set up your own Automation Rules and Shipping Presets
Print shipping labels in triple-digit batches or individually
Dropshipping
Truly hands-off dropshipping.
Launch a dropshipping operation in a matter of clicks
Tag any product as drop shipped and assign it to a vendor
Choose between automated or manual routing
Activate a Vendor Portal between you and your supplier
Multichannel
We're your operations hub.
Integrate and view all of your sales and supplier channels in one spot
Use our open API to hook up any third-party or custom apps
Manage every aspect of your orders
Establish Supplier Feeds for real-time, back-end communication
Barcode Generation and Scanning
Raise the bar for stocking and packing.
Create UPC barcodes for your products
Scan, set, and search UPC codes for SKUs within Ordoro
Reduce fulfillment errors with our pack and pack barcode scanning workflow
Scan received POs to automatically adjust stock levels
Don't take our word for it
Our awesome customers have shipped some really great compliments our way:
"I spent about a month thoroughly searching for the right backend fulfillment software for my eCommerce business. There were definitely some big name guys out there that I considered, but at the end of the day, I went with Ordoro and I'm so glad I did!"

Tina Yarandi
Founder/CEO of Nature's Artisan
"Ordoro continues to add immensely valuable features to an already awesome sales/warehousing/shipping platform. Using Ordoro continues to save us time and money."

Anthony Krize,
VP of GE Holiday Lighting
Etsy Shipping Cost
Etsy is one of most popular and easily-used sales platforms on the Internet today. As a showcase for artisans, creative designers and manufacturers alike, its format is easily understood and utilized. If you're considering using Etsy as a sales platform, there are a few things to know up front before you begin.
Your Etsy shipping profile: creating your profile on Etsy is the first thing you'll need to do. You'll need to go to Etsy's main page at Etsy.com and follow the instructions to set up a ship, choose currency, and so on. If you already have an account, that's great – keep reading!
Calculating the Etsy shipping cost is a major consideration for any ecommerce business. You'll need to know which carrier you plan to use, as different carriers have varying rates, with some better-suited for domestic shipments while others may shine for international transactions.
You'll see a lot of different rate options, such as with UPS, whether your order can be sent via envelope (and at a much lower rate) or whether it needs to be boxed (for a higher rate.)
Etsy shipping time can be flexible to accommodate those customers needing orders as fast as possible. This may require sending orders overnight, which will result in higher shipping charges.
Remember that Etsy shipping fees are part of the cost of doing business with Etsy, so it will help to understand up front what you can expect to pay. Shipping fees are normally around 5% of the listed shipping costs for an item, so it helps to shop around and check rates to keep shipping costs as low as possible.
Etsy Shipping Rates 2021
Etsy shipping rates 2021 have replaced the 2020 rate tables. Gas, transportation and so many other variables have all had a profound effect on shipping and logistics, so if you haven't already, expect to see some major increases in shipping costs, especially if not local.
You may be wondering why is Etsy shipping so expensive, at least when compared to just shipping something out yourself. There are several factors, along with the fees for transactions, shipping and other services adding up quickly.
For one thing, many Etsy items are handmade, making them more expensive than commercially-made products. Also, most of the Etsy shops are smaller, individually-owned businesses, so the owners can charge what they please. Handmade items also tend to be of better quality than goods that are quickly and often carelessly made. Unfortunately, Etsy, which started out as a place for selling unique, handcrafted items, eventually relaxed its standards, and some bigger manufacturers have started selling on the platform.
As a result, while prices may remain higher, the quality isn't necessarily up to true handmade standards, causing artisans and other makers to have to compete with cheaper mass-produced items.
Finally, shipping costs on Etsy are higher because the sellers aren't sending out as many packages as larger sellers, so can't take advantage of better rates.
You should see updates for Etsy shipping rates 2020, in the current 2021 rate structure. Again, costs for just about everything over the past year have risen, and taken rates along with them.
Etsy Shipping Calculator
There are actually two types of shipping profiles on Etsy: Fixed and Calculated. Fixed prices let the seller manually enter each listing's shipping price. Calculated shipping automatically figures the rates based on dimensions, weight and zip code.
Etsy offers an Etsy shipping calculator for use, although it seems to be particularly suited to UPS.
However, it should be remembered that there are more than one option available, so you'll want one with shopping platform integration, which allows users to quickly compare options and costs. When calculating UPS, for example, you'll see a lot of different rate options, such as whether your order can be sent via envelope (and at a much lower rate) or whether it needs to be boxed (for a higher rate.)
How quickly you need to deliver the order, the carrier you use, the location, the weight, size, and other factors all factor into the calculation equation.
An easy-to-use Etsy shipping rates calculator is located on the Etsy website, under "Shipping." You select domestic or international, zip codes "from" and "destination" (or "country" if sending internationally), package weight and dimensions, then click on "calculate prices."
An Etsy free shipping calculator is offered by Etsy in their Shipping pages, that lets users know how much a USPS label costs when weight and dimensions are entered. Note that items weighing under 16 oz. can be mailed First Class. However, anything over that needs to go out by Priority Mail. Of course, prices will vary based on the ship-to location.
Etsy Shipping Labels
If you're wondering how do Etsy shipping labels work, the Etsy website explains in detail about shipping labels. Calculated shipping, available only to US and Canadian sellers, imports the package details into the shipping lable purchase page. For how to buy a label using Etsy's calculated shipping, after checking your order's details for accuracy, select "confirm and buy."
As stated in their fees tables, how much do Etsy shipping labels cost depends on your selections when purchasing Etsy shipping labels.
Etsy shipping labels are an add-on service offered by eEtsy for a fee, of course. Etsy labels are only available to US, UK, Australian and Canadian sellers so anyone elsewhere would have to find another way to print a label or hand-write the information.
Many sellers ask: "do I have to use Etsy shipping labels?" or "I don't want to use Etsy shipping labels." The short answer is: No, you don't have to use Etsy labels – you can hand-write the customer's name, address and other information on the package, as well as take them directly to the nearest post office for weighing and postage, or to a UPS facility. This works well for those smaller sellers who may not have direct access to printers, or whose printer isn't always reliable. Etsy doesn't "force" anyone to use their labels.
Once an order is designated "mark as complete" a pop-up box appears that allows a sender to manually enter a tracking number, such as when you take the package directly to a post office for mailing.
Ordoro, a leader in shipping software development, offers some of the best-in-industry discounts available through nearly every provider, with up to 67% savings through USPS.
Etsy Fees
Etsy fees are pretty straightforward and can be easily located on their Fees and seller-related pages. They cost about 20 cents per item to list; with another listing fee of 20 cents to renew. A listing is usually good for about four months. Fees are charged whether or not an item actually sells. If it does, then a 5% transaction fee, currently in place since 2018 after an increase of 1.5%), will be charged on the payment amount. (Note that this isn't the same as a label fee.)
Here's how to reduce Etsy fees: in order to offset the 1.5% fee increase to 5%, you can do one or more of the following:
Increase prices to stay profitable
Work on your marketing and SEO to attract more viewers and sales
Re-evaluate current shipping costs to see where you could cut costs.
Etsy fees calculator apps and software are offered by dozens of companies with costs varying wildly depending on features and complexity. Most have fields to fill in with item sale price information, shipping charge, item cost, shipping cost, payment method and possibly one of two other variables.
Etsy fees 2021 have been updated effective June 23, 2021:
Listing fee: .20 (USD) for each item listed
Automatic renewal: at the end of each four-month period, any unsold items will be automatically renewed by Etsy at .20 per item.
Transaction fees: 5% of cost for each listing plus the amount you charged for shipping and gift wrapping.
Etsy shipping integration
Etsy shipping integration allows sellers to ship orders through USPS, FedEx or Canada Post directly from their shop. Once a label has been purchased, the order is marked as shipped, then print the label and the package is ready for delivery.
About Etsy shipping soon: the term "shipping soon" normally means that the order has been allocated in the warehouse, and will be packed for shipping in the next day or so. In Etsy-land, it can also mean that the seller has purchased the postage on an order for a future ship date.
USPS shipping rates for US sellers on Etsy can be reduced as much as 30% over the retail post office or elsewhere online by purchasing USPS shipping labels on Etsy.
That sounds like a good deal and it is, but did you know that Ordoro also offers savings as much as 67% in discounted USPS shipping labels and costs? Not only that, but Ordoro's platform integrates well with most major and local shipping carriers, including USPS, FedEx, Canada Post, UPS, Australia Post and many more.
As a leader in Simple Order Management Software, Ordoro recently made independent reviewer Digital.com's list of best shipping software companies of 2021, whose selections of the top-rated companies were based on customer feedback and key features offered. Ordoro was required to support third-party integration with ecommerce platforms, accounting systems and other tools. Features such as inventory management, shipping tracking and shipping price calculators were also examined to measure performance and productivity.
From start-up to a thriving ecommerce store, Ordoro offers dropshipping and inventory management, multi-channel integration, kitting, picking and packing, multi-carrier shipping, analytics, automation, with FREE 30-day onboarding and lifetime support.