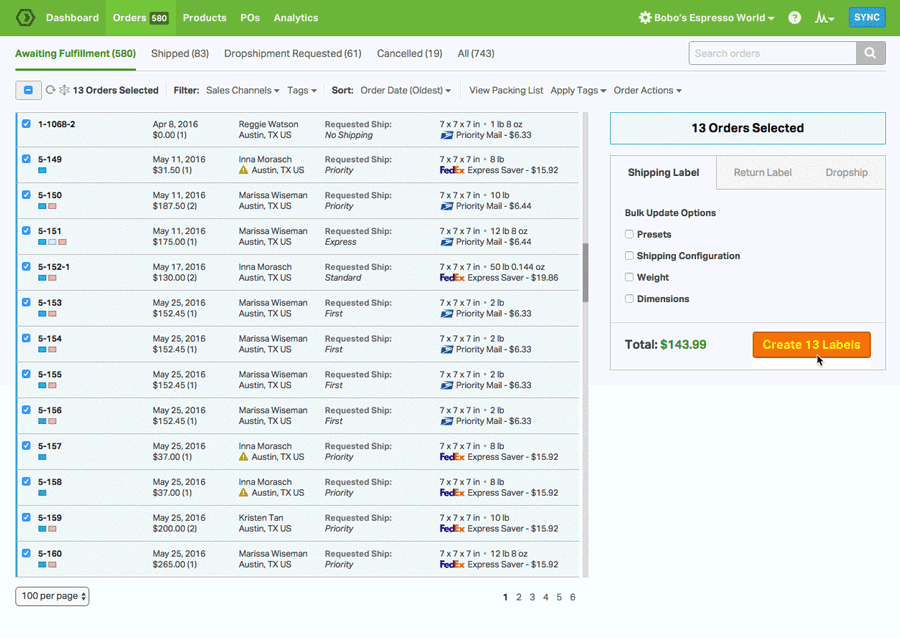 The All-In-One Magento Shipping Solution
The All-In-One Ecommerce Logistics Platform
Equip yourself with a comprehensive solution
Inventory Management
Stock, sync, and scan.
Automatically track and sync your inventory levels
Create and send out Purchase Orders when it's time to restock
Bundle multiple SKUs into one unit for sale
Use Barcode Scanning to reduce fulfillment errors
Multi-Carrier Shipping
Your workflow, minus the work.
Enjoy heavily-discounted shipping rates via USPS
Ship via any of our integrated shipping carriers like USPS, UPS, FedEx, DHL and Canada Post
Set up your own Automation Rules and Shipping Presets
Print shipping labels in triple-digit batches or individually
Dropshipping
Truly hands-off dropshipping.
Launch a dropshipping operation in a matter of clicks
Tag any product as drop shipped and assign it to a vendor
Choose between automated or manual routing
Activate a Vendor Portal between you and your supplier
Multichannel
We're your operations hub.
Integrate and view all of your sales and supplier channels in one spot
Use our open API to hook up any third-party or custom apps
Manage every aspect of your orders
Establish Supplier Feeds for real-time, back-end communication
Barcode Generation and Scanning
Raise the bar for stocking and packing.
Create UPC barcodes for your products
Scan, set, and search UPC codes for SKUs within Ordoro
Reduce fulfillment errors with our pack and pack barcode scanning workflow
Scan received POs to automatically adjust stock levels
Don't take our word for it
Our awesome customers have shipped some really great compliments our way:
"I spent about a month thoroughly searching for the right backend fulfillment software for my eCommerce business. There were definitely some big name guys out there that I considered, but at the end of the day, I went with Ordoro and I'm so glad I did!"

Tina Yarandi
Founder/CEO of Nature's Artisan
"Ordoro continues to add immensely valuable features to an already awesome sales/warehousing/shipping platform. Using Ordoro continues to save us time and money."

Anthony Krize,
VP of GE Holiday Lighting
Magento Shipping Solution
If you are trying to run a successful online business today, then you are probably using an ecommerce platform to help you manage this. However, there are also a wide variety of ecommerce platforms out there, so you need to think carefully about which one will be able to help you meet the needs of your customers and clients. You also need to compare each platform's abilities with the specific needs of your company, just to make sure that you are working with the best program to help you.
One such program that you might have encountered is Magento, which has quickly become one of the most popular ecommerce solutions available today. In fact, one of Magento's biggest selling points is that it offers more than just an ecommerce platform. Instead, Magento can also help you with shipping solutions and fulfillment as well.
When it comes to Magento shipping, consider your own experience with business shipping: you have probably already seen that this process can be expensive and time-consuming. As a result, shipping could be an area where your business might be able to save money. So if you are looking for a way to do that, then you might be looking for a Magento shipping solution that will work well in the Magento marketplace. When it comes to a shipping method for Magento 2 in particular, there are a lot of options available. Therefore, you need to think about the needs of your own company, compare these to the features offered by various shipping solutions, and find the one that will help you save the most time and money in the areas where you need it.
Before you can do even this, however, you also need to find a program that can help you figure out how shipping is calculated for various options and find a tool that can help you select the best one that will save you resources while still meeting the needs of your customers. If you can manage this, though, then you might be able to save a lot of time and money.
With all of this in mind, then, what is there to know about shipping via Magento? Take a look at a few of the most important points below.
Magento Shipping Calculator
As you are trying to figure out how to handle shipping on Magento 2, the newest version of this platform, you will also need to take a closer look at tools such as a Magento shipping calculator. A shipping calculator for Magento 2 can help you figure out exactly how much money you will need to pay in order to have orders delivered to their final destinations.
When it comes to Magento 2, it is important to know that there is a way to use Magento 2 to get shipping rates programmatically. You can also use Magento 2 to set free shipping programmatically and even take advantage of Magento 2 flat rate shipping as long as you know what you are doing. However, even ig you want to Magento 2 set shipping rate programmatically, you still need to make sure you know how much this will cost you, which is why you might want to use a Magento 2 table rates CSV example and compare this to Magento 1 shipping table rates.
When it comes to shipping on Magento 2, it is also important to know that there are three main factors that will each play a role in how much money it will cost to ship orders to their final destinations. These are all factors that you will want to keep in mind as you are trying to figure out how much you should be charging customers for shipping when they order something from your store on Magento 2.
The first factor is the weight of the items themselves. How much do these items weigh? The heavier the item is, the more money it is going to cost to get it to its final destination. The second factor is the distance. How far does the item have to travel to reach its final destination? The farther the item has to go, the more expensive it is going to be. Finally, the number of items will also play a role in the price of shipping. In each of these cases, though, there might also be an opportunity for you to get a discount on shipping your items, so keep this in mind and make sure to check your options as well when trying to figure out how much it might cost to handle shipping on Magento 2.
As previously mentioned, it might also be helpful to use a shipping calculator on Magento 2. That way, you can figure out exactly how much money you will need to spend in order to ship your items. While it might be a hassle to calculate this by hand, there could also be ways of automating some of these tasks. You do not necessarily need to have a lot of programming knowledge in order to do this on your own, so make sure that you take a look at a few of the widgets that might be available. You could be able to use these to set up a shipping calculator on Magento 2, which in turn would save you a lot of time and money.
Magento Shipping Tracking
Once you have shipped an order on Magento 2, you also need to handle Magento shipping tracking. That way, you know where your items are located as well as how long it might take them to reach their final destinations. As you do this, remember to take a closer look at the Magento 2 shipping rules as well. While the shipping rules on Magento 2 are pretty standard, it is also possible for them to change slightly from time to time.
Also, remember that you want to use a Magento tracking number to keep track of your packages as they head out to their final destinations. There is also a "Magento 2 add tracking number to shipment programmatically option" that could be helpful to both you and your customers. Remember that if you are able to keep your clients in the loop as they wait for their packages to be delivered, then they will be happier as well. This can go a long way toward convincing former and current customers to come back for future purchases as well.
So, take advantage of a comprehensive shipping solution for Magento 2, since this will help you make sure you get the most out of your online store.
Magento Shipping Extension
In order to make things easier on both you and your customers, you might also want to take advantage of a Magento shipping extension, or for the newest platform iteration, a Magento 2 shipping extension. This is an extension that you should be able to add directly to your browser, which will provide you with a tool that can help you automate a lot of tasks that you currently do by hand. For example, instead of having to go through a separate program to handle your Magento 2 shipping, you can simply use the browser extension and get this handled for you right in the same window.
You can also find and use a Magento delivery date extension that will help you handle your delivery tasks, keeping your clients in the loop on their orders as these are shipped and sent out for delivery.
Because of all these helpful options, make sure that you take a look at the Magento 2 extension list. That way, you will know about all the extensions that you might be able to use in order to help you automate your shipping needs. By taking advantage of everything that Magento 2 has to offer, you can maximize your chances of staying a step ahead of the competition.
Magento Shipping Codes
In addition to these useful browser extensions, there are also plenty of other tools that can help you handle your shipping in Magento 2. This includes your Magento shipping codes, which are important because they can help you price your orders quickly and easily as you are trying to figure out how and where to ship orders. For example, you might be looking at your Magento 2 table rates country codes and comparing these to the prices you would need to charge customers to help cover those costs and turn a profit. So make sure you know about the country codes and the role they play in your orders as you ship orders to customers overseas using Magento 2.
You might also want to add a Magento 2 coupon code extension free. If you use coupons to help you promote several of the products and services you sell, then one of these offers might be giving away free shipping. In this case, you might want to add an extension to your browser to help you manage this offer.
Remember that there might also be ways for you to handle Magento 2 get shipping method programmatically that can help you out with a lot of your Magento 2 delivery instructions. If you are able to expedite this process, then you can keep your customers happy and reduce your rate of cart abandonment. Because each one has its own ramifications for your business, make sure you do not overlook any of these options.
Magento 2 Shipping Integration
Ultimately, one of the best ways for you to get the most of your ecommerce store on Magento 2 is to invest in a complete Magento 2 shipping integration. If you can find the right Magento shipping integration, you can save a lot of time and money. You might even be able to locate Magento 2 free shipping for matching items only, which is fine. While coding knowledge might help you when it comes to your Magento 2 shipping issues, this is not necessarily required.
Also, keep in mind that processes such as shipping integration are not things that you have to handle alone. Instead, you can find experienced professionals who have the right knowledge and experience to help you optimize your shipping fulfillment processes. There is a balance to maintain here: while you do want to get your orders to customers as quickly as possible, you also do not want to pay any more than you have to when it comes to your shipping through Magento 2. However, if you conduct due diligence on all the options available and invest in an integration for shipping on Magento 2 right now, then you will maximize your chances of saving time and money down the road.