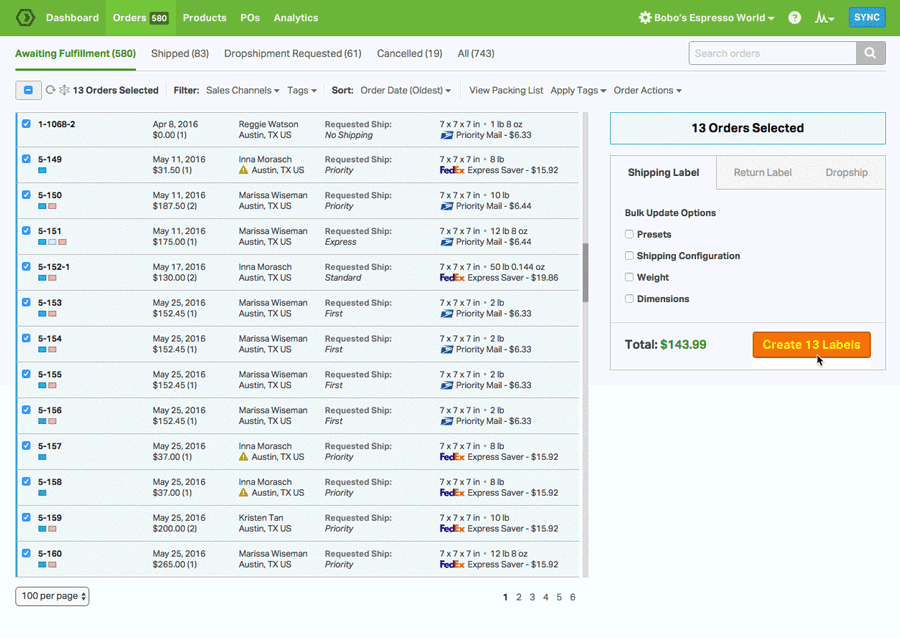 The Best WooCommerce Shipping Options
The All-In-One Ecommerce Logistics Platform
Equip yourself with a comprehensive solution
Inventory Management
Stock, sync, and scan.
Automatically track and sync your inventory levels
Create and send out Purchase Orders when it's time to restock
Bundle multiple SKUs into one unit for sale
Use Barcode Scanning to reduce fulfillment errors
Multi-Carrier Shipping
Your workflow, minus the work.
Enjoy heavily-discounted shipping rates via USPS
Ship via any of our integrated shipping carriers like USPS, UPS, FedEx, DHL and Canada Post
Set up your own Automation Rules and Shipping Presets
Print shipping labels in triple-digit batches or individually
Dropshipping
Truly hands-off dropshipping.
Launch a dropshipping operation in a matter of clicks
Tag any product as drop shipped and assign it to a vendor
Choose between automated or manual routing
Activate a Vendor Portal between you and your supplier
Multichannel
We're your operations hub.
Integrate and view all of your sales and supplier channels in one spot
Use our open API to hook up any third-party or custom apps
Manage every aspect of your orders
Establish Supplier Feeds for real-time, back-end communication
Barcode Generation and Scanning
Raise the bar for stocking and packing.
Create UPC barcodes for your products
Scan, set, and search UPC codes for SKUs within Ordoro
Reduce fulfillment errors with our pack and pack barcode scanning workflow
Scan received POs to automatically adjust stock levels
Don't take our word for it
Our awesome customers have shipped some really great compliments our way:
"I spent about a month thoroughly searching for the right backend fulfillment software for my eCommerce business. There were definitely some big name guys out there that I considered, but at the end of the day, I went with Ordoro and I'm so glad I did!"

Tina Yarandi
Founder/CEO of Nature's Artisan
"Ordoro continues to add immensely valuable features to an already awesome sales/warehousing/shipping platform. Using Ordoro continues to save us time and money."

Anthony Krize,
VP of GE Holiday Lighting
WooCommerce Shipping Options
One of the most popular options for those interested in starting an online store is WooCommerce. Not only is this WordPress ecommerce plugin easy to use, but it is also all-inclusive—which is a big draw for a lot of new brands or those just starting out.
Additionally, it works with nearly any WordPress theme, which is a definite bonus for brands that already have a website and want to add product sales or those who don't need a dedicated ecommerce platform like BigCommerce or Shopify.
However, where a lot of ecommerce business owners struggle when first using WooCommerce is with setting up shipping zones. What are these? A shipping zone is a geographical area where certain shipping methods and rates apply.
In terms of how this works with WooCommerce, this area can be as general as an entire country or as precious as a specific zip code. Unfortunately, each customer's address can only be associated with one shipping code, which sometimes creates an error.
See where this can get a little tricky? Thankfully, Ordoro can help. By plugging this app in with your new or existing WooCommerce store, you can easily configure things like shipping zones, postal rates, and so much more.
And the great part is that there's more than just WooCommerce shipping options within the software. You can also use it to dropship certain items, have different postal rates depending on a specific area, and other highly specific details that impact your overall logistics costs and how quickly an order gets to customers.
Think of Ordoro as your best choice for all things related to running a successful store on WooCommerce.
Woocommerce Shipping Zones
Setting up your WooCommerce shipping zones is an important part of configuring your online store. Essentially, each zone is a geographical area, WooCommerce shipping zones postcodes, that certain shipping methods and rates apply. There are various ways to get this task done, but the most important thing to remember is that you need to have an idea as to how you want to classify the different areas.
For example, you can create WooCommerce shipping zones by city or use another type of shipping distance, like zip codes. Generally, the option you choose comes down to the most common size and weight of your orders and how your preferred shipping company configures rates.
Why do shipping zones matter? When a customer places an order, it automatically chooses the right option for their location, making it easier to accurately quote pricing. Even if you always offer free shipping, it is important to know what the overall cost to get an order to the client's door actually is.
To make setting up shipping zones easier, you might consider using a WooCommerce shipping zone plugin, which will help you customize any settings and get the right option for your needs. The good news? Ordoro works as a great shipping software option, which makes setting zones a lot easier than trying to do it manually.
WooCommerce Shipping Classes
Another part of configuring your online store is setting up WooCommerce shipping classes. In most cases, you would want to use this feature to group certain types of products to specify certain elements associated with the shipment.
For example, if you were setting up WooCommerce shipping classes by weight, you might assign a certain class to a bulkier item and a different categorization to those that are smaller. This is especially helpful if you're selling products that are oversized or need a specific shipping surcharge, like furniture or other similar items.
The end result is that when a customer places an order for that product, the Woocommerce shipping rates will automatically adjust to reflect the item's shipping class parameters. In addition, it is important to note that you can configure WooCommerce multiple shipping classes per product.
From there, you can copy those shipping parameters to multiple item groups or keep them as a single product category. This will really depend on your needs and how you plan on shipping items.
Again, having a plugin or additional app to make this easier is definitely recommended. With Ordoro, you can easily set WooCommerce shipping class costs according to your needs and product inventory. Our platform also makes it easier to coordinate these settings with other areas in your business, such as shipping from your own warehouse locations in various regions throughout the country.
The best part about Ordoro and WooCommerce is that you can really coordinate all of your shipping needs together—no matter if you have a small dropship business or if your online brand has multiple locations nationwide. When you combine this feature with other elements available with Ordoro, it is easy to see why we're trusted by so many brands as the best shipping software for their needs.
WooCommerce Shipping Labels
One of the most important parts of configuring your online store is making it easy for your team to print WooCommerce shipping labels when a customer places an order. In addition, printed packing lists and/or invoices that reflect the order information are also important.
While you could look for a WooCommerce shipping labels plugin, your best resource for this process is Ordoro. Not only can you print shipping labels individually or in WooCommerce bulk print shipping labels, but you can even automate the workflow to ensure this happens the moment the order comes through the system. This increases efficiency considerably for your team and ensures labels are printed the second the customer finishes the checkout process.
Further, Ordoro works to assign filterable tags and search features to provide the status and activity of every shipment, making it easy to see everything on a single interface. The end result is a better level of productivity for you and your staff, better picking and packing processes, and fewer mistakes within the order fulfillment process.
When you think about all the time saved by not having to print WooCommerce shipping labels or pack sheets individually, you can see why this software is so valuable for online retailers.
WooCommerce Shipping Calculator
When it comes to opening an online store, one of the trickier aspects is ensuring you're calculating the right shipping costs each time a customer places an order. With so many different variations of how shippers change rates and the thousands of different zip codes a package could go to, having a WooCommerce shipping calculator on checkout is important.
The good news is that you can use a shipping calculator WordPress plugin to add this option to your online store. This makes it a lot easier for customers to know how much they're paying in shipping fees before they place an order.
With Ordoro, you can also easily calculate shipping costs based on numerous factors, like zones and certain shipping classes. Not only does this make it easier to ensure you're collecting enough fees from your shoppers, but it also makes it easier to see what your exact costs are if you're offering free shipping. When you can compare this information, it allows you to see if free shopping is still profitable as a sales approach or if you need to increase the overall cost of the product to offset these fees. Of course, this is just another one of the many benefits of choosing Ordoro for your ecommerce needs.
WooCommerce Shipping Plugin
As a simple order management software program, there's nothing else like Ordoro on the market. Named as one of the best apps in the ecommerce industry, it offers the ability to streamline multiple processes including shipping into one convenient solution.
Ordoro works as a WooCommerce shipping plugin that allows you to mix and match your shipping methods, tap cost-effective shipping rates, and so much more. There's even an integrated USB scale support feature to ensure shipment information is as accurate as possible.
Whether you're using multiple WooCommerce shipping options at checkout or just want to automate your label printing, Ordoro is here to help you make that happen. For companies with multiple warehouses or partial dropship orders, having a robust program is incredibly important.
That's far more than any WooCommerce shipping plugin free solution on the market. Plus, Ordodo also makes it easier to sell on various platforms at once. For example, if you have both a WordPress shop and still sell on Walmart.com, Amazon, eBay, etc.
You can also print order tickets, integrate your favorite barcode scanner, and run automated reports to keep track of inventory, costs, and orders all in one easy-to-use interface.
In fact, our total ecommerce solution is great for both small and enterprise level online retailers. That means you can have a single product catalog or thousands of SKUs and still enjoy the benefits of Ordoro.
Additionally, we want our customers to succeed. That's why we have a free thirty-day onboarding program and offer unlimited support along the way. Think of it as our way of ensuring you have what you need to get the most out of Ordoro's many exceptional features.
Ready to learn how Ordoro can help you improve your WooCommerce online store? Schedule your demo for more information.