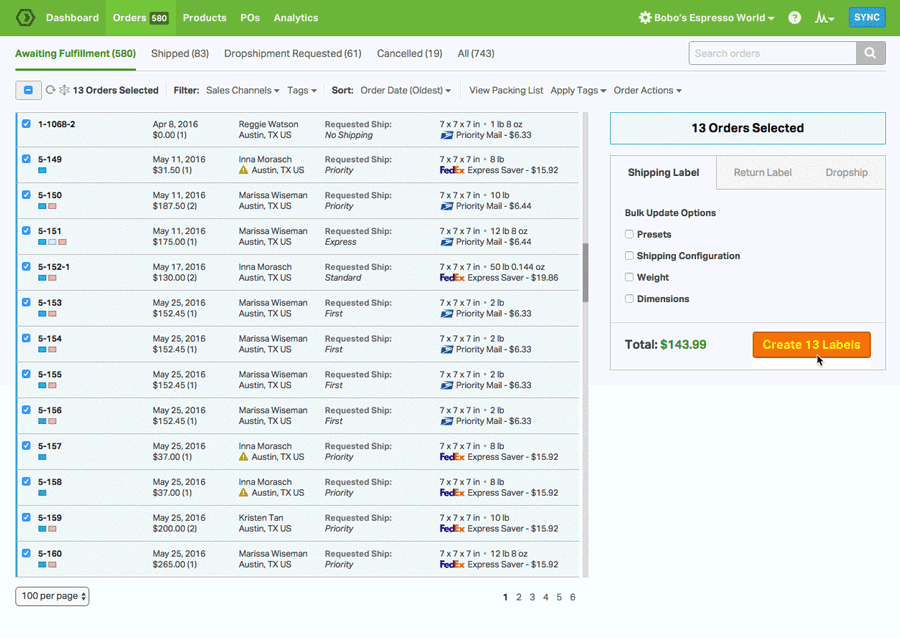 Identify And Compare WooCommerce Shipping Classes With Ordoro
The All-In-One Ecommerce Logistics Platform
Equip yourself with a comprehensive solution
Inventory Management
Stock, sync, and scan.
Automatically track and sync your inventory levels
Create and send out Purchase Orders when it's time to restock
Bundle multiple SKUs into one unit for sale
Use Barcode Scanning to reduce fulfillment errors
Multi-Carrier Shipping
Your workflow, minus the work.
Enjoy heavily-discounted shipping rates via USPS
Ship via any of our integrated shipping carriers like USPS, UPS, FedEx, DHL and Canada Post
Set up your own Automation Rules and Shipping Presets
Print shipping labels in triple-digit batches or individually
Dropshipping
Truly hands-off dropshipping.
Launch a dropshipping operation in a matter of clicks
Tag any product as drop shipped and assign it to a vendor
Choose between automated or manual routing
Activate a Vendor Portal between you and your supplier
Multichannel
We're your operations hub.
Integrate and view all of your sales and supplier channels in one spot
Use our open API to hook up any third-party or custom apps
Manage every aspect of your orders
Establish Supplier Feeds for real-time, back-end communication
Barcode Generation and Scanning
Raise the bar for stocking and packing.
Create UPC barcodes for your products
Scan, set, and search UPC codes for SKUs within Ordoro
Reduce fulfillment errors with our pack and pack barcode scanning workflow
Scan received POs to automatically adjust stock levels
Don't take our word for it
Our awesome customers have shipped some really great compliments our way:
"I spent about a month thoroughly searching for the right backend fulfillment software for my eCommerce business. There were definitely some big name guys out there that I considered, but at the end of the day, I went with Ordoro and I'm so glad I did!"

Tina Yarandi
Founder/CEO of Nature's Artisan
"Ordoro continues to add immensely valuable features to an already awesome sales/warehousing/shipping platform. Using Ordoro continues to save us time and money."

Anthony Krize,
VP of GE Holiday Lighting
WooCommerce Shipping Classes
Separating the items you regularly ship into shipping classes can really help you save on shipping costs. That's why some businesses that partner with ecommerce entrepreneurs provide ways for sellers to do that. WooCommerce is one of them. There is a popular Wordpress plug-in that allows sellers to set up WooCommerce shipping classes. Shipping classes allow sellers to group similar types of products together in order to utilize the lowest possible rates for shipping. For example, it's possible to create different flat rate shipping costs for different types of products. Using the plug-in, you can configure shipping zones, then add WooCommerce shipping class costs to the shipping method. A shipping zone is a geographical area that provides the shipping distance, such as a city or zip code. The plug-in offers several options, such as "add shipping class WooCommerce" and "WooCommerce set shipping class programmatically". The WooCommerce shipping class price is calculated using a combination of the class of items and the shipping zone. The best option depends on the size and weight of your orders and how your shipping company configures their rates. After you've set up shipping classes, when a customer places an order for a product, the WooCommerce shipping classes become the parameters for automatically adjusting the shipping rates. Investing in a comprehensive software solution like Ordoro that includes top-rated shipping software can save you even more. Designed specifically for ecommerce, its seamless integration doesn't limit you to one storefront or partner, like WooCommerce, but provides multi-channel capability.
WooCommerce Shipping Classes By Weight
Setting up WooCommerce weight based shipping without plugin assistance isn't just difficult—it's impossible. Luckily, someone developed a plugin for that. It utilizes a series of screens that guide the user through the following four-step process:
Creating an advanced shipping rate by clicking on that option
Choosing parameters for the weight range, such as 5 to 10 pounds
Setting the shipping cost for the weight range using variables that include the title, the cost per item, cost per weight, any handling fees, and the tax status
Saving the information and repeating the process for other weight ranges
Ordoro gives you built-in USB Scale Support, which is a great tool for helping ecommerce entrepreneurs stay organized. Just hook up a scale to your device, weigh your package, and Ordoro can give you a weight rate calculation based on your preferred shipping method almost instantly. Once you've set the weight for your products, Ordoro does the math for you and automatically calculates the total weight of the shipment according to the weight of each product in the shipment. It also automatically adjusts your inventory every time you add an item to a shipment. That means you can always see at a glance exactly how many of each item you have remaining in stock. The more processes you can automate, the more time you'll have to spend cultivating new customers.
WooCommerce Per Product Shipping
If you need to calculate shipping costs per product, there is also a popular WooCommerce per product shipping add-on that you can purchase. It gives you several options, including "WooCommerce add shipping cost per product". You can also edit those costs according to both the product and the situation, such as an end-of-the-year clearance sale. With WooCommerce multiple shipping classes per product is possible as well. For example, you may not need the same level of shipping for an item being shipped domestically as you would for one being shipped internationally. Being able to change the shipping class for the same product can be a real money-saving strategy. Some of the functions the add-on allows you to perform include:
Define per-item costs per product and variation
Determine how costs vary according to destination
Calculate import and export rates using their CSV handler
Calculate the final cost as the sum of all the products in a shipment
These functions are especially useful for those who sell larger, heavier items or have only a few products with set shipping fees. Increasing your shipping options and reducing your shipping costs is a good strategy for increasing your profits. With Ordoro, there's no need to purchase a separate add-on to take advantage of these features. The fewer external moving parts your shipping process has, the faster, more efficient, and more dependable it will be. Ordoro's multi-carrier shipping software eliminates the need for multiple plug-ins to accomplish the task of reducing shipping costs and increasing your bottom line.
WooCommerce Shipping Rates
WooCommerce shipping options include flat rate shipping, free shipping, and local pickup. Customers love options! WooCommerce multiple shipping options include the above, plus shipping class and zone options. Depending on what type of app you're using, you can also calculate WooCommerce shipping rates by city. One of Ordoro's most popular features is the ability to quickly create and print shipping labels in batches or individually. Packing lists can be printed with a few clicks of a mouse, too. Ordoro has a reputation as not just the best shipping plug-in for WooCommerce, but for WooCommerce and a number of other sites as well. The deep industry USPS discounts that are also built-in make it possible to offer your customers free shipping more often. So many WooCommerce sellers requested a shipping calculator that someone created a Wordpress plugin to make it easier for people to calculate their shipping costs. Since shipping costs are the largest expense faced by sellers, being able to customize your shipping processes to accommodate your specific merchandise and destinations is essential. After researching and comparing both domestic and international shipping rates, you'll know which company to use for specific routes and for specific types of merchandise. You'll know whether and when to bundle multiple orders to a single location to take advantage of lower rates. By investing in an integrated system with multi-channel, multi-carrier capability, you'll be able to compare the shipping rates of several carriers in any part of the world where you have customers from one screen with a few clicks of a mouse.
WooCommerce Shipping Zones
Shipping zones are specific geographical areas. Rates are determined in part by the distance between the zone the items are shipped from and the destination zone. The less distance between those two points, the lower the cost. That's why so many people choose to store and ship from multiple warehouses in multiple locations. It's also why Ordoro's multi-channel capability is so popular. Whether you prefer regions or zip codes, it can be helpful to establish shipping zones by drawing a map. The WooCommerce shipping zone plugin can show WooCommerce shipping zones by city. For international shipping, you can also utilize the list of WooCommerce shipping zones post codes. The multi-step process begins with setting up shipping zones. From there, you can add shipping methods to the zones, and finally, you add rates to the methods. You can create as many zones as you want, and each zone can have multiple methods and rates. When you set up a shipping zone, when a customer places an order, the software automatically chooses the best option for their location. Being able to accurately predict your shipping costs is important, especially when you want to offer your customers free shipping. It's not free to you- just ask your accountant. Using an integrated system like Ordoro for this money-saving process means you won't have to download and learn to use WordPress plug-ins to get the job done. Great shipping software that integrates seamlessly with WooCommerce is already built-in. Ordoro makes the process far easier than doing it manually with a separate plugin.
WooCommerce Multiple Shipping Options
While learning about WooCommerce's multiple shipping options and how best to utilize them for maximum savings may seem complicated, it's well worth the investment in time. Time and a good software system are probably the two investments that pay the biggest dividends in the world of ecommerce. Whatever type of online store you have, or how many, Ordoro can streamline your order processing and shipping processes. Multi-carrier shipping allows you to find the best possible price for every shipment. Just as importantly, your inventory is automatically adjusted with every sale or purchase, so you always have merchandise on hand in the best possible location to save on shipping costs. Shipping features include:
Mix and Match Shipping Methods —Use a combination of shipping carriers including USPS, UPS, FedEx, DHL International, Canada Post, or Amazon Seller Fulfilled Prime account.
Deep Discounts on Shipping Rates— Take advantage of industry discounts of up to 67% through USPS, and the ability to compare multiple carriers' prices at a glance from a single dashboard.
USB Scale Support—Hook up a USB scale to whatever device you're using, weigh your shipment, and the app will record the weight and calculate the shipping rate based on your selected shipping method.
Ordoro successfully incorporates and automates every feature your business needs to succeed. It continues working behind the scenes long after you've called it a day. Their free 30-day onboarding teaches you to customize those features to produce maximum benefit for your specific business. Because it's fully scalable, they even offer lifetime support. Whether you're just starting out, or you've been in business a while, Ordoro could be the first— and last—fully integrated ecommerce software system you'll ever need to learn to use.