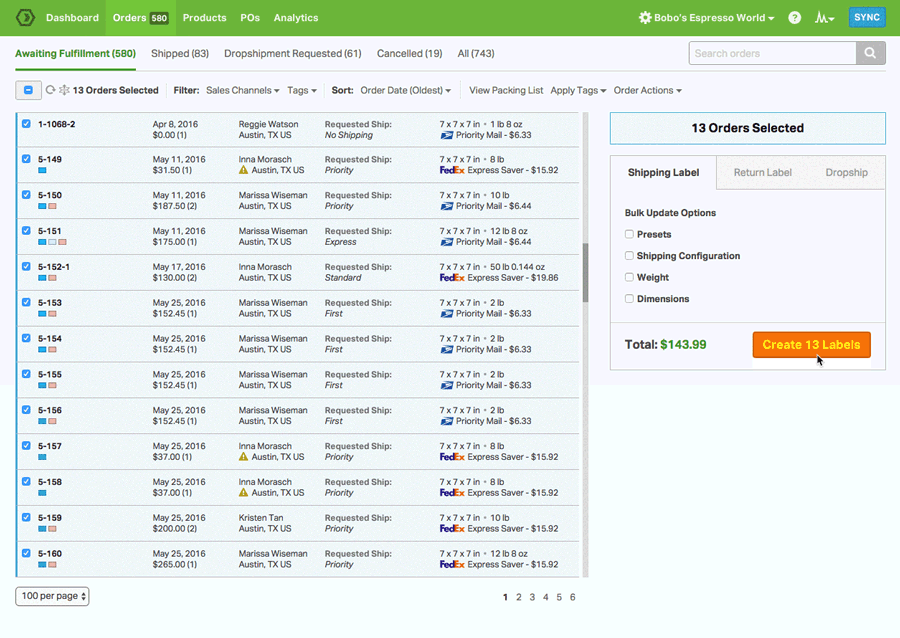 The All-In-One Platform That Helps You Manage WooCommerce Shipping Labels
The All-In-One Ecommerce Logistics Platform
Equip yourself with a comprehensive solution
Inventory Management
Stock, sync, and scan.
Automatically track and sync your inventory levels
Create and send out Purchase Orders when it's time to restock
Bundle multiple SKUs into one unit for sale
Use Barcode Scanning to reduce fulfillment errors
Multi-Carrier Shipping
Your workflow, minus the work.
Enjoy heavily-discounted shipping rates via USPS
Ship via any of our integrated shipping carriers like USPS, UPS, FedEx, DHL and Canada Post
Set up your own Automation Rules and Shipping Presets
Print shipping labels in triple-digit batches or individually
Dropshipping
Truly hands-off dropshipping.
Launch a dropshipping operation in a matter of clicks
Tag any product as drop shipped and assign it to a vendor
Choose between automated or manual routing
Activate a Vendor Portal between you and your supplier
Multichannel
We're your operations hub.
Integrate and view all of your sales and supplier channels in one spot
Use our open API to hook up any third-party or custom apps
Manage every aspect of your orders
Establish Supplier Feeds for real-time, back-end communication
Barcode Generation and Scanning
Raise the bar for stocking and packing.
Create UPC barcodes for your products
Scan, set, and search UPC codes for SKUs within Ordoro
Reduce fulfillment errors with our pack and pack barcode scanning workflow
Scan received POs to automatically adjust stock levels
Don't take our word for it
Our awesome customers have shipped some really great compliments our way:
"I spent about a month thoroughly searching for the right backend fulfillment software for my eCommerce business. There were definitely some big name guys out there that I considered, but at the end of the day, I went with Ordoro and I'm so glad I did!"

Tina Yarandi
Founder/CEO of Nature's Artisan
"Ordoro continues to add immensely valuable features to an already awesome sales/warehousing/shipping platform. Using Ordoro continues to save us time and money."

Anthony Krize,
VP of GE Holiday Lighting
WooCommerce Shipping Labels
When it comes to finding the right ecommerce solution for your online store, WooCommerce is a wonderful option. Designed to turn any WordPress website into a shopping page, the plugin is both free and effective for all types of products.
Many people like WooCommerce, mostly because it gives them the opportunity to try out having an online store without a monthly fee or having to worry about completely redesigning a website they already have. Maybe you already have a blog and want to add the option to sell merchandise, which is where a solution like this would be really handy.
However, there are aspects that can be a bit difficult to configure if you aren't used to technical details. For example, WooCommerce shipping settings require you to set things like zones, categories, and other elements in order for you to get the most out of using it. Many new users report being frustrated by this process and usually end up asking for help.
That's where having a solution like Ordoro can come in handy. For WooCommerce store owners, the process of integrating our ecommerce software with your website is easy and effective. Plus, it gives you the opportunity to automate certain tasks, like printing WooCommerce shipping labels the moment a customer places an order.
Not only does Ordoro provide WooCommerce label functionality, but it also integrates with barcode scanners, allows you to run reports on sales data, and a whole host of other features that come together to create one of the most robust ecommerce solutions on the market.
WooCommerce Shipping Labels Plugin
Are you looking for a WooCommerce shipping label plugin? Ordoro is a full-service ecommerce app that fully integrates with your online store. That includes multi-shipper support and dropshipping options, too. And it integrates with the various WooCommerce shipping settings, making it easier to customize them to your needs and the type of product you sell the most often.
Best of all, Ordoro also integrates with your favorite WooCommerce shipping label printer. Imagine being able to automated the printing process by using an app that allows you to create labels the moment a customer places an order. With Ordoro, this is not only possible, but a feature that most retailers using WooCommerce actually prefer, as it makes the picking and packing process far more efficient.
Why settle for a solution that's only a WooCommerce shipping labels plugin when Ordoro does so much more? Rated as one of the best inventory management and ecommerce apps available, you can utilize it to track analytics, handle inventory management, provide customer service support, and so much more. There's even an option to handle tasks like kitting, print reports, omnichannel sales, etc. Simply put, there's a ton of robust features that make growing your online store or ecommerce business as easy as possible.
Keeping all of that in mind, why would you want to settle for a basic WooCommerce shipping plugin when you can have so much more from a single dashboard? Thankfully, Ordoro provides exactly what you're looking for and so much more.
WooCommerce Bulk Print Shipping Labels
Are you wondering what WooCommerce label printing plugin allows you to create bulk labels? While there are a few out there, we suggest using Ordoro for this purpose.
Why is this the best option? In addition to allowing you to automate many processes associated with running a WooCommerce store, Ordoro also helps you create shipping presets that make the whole process easy, simple, and efficient.
How does this work? By creating shipping presets ahead of time, you can save yourself and your team a drastic amount of time when you're finally ready to batch print shipping labels to fulfill customer orders.
These shipping presets make it possible to handle WooCommerce bulk shipping by drastically reducing the time and effort required when printing labels. In Ordoro, you can choose from a variety of shipping specifics like shipping carrier, method, ship date, and product dimensions. Then save them as a preset, which then allows you to apply them to orders in bulk to create up to hundreds of printed shipping labels at one time with a few simple clicks.
The end result is a better workflow for high-quantity order fulfillment. Additionally, you can automate the entire process to ensure shipping labels print the moment the customer places an order or in a daily batch system at a specific time.
If you're tired of dealing with basic WooCommerce label printing plugin options that don't offer a whole lot of additional functionality, then it is time to upgrade to the robust features that Ordoro provides.
WooCommerce Shipping Classes
It's pretty safe to say that all ecommerce brands depend on the shipping industry in some capacity. And that means shipping fees are a constant worry. While this is often part of the cost of doing business, there's no way to escape shipping fees—which is why your brand should do everything within its power to lower them.
After all, any method you can find to save on shipping costs creates a better result for your overall profit margin. To achieve this, you need to consider five basic elements of the process: shipment weight, dimension size, time to delivery, and the carrier.
Of course, most people wouldn't be able to figure out any of that on their own. Instead, most ecommerce platforms have a built-in option for doing that. For those that use WooCommerce, you will likely need to install a specific WooCommerce shipping calculator plugin that comes up with these figures for you.
From there, you can adjust your WooCommerce shipping classes by weight and other factors to ensure you're getting the lowest possible rates without sacrificing customer service. However, that isn't all you need to do.
Using an integrated management system like Ordoro allows you to improve this process even further. The app includes multi-channel, multi-carrier support, which gives you a good idea of when to bundle multiple orders to a single location together to help save on shipping. In fact, this is one of the easiest ways to optimize your WooCommerce shipping classes and ensure you're getting the most out of each shipment.
WooCommerce Shipping Plugin Free
If you're searching for a WooCommerce shipping plugin, free downloads aren't always the best answer to your needs. While there are plenty of options on the market, finding one that integrates with your other systems while giving you the best savings isn't usually possible.
Cutting overhead costs by skipping on software is one way that a lot of small brands try to save, but this is usually a big mistake. Free WooCommerce plugins aren't nearly as robust as a solution like Ordoro, which means you'll end up sacrificing efficiency in the end.
Plus, most free plugins aren't designed to scale with businesses as they grow. This means you'll have to make big changes in the future as you start to process and ship more orders from your WooCommerce store.
Instead, it is better to work with a robust program like Ordoro from the very beginning. While there is a small cost associated with the app, the features far outweigh the fees and make it easier to enjoy better flexibility in the future.
So, when should you use a free WooCommerce shipping plugin? If you're at the very beginning stages of your business and don't know what features you really need when it comes to shipping, it might be a good idea to play around with a free option to narrow down what you're looking for. Once you've done this, then you can see how Ordoro compares in terms of features and workflow to determine the best ways to use the app for your specific business.
WooCommerce Shipping Plugin
Are you tired of searching all over the web for the best shipping plugin for WooCommerce 2021? Instead, opt for Ordoro over a free option.
Named the best shipping software company in 2021 by Digital.com, our platform works with WooCommerce to give brands the most flexibility and efficiency possible. Not only do we offer multi-carrier shipping, but our app allows you to handle other tasks like automated label printing, multichannel integration, automation, pick and pack list printing, and so much more.
There's a reason why we're regarded as one of the best in the industry, whether you use WooCommerce or another online store platform, like Shopify or BigCommerce. The sheer number of features, free thirty-day onboarding program, and lifetime support ensure your business can grow while still using the numerous robust features Ordoro offers.
Best of all, it can also provide you with advanced features like barcode scanning, dropship fulfillment, analytics, reporting, and a ton more. Whether you're a small business just beginning your online retail adventure or a seasoned enterprise with hundreds of warehouses around the globe, Ordoro is your best all-in-one inventory and shipping solution.
If you're looking for a solid WooCommerce shipping plugin for your online store, then you'll love what Ordoro has to offer. Please schedule a demo today to learn more or to try it out for yourself.