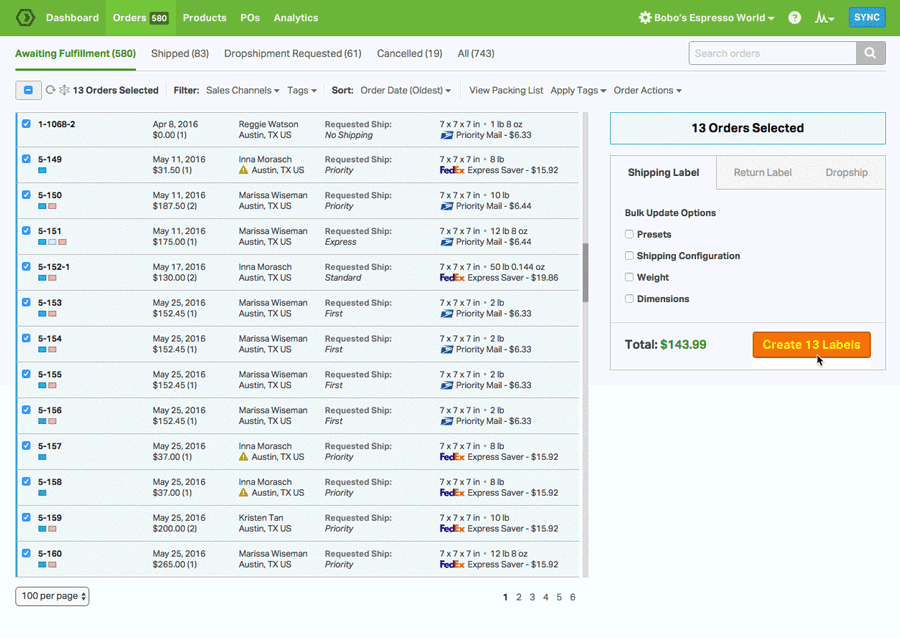 The Best UPS Marketplace Alternative On The Market
The All-In-One Ecommerce Logistics Platform
Equip yourself with a comprehensive solution
Inventory Management
Stock, sync, and scan.
Automatically track and sync your inventory levels
Create and send out Purchase Orders when it's time to restock
Bundle multiple SKUs into one unit for sale
Use Barcode Scanning to reduce fulfillment errors
Multi-Carrier Shipping
Your workflow, minus the work.
Enjoy heavily-discounted shipping rates via USPS
Ship via any of our integrated shipping carriers like USPS, UPS, FedEx, DHL and Canada Post
Set up your own Automation Rules and Shipping Presets
Print shipping labels in triple-digit batches or individually
Dropshipping
Truly hands-off dropshipping.
Launch a dropshipping operation in a matter of clicks
Tag any product as drop shipped and assign it to a vendor
Choose between automated or manual routing
Activate a Vendor Portal between you and your supplier
Multichannel
We're your operations hub.
Integrate and view all of your sales and supplier channels in one spot
Use our open API to hook up any third-party or custom apps
Manage every aspect of your orders
Establish Supplier Feeds for real-time, back-end communication
Barcode Generation and Scanning
Raise the bar for stocking and packing.
Create UPC barcodes for your products
Scan, set, and search UPC codes for SKUs within Ordoro
Reduce fulfillment errors with our pack and pack barcode scanning workflow
Scan received POs to automatically adjust stock levels
Don't take our word for it
Our awesome customers have shipped some really great compliments our way:
"I spent about a month thoroughly searching for the right backend fulfillment software for my eCommerce business. There were definitely some big name guys out there that I considered, but at the end of the day, I went with Ordoro and I'm so glad I did!"

Tina Yarandi
Founder/CEO of Nature's Artisan
"Ordoro continues to add immensely valuable features to an already awesome sales/warehousing/shipping platform. Using Ordoro continues to save us time and money."

Anthony Krize,
VP of GE Holiday Lighting
UPS Marketplace Alternative
Marketplace connections for customers using integrative software are made easier with third-party solutions. UPS is one of the forerunners in this area of logistics. With UPS, not only can customers receive packages from anywhere on the planet, but the shippers have access to a bevy of services. This includes several shipping tools within the UPS Marketplace. However, recently there have been great changes made to the UPS Marketplace.
The use of the UPS Marketplace is changing dramatically because the corporation has dropped several sales channels for integration purposes. No longer can shipping customers access Rakuten, Magento, or WooCommerce through the UPS Marketplace. Additionally, popular marketplaces like Walmart and Etsy are no longer supported by the UPS Marketplace, making it important to find viable alternatives.
According to UPS, this change is effective as of March 29, 2022, "All marketplace shipping connections between 3D Cart, Allegro, BigCommerce, Etsy, Jet, Magento, Newegg, Overstock, Prestashop, Rakuten, Sears, Shopify, Volusion, Walmart, WooCommerce and Yahoo Shopping have been shut down. You're currently still able to access all your shipping and order history." What this means for you as a shipper is that you are going to need to find new marketplace integrations if you are selling with either of these platforms.
The thing is, most shippers are, which is why this untimely and blanket style shutdown of many marketplace integrations by the UPS Marketplace is so dramatic. Such a wide berth of shipping customers and shop owners are directly put out of line with the lack of connections. If you are currently operating with Etsy, for example, you will have to use USPS or some other shipping agency instead of UPS. Shipping with UPS is not going to work as seamlessly for you or your customers.
While UPS tracking and other tools that are so beneficial for shipping with UPS are no longer available, you are not alone or without options. There are plenty of tools and app integrations for shipping customers at Ordoro. We specialize in supplying your UPS Marketplace alternative.
UPS Marketplace Shipping
The UPS Marketplace offers a plethora of services and tools for customers. This includes many apps that work with third parties for logistics solutions. If you are trying to track a package, search for a customer receipt, or print out shipping information, everything is available through the UPS Marketplace. As for tools for a small business, UPS Marketplace shipping provides an ideal way to manage shipping for many types of businesses and industries. Additionally, the use of the UPS logo and shipping service will set your company apart from the crowd.
Many shipping customers prefer to use certain shipping vendors, such as UPS, for example. They will intentionally use online markets and vendors that work with various payment and shipping providers for their convenience. For instance, as a business, when you start working through the UPS Marketplace to ship orders, you have all of these tools in one convenient online dashboard. You are also able to find out about:
UPS delivery estimate
UPS secure shipping
UPS collection tracking
By letting UPS handle all of the heavy work in terms of finding the right logistics and technology for tracking shipments and other aspects, small business owners relieve themselves of this high-tech burden. Rather than having to invest in shipping technologies and logistics services right off of the bat, small business owners and startups are able to utilize the ready-made resources via the UPS Marketplace.
Of course, this is only going to work now if you are operating on one of the remaining platforms still on the UPS Marketplace. If you are selling primarily through Etsy, Sears, or some of these particular-name branded storefronts, then you are going to need to find a new integration for shipping and tracking. Ordoro is a great solution for picking right up where the UPS Marketplace left off.
UPS E-Commerce Integration
Ordoro is here to assist those online merchants who are unable to access the UPS Marketplace. The UPS e-commerce integration includes several plug-ins for shipping that integrate with technology. These plug-ins are trademarked by Itembase and provide free solutions for UPS shipping customers. If you are shipping with UPS and through their marketplace system, you can use these plug-ins for:
Free integration
UPS Access Point™ location
Setting your own shipping rates
Printing shipping labels
Managing batch process orders
Real-time tracking information
Display of accurate delivery schedule and timing
These plug-ins are in addition to other plug-ins now available only through their developers, which are:
Magento, an open source and cloud-based omnichannel solution
OpenCart, an open-source online shopping cart
PrestaShop, an e-commerce system
WooCommerce, an open source e-commerce tool for WordPress merchants
As you can see, these are not all available on the UPS Marketplace. Also, three of these are open source software. When you are working with a company, privacy and security are at a premium. You want to avoid software that is open source since it is available for any programmer or developer to alter. If you are working with a corporate account that requires a certain system, the last thing you need is for an open-source solution to suddenly be altered or shut down due to malignant activity. Trusting your business to a professional like Ordoro, where you control your inventory software, is the best way to go about finding the right UPS Marketplace alternative.
UPS Account
When customers transition from UPS Marketplace to Ordoro, the process is simple and efficient. They can connect to their UPS shipping account, as well as access other shipping carriers and shipping discounts. This makes saving money and staying active with shipping orders easier than ever. Plus, you are getting the modern-day plug-ins and access that Ordoro's marketplace has to offer.
Ordoro is so good at supplying order fulfillment software that UPS even recommends Ordoro as a UPS Marketplace alternative software. Check it out! On the UPS website, Ordoro is the first company mentioned as an alternative to the USP Marketplace, along with Postmen and Sellercloud. Keep going with batch file shipping of up to 250 shipments per file or get moving with a single shipment today. The Ordoro team is completely aware of the UPS Marketplace changeup and is ready to assist all new customers with solving their shipping needs.
The Ordoro shipping integrations are readily in place to ship via:
UPS
USPS
DHL International
FedEx
Canada Post
Amazon Seller Fulfilled Prime account
International shipping
Domestic shipping at the best rates
If you have been dependent on the UPS website for shipping and have a UPS account, let Ordoro step in and complete the shipping for your business. We have the best rates for shipping at a discount of up to 67 percent with the USPS. Save money and time when you have your shipping account set up with the latest plug-ins and software. Using our multi-channel technology, Ordoro also helps you manage your:
Sales channel
Custom API integration
CSV upload
Order imports
Routing to 3PLs
Routing to dropshippers
You maintain master control over the multichannel shipping department of your business. At the same time, you also gain the newest tools for the supply side of warehousing and inventory. Stay on track with shipments and never run short of supply again when you are in control of your Ordoro data.
UPS Shipping
There are so many ways that Ordoro is here to help online merchants with a UPS shipping login. This starts by being the one-stop-shop for all of your shipping. Use a single app to control multiple sales channels. Create custom labels for shipping and print them out individually or for batch orders. This includes return labels and international shipping labels, too! Ordoro even has auto-relays for shipping information. That way, your entire team is on the same page when it comes to shipping and receiving products.
You can also buy postage and insurance for your shipments by using the Ordoro UPS shipping app. Get all of your UPS shipping boxes and materials delivered straight to your business. This will save you so much time and hassle storing extra shipping supplies, as well as prevent you from having out-of-date shipping information on labels. Print each UPS shipping label on-demand and reduce your overhead. Use the UPS shipping calculator to calculate the total cost of shipping with a variety of services, such as overnight delivery or second-day delivery.
Then, use a modern-day shipping service like dropshipping to get things done fast and efficiently. Dropshipping is the latest trend on the Amazon marketplace, where customers can order and receive shipments–without any extra effort from your logistics team. We have everything on hand, so you can easily use UPS shipping boxes to fulfill your deliveries. This will ensure you also have the most accurate UPS shipping tracking information when you ship your products to customers.
Ordoro is also involved with an innovative shipping program with UPS. This involves access to a UPS Solutions Expert with whom you can book a virtual consultation. Take full advantage of the UPS Marketplace by connecting with a UPS logistics professional. They will guide you through the steps involved with onboarding with UPS and getting your account set up for your business.
Along with reviewing your supply chain, the UPS logistics expert will identify any applicable programs and resources for your company to utilize. You may also be able to get locked in with lower shipping rates for your business's UPS shipping options. Find out more about UPS shipping near me and get started with Ordoro and our professional logistics and shipping platform.