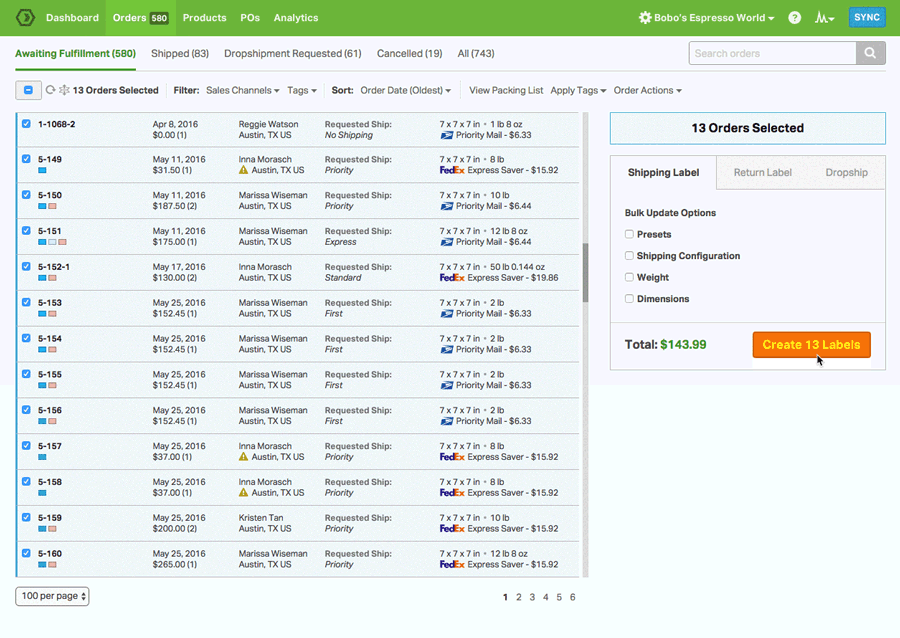 Master USPS Shipping To Hawaii With Ordoro
The All-In-One Ecommerce Logistics Platform
Equip yourself with a comprehensive solution
Inventory Management
Stock, sync, and scan.
Automatically track and sync your inventory levels
Create and send out Purchase Orders when it's time to restock
Bundle multiple SKUs into one unit for sale
Use Barcode Scanning to reduce fulfillment errors
Multi-Carrier Shipping
Your workflow, minus the work.
Enjoy heavily-discounted shipping rates via USPS
Ship via any of our integrated shipping carriers like USPS, UPS, FedEx, DHL and Canada Post
Set up your own Automation Rules and Shipping Presets
Print shipping labels in triple-digit batches or individually
Dropshipping
Truly hands-off dropshipping.
Launch a dropshipping operation in a matter of clicks
Tag any product as drop shipped and assign it to a vendor
Choose between automated or manual routing
Activate a Vendor Portal between you and your supplier
Multichannel
We're your operations hub.
Integrate and view all of your sales and supplier channels in one spot
Use our open API to hook up any third-party or custom apps
Manage every aspect of your orders
Establish Supplier Feeds for real-time, back-end communication
Barcode Generation and Scanning
Raise the bar for stocking and packing.
Create UPC barcodes for your products
Scan, set, and search UPC codes for SKUs within Ordoro
Reduce fulfillment errors with our pack and pack barcode scanning workflow
Scan received POs to automatically adjust stock levels
Don't take our word for it
Our awesome customers have shipped some really great compliments our way:
"I spent about a month thoroughly searching for the right backend fulfillment software for my eCommerce business. There were definitely some big name guys out there that I considered, but at the end of the day, I went with Ordoro and I'm so glad I did!"

Tina Yarandi
Founder/CEO of Nature's Artisan
"Ordoro continues to add immensely valuable features to an already awesome sales/warehousing/shipping platform. Using Ordoro continues to save us time and money."

Anthony Krize,
VP of GE Holiday Lighting
USPS Shipping To Hawaii
It's always fun to visit friends and family in other states. Between visits, one of the things people do to maintain their relationships is sent each other gifts for birthdays and holidays. If you've got friends and family in Hawaii, you're probably more aware than most of the cost of USPS shipping to Hawaii. For ecommerce entrepreneurs with customers in Hawaii, it's important to learn everything you can about USPS shipping to Hawaii. Because distance is one of the factors in the shipping to Hawaii cost equation, keeping those costs from eating into your profits can be a real challenge. Shipping to Hawaii from California reduces the distance factor of the equation. It's also a good idea to research and compare the rates of various Hawaii shipping companies. One thing that all shipping companies are affected by is the Jones Act. This is a law that was passed in 1920 that increased the cost of shipping by limiting container shipping to Hawaii. It also restricts the number of vessels that can legally deliver goods. Although the Jones Act was passed before the internet was even invented, it's still in effect. Among other things, it requires that all ships that carry cargo between US ports be owned, crewed, registered, and built in the U.S. by U.S citizens. These requirements mean less competition and higher shipping rates. There are currently arguments for and against the Jones Act, but unless and until it is repealed, it will continue to cost more to ship products to your customers in Hawaii. Add the rising cost of gasoline, and shipping becomes even more expensive—and reducing shipping costs is even more important. Great shipping software, automation, and industry discounts aren't just luxuries anymore, they're necessities. They're also the best way for a small business to become a medium-sized business.
USPS International Shipping
USPS international shipping provides the best rates in most cases. Volume is what keeps lower USPS international shipping rates low. The USPS international shipping calculator helps entrepreneurs stay within their budgets as well as make smart shipping decisions. It can show you at a glance how much you can save using the USPS international shipping flat rate. While USPS international shipping times may not always be the fastest available, USPS priority mail international delivery times are still pretty competitive with more expensive services. USPS offers both flat-rate pricing for envelopes and boxes with a set shipping rate for anything that fits in them, or the more traditional pricing that factors in size, weight, and distance. Having been in the business much longer, USPS international shipping customer service has served as the model for others. The same is true for the USPS international shipping tracking system. Tracking systems adopted by competitors are very similar. When deciding on a shipping software system for your small business, one important factor to consider is whether it gives you the ability to automate your processes and either print a USPS international shipping label individually or print them in batches. With USPS, every package is assigned a tracking number before it is shipped. That number allows customers to see exactly where their packages are during the entire, right up to the minute the package is delivered to their doorstep. USPS tracking numbers are long—usually 20 to 22 digits. That's just one reason that having barcode scanning capability is so important. Manually entering 22 digits means 22 opportunities to make a data entry error that can result in a customer receiving the wrong information. Being able to print out shipping labels either individually or in batches for items all destined for the same location is a handy ability to have, too.
FedEx Shipping To Hawaii
Although FedEx shipping to Hawaii may cost a bit more, there are times that the added cost is worth the investment. Utilizing the speed and efficiency of FedEx overnight to Hawaii to get an item to a customer in time for a loved one's birthday party, and can create customer loyalty. You may be able to calculate the actual cost of shipping that package, but the value of customer loyalty? Priceless. FedEx shipping rates are calculated according to a formula. One of the elements of that formula is around-the-clock service and another is the added cost of air travel compared to FedEx ground shipping rates. This is especially true now that world events have caused gasoline prices to skyrocket. That means, like everything else for which gasoline prices are a part of the equation, FedEx shipping to Hawaii rates will likely continue to rise, at least temporarily. In addition to cost, there is a big difference between delivery times within the rest of the United States and in Hawaii using USPS Retail Ground. The difference between 2-9 days and 3-5 weeks is a considerable one. What might normally be a money-saving option can suddenly become the potentially costly loss of a loyal customer. There is also a big difference in both cost and delivery times between USPS Parcel Select Ground and USPS Priority Mail Express for mailing the same 10in x 5in x 5in a package weighing 5 pounds. The difference between $20.66 and 2-8 days in transit and $60.35 with only 1-2 days in transit is also considerable. Reducing delivery time makes the shipping cost about three times more expensive. However, sometimes choosing the more expensive option can be an investment that earns dividends from a happy repeat customer for years to come.
USPS Shipping Rates
Since shipping costs are the single biggest expense for most e-commerce entrepreneurs, industry discounts can make the difference between profit and loss. Good shipping software should help your small business grow by taking advantage of those discounts. One of the benefits of Ordoro's shipping software, which can also be part of a fully integrated system, is a discount of up to 67% on USPS shipping rates. You can also take advantage of some handy tools like a USPS shipping rates calculator. Utilizing the USPS shipping rates by weight chart helps you make informed decisions. There are usually four factors used to determine shipping costs— weight, distance, method, and additional fees. Along with the rise in gas prices, shipping space has also become more valuable, so postage rates by size is considered also. An almost weightless bouncy house for a children's birthday party can still take up a large amount of shipping space. That's why there is a distinction between actual weight and dimensional weight. Distance is usually determined by the use of shipping zones, with set costs from one zone to another. Methods include flat rate, international rate, low weight rate, and fast rate. There can be any number of additional fees, especially for international shipping. A fuel surcharge is one of the most common, but there can also be additional charges for specific types of items. For example, items marked fragile, packaged in a particular way, or that exceed the weight limits for a particular rate can all trigger additional shipping fees. The greater number of customers you have to reach by air, like those in Hawaii, the more important it is to invest in a system like Ordoro. Small businesses benefit most from technology that helps them keep shipping fees low—and speed, efficiency, and customer satisfaction levels high.
USPS Priority Mail
In the age of instant gratification, it's no longer enough that the right item at the right price arrives at the right address. Many customers want their orders to arrive as soon after they press the submit order button as possible. That's where USPS priority mail comes in. The USPS priority mail time for delivery is one to three business days. The priority mail flat rate depends on dimensions. For example, to mail a priority mail flat rate envelope that's 12 1/2″ x 9 1/2″ would cost $7.75 at the commercial base rate, compared to $8.95 at the post office or online. That's why it's well worth the time it takes to create a commercial account to take advantage of USPS priority mail prices. While $1.20 may not seem like a lot of money, when you multiply the savings of one USPS priority mail envelope by the number of them that you send out in a month, it can equal substantial savings. We've all been guilty of waiting until the last minute to take action, even for things that are important to us, like loved ones' birthdays. As hectic as modern schedules can be, sometimes life makes that choice for us. For your customers who need quick delivery, USPS priority mail express can ensure overnight delivery for most locations. Because they want to make sure that their gifts arrive on time, USPS priority mail tracking is one of their most popular and often used features. The online USPS priority mail time map is pretty popular, too. For e-commerce entrepreneurs, that information isn't just nice to have—it's essential. Ordoro combines information, industry discounts, and automation to provide small businesses with what they need to grow and thrive despite rising shipping costs.