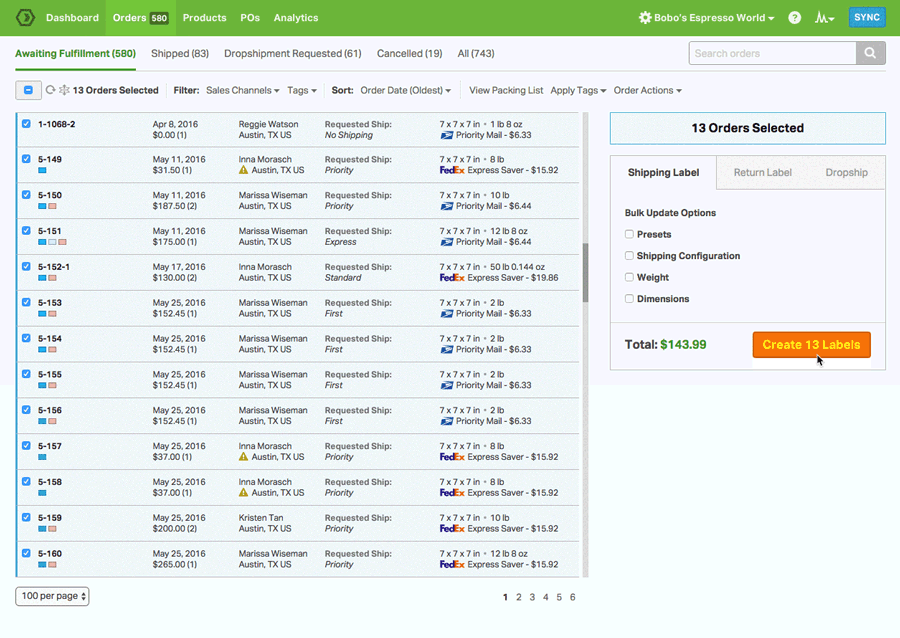 The All-In-One Ecommerce Platform With A WooCommerce Shipping Calculator
The All-In-One Ecommerce Logistics Platform
Equip yourself with a comprehensive solution
Inventory Management
Stock, sync, and scan.
Automatically track and sync your inventory levels
Create and send out Purchase Orders when it's time to restock
Bundle multiple SKUs into one unit for sale
Use Barcode Scanning to reduce fulfillment errors
Multi-Carrier Shipping
Your workflow, minus the work.
Enjoy heavily-discounted shipping rates via USPS
Ship via any of our integrated shipping carriers like USPS, UPS, FedEx, DHL and Canada Post
Set up your own Automation Rules and Shipping Presets
Print shipping labels in triple-digit batches or individually
Dropshipping
Truly hands-off dropshipping.
Launch a dropshipping operation in a matter of clicks
Tag any product as drop shipped and assign it to a vendor
Choose between automated or manual routing
Activate a Vendor Portal between you and your supplier
Multichannel
We're your operations hub.
Integrate and view all of your sales and supplier channels in one spot
Use our open API to hook up any third-party or custom apps
Manage every aspect of your orders
Establish Supplier Feeds for real-time, back-end communication
Barcode Generation and Scanning
Raise the bar for stocking and packing.
Create UPC barcodes for your products
Scan, set, and search UPC codes for SKUs within Ordoro
Reduce fulfillment errors with our pack and pack barcode scanning workflow
Scan received POs to automatically adjust stock levels
Don't take our word for it
Our awesome customers have shipped some really great compliments our way:
"I spent about a month thoroughly searching for the right backend fulfillment software for my eCommerce business. There were definitely some big name guys out there that I considered, but at the end of the day, I went with Ordoro and I'm so glad I did!"

Tina Yarandi
Founder/CEO of Nature's Artisan
"Ordoro continues to add immensely valuable features to an already awesome sales/warehousing/shipping platform. Using Ordoro continues to save us time and money."

Anthony Krize,
VP of GE Holiday Lighting
WooCommerce Shipping Calculator
All e-commerce depends on the shipping industry. For online business owners, shipping fees are a constant. They're considered part of the cost of doing business. While there is no escaping those costs, it's well within your power to lower them. Every dollar you can save on shipping costs is another dollar you can add to your profit margin. The formula contains five basic elements you need to provide to calculate shipping costs: weight, size, distance, time and carrier. The good news is that you don't have to know how to create a shipping calculator. Most sites that accommodate e-commerce have a plugin for that. The same is true for WooCommerce. Without the plugin, you're only shown the WooCommerce shipping classes. The WooCommerce shipping calculator extension can be helpful for calculating the cost of individual shipments using a specific carrier. Another way to get an idea of how a shipping calculator works is by taking a look at the Wordpress shipping calculator. It was requested by so many people that they created a shipping calculator Wordpress plugin to make it easier for people selling from their websites to access it. However, you'll be able to save a lot more if you can customize your shipping processes to accommodate your specific merchandise and destinations. After researching and comparing both domestic and international shipping rates, you'll know which company to use for specific routes and for specific types of merchandise. You'll know whether and when to bundle multiple orders to a single location to take advantage of lower rates. By investing in an integrated system with multi-channel, multi-carrier capability, you can compare the shipping rates of several carriers in whatever part of the world you have customers in from one screen with a few clicks of a mouse.
WooCommerce Shipping Rates
Shipping costs are determined by both weight and size. Weight is such an important consideration for people in e-commerce because of shipping costs that manufacturers have begun using packaging methods that avoid adding any more weight than necessary. Now that most shipping carriers charge not only by weight, but by how much space is required to transport the item, the same is true for size. Vacuum-sealed packaging for items that would otherwise take up much more space is becoming more popular. It also helps preserve shelf life. To utilize one type of WooCommerce plugin, you'll need to create shipping zones, shipping classes, and shipping rules first. They define a shipping zone as a geographic region where a specific set of shipping methods and rages apply. A shipping class normally consists of products that are approximately the same size and weight. You may want different rules for different classes of products. Once you've created those things, you'll add the shipping rates from your chosen carrier to the equation. With the right packaging, WooCommerce shipping by weight and size can be a good option. WooCommerce flat rate shipping allows you to define a standard rate per item, class or order to charge your customers for shipping. Wordpress offers a plugin for WooCommerce shipping rates by city. It provides a drop-down menu of a list of cities and calculates shipping costs by distance. However, this plugin is completely open-source, which means that it can change at any moment, and probably will. The trouble with open-source when it comes to e-commerce is that, during changes, the software is vulnerable to infiltration by cyber-criminals. They have also offered a plugin for WooCommerce by weight and postcode. Before downloading a free plugin, it's a good idea to do a little research and make sure it was developed and submitted by a trusted source and that any issues with bugs have been resolved. There are dozens of free WooCommerce shipping plugin types— and sources—but since WooCommerce sells a paid subscription to its own shipping software program, they don't endorse any of them. You can learn a lot about what kinds of features different plugins offer without incurring a lot of cost, which can help you decide which features your business can't live without.
WooCommerce Shipping Plugin Free
Once you've done a little research and read some reviews of different free shipping plugins, you can download a few to see what they can do. You might discover that some of them have tons of features—and that you probably wouldn't ever use most of them. Writing down the features you see that you can picture your business using all the time can help you narrow the field. Remember, this software is supposed to be able to save you money, so you don't want to be paying extra for bells you're not going to ring or whistles you're not going to blow. Some features might be must-haves for big corporations, but won't help your small business grow to a medium-sized business. This is your chance to experiment for free. Some people make the mistake of starting to rely on free plugins for their businesses. They realize their mistake about the time they exceed the order limits placed on most free versions of software and have to deal with some unexpected costs at the end of the month. Or they log in one day and discover that the software has been "updated", and no longer works the same way. Experiencing technical difficulties in the middle of trying to fill an order to avoid disappointing a customer is no fun. Neither is explaining to a customer why their package didn't arrive on the day it was promised—or the added cost of making it up to them. It's wise to consider an offer to try a "WooCommerce shipping plugin free" as an educational opportunity rather than a permanent solution for your shipping needs. A bug-free, efficient, shipping software program should be a vital part of any multi-channel, multi-carrier, integrated system for e-commerce. The old saying that it takes money to make money is no less true in e-commerce. Even though people can now get started in the drop-shipping business with relatively small start-up costs, investing in Ordoro, a complete system designed specifically for e-commerce, really pays off.
WooCommerce Shipping Labels
Anybody in e-commerce, whether with WooCommerce, Amazon, or eBay, can testify about how important it is to have the ability to create and print shipping labels in bulk. The same is true for branded packing lists. It's equally important to be able to print them individually, like for that all-important customer who does all their Christmas shopping with you every year, but who seems to have their very own zip code. Ordoro's system allows you to do all that, but there are also some things it allows you to avoid doing, like having to create PDFs. You can automate your shipping processes by configuring shipping presets that auto-fill your shipping parameters when you're creating WooCommerce shipping labels. Shipping is one area where it really pays to be an efficiency addict, and Ordoro can proudly wear that label. They even offer a direct-to-printer option to take streamlining your workflow to the next level. You can also establish automation rules that will trigger action the second you receive an order, while letting you know exactly what order they were received in. You can assign incoming orders with filterable tags either automatically or manually and use those tags to view the status of every order within a single interface until it arrives on your customers' doorstep. It also audits your orders and shows a timeline for each one. It just doesn't get more comprehensive—or efficient— than that.
WooCommerce Shipping Plugin
Ordoro provides a great shipping software platform that offers you multi-channel, multi-carrier capability, but that's not all it offers. In addition to multi-carrier shipping, it offers scanning capability, inventory management, and multi-channel integration for multiple suppliers. It gives you the ability to do kitting or create pick and pack lists. It includes drop-shipping software, and last but certainly not least, data analytics. Every item you scan in or out is recorded in a database, and you can pull up sales information for specific items, specific months, or both, with a few clicks of a mouse. You'll be able to see at a glance which items are hot sellers, and which you'll want to have a sale on before something new starts trending. You'll be able to track expenses to be certain that your shipping presets are always adjusted for maximum savings. Sure, you can learn a lot from a Wordpress shipping plugin or even from researching the best shipping plugin for WooCommerce. But there's a reason that Ordoro was named Best Shipping Software Company of 2021 by Digital.com. Ordoro integrates seamlessly with WooCommerce— and many other well-known popular platforms like Shopify, Amazon, and eBay. It lets you mix and match your shipping methods to tap the most cost-effective rates. Ordoro also offers free 30-day onboarding to show you and your team how to set up automation rules that best reflect the priorities of your business. Unlike the "WooCommerce get order shipping cost" method, you don't have to know how to write code or be a computer programmer. Their software engineers take care of making sure your software incorporates new technology and works out all the bugs in the code before updating it, as well as ensuring the highest level of security to protect your customers' personal information. That's something that not even the best free shipping plugin for WooCommerce can offer.