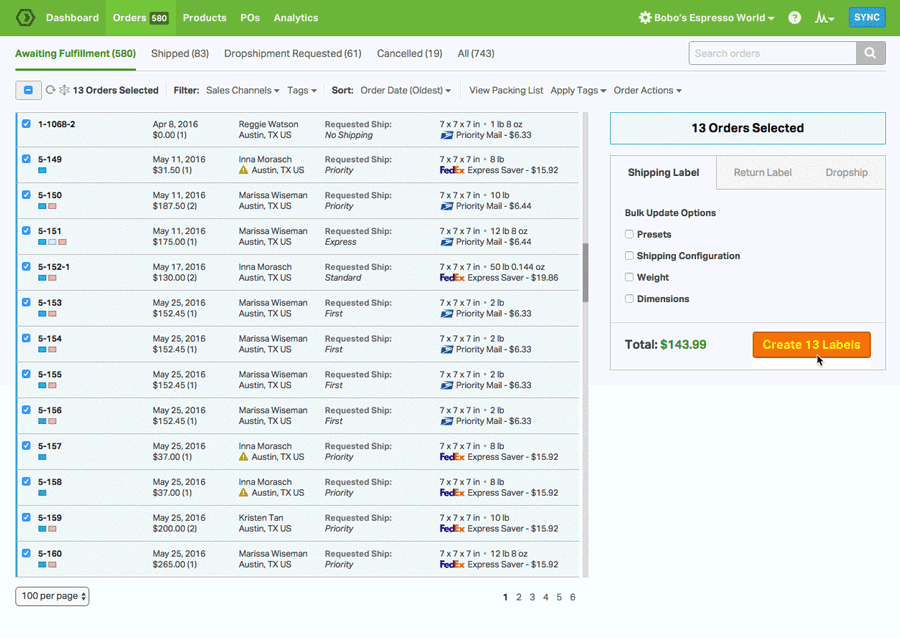 The All-In-One WooCommerce Shipping Plugin
The All-In-One Ecommerce Logistics Platform
Equip yourself with a comprehensive solution
Inventory Management
Stock, sync, and scan.
Automatically track and sync your inventory levels
Create and send out Purchase Orders when it's time to restock
Bundle multiple SKUs into one unit for sale
Use Barcode Scanning to reduce fulfillment errors
Multi-Carrier Shipping
Your workflow, minus the work.
Enjoy heavily-discounted shipping rates via USPS
Ship via any of our integrated shipping carriers like USPS, UPS, FedEx, DHL and Canada Post
Set up your own Automation Rules and Shipping Presets
Print shipping labels in triple-digit batches or individually
Dropshipping
Truly hands-off dropshipping.
Launch a dropshipping operation in a matter of clicks
Tag any product as drop shipped and assign it to a vendor
Choose between automated or manual routing
Activate a Vendor Portal between you and your supplier
Multichannel
We're your operations hub.
Integrate and view all of your sales and supplier channels in one spot
Use our open API to hook up any third-party or custom apps
Manage every aspect of your orders
Establish Supplier Feeds for real-time, back-end communication
Barcode Generation and Scanning
Raise the bar for stocking and packing.
Create UPC barcodes for your products
Scan, set, and search UPC codes for SKUs within Ordoro
Reduce fulfillment errors with our pack and pack barcode scanning workflow
Scan received POs to automatically adjust stock levels
Don't take our word for it
Our awesome customers have shipped some really great compliments our way:
"I spent about a month thoroughly searching for the right backend fulfillment software for my eCommerce business. There were definitely some big name guys out there that I considered, but at the end of the day, I went with Ordoro and I'm so glad I did!"

Tina Yarandi
Founder/CEO of Nature's Artisan
"Ordoro continues to add immensely valuable features to an already awesome sales/warehousing/shipping platform. Using Ordoro continues to save us time and money."

Anthony Krize,
VP of GE Holiday Lighting
WooCommerce Shipping Plugin
The WooCommerce shipping plugin is a versatile tool that, like WooCommerce itself, was designed to help WordPress ecommerce users become more competitive without spending large amounts of money up front for the tools and apps needed to launch their online stores.
Another WordPress shipping plugin is Smart Manager which not only helps track inventory and other ecommerce functions but can customize and print shipping packing slips when fulfilling orders, keep track of customer data, including such details as items and date last ordered, total purchases to date and lifetime values. The drawbacks, according to its users, are that the paid version sometimes reverts back to the free Lite version following updates, annoying advertising and automatic subscription e-blasts, the plugin can take literally hours to load new data, creating problems for users with large SKU inventories and multiple shipping locations, and finally, the support team is often slow to respond to problems and offer assistance.
The WooCommerce shipping extension is a free tool that lets users access the best shipping rates, including with various carriers, weight, size and other factors.
WoodCommerce advanced shipping includes extended default shipping options providing customized shipping options for your business's particular needs. Shipping rates can be defined based on location, item count, price, weight, with an additional ability to match with multiple regions.
Among some of the most desirable features:
Several kinds of table rates calculations, including Per Order, Per Item, Per Line and Per Class
Add multiple tables of rates per shipping zone
Add costs per row, per item cost, percdentage and per weight costs
Add rules based on weight, number of items total, number of items by class, and price
Intuitive interface capability of any app or plugin when adding, duplicating or changing other complex data and rates makes the tasks easier and provides a greater degree of accuracy without sacrificing speed.
WooCommerce Shipping Plugin Free
While getting a free plugin for performing critical tasks may seem like an attractive deal, like the saying goes, you get what you pay for. A WooCommerce shipping plugin free of charge may get the job done early on, but can come up short in the scalability department, creating the need to frequently update – often to more expensive upgrades tha if you had signed up for a more comprehensive shipping software in the first place.
Ordoro's easily-installed and used apps, plugins and other ecommerce tools can handle whatever you want to throw at them, and are well worth the very affordable price. Here are a few of the advantages of utilizing Ordoro's shipping software options:
You can get shipping discounts through USPS up to 67% via USPS
Integrate shipping accounts with USPS, UPS, FedEx, Canada Post and many more
Print shipping labels either by the batch or individually
Create and implement your own shipping rules unique to your business, to better-manage workflow
*Automatically send updated tracking information back to WooCommerce
According to a Codeflist article, choices for the best free WooCommerce shipping plugin include the WooCommerce Weight-based Shipping, Table Rate for WooCommerce by Flexible Shipping, WooCommerce Advanced Free Shipping, APG Weight Shipping, WooCommerce UPS Shipping, WooCommerce PDF Invoices, Advanced Shipment Tracking for WooCommerce, Advanced Flat Rate Shipping Method, WooCommerce Shipping Label, and WooCommerce Shipstation Gateway.
We'd like to point out that the qualities and features of the apps listed above can also be found with Ordoro's handy plugin software – a virtual one-stop-shop for help with all or your ecommerce tasks, whether tracking and reordering inventory, sending packages, printing labels, kitting and more – Ordoro is designed with scalability in mind. We help you grow your business without having to resort to replacing outdated, unusable software and apps that can't grow with you.
WooCommerce Shipping Calculator
WooCommerce shipping calculator is one of the numerous plugins on the WooCommerce website's Shipping information pages that can help users accurately estimate their shipping charges, including location, distance, weight, size, class and other factors. Wordpress shipping calculator apps and plugins from a number of developers are available from WordPress's plugins pages. Their specific features vary but generally they all help sellers easily determine the best shipping costs and methods for their products and customer preferences.
WooCommerce weight based shipping is a plugin that's needed to calculate shipping costs based on weight, especially if in different weight ranges within the same customer order. Ordoro also offers weight-based shipping options with their shipping software plugins.
WooCommerce shipping rates can be found on the Shipping pages of the WooCommerce website, including Table Rate Shipping, which is an advanced flexible shipping module that can define multiple shipping rates based on location, weight, shipping class and item count and price. It can extend WooCommerce's default shipping options, giving a more customized approach to shipping.
WooCommerce shipping by weight and size calculations also make up a number of apps and plugins for WooCommerce users. Along with location and carrier, these are the two most important factors in determining shipping rates. When looking for a calculator plugin, you might want to be sure that it's customizable, such as the kind offered by Ordoro, to be able to accurately determine not only the costs but variables such as dates and times.
If you need a more customized solution to your shipping requirements, check out Ordoro's shipping plugins and platforms, compatible with WooCommerce and a host of other online selling sites. You don't need to stop with shipping software – Ordoro can handle your entire ecommerce tasks, from inventory to package tracking, to help your business boost sales while making your operations more efficient and user-friendly.
WooCommerce Shipping Classes
Shipping classes are actually used to group different types of products to be sold. They are not used directly to offer shipping discounts or other rate pricing to your customers. You can set up shipping rates by configuring Shipping Zones then add your own shipping class costs to a shipping method, such as Flat Rate. To create WooCommerce shipping classes, access the WordPress dashboard, then go to WooCommerce >Settings > Shipping > Shipping Classes.
Now click "Add Shipping Class" and enter the information and other details about the item you're creating the class for. Click on "Add Shipping Class" again to add additional classes as needed.
WooCommerce shipping labels are compatible with USPS for domestic shipments and DHL (international) carriers offering discounted shipping rates with both. Since WooCommerce shipping is built into the WooCommerce dashboard, it's easy to create and print a shipping label in seconds..There is also a WooCommerce shipping label plugin on WordPress to expedite the process. Go to the WooCommerce dashboard, then >Orders> select an order to send out, then select Create Shipping Label on the Order Details screen. Once the customer address information is entered it is saved for future orders.
According to WordPress, WooCommerce shipping classes by weight utilizes a weight-based method (although not necessarily limited to) the order weight to calculate total shipping costs.
WooCommerce has a weight-based software shipping plugin that allows users to create multiple rules accommodating a variety of shipping conditions, such as order weight, subtotal, and destinations. A flexible price calculation option lets you configure each rule to expose a constant price, such as Flat Rate, or a progressive price, such as that based on cart weight, or both.
The plugin lets you set up "conditional" free shipping, depending on the subtotal, total weight or another condition, and supports adjusting shipping classes, allowing users to override the way a shipping price is calculated for an item.
Shipping software leader Ordoro has developed outstanding shipping software plugins for use with WooCommerce, offering flexibility and other features to customize as you wish.
Best Shipping Plugin for WooCommerce for 2021
There is a free ("Lite" version) as well as a paid WooCommerce order tracking plugin offered through Smart Manager. However, as mentioned above, these lack the scalability and reliability as well as overall cost-effectiveness that you get from Ordoro's apps and plugins.
Ordoro's software tools are designed to grow with you, not hold back your growth due to needing frequent upgrades or incompatibility with your other software. Last year, the best shipping plugin for WooCommerce 2020 was – you-guessed it – Ordoro's shipping plugins, a platform compatible with WooCommerce as well as other online stores.
With a WooCommerce delivery plugin such as Order Delivery for WooCommerce, customers can choose a preferred delivery date and time for their orders during the checkout procedures. A plugin provides your customers with clear, easily-understandable notifications concerning the expected delivery date and time of the package.
On the list of best WooCommerce shipping plugin contenders, Ordoro takes the prize: while other sites offer their versions of plugins and apps, Ordoro gives users a seamless, reliable experience with a multitude of standard features and capabilities.
Store owners can input bank and other holidays that may affect carriers, shipping methods, and other factors, providing an accurate, seamless delivery experience. With Ordoro's customizable plugin you can also process all orders accurately and on time, while allowing orders to be shipped at the best time for your customers. Ordoro's versatile shipping software allows you to offer customers an optimized delivery experience, with our easy-to-use plugins, resulting in increased sales as we help you grow your ecommerce business.
When all factors are weighed in, Ordoro's shipping plugin is really the best shipping plugin for WooCommerce 2021 because of its versatility, scalability, ease of installation and use and much more. Ordoro offers more features including multi-carrier shipping, multichannel integration, dropshipping, inventory management, pick and pack, kitting, automation, analytics, FREE 30-day onboarding and lifetime customer support.