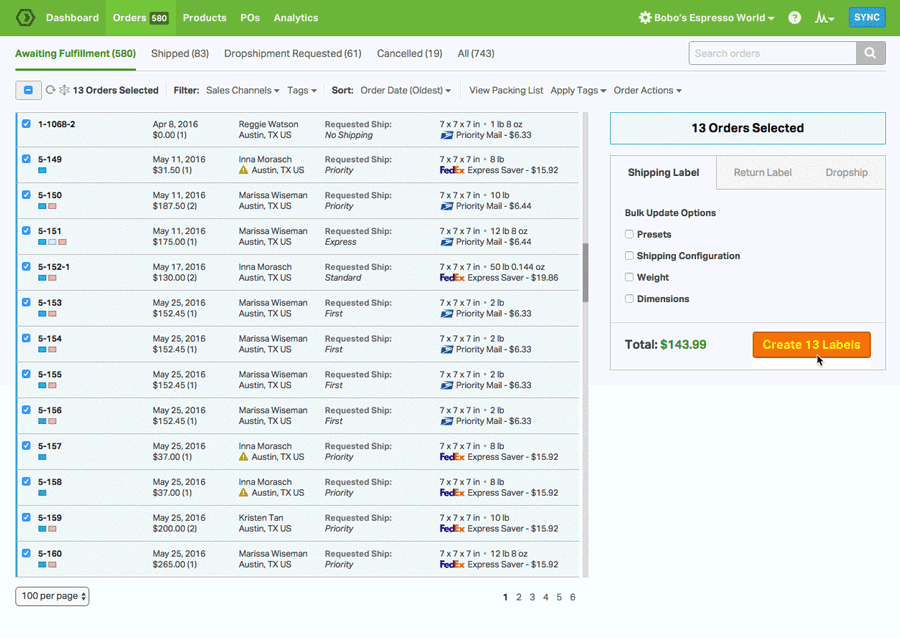 Master WooCommerce Table Rate Shipping With Ordoro
The All-In-One Ecommerce Logistics Platform
Equip yourself with a comprehensive solution
Inventory Management
Stock, sync, and scan.
Automatically track and sync your inventory levels
Create and send out Purchase Orders when it's time to restock
Bundle multiple SKUs into one unit for sale
Use Barcode Scanning to reduce fulfillment errors
Multi-Carrier Shipping
Your workflow, minus the work.
Enjoy heavily-discounted shipping rates via USPS
Ship via any of our integrated shipping carriers like USPS, UPS, FedEx, DHL and Canada Post
Set up your own Automation Rules and Shipping Presets
Print shipping labels in triple-digit batches or individually
Dropshipping
Truly hands-off dropshipping.
Launch a dropshipping operation in a matter of clicks
Tag any product as drop shipped and assign it to a vendor
Choose between automated or manual routing
Activate a Vendor Portal between you and your supplier
Multichannel
We're your operations hub.
Integrate and view all of your sales and supplier channels in one spot
Use our open API to hook up any third-party or custom apps
Manage every aspect of your orders
Establish Supplier Feeds for real-time, back-end communication
Barcode Generation and Scanning
Raise the bar for stocking and packing.
Create UPC barcodes for your products
Scan, set, and search UPC codes for SKUs within Ordoro
Reduce fulfillment errors with our pack and pack barcode scanning workflow
Scan received POs to automatically adjust stock levels
Don't take our word for it
Our awesome customers have shipped some really great compliments our way:
"I spent about a month thoroughly searching for the right backend fulfillment software for my eCommerce business. There were definitely some big name guys out there that I considered, but at the end of the day, I went with Ordoro and I'm so glad I did!"

Tina Yarandi
Founder/CEO of Nature's Artisan
"Ordoro continues to add immensely valuable features to an already awesome sales/warehousing/shipping platform. Using Ordoro continues to save us time and money."

Anthony Krize,
VP of GE Holiday Lighting
WooCommerce Table Rate Shipping
What is table rate shipping? Simply put, it's a more flexible, fairer way to calculate shipping costs based on actual distance, weight, size, and quantity. With more than 43% of online customers abandoning shopping carts due to what they consider too-high shipping costs, sticking with a single rate can lead to undercutting a shipper's profits while unintentionally overcharging customers.
What is the term table rate meaning? Shippers use a set of customizable tables to more accurately figure the real costs of shipping products, based on distance, weight, and so on, rather than use a flat rate for everything, regardless of size, distance, etc.
What does table rate shipping mean for customers as well as shippers? It can result in rates that are accurate and fair based on shipping distance, size, weight, and so on, in most cases saving them money. For shippers, it helps increase buyer confidence and goodwill, resulting in more repeat sales. Table rate shipping time is usually more accurate than the "guesstimating" in flat rate options.
What is table rate best way shipping? This depends on the package size, weight, and destination distance. For example, smaller packages may use USPS Priority 2–Day Small Flat-rate box, with others FedEx Home Delivery for oversized items.
What is table rate shipping best way chooses the best method based on tables that factor in carriers, rates, times, and more?
You can find shipping rate tables within WooCommerce apps as well as other compatible plugins.
What is Flexible Shipping? This is a table rate shipping plugin that lets you set shipping costs and combine shipping classes based on weight, price, category, or item quantity.
Ordoro's plugin automatically writes tracking information back to the WooCommerce Shipment Tracking field for partially or fully-shipped orders, including table rate shipping tracking. Based on the tracking number format, the plugin can automatically detect the shipping provider, helping to automate merchants' workflows, improving customer satisfaction by providing shipping information to customers quickly.
WooCommerce Table Rate Shipping
WooCommerce table rate shipping is a customizable module that extends WooCommerce's default shipping options. Using this module you can add multiple tables of rates per shipping zone as well as rules based on weight, number of items, shipping class, or price.
What's table rate shipping? With so many abandoned shopping carts due to what they consider too-high shipping costs, as mentioned above, applying a single shipping rate for everyone may be undercutting a shipper's profits while overcharging customers. Setting fair shipping prices based on WooCommerce shipping by weight and size as well as location, quantity, and delivery times is a better way to do business and ensure customer satisfaction.
When deciding to use table rate shipping, WooCommerce offers several handy modules and plugins that can let users configure shipping options to their unique needs.
Perhaps the best table rate shipping plugin for WooCommerce is WooCommerce Table Rate Shipping, a highly-customizable plugin with an intuitive interface for ease of use.
For affordable plugins for table rate shipping - WooCommerce free plugins are available through
There are several WooCommerce table rate shipping tutorial videos on YouTube; other details and table rate setup instructions are in the WooCommerce website's how-to-configure pages.
According to a recent user survey, choices for the best table rate shipping — WooCommerce free table rate shipping plugin include the WooCommerce Weight-based Shipping, Flexible Shipping's Table Rate for WooCommerce, the WooCommerce Advanced Free Shipping plugin, WooCommerce UPS Shipping, WooCommerce PDF Invoices, Advanced Shipment Tracking for WooCommerce and WooCommerce Shipping Label.
One important thing to remember about anything "free": most free software, plugins, and so on are not scalable – meaning, they're fairly limited in what they offer and therefore can't grow with your business, meaning that you'll eventually wind up having to do major upgrades, or worse, completely replace the software altogether.
WooCommerce Shipping by Weight
Calculating WooCommerce shipping by weight allows shippers to leverage methods with fee changes depending on the increase or decrease in weight, for example, charging different rates for orders below or over 5 pounds.
According to BusinessBloomer, you can use WooCommerce weight based shipping without plugin tools by utilizing PHP to get around the plugin and accomplish some shipping rules, such as shipping by weight.
For WooCommerce shipping by weight and postcode, among the best WooCommerce weight based shipping plugin options are WooCommerce Table Rate Shipping, Conditional Shipping, and Payments, Flat Rate Box Shipping, ELEX EasyPost Shipping (FedEx, UPS, Canada Post, and USPS) & Label Printing Plugin for WooCommerce.
The WooCommerce shipping by weight option with weight and size calculations have also created a number of apps and plugins for WooCommerce users. Along with location and carrier, these are the two most important factors in determining shipping rates.
WooCommerce flat rate shipping by weight helps keep things a bit simpler, regardless of the type of product, location, cart value, and so on. Table rate shipping on the other hand takes into account all aspects of the order in factoring shipping costs, making it a better way to calculate accurate shipping costs.
Smart Manager is an app from WordPress that also helps track inventory and other ecommerce management functions as well as fulfilling orders and tracking customer data, including such details as items and date last ordered, total purchases to date, and lifetime values.
You can avoid these shipping and administrative headaches by using Ordoro's handy table rate-compatible plugin, which includes the ability to quickly create and print shipping labels, either in batches or as individual labels, as well as branded packing lists, all with a couple of clicks. We even offer a direct-to-printer option, so label creation is a breeze - and no more bothering with downloading and opening PDFs or fumbling with multiple clicks!
WooCommerce Shipping Rates by City
You can locate WooCommerce shipping rates by city as well as anticipated delivery times with Ordoro's plugins, There's a flat rate shipping plugin for WooCommerce available, as well as the ability to calculate WooCommerce shipping based on cart total items.
WooCommerce Shipping Rates by City plugin free by WordPress allows calculating shipping costs based on a selected city, allowing managing shipping to cities, blocking those you don't want to ship to, and managing city-based rates.
The WooCommerce shipping calculator is a handy plugin for figuring rates and other charges for shipping based on the above factors: distance, weight, number of items shipped, and price. Look for it on the WooCommerce'Shipping' information pages. This and other WordPress plugins and specialized shipping apps are offered by a number of developers, including Ordoro, and are available on WordPress's plugins pages. Features vary depending on the app, but all can help determine the best shipping methods and costs for products as well as meet customer shipping preferences.
You can use WooCommerce shipping zone by city to configure which geographical regions to ship to. Additionally, the WooCommerce Shipping Zones section lets businesses set WooCommerce shipping methods which are then displayed during checkout based on the Destination Address entered by the customer. WooCommerce shipping rates by city lets your business narrow shipping rates to a particular city or other location.
Ordoro's easily-installed and used apps, plugins, and other ecommerce tools can handle whatever you want to throw at them and are well worth the very affordable price. Here are a few of the advantages of utilizing Ordoro's shipping software options:
You can get shipping discounts of up to 67% via USPS
Integrate shipping accounts with USPS, UPS, FedEx, Canada Post, and many more carriers
Print shipping labels either by batch or individually
Create and implement your own shipping rules unique to your business, to better manage workflow
Automatically send updated tracking information back to WooCommerce
WooCommerce Shipping Plugin
The WooCommerce Shipping plugin is part of the WooCommerce dashboard, making it easy to print shipping labels in just seconds. WordPress includes a WooCommerce shipping label plugin to expedite label creation. Open the WooCommerce dashboard, select 'Orders' to select an order to send, then select 'Create Shipping Label' that appears on the Order Details screen. When the customer address information is entered, it's automatically saved for future orders.
Ordoro also offers helpful location, item count, and weight-based shipping options with their shipping software and plugins, compatible with WooCommerce and dozens of other online sales platforms. As a leader in ecommerce software, we offer better-customized solutions to ecommerce businesses, as well as provide platforms and plugins that are compatible with numerous major selling sites, including a compatible WooCommerce shipping plugin. In fact, we have your business covered no matter what your needs - from managing inventory, order fulfillment, warehouse tracking and management, and tracking packages to the final destination – we help you to make your business more user-friendly, with increased efficiency in operations resulting in increased sales.
Ordoro provides an excellent plugin that also does more than just calculate shipping and tracking. You can manage your WooCommerce inventory and other fulfillment operations as well, with just a few clicks.
We think Ordoro offers some pretty awesome software and apps, but don't take our word for it – here's what one of our WooCommerce users has to say about us:
"Without Ordoro my business would not have been able to grow the way that it has. Ordoro enables us to stay organized and provide better service to our customers." - Angela Murphy Schumacher, Owner of Smoky Lake Maple Products.
See why customers like Angela are so happy with us by giving us a try – we offer a 15-day free trial to test-drive our software, with those other great features we've discussed above. Contact us today and take your business to the next level.