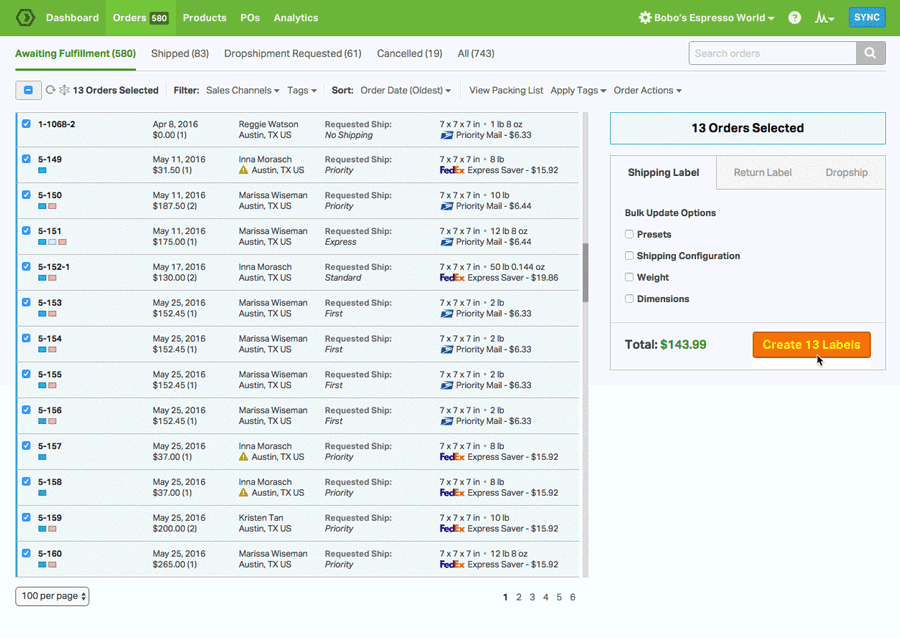 Automatically Manage Your Stock Levels With Our Inventory Scanner App
The All-In-One Ecommerce Logistics Platform
Equip yourself with a comprehensive solution
Inventory Management
Stock, sync, and scan.
Automatically track and sync your inventory levels
Create and send out Purchase Orders when it's time to restock
Bundle multiple SKUs into one unit for sale
Use Barcode Scanning to reduce fulfillment errors
Multi-Carrier Shipping
Your workflow, minus the work.
Enjoy heavily-discounted shipping rates via USPS
Ship via any of our integrated shipping carriers like USPS, UPS, FedEx, DHL and Canada Post
Set up your own Automation Rules and Shipping Presets
Print shipping labels in triple-digit batches or individually
Dropshipping
Truly hands-off dropshipping.
Launch a dropshipping operation in a matter of clicks
Tag any product as drop shipped and assign it to a vendor
Choose between automated or manual routing
Activate a Vendor Portal between you and your supplier
Multichannel
We're your operations hub.
Integrate and view all of your sales and supplier channels in one spot
Use our open API to hook up any third-party or custom apps
Manage every aspect of your orders
Establish Supplier Feeds for real-time, back-end communication
Barcode Generation and Scanning
Raise the bar for stocking and packing.
Create UPC barcodes for your products
Scan, set, and search UPC codes for SKUs within Ordoro
Reduce fulfillment errors with our pack and pack barcode scanning workflow
Scan received POs to automatically adjust stock levels
Don't take our word for it
Our awesome customers have shipped some really great compliments our way:
"I spent about a month thoroughly searching for the right backend fulfillment software for my eCommerce business. There were definitely some big name guys out there that I considered, but at the end of the day, I went with Ordoro and I'm so glad I did!"

Tina Yarandi
Founder/CEO of Nature's Artisan
"Ordoro continues to add immensely valuable features to an already awesome sales/warehousing/shipping platform. Using Ordoro continues to save us time and money."

Anthony Krize,
VP of GE Holiday Lighting
Inventory Scanner App
Small ecommerce businesses are not only faced with daily operational issues but must also compete with larger companies that have access to specialized inventory and fulfillment software and technologies. Add in a limited budget, especially for a start-up, and you have an overwhelming need for a better software solution to streamline your operation's order, fulfillment and inventory efficiency. Ordoro's software helps you grow your business as you operate like the bigger guys but at a fraction of cost. Having a barcode scanner app for inventory helps you lose those outdated spreadsheets once and for all and accelerate your business's growth.
While spreadsheets were originally designed to help brick-and-mortar businesses with tracking inventory, the faster pace of ecommerce demands a better way to keep pace with orders, fulfillment duties and replenishing your stock. While some inventory management software does have the ability to download to Excel, it's still time-consuming to search and retrieve, copy and/ or paste repetitive data.
Ordoro has come up with the perfect barcode scanning software app solutions to your inventory, shipping and other ecommerce business management operations. You can optimize your fulfillment workflows with the creation of bulk shipping labels, omnichannel inventory management, automated dropshipping and much more, in just one platform.
What else can Ordordo's barcode scanner software do? With our comprehensive barcode generation and shipping solutions, you can:
Create barcodes for your products
Scan, search and set UPC codes SKUs within the Ordoro platform
Cut down on fulfillment mistakes with Pick and pack barcode scanning workflow
Scan received purchase orders (POs) to instantly adjust stock levels in real time.
Stock, sync and scan in one smooth operation
Bundle multiple SKUs into one unit for increased sales
(Note that Ordodo does not supply the scanning devices but does supply the software to utilize them./ Ordoro's inventory scanner app for software (not mobile phones) is compatible with most product scanner devices in use today.)
How to Set Up a Barcode System
Learning how to set up a barcode system to manage inventory and other tasks isn't hard at all with Ordoro's support team always available to help advise you on how to set up a barcode database system for inventory, using their latest software apps and plug-ins.
It's really pretty easy, once you have Ordoro's software overseeing the process. All you have to do to begin the process is bring out your preferred scanning device, hook it up to your computer and begin scanning the codes into your system or onto a packing list. Using a barcode scanner with the right inventory management software features from Ordoro will help you with the following necessary tasks:
Creating UPC codes for your products using our barcode system software for inventory scanner
Using Ordoro's platform to set, scan and search for SKUs, included bundled items
Reducing common mistakes involved with picking and packing thanks to Ordoro's barcode scanning software
Minimizing other fulfillment errors with Ordoro's item­-to-code verification capability, resulting in increased customer satisfaction and more reorders.
Scan just-arrived purchase orders (POs) to automatically adjust stock levels and prevent shortfalls that could negatively impact sales
Interface with your multichannels in real-time for the most accurate picture of your stock movement
Barcode Scanner App for Inventory Free
Businesses have long used programs such as barcode inventory system Excel and other spreadsheet methods similar to inventory management Excel formulas, for tracking inventory movement, as well as other management functions. While certainly useful, especially for newer businesses faced with numerous start-up expenses, larger operations with hundreds or thousands of products have had to develop more accurate and much faster means of entering products as they arrive, as well as tracking shipments for orders and knowing when to re-stock before inventory falls below critical levels.
Then there are the "free trials" that some companies offer as an inducement such as an inventory scanner app free of charge or for a trial period, to sign up – and if you decide to stay on, you may find the actual cost much higher than initially advertised. Worse, if you decide you don't like it and forget to unsubscribe or take a pass, you could find yourself paying a lot of money for something that is all wrong for your type of business. Remember, you get what you pay for¸ whether it's software or anything else.
The other thing about using spreadsheets and other free or low-cost options is that while you can download data to them, they can't generate a barcode for your products – they only deal with what's already assigned. A software app that lets you generate barcodes – that's what you need to enable your business to be competitive and grow. Since correct code generation is critical to business operations,you'll need apps that get it right the first time.
So should you bother with a barcode scanner app free and barcode scanner app for inventory free software?
First, if you want a really good, in fact, premium inventory tracking system, you can expect to spend some money. Ordoro offers you the ability to sync, stock and scan, while automatically tracking inventory levels, create and send purchase orders when time to restock, bundle multiple SKUs into a single unit for sale, and use barcode scanning to reduce potential fulfillment mistakes.
Barcode Scanner for Inventory
Why should you use a barcode scanner for inventory management? Sure, you could continue using spreadsheets, with their errors and delays in posting real-time updates, but if better alternatives exist, why wouldn't you want to take advantage of them and boost your inventory, automatically create reorders, integrate with warehouses and sales channels,
According to the Balance/SMB, the best wireless barcode scanner for inventory is the NADAMOO Wireless Barcode Scanner, with a super-long range (over 320 feet indoors, and almost a quarter mile outdoors) as it registers items to a Mac, Linus or Windows computer. It can upload scans into commonly-used programs such as Excel and Word, and has a failsafe feature to save up to 10,000 barcodes in its memory, in case it's accidentally moved out of range. Its capabilities are compatible with straightforward codes from UPC/EAN to those of ISBN and ISSN for publishers and booksellers.
Rating products as the best barcode scanner for inventory overall is sometimes a tough call, as some businesses need certain features that others don't. There are hands-free scanners, scanners for handling bigger businesses, budget scanners and compact scanners. However, they rated the Brainydeal USB Automatic Barcode scanner as the best overall device due to its ease of installation and use, affordable price tag and practical design.
Inventory Scanner System for Small Business
Developing a barcode inventory system for small business can be confusing and challenging. There is also confusion between which types of barcodes to use, as well as the differences between SKU and UPC codes. It's important to have an accurate code to be assigned and entered as entering the wrong code will not only kill your sales but will make tracking your inventory a logistical nightmare.
We believe that Ordoro produces the best barcode inventory system for small business. Who else gives you features such as the following tasks:
Creating UPC codes for your products using our barcode system software for inventory scanner
Using Ordoro's platform to set, scan and search for SKUs, including bundled items
Reducing common mistakes with picking and packing thanks to Ordoro's barcode scanning software
Minimizing other fulfillment errors with Ordoro's item­-to-code verification capability, resulting in increased customer satisfaction and more reorders.
Scan just-arrived purchase orders (POs) to automatically adjust stock levels
We've already discussed how to implement a barcode system for inventory management, so we'll just repeat that the setting-up process is easier and faster than you might think, once you've utilized Ordoro's scanner system for small business.
Inventory Management System with Barcode Scanner
If you need more reasons to go with Ordoro's effective yet simple barcode inventory system, here are a few more:
Ordoro's inventory management system with its barcode scanner software is the perfect solution to quickly, and most important, accurately manage your business's outgoing as well as incoming products.
Pick and pack mistakes will sharply drop with Ordoro's barcode scanning features that prevent expensive errors in fulfillment operations. Just choose one or multiple orders, click a button and our app will bring up items to be picked, scanned and packed, ensuring that orders are marked as being complete when each item is accounted for.
Ordoro's barcode scanning app can raise the bar in managing your daily workflow, giving you the option to not only set, scan and search for SKUs and other codes, help in organizing and tagging products with bin and aisle locations for faster picking and packing during order fulfillment.
Switching from a spreadsheet program like Excel to an updated inventory management system that utilizes barcode scanning software and apps will help your business become more competitive. With affordable, easily-installed and user-friendly barcode system apps and other great tools like Ordoro's, there's no reason to stay locked in to outdated inventory systems requiring copying and pasting reams of data into spreadsheets when you have better things to do.
Remember that Ordoro doesn't forget you're a valued customer once you've signed on – unlike too many other software companies out there, we'll continue to support you with your questions and concerns. In addition, Ordoro offers FREE 30-day onboarding, with lifetime support from our talented and experienced team members. To schedule a free demo of what our barcode scanning and other ecommerce management software can do for you, call us at 512-271-9453 or email us at info@ordoro.com.