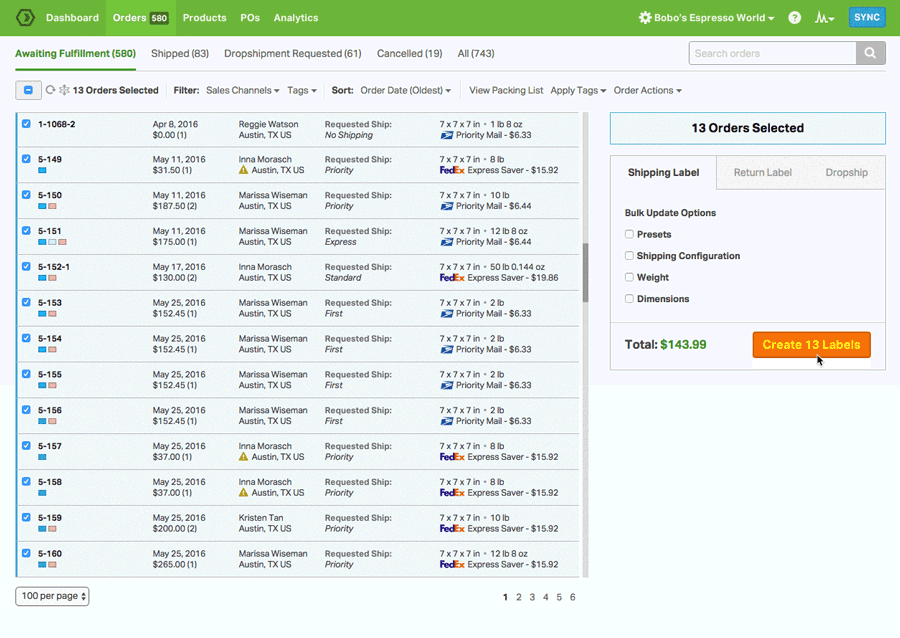 Fulfill Orders Faster With One Of The Best Automated Dropshipping Platforms
The All-In-One Ecommerce Logistics Platform
Equip yourself with a comprehensive solution
Inventory Management
Stock, sync, and scan.
Automatically track and sync your inventory levels
Create and send out Purchase Orders when it's time to restock
Bundle multiple SKUs into one unit for sale
Use Barcode Scanning to reduce fulfillment errors
Multi-Carrier Shipping
Your workflow, minus the work.
Enjoy heavily-discounted shipping rates via USPS
Ship via any of our integrated shipping carriers like USPS, UPS, FedEx, DHL and Canada Post
Set up your own Automation Rules and Shipping Presets
Print shipping labels in triple-digit batches or individually
Dropshipping
Truly hands-off dropshipping.
Launch a dropshipping operation in a matter of clicks
Tag any product as drop shipped and assign it to a vendor
Choose between automated or manual routing
Activate a Vendor Portal between you and your supplier
Multichannel
We're your operations hub.
Integrate and view all of your sales and supplier channels in one spot
Use our open API to hook up any third-party or custom apps
Manage every aspect of your orders
Establish Supplier Feeds for real-time, back-end communication
Barcode Generation and Scanning
Raise the bar for stocking and packing.
Create UPC barcodes for your products
Scan, set, and search UPC codes for SKUs within Ordoro
Reduce fulfillment errors with our pack and pack barcode scanning workflow
Scan received POs to automatically adjust stock levels
Don't take our word for it
Our awesome customers have shipped some really great compliments our way:
"I spent about a month thoroughly searching for the right backend fulfillment software for my eCommerce business. There were definitely some big name guys out there that I considered, but at the end of the day, I went with Ordoro and I'm so glad I did!"

Tina Yarandi
Founder/CEO of Nature's Artisan
"Ordoro continues to add immensely valuable features to an already awesome sales/warehousing/shipping platform. Using Ordoro continues to save us time and money."

Anthony Krize,
VP of GE Holiday Lighting
Automated Dropshipping
Dropshipping can be briefly summed up this way: you open an online ecommerce store, where you offer products from vendors and suppliers whose products you are allowed to sell and who agree to fulfill (ship) orders on your behalf. This system offers many benefits, including no need to keep a warehouse full of inventory as well as no packing and shipping worries. Although as a dropshipper you don't actually ship out orders, you can (and should) have the ability to track them, from their spot in a warehouse's inventory to their final destination into a customer's hands.
In this age of automated everything, it's important to know that there are some automated products that offer more flexibility and options than others. Ordoro's fully automated dropshipping software and handy plug-in tools can help you take your dropshipping business to the next level. If you're running an ecommerce company, the ability to access a variety of dropshipping companies from just one main platform can save time and effort spent shipping out products and creating complicated supply chains.
If you're new to dropshipping software and want to start small without a lot of up-front expenses, platforms such as WooCommerce offer free sites, utilizing WordPress plug-ins that can help with setting up an automated dropshipping site. Some plug-ins, such as Woo Dropship, charge users a fee but they can be well worth it.
A downloadable automated dropshipping app, like Ordoro's plug-ins, lets you have full control of your operations, including reordering, inventory management, shipping, tracking and of course, dropshipping management tools, thanks to their auto-centric approach. Ordoro's automated dropshipping app works with your other software and platforms to seamlessly integrate all of your business functions with just a few clicks resulting in a smooth workflow and satisfied customers.
Remember that good inventory management is critical to the success of any dropshipping operation.
Thankfully, the days of cumbersome spreadsheets are far behind us, so having access to fully automated dropshipping software for inventory management tasks makes choosing the right automated dropshipping software apps and other products so important. With Ordoro's dropshipping management tool as well as a product research tool for connecting with potential suppliers (we're always looking for those) you have an array of plug-ins and other tools in your Ordoro automated dropshipping app toolbox to give you an edge in your dropshipping enterprise.
Of course, that's what you'd expect from Ordoro as a leader in robust user-friendly dropshipping software, apps and other tools that you'll want to include as your business grows.
Automated Dropshipping Amazon
Amazon dropshipping offers sellers lower overhead than many other platforms out there. For starters, there's this awesome Amazon dropshipping guide to getting your Amazon dropshipping business off to a great start. While Amazon can be one of the most profitable selling options available, you have to not only be organized (and ready for the huge influx of orders you're bound to soon receive) but you need to have the best Amazon dropshipping automation software available. This isn't the time to cut corners on that questionable "free" stuff that doesn't deliver on its promises.
While you'll want tools and software that will boost your current dropshipping business, in order to grow and potentially open your own ecommerce store, you'll need to have software and other tools that will offer the flexibility and features necessary to succeed in your latest enterprises.
In addition to the Amazon brand, another good thing about using Amazon dropshipping is that there are no additional fees other than the normal listing prices. So, using Amazon for your dropshipping business is a good way to boost profits with less overhead.
Now, what's the best Amazon dropshipping automation software out there, one that can help track shipments and interface with numerous platforms as well as carriers and other suppliers? Not surprisingly, one answer is Ordoro's customizable software and tools that feature bringing flexible functionality to your business with the ability to grow along with you.
No matter how many products you plan to offer, using the automation tools provided by Ordoro can help your business stay organized to keep things running as smoothly as possible.
There's another popular platform for selling: eBay – and you'll want to explore the Amazon to eBay dropshipping suppliers selling programs, using Amazon to eBay dropshipping software. This is especially true if you plan to use Amazon's Fulfilled by Amazon warehouse program to get orders out to your eBay customers.
Finally, when considering the many types of automated Amazon dropshipping software available, here are a few points to make the choice easier:
You'll want fully-automated dropshipping software and tools, such as those allowing you to split SKUs from more than one dropshipping company.
Your main dropshipping software should be easily installed and set up to get listings up and running. If tech support is minimal or it seems too complicated, it may not be for you.
The ability to integrate seamlessly with other programs such as linking your Shopify store, Amazon listings, and so on will improve productivity as well as list products faster.
Automated Dropshipping eBay
Finding a reliable listing of dropshipping suppliers for eBay isn't as hard as you might think. Normally, no special dropshipping software is required to dropship to eBay for selling other than listing your products as anyone else would. That said, there are several platforms such as Big Commerce for increasing product listings on eBay as well as through other channels. There are also several good dropshipping tools for the same purposes, such as a listing extender from Chrome with automated price stock management functions. Auto DS imports price listings automatically to an eBay store as well as tracks inventory, Hustle Got Real can help increase brand awareness leading to higher sales activity and SkuGrid offers 10 integrated sales channels and more than 800 suppliers.
Whichever type of software or other tools you choose you'll want something that measures the performance of the dropshippers you may be using, to help you protect your own seller ratings. Tools that interface with dropshipping suppliers and others can expedite routing orders making everyone's life easier. In addition, you can assign certain products to certain dropshippers for those that might be better with some products than other shippers.
With all of these software considerations, you might be tempted to cut a few corners on cost. One caveat on choosing free eBay dropshipping tools and software: like with just about anything else, you get what you pay for. That free software may not seem like such a good deal if it's not robust or effective as a premium brand, nor is it as likely to be as secure. You could also find yourself having to upgrade from a free version in the near future anyway, so you might as well take a pass on the "free" programs and opt for the best automated dropshipping software for eBay offered by Ordoro, to boost your business's efficiency.
How to automate dropshipping orders
Here's some good advice on how to automate dropshipping orders to more efficiently handle your online sales. There are several things to keep in mind:
Focus on what you know something about, such as niche markets, at least when first starting out, to keep things simple. It helps if you know which type of market segment you want to aim for, which can change over time as you begin to increase your customer base.
Who is your competition? What are they doing right to get sales? What could you do better?
Who will supply your products? Will they be able to provide consistent, reliable service of quality goods at competitive prices? Pay attention to the ratings and reviews from other users – are they mostly positive or are there red flags?
Develop a marketing strategy to attract (and keep) customers, including product selection, logistics, customer service and return policies, and other important information.
Choose a platform such as Shopify or eBay for your online presence, when you decide to become an ecommerce store with an automated website.
Get ready for those customer orders!
Now, all of that sounds like a lot of work up front – and it is. One of the best moves you can make as you set up your dropshipping business is to evaluate the best automated dropshipping software and other tools that will play a critical part in the success of any dropshipping business.
Some of the essential dropshipping automation software and tools and related services from Ordoro include:
Multi-channel integration – stay connected to all of your warehouses, suppliers, and sales teams on your automated dropshipping website. Keep your team members, suppliers, warehouses and carriers updated and in touch.
Free 30-day onboarding – 'nuff said!
Lifetime support – now that's worth the price of admission by itself.
Multicarrier shipping: you need to be set up with all the major carrier lines: FedEx, USPS, Canada Post and UPS, to name a few.
Inventory management – you can't do business without it. Not all management software is created equal, so why not go with the best: Ordoro's plug-ins and fully automated drop shipping tools are created by software industry leaders.
Kitting – increase your sales by offering kitting options for better value.
Pick/ pack lists – these make your fulfillment team's lives a lot easier and ensure greater accuracy, for happier customers.
Finally, analytics are the backbone of your operations – without it, you're subject to a lot of trial-and-error guesswork. You can't generate reports that accurately reflect current and future sales and forecast the direction your business needs to grow.