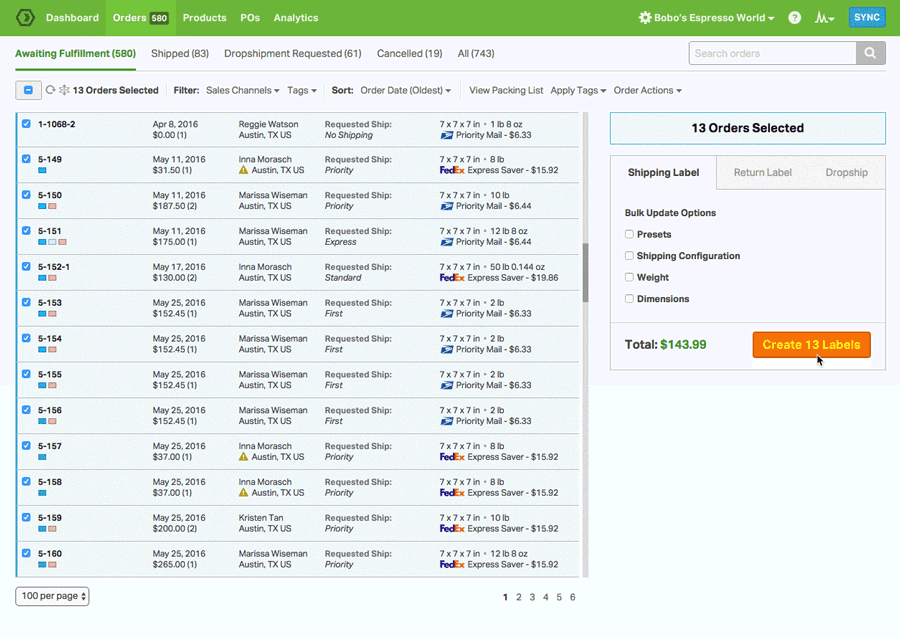 Streamline Your Order Fulfillment With Our Ecommerce App
The All-In-One Ecommerce Logistics Platform
Equip yourself with a comprehensive solution
Inventory Management
Stock, sync, and scan.
Automatically track and sync your inventory levels
Create and send out Purchase Orders when it's time to restock
Bundle multiple SKUs into one unit for sale
Use Barcode Scanning to reduce fulfillment errors
Multi-Carrier Shipping
Your workflow, minus the work.
Enjoy heavily-discounted shipping rates via USPS
Ship via any of our integrated shipping carriers like USPS, UPS, FedEx, DHL and Canada Post
Set up your own Automation Rules and Shipping Presets
Print shipping labels in triple-digit batches or individually
Dropshipping
Truly hands-off dropshipping.
Launch a dropshipping operation in a matter of clicks
Tag any product as drop shipped and assign it to a vendor
Choose between automated or manual routing
Activate a Vendor Portal between you and your supplier
Multichannel
We're your operations hub.
Integrate and view all of your sales and supplier channels in one spot
Use our open API to hook up any third-party or custom apps
Manage every aspect of your orders
Establish Supplier Feeds for real-time, back-end communication
Barcode Generation and Scanning
Raise the bar for stocking and packing.
Create UPC barcodes for your products
Scan, set, and search UPC codes for SKUs within Ordoro
Reduce fulfillment errors with our pack and pack barcode scanning workflow
Scan received POs to automatically adjust stock levels
Don't take our word for it
Our awesome customers have shipped some really great compliments our way:
"I spent about a month thoroughly searching for the right backend fulfillment software for my eCommerce business. There were definitely some big name guys out there that I considered, but at the end of the day, I went with Ordoro and I'm so glad I did!"

Tina Yarandi
Founder/CEO of Nature's Artisan
"Ordoro continues to add immensely valuable features to an already awesome sales/warehousing/shipping platform. Using Ordoro continues to save us time and money."

Anthony Krize,
VP of GE Holiday Lighting
Ecommerce App
Why would you need an ecommerce app for your ecommerce enterprise? How can apps help an ecommerce businesses grow? An app is a special tool or add-on, as well as sometimes a website, intended to enhance software functionality and increase its flexibility (To clarify, while the term "app" usually refers to those for mobile phones, we're talking mostly about software applications also known as "plugins" or similar tools, and not mobile phone apps here.)
If you sell on platforms such as Etsy or eBay, with their existing hosted storefronts, all you really need to do is list your products according to the platforms' rules and you're good to go. But, if you want your own website, with integrated shopping cart software as well as fulfillment and shipping capabilities, you will need to invest in quality software, such as Ordoro's, that's designed for ecommerce, rather than a "one-size-fits-none" website used for traditional brick-and-mortar storefront businesses models.
What's the best ecommerce app design to look for when deciding which ones to use? You should look for the following features - while you may not need all of them, the more you have, the better your customers' experiences will be:
Registration process
Support multiple payment options
Social media integration
Google or other reliable analytics
Excellent user experience
Custom branding
Feedback and rating
You can also find an ecommerce app design template free of charge online, as well as an
ecommerce app mockup, that can help bridge some of the gaps lacking in the ecommerce software you're using.
Ordoro has developed an array of ecommerce software apps even for people who normally don't like using apps. Some of our app software examples that can help provide ecommerce solutions include:
Inventory management
Order management
Shipping software
Dropshipping software
There's an app and other software tools for everything you'll need to run your business like a pro from the start, right here with Ordoro – no need to look further!
Readymade Ecommerce App
What do we mean by a "readymade ecommerce app"? Apps that are readymade are usually offered "out-of-box" for sale (or sometimes free download) often by the same software developers who created your ecommerce software. Users can customize the website to improve a customers' experience, such as with seamlessly integrated shopping carts or payment gateways.
Finding an ecommerce platform with mobile app capabilities, such as Shopify or Magento, is pretty easy, which is one of the perks of using a larger, more widespread platform. Shopify has an app store all of its own, where users can find just about anything they need for almost any task or operation.
To use the app e commerce Quicker registration (correctly known as "Quikr") just open an account, list your products and deliver the items with Quickr's help.
You can easily find a mobile app for online store use that is compatible with dozens of platforms, such as Shopify, BigCommerce, Magento, and others. This makes running your online store much easier and faster when you're on the go and away from a computer.
Shopify offers readymade ecommerce Android app sources that can get your store up and running in no time, as well as access dozens of others, such as Oberlo, for dropshippers. Shopify offers other sources of apps for online retailer merchandise and store management apps, including payment systems.
Google Pay is another example of a readymade ecommerce app free of charge that creatively uses gaming to engage and promote its own brand of online payment solutions.
For those looking for a readymade ecommerce app in India, try Myntra, AJIO, Bewakoof, Nykaa, Tata Cliq, and Shop Clues for some of the best-rated shopping apps in India.
If you're looking for a readymade ecommerce website, you could check out Quickr, as well as those offered through software leader Ordoro's software and plugins.
Ecommerce App Example
A few of the best e-commerce apps include those offered through Shopify: the Shopify order API integrates aspects of the order system to track and manage the life cycle of each purchase, as well as its totals, payments, and tracking thorough fulfillment while updating the inventory catalog.
In addition, according to Ecommerce Platforms, an ecommerce app example included inventory software solutions from Skubana, ShipHero, Stocky, TradeGecko, Sellbrite and Stock Sync.
Depending on the size and requirements of a given business, here are a few of the best fulfillment apps that were popular with Shopify back in 2021 and still going strong: Traktor Order Tracking, EasyShip, Shippo, ShipHero, and Shipway Shipping Automation.
Not everyone thinks readymade apps are such a good idea, with some criticism including limited default features in some more "generic" readymade sites or apps that may not meet your business's needs and come up short in those needed to continue growth. However, for those getting started or who don't have the time and IT resources to build custom websites, and shopping carts, a readymade site can be a good choice.
What should be on your e commerce apps list? You should look for apps that can provide inventory organization, a payment gateway, such as PayPal, a shopping cart, fulfillment, tracking, and analytics. Online apps aren't limited to retail or ecommerce – they can serve B2B, B2C, finance manufacturing and more, although B2C is most commonly used.
There are also e commerce apps name generators that can help give your store a catchy, creative e-commerce brand name.
Most apps are intended for e commerce mobile applications, although as we've pointed out, companies like Ordoro also offer excellent apps or add-ons to their existing software.
Local Express is currently the only online store platform supporting shipping and delivery as well as in-store pickup, and is focused on grocery and food and beverage retailers a turnkey solution for online shopping and delivery.
Local Express delivery is a service through the Local Delivery website for independent grocers and food/beverage stores, using the LE Shipping app.
Free Ecommerce App
Yes, there are free apps, for both web and mobile users. Are you looking for an easy-to-use free ecommerce app before investing more money as a startup? The tech website Zapier recommends the following 7 top free apps for 2022:
WooCommerce (note – you'll need to find a host, and domain name as WooCommerce doesn't provide hosting)
Shopify, especially their App Store
Keep in mind that some of the above sites, such as WooCommerce, have limits, such as 500 or less, on the number of products you can list at a given time, with some allowing as few as five before you can expect to pay a fee. Other free sites are simply limited, stripped-down versions of the developer's premium software.
The Shopify Apps Store is another good source that lets you also create online shopping app free of charge, as well as numerous out-of-the-box free online store app choices.
For highly-rated ecommerce apps and software designed to manage your ecommerce business from startup to seasoned pro, you need to look no further than that developed by industry leader Ordoro. If you want to ensure Ordoro is the right choice for you, you can test-drive our 15-day FREE Trial - it allows users to try out our Express Plan and see for themselves how superior it is over other ecommerce software plans.
Here are a few of the exclusive benefits of Ordoro's Express Plan:
API Access; USPS (lowest USPS Rates - save up to 67%), UPS, FedEx, DHL, and Canada
Categorize orders through tagging
Tracking number writeback
Discounted shipping insurance
Supports multiple ship-from locations
Plus – FREE 30-day onboarding and training, with lifetime support (where you'll always talk to a real person, not a robot!)
Best Ecommerce App
Looking ahead, among the predicted best ecommerce app in 2022 includes some of the top platforms today and the always-popular e-commerce app example, Shopify Premium, with its App Store offering a variety of apps, including a number of free downloads.
Although it's past, the best ecommerce apps 2020 and best ecommerce apps 2021, included in the earlier lineup were shipping and fulfillment apps Shippo, EasyShip, ShipHero, Traktor Order Tracking, and Shipway Shipping Automation, with inventory software solutions from Sellbrite, Skubana, Stocky, Stock Sync, ShipHero, and TradeGecko.
Of course, Ordoro is one of the leading ecommerce software companies in the industry, with years of experience in creating solutions spanning inventory management, order fulfillment, warehouse management, shipping, and tracking as well as for analytics and reports.
Some of the contenders with favorite e commerce apps list include that of tech blogger Neil Patel who reports that Ordoro's ecommerce software rates top marks as best inventory management site.
You can buy ecommerce app software from sellers online, including BigCoimmerce, Shopify, and others, but you ought to consider subscribing through Ordoro – it doesn't cost anything to give our software a trial run for 15 days and see how easy it is to take your business to the next levels– all the way to the top.
Our customers think that Ordoro is the best ecommerce app on the market for online merchants. Ordoro itself is a great platform for any online store, taking you from scaling a start-up to a thriving ecommerce business. We offer the following most-asked-for features:
Multi-carrier shipping
Multichannel integration
Inventory Management
Dropshipping
Kitting
Pick and pack lists
Automation
Analytics
All that plus FREE 30-day onboarding and lifetime support with a live person – no robots!
See what the excitement is about with our 15-day Free Trial of our Express Plan and take control of your inventory, fulfillment, shipping, and more!