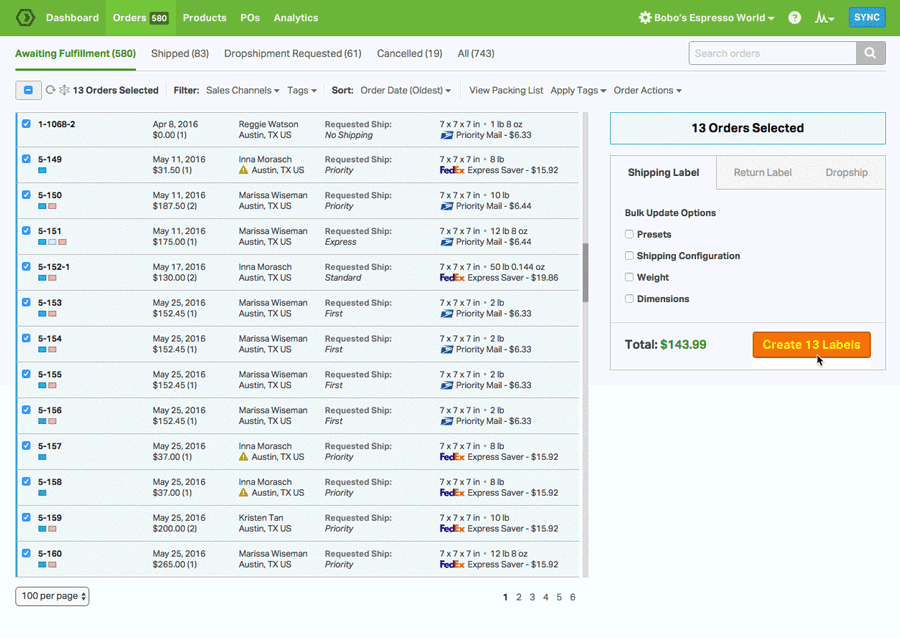 Determine Any FedEx Shipping Time Estimate With Ordoro
The All-In-One Ecommerce Logistics Platform
Equip yourself with a comprehensive solution
Inventory Management
Stock, sync, and scan.
Automatically track and sync your inventory levels
Create and send out Purchase Orders when it's time to restock
Bundle multiple SKUs into one unit for sale
Use Barcode Scanning to reduce fulfillment errors
Multi-Carrier Shipping
Your workflow, minus the work.
Enjoy heavily-discounted shipping rates via USPS
Ship via any of our integrated shipping carriers like USPS, UPS, FedEx, DHL and Canada Post
Set up your own Automation Rules and Shipping Presets
Print shipping labels in triple-digit batches or individually
Dropshipping
Truly hands-off dropshipping.
Launch a dropshipping operation in a matter of clicks
Tag any product as drop shipped and assign it to a vendor
Choose between automated or manual routing
Activate a Vendor Portal between you and your supplier
Multichannel
We're your operations hub.
Integrate and view all of your sales and supplier channels in one spot
Use our open API to hook up any third-party or custom apps
Manage every aspect of your orders
Establish Supplier Feeds for real-time, back-end communication
Barcode Generation and Scanning
Raise the bar for stocking and packing.
Create UPC barcodes for your products
Scan, set, and search UPC codes for SKUs within Ordoro
Reduce fulfillment errors with our pack and pack barcode scanning workflow
Scan received POs to automatically adjust stock levels
Don't take our word for it
Our awesome customers have shipped some really great compliments our way:
"I spent about a month thoroughly searching for the right backend fulfillment software for my eCommerce business. There were definitely some big name guys out there that I considered, but at the end of the day, I went with Ordoro and I'm so glad I did!"

Tina Yarandi
Founder/CEO of Nature's Artisan
"Ordoro continues to add immensely valuable features to an already awesome sales/warehousing/shipping platform. Using Ordoro continues to save us time and money."

Anthony Krize,
VP of GE Holiday Lighting
FedEx Shipping Time Estimate
FedEx is one of the shipping carriers that may benefit your business. Many businesses have come to rely on FedEx to help them provide the best customer service, especially during the pandemic when quick and successful shipping has been so important. FedEx is one of the top carriers to help an ecommerce business achieve its shipping goals, so it's likely that you'll use it at some point, even if it's in combination with other carriers. Once you get used to the FedEx ground shipping time to expect for each package, you'll find it easier to work with this carrier and to provide excellent customer service with their help.
FedEx shipping times vary by the type you choose, such as Priority Overnight or 2day, which are self-explanatory. International Priority varies by the location, yet it may take about three days from the east coast of the U.S. to Australia. This same trip could take seven days with International Economy. The company provides additional options as well. FedEx is able to provide you with a FedEx shipping time estimate based on the different types of shipping, which come with varying costs. This carrier provides you with options that you can pass on to your customers if desired.
You can rely on the FedEx transit time calculator to get a clearer idea of the time for ground shipping. FedEx also provides a FedEx transit times map that allows you to type in the origin zip code and country. Then, it shows you a map of the U.S. and/or Canada with a colored-coded chart showing how long delivery takes to each part of the country. The FedEx transit times calculator uses input like the location you're shipping from and to, as well as the weight, ship date, and package details, to give you a transit time estimate. It offers options to fit your desired delivery date.
FedEx Delivery Times By Zip Code
FedEx home delivery times vary by the service and the zip code where the package is being sent. FedEx Ground takes one to five days throughout the United States between Monday and Saturday from 9 am to 8 pm.
FedEx offers handy charts that show FedEx delivery times by zip code for its various services. So, if you're wondering "what time does FedEx deliver in my area code?" you can go to the chart to check FedEx delivery times in my area. For instance, the first city on the chart is Anchorage, Alaska. The chart for FedEx First Overnight shows that FedEx delivers to Anchorage's zip code 99501 by 9 am and then to its 99508 zip code by 10 am. You can get this kind of specific information with FedEx delivery hours for each city in the nation through these charts.
FedEx offers numerous tools that help your business figure out how long packages will take from your origin location to the destination. You can check the FedEx shipping times map for estimates on packages from one area of the country to other areas. For more specific information, use its Shipping Rates and Delivery tool, which asks you to give information on a package so it can calculate the shipping rates and offer more specific delivery times.
You can put in the origin zip code and then the destination zip code to get the information you need. For example, we can check on a package that would go across the country from zip code 33132 in Miami to zip code 98164 in Seattle. Once you give information about the package and the ship date, you receive rates and specific delivery dates and times. This tool shows you delivery times for the various services it offers, along with the associated prices.
FedEx Shipping Times International
FedEx makes it convenient to send your goods to anywhere in the world, allowing you to keep up with the demands of your ecommerce business and provide great service. FedEx International services take one to four days, depending on the service you choose from the FedEx International shipping options, as well as where you are sending the package. You can choose from FedEx International Priority, International Priority Freight, or International Priority Direct Distribution. FedEx International packages are delivered between Monday and Friday, with Saturday delivery in some countries.
As you can see, the Fedex shipping times international are quick, as a package can go across the world in a matter of days. You end up paying a significant price for this FedEx international customer service. Shipping internationally greatly affects your business shipping rates. This shipping comes with a high price simply because the package has to travel a great distance, but also because international shipping tends to come with more charges compared to domestic shipping.
That said, you can sacrifice timelines for a better cost if that works better for your company or customers. You have the option of FedEx International Economy. While FedEx says this option is for when you have extra time, it is surprisingly fast. FedEx International Economy shipping time information shows that it generally only takes two to five business days, which includes Saturday in countries that consider it a business day. The shipping time is only two to three days when shipping from the U.S. to Mexico, Puerto Rico, or Canada. Another option is International Ground, which can bring packages to Canada in two to seven business days.
Nonetheless, you can get packages to their destination faster with other international options. The FedEx International Priority or FedEx International First delivery time is one to three business days, while FedEx International Next Flight gets it there within 24 hours.
FedEx Tracking
The shipping maps, tables, and tools that FedEx provides are helpful for getting estimates on how long your packages will take to arrive. Of course, life doesn't always work out so perfectly. There are numerous snags that can happen along the way, delaying a package. Even without those, you are usually given a range for the expected arrival. FedEx Tracking helps clear up uncertainties about where a package is and exactly how long it will take to arrive. Plus, it allows you to provide better customer service when you can share this tracking information with your customers, who have come to expect this information.
Ordoro can help online merchants like you to easily provide FedEx tracking to customers. We've got your writeback. What does that mean? It means you can use Ordoro to automate your FedEx tracking writeback. When you have this setup, you don't have to go through the extra steps of copying and pasting the information after you create your shipping labels. Instead, Ordoro automatically provides the shipping information and FedEx tracking number to the right sales channel, thus sharing the info with the customer.
This automation is possible with FedEx ground tracking within the country, as well as FedEx international tracking for packages you're sending around the globe. Share any kind of tracking information, including FedEx freight tracking or FedEx standard transit tracking. Ordoro provides many options in conjunction with FedEx capabilities. Tracking info can be sent by email or through text message. You can also include the FedEx customer service phone number if desired, so customers have someone to contact about issues.
Providing tracking information keeps customers updated, improving their customer service and minimizing them unnecessarily reaching out to your business about a package status. Also, you can use Ordoro's dashboard to check package information from your end whenever you need to.
FedEx Shipping Rates
FedEx shipping rates and other carrier shipping rates end up being a large part of an ecommerce business, impacting your revenue and customer service. That's why it's so important to keep up with shipping costs and the various ways your business can save or provide better service. In the same vein, you'll want to keep up with cost increases, and fee and service changes.
For instance, we see an increase from FedEx ground rates 2021 compared to 2022. As of January 3, 2022, the FedEx Ground, Ground Economy, Freight, and Express rates increased. The FedEx Ground shipping rates and Express rates have gone up 5.9 percent on average. The change from the FedEx rate sheet 2021 to 2022 also included increases from the FedEx Ground Multiweight rates 2021, as well as Ground Economy, International Premium, and some others. You can check the current rate sheets and cost calculator to get the most updated pricing. FedEx keeps updated information on its site, so you can refer back to see if there are any changes.
In addition, Ordoro is here to help. We know that shipping is one of the complicated aspects of running a business. We also know it's an essential aspect to master. Our shipping platform makes this process easier and takes shipping stress off your plate. Ordoro can check FedEx Ground shipping rates for you and compare them to the rates of other carriers. We can help with the entire shipping process, including printing shipping labels and automating shipping processes. Ordoro allows you to streamline the entire inventory and logistics process to help your business run efficiently, save money wherever possible and improve your service for customers. In addition, we offer numerous resources to guide and educate our clients, including an entire guide to shipping rates. Test drive Ordoro for FREE on our Express Plan, start your 15-Day FREE trial today!